slack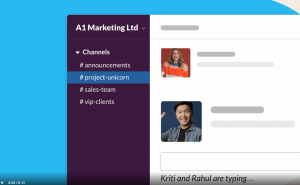 slack software | Messaging software
Channels

Slack Connect
Messaging

Accessibility

Huddles and clips

File sharin

g
Transform the way that you work with one place for everyone and everything that you need to get things done.
Now is your moment to build a better tomorrow
We've seen what the future can be. Now it's time to decide what it will be.
Move faster by organising your work life
The key to productivity in Slack is organised spaces called channels – a different one for everything that you're working on. With all the people, messages and files related to a topic in one place, you can move much faster.
Focus your time, on your own terms
Give yourself the flexibility to work when, where and how you work best. Take control of notifications, collaborate live or on your own time, and find answers in conversations from across your company.
Simplify teamwork for everyone
Give everyone that you work with – both inside and outside your company – a more productive way to stay in sync. Respond faster with emoji, keep conversations focused in channels and simplify all your communication into one place.
One platform for your team and your work
All the features of Slack work together so you can too.
Work more easily with everyone
Stay on the same page and make decisions more quickly by bringing all of your work communication into one place.
What you need, when you need it
Spend less time shuffling tabs with a comprehensive message archive and all your work tools at your fingertips.
Slack supports collaboration at a global scale, with unlimited channels to mirror the way your company actually works.
The collaboration solution for companies of any size
Organisations both large and small thrive with scalable, reliable and flexible communication in Slack.
Always on, always reliable
Companies around the world trust Slack as their home for collaboration, especially when they need it the most.
99.99% guaranteed uptime SLA

Globally distributed architecture

Secure replication of customer data
Granular control is in your hands
Administrators at even the largest of organisations can manage Slack with precise, smart controls.
Central controls and governance
Slack is managed from a central dashboard, so management is only a moment away.
Customisable by workspace
Policies can vary by workspace for teams with different compliance or regulatory needs.
Admin roles and delegation
Delegate administrative tasks to speed up IT response times and keep employees happy.
Trackable message engagement
See how communication performs at large companies with per-message statistics.
Get more value from your tools with Slack integrations
Slack makes all your tools work better by letting you integrate industry-leading software and custom apps right into Slack.
Save time by streamlining daily tasks in Slack. Your entire team can join video calls, manage calendars and collaborate on files without switching context.
Your department's critical apps always have a place in Slack. Connect specialised tools to increase their use and adoption so that teams can quickly take action.
Customise Slack to work for you
Slack is designed to work with your internally built solutions and processes. In fact, every week people use over 650,000 customised apps. You too can create your own solutions, with or without code.
Turn routine processes into automated workflows that keep work moving forward.
Build custom apps that integrate your internal tools, processes and data, to work as only your company can.