Ganttpro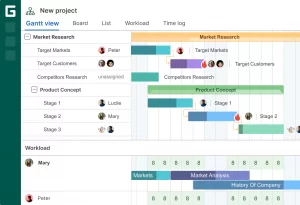 Ganttpro software | Project management software
Project scheduling
Gantt planner
Project portfolio management
Time tracking
Task dependencies
Progress tracking
Online project management solution based on Gantt charts
Keep your planning simple, team members – engaged, clients – in the loop!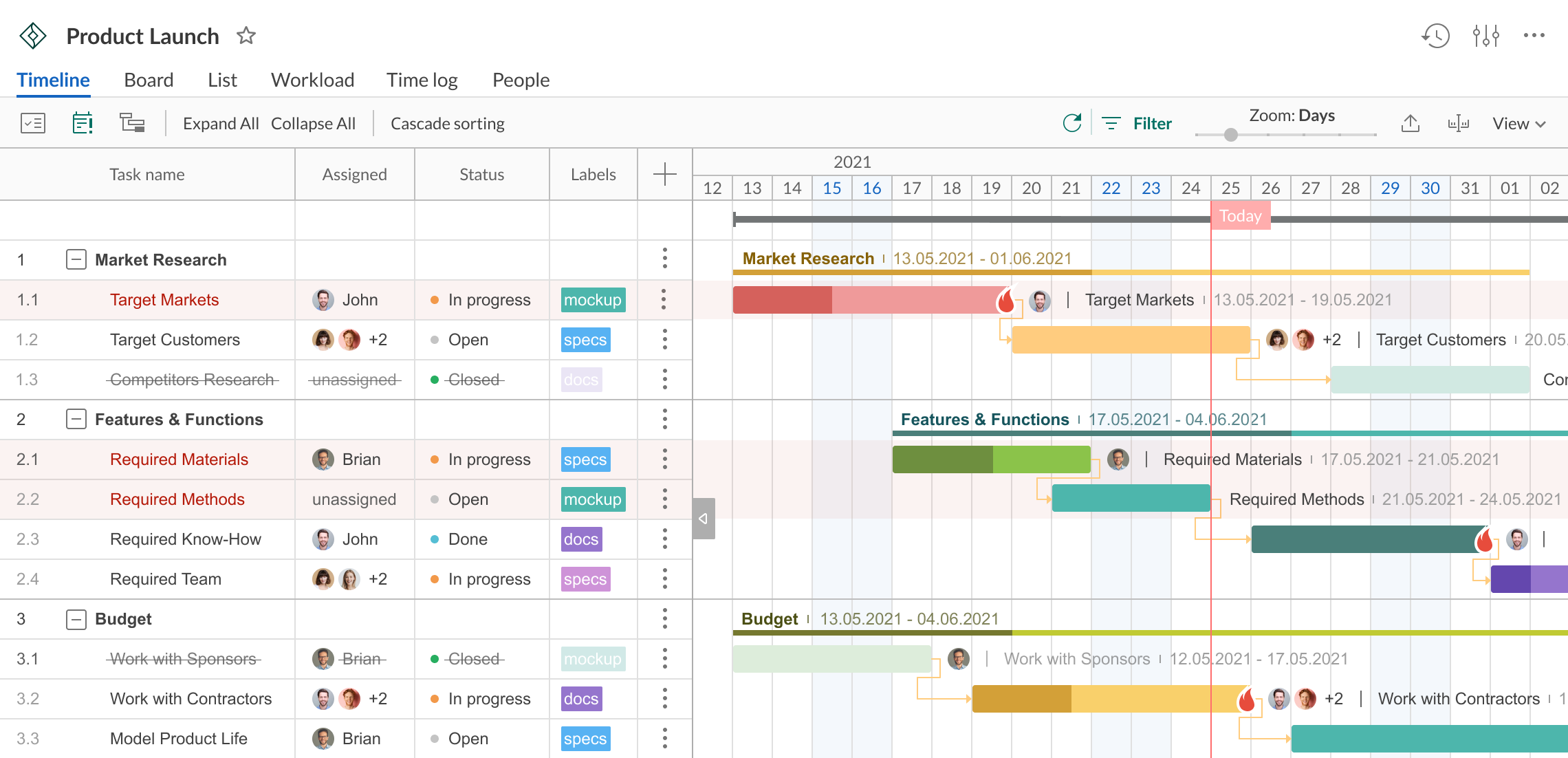 How to create a Gantt chart online
Interactive online Gantt chart maker for planning and controlling multiple projects at once.

Split your projects into groups of tasks, subtasks, and milestones. Organize and schedule tasks, set due dates, durations, and dependencies. Make a Gantt chart online to set accurate estimates and manage your resources wisely.
Automatic online project scheduling and drag and drop simplicity
You and your team need 3 minutes to become advanced users of GanttPRO Gantt chart online maker and easily get started with a free trial. You plan projects and create powerful best Gantt diagrams online quickly as the app schedules tasks automatically.
To make project management even easier, we let our users prioritize tasks, indent and outdent.
As many different project plans online as you need, structured
Use different workspaces for personal tasks and milestones as well as for team projects. You can delegate project management process to team members and make sure only the people responsible for a project can see it.
set dependencies in one click, durations and progress right on a Gantt chart online by dragging and dropping tasks and their attributes.
Manage team and track progress with the online Gantt chart maker
Our project planning software has best Gantt charts features as well as features of the team management software.
Work alone or create a workspace for your business team. Set roles, assign tasks to team members, track project progress, add attachments and comments in one click. What is more, you can always share Gantt charts with your colleagues and clients, giving the right to view your timeline online in seconds. Our project planning app allows you to reallocate resources and see how the expenses change with clear resource management.
Manage resources and estimate project costs
Our Gantt chart software allows you to easily add another full dimension to your projects – resource planning and resource management.
You can add resources to your Gantt charts and connect them to specific tasks on a timeline. Set the cost per hour for a resource and the time spent on task management. Based on these figures, GanttPRO Gantt chart generator will instantly calculate task, group of task and project costs. Too expensive for your company or business?
Features of GanttPRO. From a simple Gantt chart to complex project management
Check your team's workload and be sure whether someone in your company is underperforming or, vice versa, has too many tasks. In GanttPRO project management software, it is easy to reallocate team members according to their workload and keep them motivated by providing with meaningful tasks.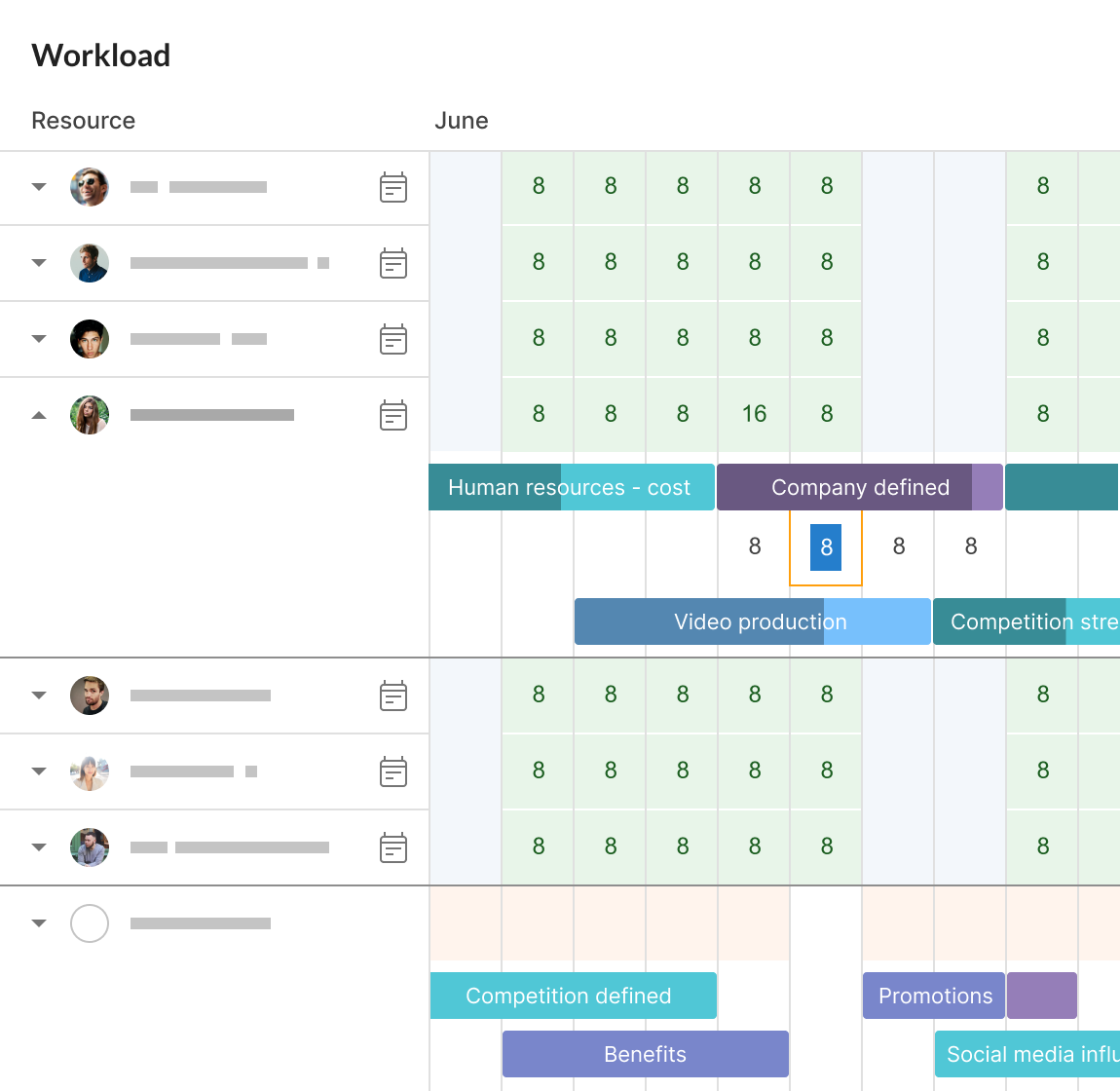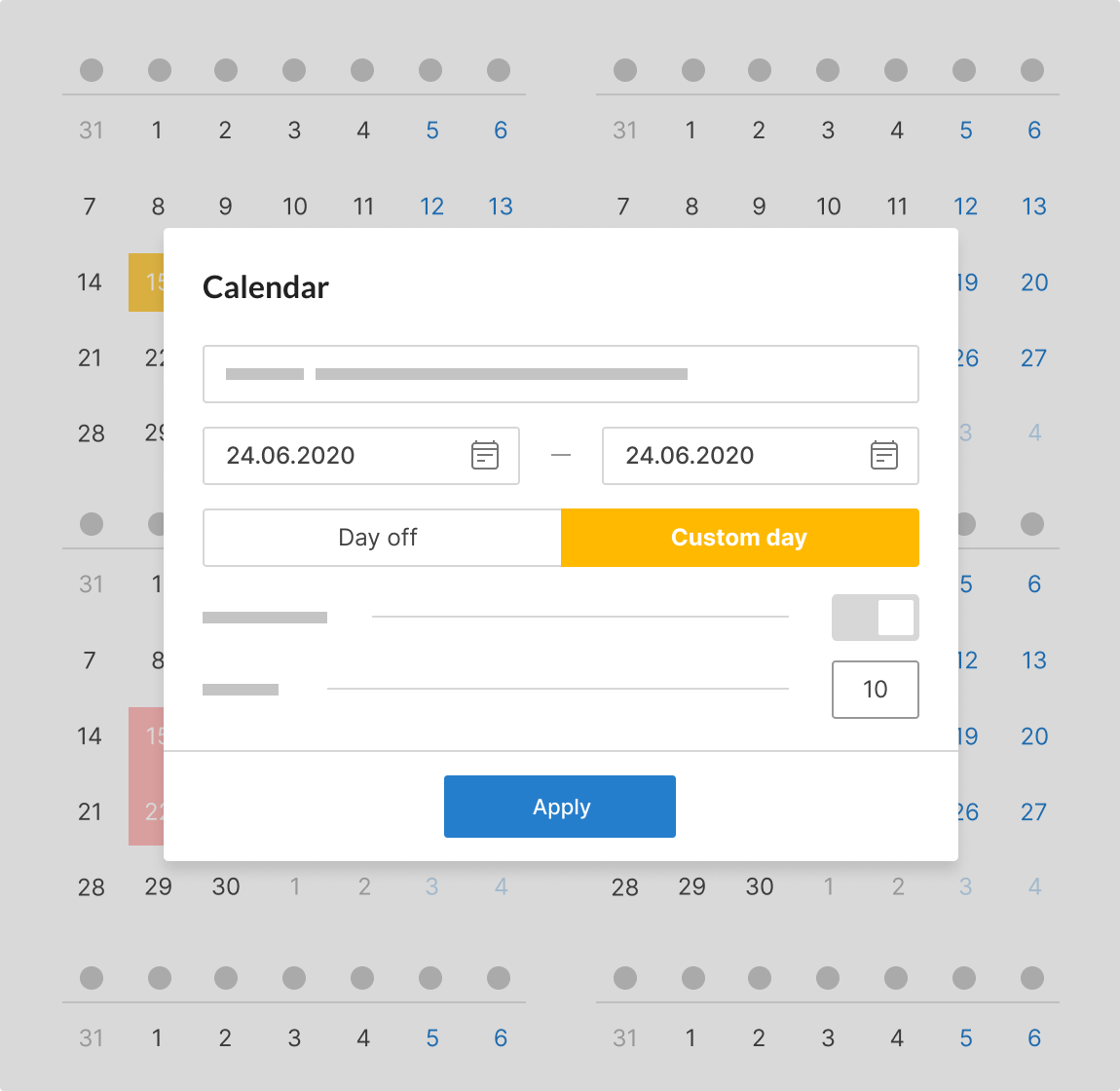 Customize your projects setting personal working days and days-off for you and your team. GanttPRO Gantt chart creator will automatically calculate the duration of your project based on your business calendar. Make changes in it anytime you need to adjust your working days, days-off or vacations.
Do you need new opportunities to view your projects and timelines apart from a Gantt chart? In GanttPRO, you can switch to a board view where each task is presented as a card in a relevant column. Our Gantt chart tool gives you possibilities to choose the most convenient way to work on your projects.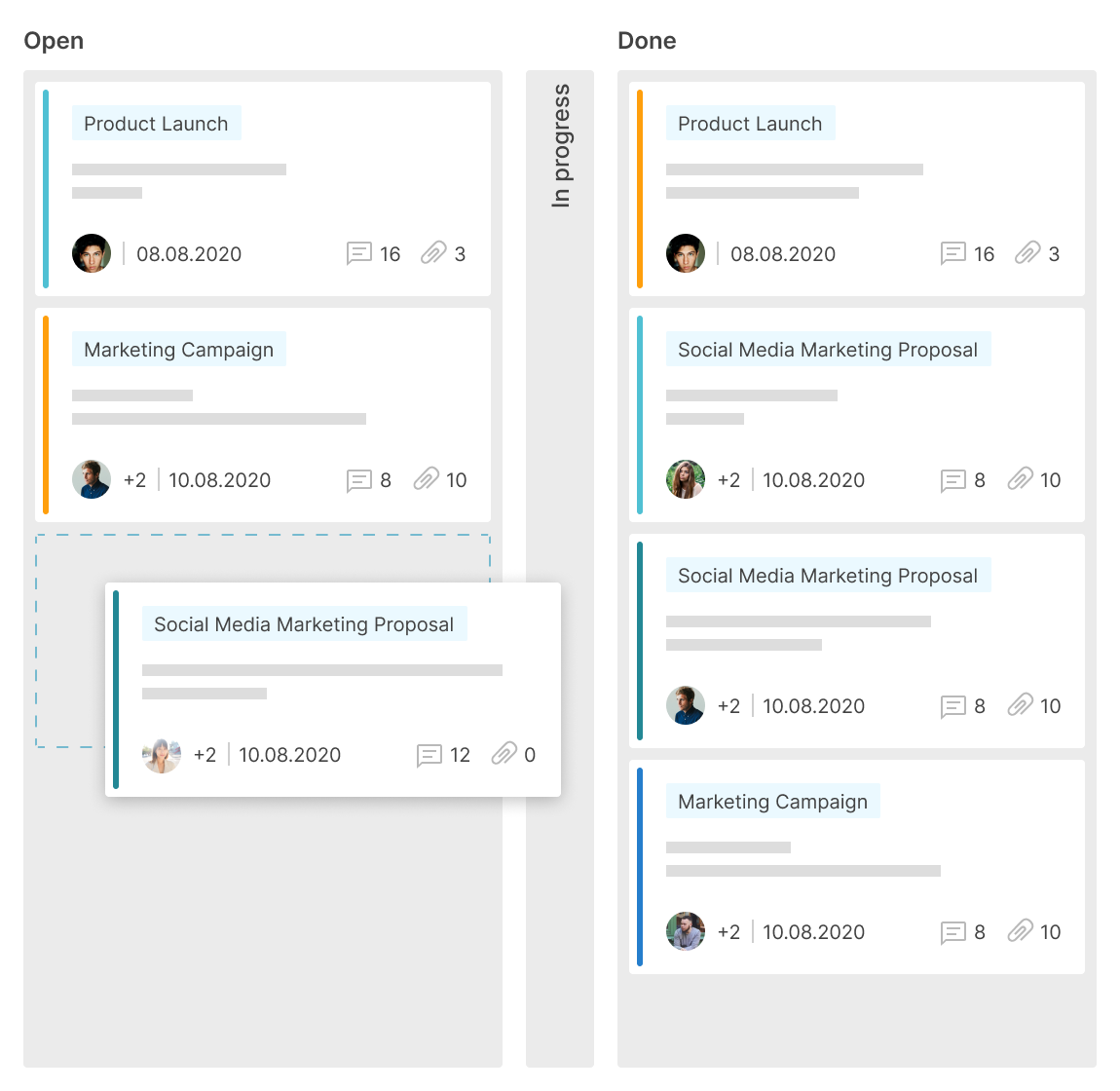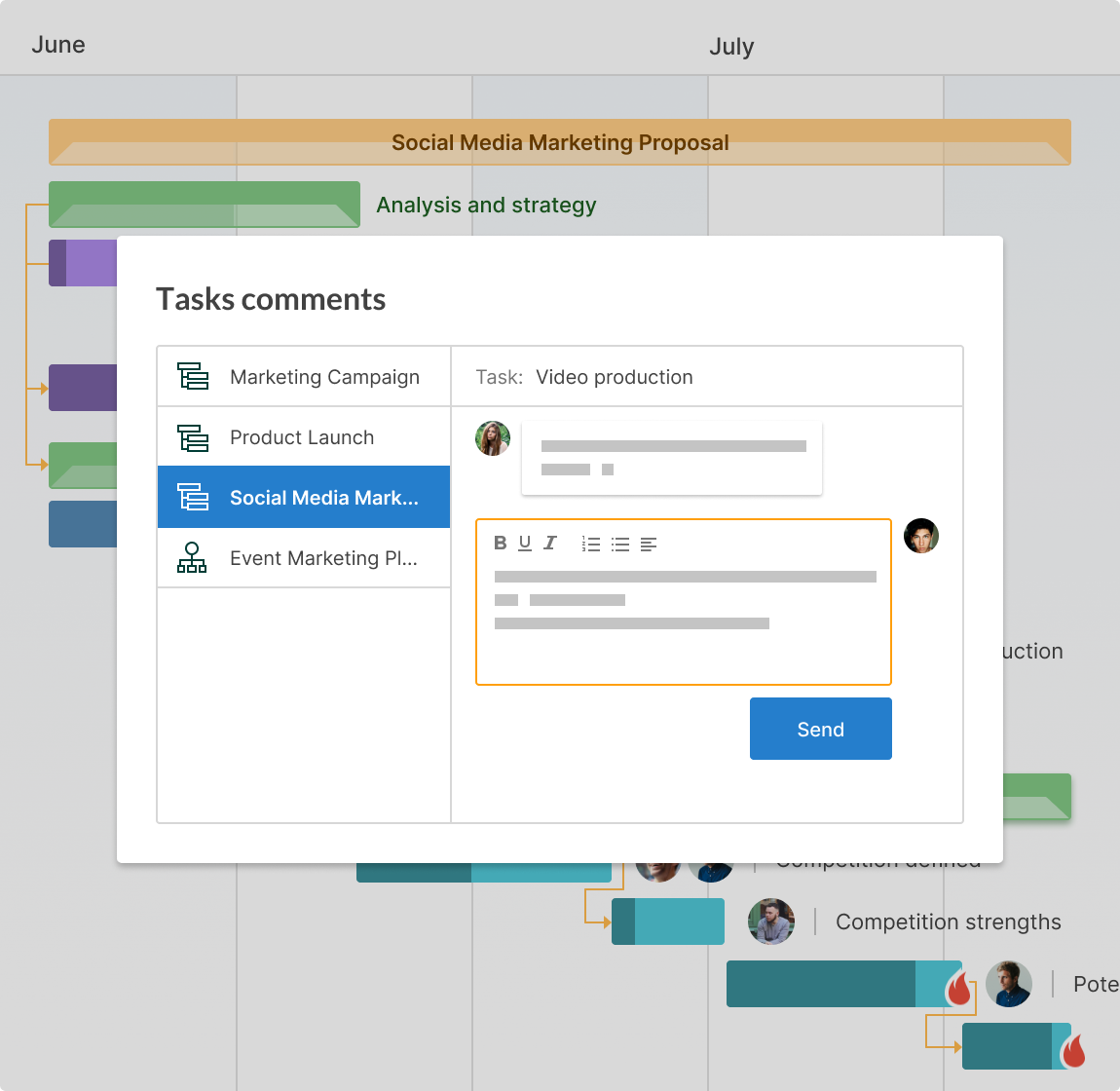 Work with your team with the help of our project collaboration software. Comment on tasks and attach files to them – there is no need to switch between different business tools as all important information is stored in GanttPRO.
You never miss a thing with real-time notifications. Whether you have a new assignment or are mentioned in a task, your team member has made a change in a project or your task will start in an hour – you will be covered with notifications.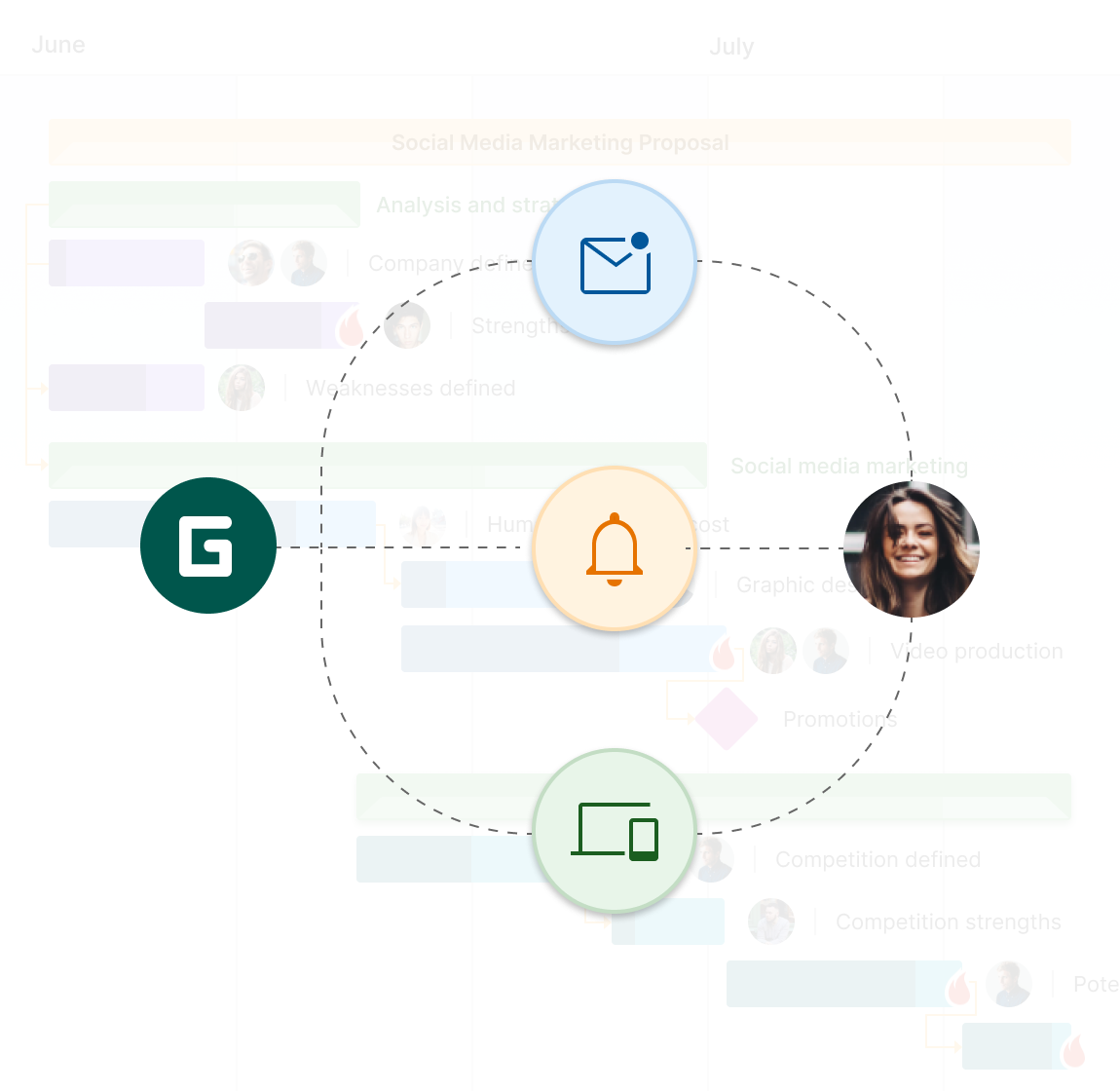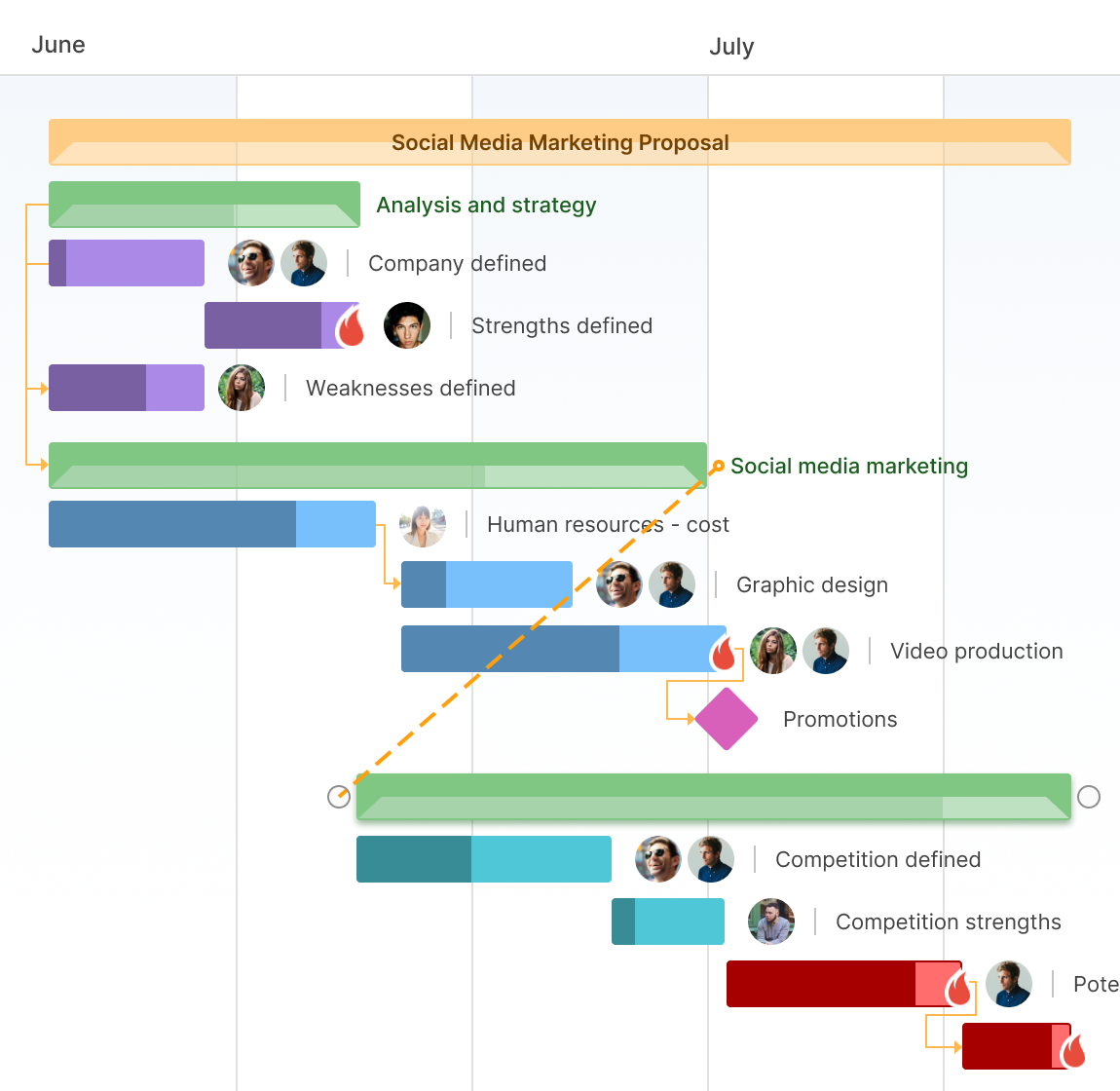 Auto Scheduling & Critical Path
Thanks to the Auto Scheduling feature, you don't need to worry if there are changes in dates and timelines of your tasks or in dependencies between them – GanttPRO online Gantt chart maker will recalculate everything automatically. With the Critical Path on, you'll be aware of all the tasks that directly impact your project. Also, it shows the shortest way to complete your project plan.
Share your chart with anyone using a secret public URL and providing with rights to view and access your plan. It's the easiest way to show your project right away. The export function allows you to always have your project at hand. Export your timeline even on a trial to the most popular formats like PDF, PNG, XLSX, and XML.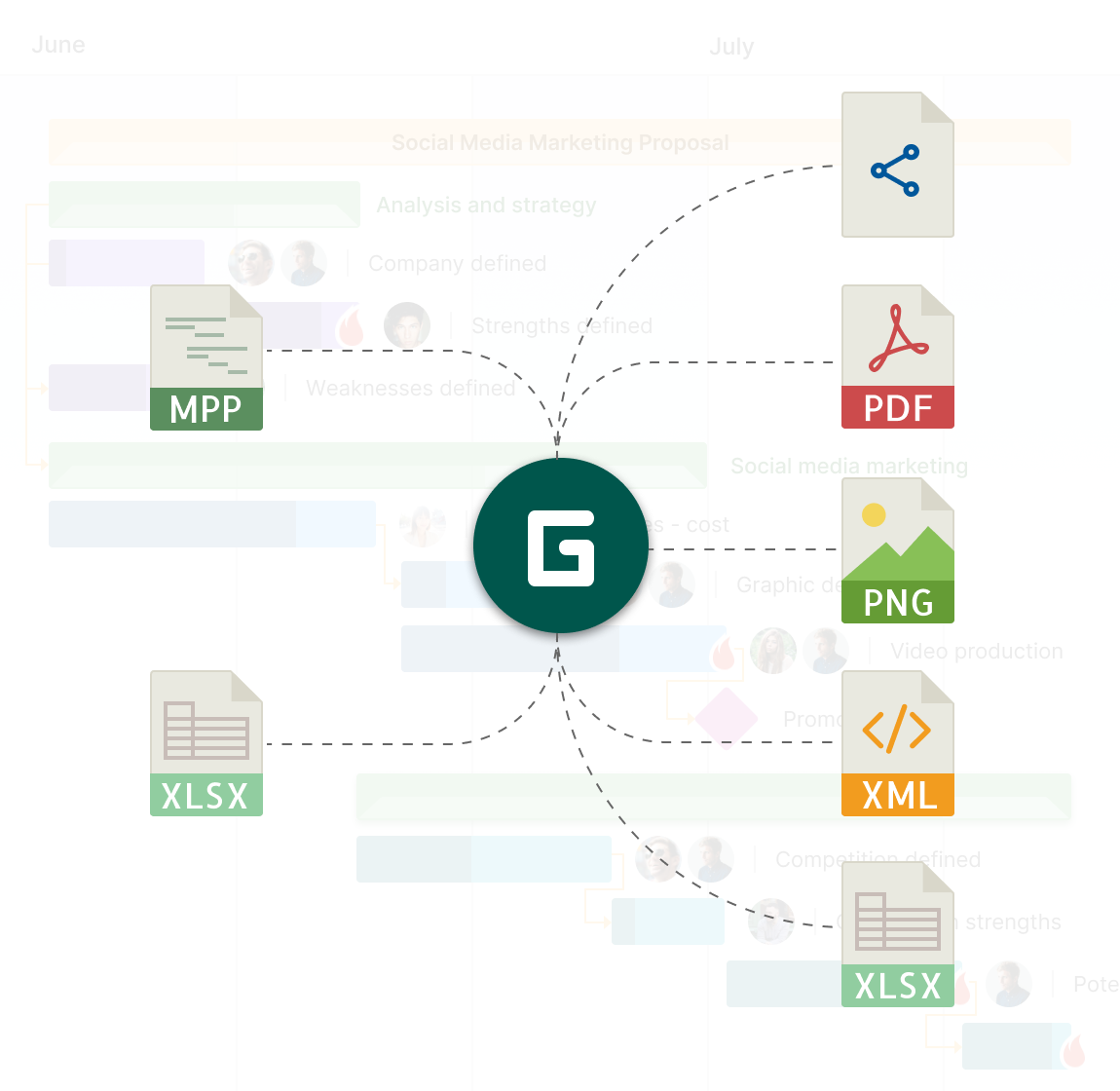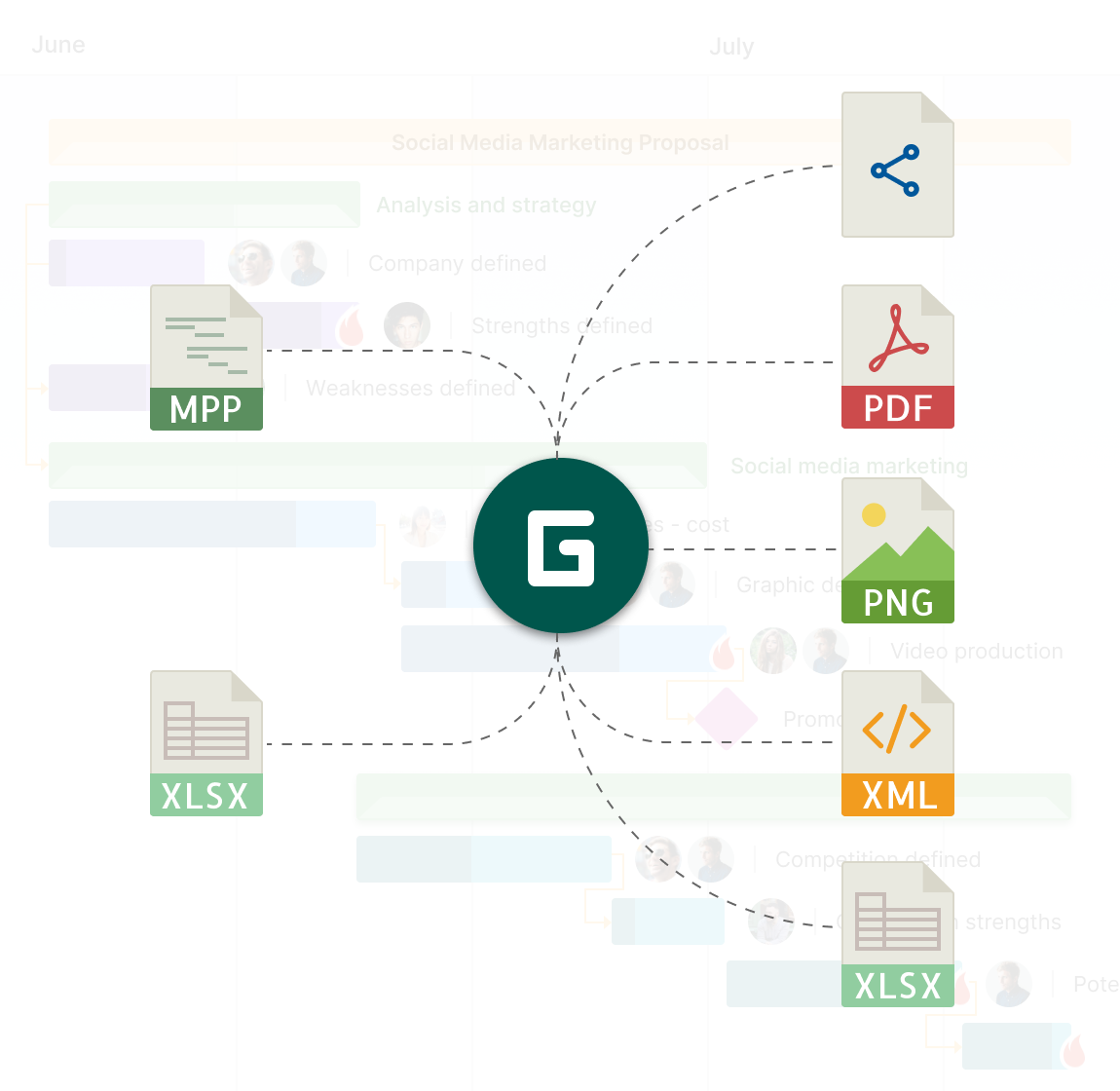 Log the actual time you spend on tasks and milestones and, if needed, leave comments. Personal time log allows seeing the total time spent on tasks and time ranges. In one place, you get crucial information: tasks, dates, projects they refer to as well as time and comments.
Owners and Admins can create reports with the time logged by their team members. Reports contain details about tasks, projects, users, date, time, and comments. This information can be grouped, filtered, and even exported to Excel.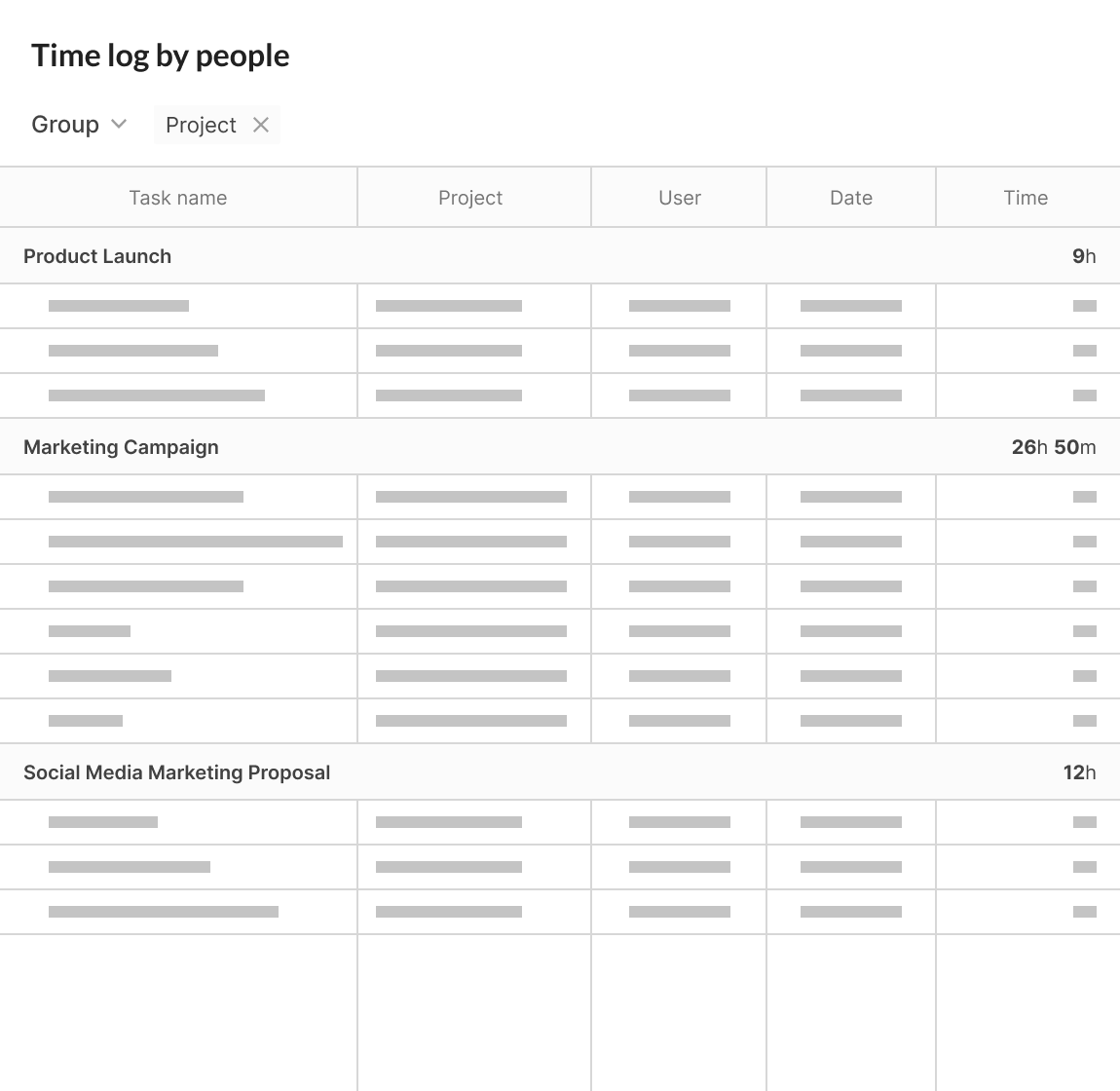 Precise tasks planning and project tracking
With GanttPRO project scheduling software, you can create tasks in your online projects in one click, instantly monitor and track them and the whole schedule. The easy to understand Gantt chart timeline provides with a visually appealing way where all the assignments, milestones, deadlines, and dependencies are seen at a glance. The project scheduler is a perfect match for any industry where schedule management is needed.

The project scheduling software will help you to:
Simplify planning.
Have everything under control.
Coordinate personal and teamwork.
Collaborate in real-time.
Keep clients in the loop.
Scheduling your project, you can be sure you work in the secure project management software where the highest security measures are implemented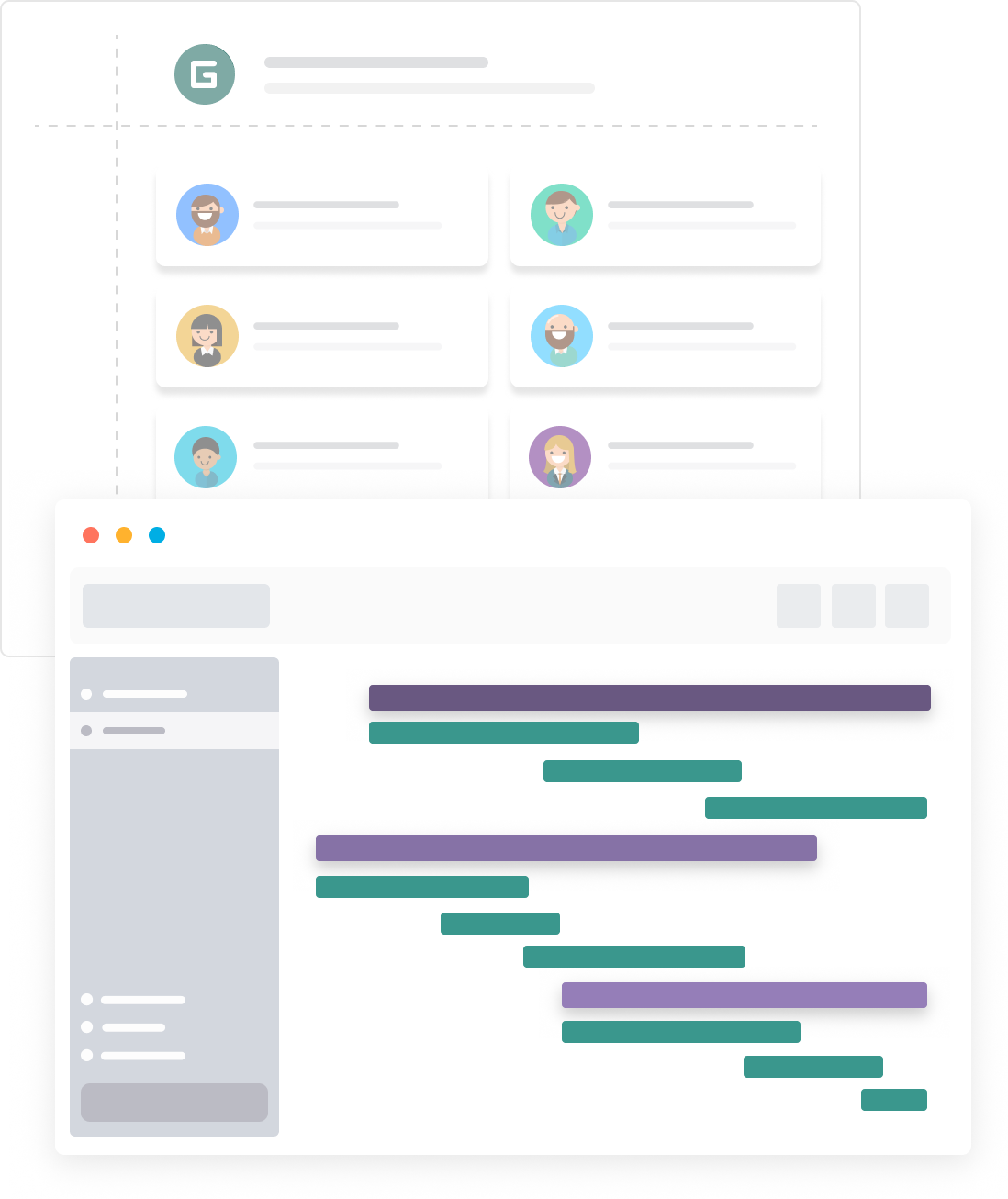 How to schedule a project in GanttPRO
In the scheduling software, create as many tasks as your project requires. Set their start and end dates and get a clear picture of what is going on in your schedule.
Any important event in the schedule is called a milestone. It shows that your online project goes in the right direction. In the scheduling software, milestones are easy to create and manage.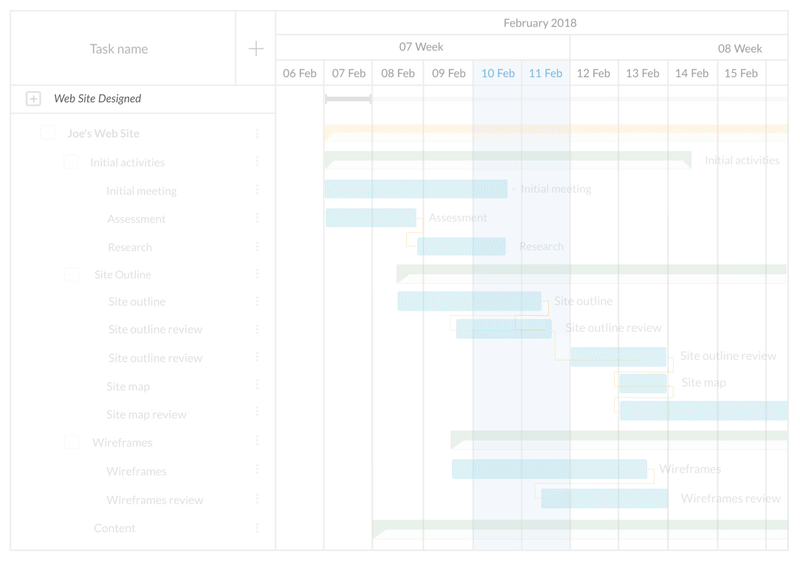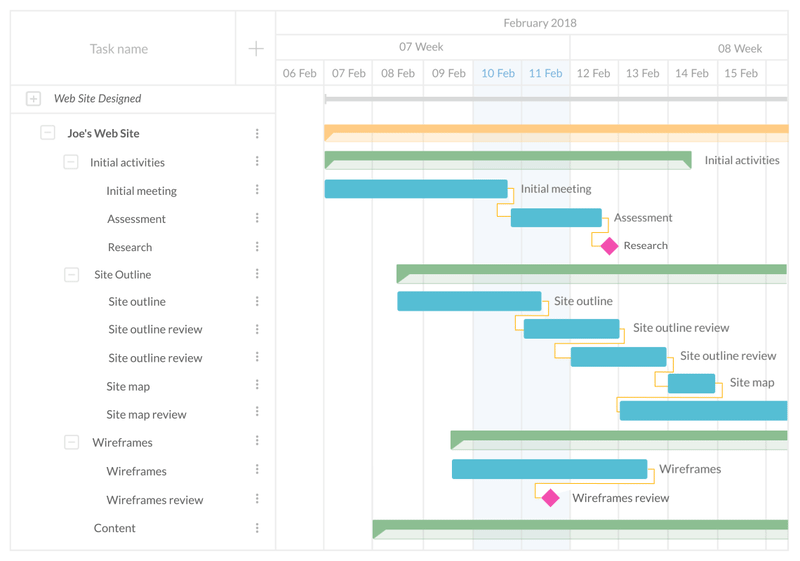 As soon as you added tasks with milestones and dependencies, all you need is to track the progress. In the software, online progress tracking can be done in a few simple ways.