MyOperator
Myoperator software
Toll free number
Virtual number
Vanity number
IVR system
Call recordin
Call tracking
2-in-1 cloud-based call management system
Business growth: Unlocked
You can convert every call into a business growth opportunity with MyOperator.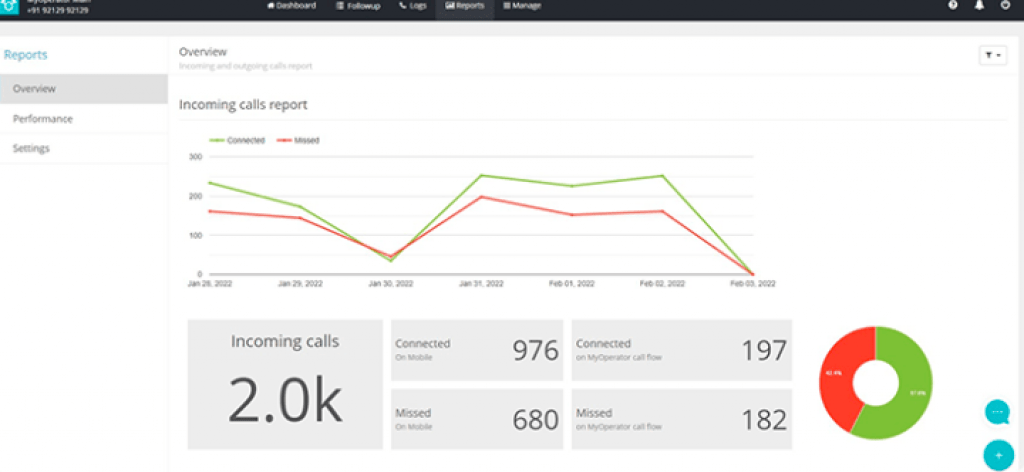 Sell more: Boost your sales by up to 30%
Use 1800 toll-free numbers in your ad campaigns and promotions and boost sales by up to 30% with toll-free calls.
Serve more: Be there for customers 24*7
Let your customers call you anytime at 1800 number and make them happy with instant support via humanoid IVR.
Go remote: Connect your staff on one no.
Connect all your sales-support agents on one virtual number and let them handle calls from anywhere!
Grow faster: Improve team productivity
Track your sales-support agents' activity in real-time with live dashboard and improve their productivity for growth.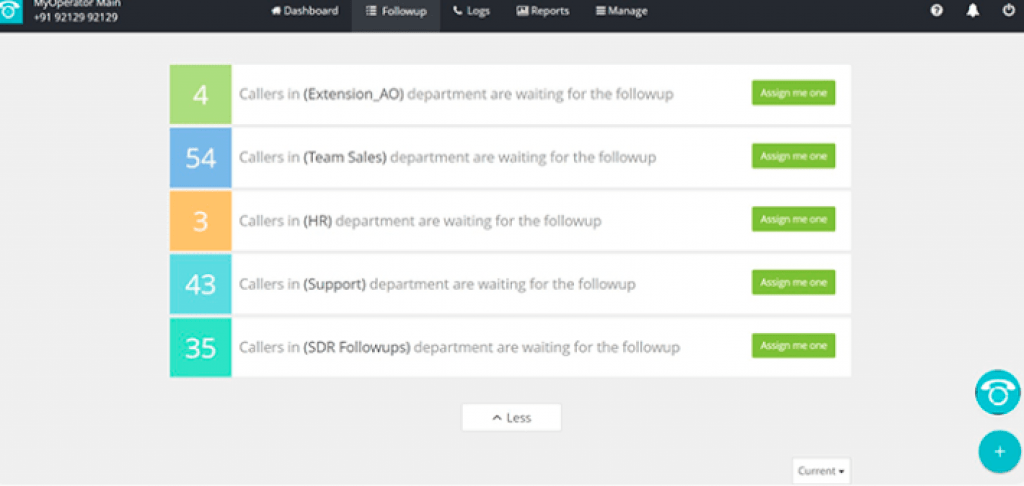 Make MyOperator friends with your favorite business apps.
Connect MyOperator with your favorite CRM and business apps to keep your work centralized.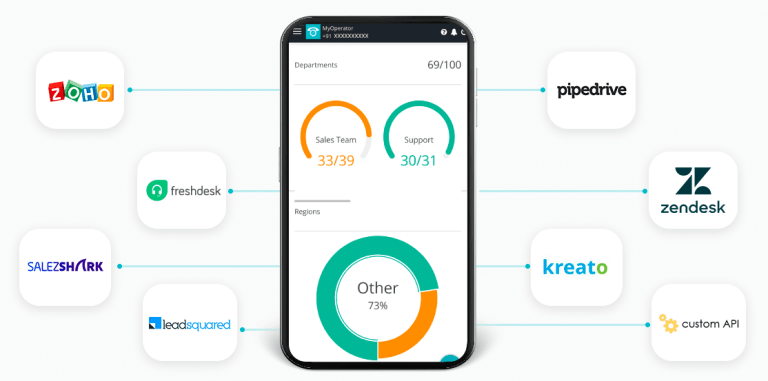 Office IVR solution for easier customer communication
Office IVR is a product built with simple call-related features along with a virtual number and is suitable for businesses who want to bring automation to their customer communication.
UPGRADED CALLING EXPERIENCE
Cloud call center solution for advanced call management
Cloud call center comprises of superior calling features along with a virtual number and is apt for organizations looking for sophisticated and advanced call handling.
EFFICIENT PERFORMANCE ANALYSIS
NOTIFICATIONS
Get notified about important updates to improve your business's internal communication.
CRM Integrations
Integrate your existing CRM with MyOperator to access your call logs from one place.
Features to enhance your call handling
Know about all the features you get with MyOperator
Choose your business number
Add multiple phone numbers at the backend of a centralized business number.
Let your customers call you for free and increase your brand recognizability.
Increase your brand recall value with a phone number that is easy to remember.
Analyze your business call traffic
Analyze your customer conversations to understand the requirements of your callers.
Track and monitor all your business calls to ensure you do not miss any potential leads.
Get detailed analytical reports of your business calls via SMS and email.
Monitor the number of calls connected and missed by each department in your organization.
Get ongoing call details for each incoming phone call directly on the web panel.
Analyze your daily call volume and measure performance of individual agents.
Connect your callers to the right agent
Customise your IVR and handle mulitple calls simultaneously.
Route calls to specific agents even after office hours and stay available 24*7.
Transfer ongoing calls without disconnecting them and enhance your callers' experience.
Let your callers leave their message in the voicemail when none of the agents are available.
Transfer calls to agents through extension dialing and improve your internal communication.
Forward business calls instantly to reduce the waiting time of your callers.
Get notified about important updates to improve your business's internal communication.
Integrate your existing CRM with MyOperator to access your call logs from one place.
Secure communications between the web browser and server through data encryption.
Add notes while talking to a customer. Ensure you do not miss any important information.
Weed out unnecessary callers or contacts by blocking them directly from the web panel.
Integrate your application via MyOperator public API to pull the data that you require.
Make outbound calls directly from the web panel to follow up with your missed calls.
Keep your callers entertained while you are forwarding or transferring their call to agents.
Assign each pro user with a distinct role to enable and disable certain permissions.
Send messages to your customers using your business name to increase brand awareness.
Greet your callers with a welcome message to personalize their on-call experience.
Receive customer calls on your existing mobile phones and landline devices to save cost.
Virtual number for easier customer communication
Attend calls anytime, anywhere
Calls placed at your virtual phone number are routed to your agent's number directly, eliminating the need to stick to their landline or office desk to attend calls. This brings mobility in your team's working and also helps them ensure 24*7 customer availability easily. Virtual phone number also minimizes the chances of your team missing any important customer call.
One business number for multiple platforms
With a virtual phone number, you can also create business accounts on different platforms like WhatsApp, Justdial, Truecaller, Indiamart and more. The number can be easily verified through the OTP received by us. Such accounts with your business number make it easier for your target audience to connect with your company or do financial transactions through different platforms.
Basic phone number v/s virtual phone number
Multiple departments, different numbers
 With a single contact number, your agents can attend only call at the same time.
There are high chances of missing calls when your agents are busy or unavailable.
 Calls have to be manually transferred which will make the callers wait on hold for long and will result in bad on-call experience. Different departments or branches will have different contact numbers and each will have to be advertised separately.
Multiple departments, one number
With a virtual number, your team to attend multiple calls simultaneously.
 The chances of missing customer calls are very low with a virtual phone number.
 Callers can connect with their concerned department directly with the IVR menu.
 Need for publishing multiple business numbers for different branches is eliminated.
Vanity number for superior business value
Improve your on-call customer interaction
An exclusive and easy-to-recall phone number of your improves your brand position in the market. It constructs a bigger and professional image of your business amongst your potential audience. Your prospects from all around the country associate your brand with a particular number and this increases brand recall value for your prospects.
Increase your customer calls
Vanity number in its nature is a virtual phone number which has multiple phone numbers connected behind it. Calls coming at your vanity virtual number are tracked and forwarded to your agents' phone numbers. Your callers are greeted with a custom voice message. These features and more, enhances your customer calling experience.
Provide 24*7 customer support
With IVR, you provide your customers with a way to connect with your business whenever they want to. When customers call on your IVR number, they can choose from the options available in your IVR menu. Based on customer inputs, the IVR system automatically routes the calls to the appropriate person in your team. If the agents are not available, customers are provided with the option to leave a voice message so that your agents can get back to them once they come online. With an IVR number, your business stays up 24*7 and that's a ticket to greater customer satisfaction and better brand loyalty.
Customized welcome greetings
Customer experience and branding play an important role in making a successful business. With the IVR system, you can get both; customer experience as well as branding. Under the IVR menu, you can set up personalized customer greetings. When your customer will call you, they will hear something like "Welcome to [Your Business Name]. Let us know how we can help you." IVR makes your business support system work like a breeze providing your customers with the luxury to connect with you in seconds. IVR means timely customer support which is one of the most important factors of better customer experience as well as your brand image in the minds of customers.
Level up employees' productivity
With the help of the smart IVR menu, a big chunk of customer queries can be handled with automation. Thanks to input handling capabilities of IVR, primary information required to provide support like customer name, customer ID, phone number, etc. can be taken care of without the need of agents. By the time the call is routed to the real support agent, all this information is already available on their screen. IVR systems make sure that 100% time of your support agents is spent in solving real customer problems rather than performing redundant tasks like collecting name, phone number, and email address of the customers.
Grow big by handling large call volumes
IVR enables small support teams to handle large numbers of customer calls by independently dealing with incoming queries and smartly routing calls to the right person in the right department. For example, if a customer wants to check only the balance in the account, that task can be automated with IVR without bothering the support agents. If a customer needs help with a product, her call can be transferred to the agent in the support department. If the call is for help with billing, it can be routed to the sales team, all with the help of IVR. A cloud-based IVR system automates a large part of the call handling process making it possible to take care of any number of calls.
Turn callers into customers
IVR can also work as a good sales channel too. With the help of a custom IVR menu, you can use the IVR system as a lead generation channel with live support. On your IVR number, you can ask callers a series of questions and qualified callers can be connected with the sales agents. With IVR calls, you can partly automate the process of interacting with new prospects and convert your first-time callers into customers. The delicate balance between technology and the human touch that IVR provides makes it a unique channel for customer interaction lead conversion.
Better marketing with IVR
IVR is a proven marketing tool that you can use in every aspect of the customer journey. From welcoming customers and collecting their information to providing support and maintaining relationships, IVR can help with that all. Using an IVR number in your marketing campaigns and brand advertisements, you can spark conversations from new customers, delight them with your services and turn into loyal fans. IVR can also be used to collect feedback from your customers with few taps which can make them feel valued while providing invaluable insights to improve your business.
The IVR number provided by MyOperator comes with rare cloud telephony features. Live call transfer facility and 99.99% uptime are two of them. With live call transfer, your agents can refer customers to other agents without disconnecting the call. The resolution of customer issues on a single call leads to a higher satisfaction rate. MyOperator IVR number is based on the cloud. You neither have to set up any hardware nor spend money on capital expenditure. MyOperator provides an online set up of IVR numbers. Once you sign up, our team will set up your business IVR number in less than one business day.