Manatal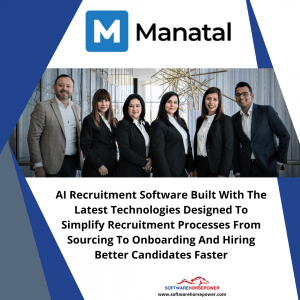 Transform the way you recruit.
AI Recruitment Software designed to source and hire candidates faster. Tailored for HR teams, recruitment agencies, and headhunters.
Easy-to-use Recruitment Software
No steep learning curves or bloated interfaces. Manatal platform is simple yet powerful; accessible and relevant to all recruiters.
Customizable pipeline:
 Customize your recruitment pipeline based on your process with a slick drag-and-drop interface.
Kanban board:
 Get an overview of your recruitment progresses in one single-board view.
Post your jobs on 2,500+ Free & Premium Channels
Share your job openings on 2,500+ free and premium channels, including local, global, and specialized job platforms such as Indeed, LinkedIn, Monster, CareerJet, JobStreet, and many more.
2,500+ job boards: Global, local and specialized free and premium platforms integrated natively.
Manage all your sponsored job advertising campaigns from a single platform.
AI-Powered Recommendations
Manatal AI Engine simplifies the whole hiring process by suggesting the best candidates for a given job while automating redundant tasks.
Matching recommendations: Score candidates' profiles based on job requirements to facilitate your screening process.
Candidates' profiles enrichment: Enrich candidates' profiles with LinkedIn and other social media data for better matching recommendations.
Candidates' Profiles Enrichment
Collect insights beyond resume. Manatal AI Engine browses the web in search of data on 20+ social media and public platforms to automatically enrich candidates' profiles.
Data enrichment done seamlessly during the candidate creation.
20+ social and public platforms, including LinkedIn, Facebook, Twitter, GitHub, Medium and many more
Progressive Mobile Application
Access Manatal from your computer, phone, or tablet to ensure you never miss any activity, wherever you are.
Recruit on the go: Access all Manatal features from all your devices.
Receive notifications: Get notified for reminders, and specific events.
Customize or Link your Branded Career Page
Portray your company's brand on your career page and proudly communicate who you are to visiting top talent. Showcase your company culture and display your values by creating or linking your Career Page for an efficient recruitment process.
No development required: Our Career Page can be set up and customized with no technical resources.
Fast setup and compatibility with all web platforms: WordPress, Wix, Squarespace, and others.
Candidate Onboarding & Placement Management
Track and manage every new hire or placement throughout every step of their employment experience, from offer letter to onboarding and beyond. Leverage the full potential of Manatal's recruiting software and customize the onboarding milestones to reflect your own process.
Keep track of onboarding events such as starting dates, probation periods, or end of employment.
Customize onboarding milestones for a given job.
Finding candidates is easier than even with Manatal's intelligent candidate sourcing tools.
Import candidates directly from LinkedIn
Import candidate profiles directly from LinkedIn to Manatal via our Chrome Extension tailored for sourcing. Parse candidates' public information and attach them to the candidate profiles in your ATS. Connect with, short-list, and save candidates that best fit your job requirements.
Automatic profile extraction: Import all candidate details from Linkedin to the relevant fields.
No extra cost: Our LinkedIn Sourcing Extension is available for all price plans.
Share your jobs on +2,500 free & premium channels
Share your job openings on 2,500+ free and premium channels, including local, global, and specialized job platforms such as Indeed, LinkedIn, Monster, CareerJet, JobStreet, and many more.
2,500+ job boards: Global, local and specialized free and premium platforms integrated natively.
Manage all your sponsored job advertising campaigns from a single platform.
Centralize your resume database
Link any job board to Manatal to automatically converge all your applicants into one platform. Candidates who apply will have their profiles created in Manatal and attached to the job they applied for.
Automatic candidate profile creation and information parsing for every resume received.
Job board connect: Connect job boards not integrated with Manatal in a matter of minutes.
Design your branded career page with no code
Design and launch your branded career page without any technical development. Showcase your employer branding with rich media, including visuals and videos; customize application forms with multiple format of fields.
Launch and customize your career page in a few clicks with a no-code interface.
Fast setup and compatibility with all web platforms: WordPress, Wix, Squarespace, and others.
Automatic extraction of resume information
Candidates applying through your career page, job boards, or any other channel are parsed and scored based on their capabilities, work experience, talents, and skillsets.
Detection, extraction, and classification of candidates' information.
Bulk parsing support; import one or many resumes and parse them in batch.
Launch and manage your candidate referral program
Manatal Candidate Referral System is designed to support and frame your employee referral program. View, add, and tag referred candidates, save referrers' contact information, and aggregate valuable data from your career page directly into Manatal.
Launch and manage your candidate referral program effortlessly and integrate it into your career page.
Simple and straightforward, natively integrated with Manatal Career Page.
Collaborate seamlessly with all your recruitment partners
Manatal Vendor Management System – VMS – allows hiring teams and recruitment agencies to work together more efficiently. Share selected job vacancies with one or multiple recruitment agencies and receive candidates through Manatal Vendor Portal.
Collaborate with all your recruitment partners in one place without the hassle of back-and-forth emails.
Improve time-to-hire by getting detailed information on the progress of your partners.
Share your jobs on social media in one-click
Expand your reach and boost your job opening visibility by sharing your vacancies on social media directly from your Manatal-hosted career page.
One-click job sharing on social media such as LinkedIn, Facebook, WhatsApp, Twitter, and more.
Fully integrated with Manatal Career Page with no setup required.
Keep your database clean of duplicated candidates
Manatal detects and notifies you of potential duplicate candidates and allows you to merge multiple profiles – automatically or manually – or even keep multiple resumes for the candidate.
Detection and notification of potential candidates' duplicates based on multiple data points.
Resume versioning management allowing you to store several resume versions for a single candidate.
Bulk and mass import of resumes
Save time during candidate creation by batch-uploading resumes; Manatal automatically creates unique candidate profiles while parsing resumes uploaded.
Import and parse resumes efficiently, whether you got one or thousands of them.
Drag-and-drop upload interface designed to be intuitive and easy-to-use.
Applicant Tracking System
We provide a cloud-based comprehensive ATS – Applicant Tracking System – solution to make your recruitment process easier. Through effective pipelines, AI-driven insights, and applicant matching, candidate management becomes a seamless task.
Interactive recruitment pipeline
One job, one page – with a drag-and-drop pipeline fully customizable with your recruitment stages. All the information you need is easily visualizable through a board (kanban) view or list view.
Kanban & List views: Visualize candidates, jobs, departments, or clients with the view that suits you best.
Drag-and-drop Interface: Move candidates intuitively across your pipeline in a simple way.
Complete candidate profiles and scorecard
Centralized candidate profiles containing resumes' information, messages, annotations, and feedback for job vacancies. Store past information for analysis and leverage them in the future.
Holistic candidate profiles containing data collected from resumes, social media, and other sources.
Manage all your sponsored job advertising campaigns from a single platform.
Flexible and powerful search functionalities
Search across your jobs, candidates, departments, and companies in a second. Just type what you are looking for (name, position, country, department, company), and our search tool will find what you need through your database in one click.
Search your entire database to retrieve candidates, jobs, contacts, and companies.
Search-as-you-type showcasing instantly relevant and contextual results.
Search multiple criterias at once
Make the most of our boolean search feature to find the best candidates for your job vacancies. Our proprietary AI engine matches and scores the most qualified candidates for any job requirements – based on job titles, skills, education, locations, seniority, and much more.
Realize complex search operations based on multiple selected criteria.
Custom fields compatibility to easily retrieve information based on your own data structure.
Automated resume reformatting
Brand and customize your candidate resumes. The 'Branded Resume' feature allows you to add a watermark and logo to an existing resume. Alternatively, use the 'Custom Resume' feature to re-format a resume based on your preferences in addition to a watermark, logo, branded header, and footer.
Easily brand a resume by adding branded watermark and logo.
Produce an entirely new resume, fully anonymized based on candidate information plus your branding.
Sync your mailbox and calendar
Connect your Outlook / Office365 or Gmail account to send and receive emails and sync your calendar with Manatal. Our all-in-one software aims to improve communication by allowing users to contact their candidates and manage their recruitment without switching across multiple platforms.
Mailbox and calendar integrations out-of-the-box with Outlook / Office365 and Google Suites.
Import your past communications with candidates during our free data migration.
Notify all your candidates and clients in batch
Manage recruitment campaigns via email marketing by sending out campaigns to candidates and clients in batches. Configure email templates, track responses, measure campaign effectiveness, and analyze results directly within Manatal.
Send your recruitment email campaigns directly from Manatal to update your candidates in batches.
Consent management system compliant with GDPR and other data protection acts.
Launch email marketing campaigns
Sync your mailing campaigns with Manatal's email marketing integration. Synchronize and seamlessly export candidate contact information to solutions like Mailchimp or other service providers of your choice.
Connect your existing email provider to send email campaigns directly from Manatal.
Synchronize your mailing lists built via Manatal to your existing email provider.
Right-to-left (RTL) compatibility
Add candidates and jobs using different languages. We support right-to-left (RTL) languages and take pride in catering to multilingual agencies and departments through our 'All language support' feature.
RTL (Right-to-Left) support: Full compatibility with all RTL languages such as Arabic or Hebrew.
Non-roman characters support: Manage all information in languages such as Chinese, Thai, or Japanese.