Click Up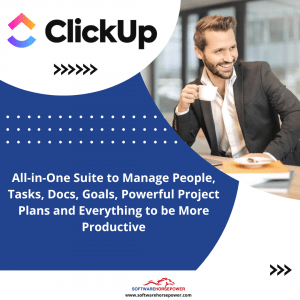 All of your work in one place: Tasks, Docs, Chat, Goals, & more.
Set goals and crush them faster.
Stay on track to hit your goals with targets for task completions, numbers, monetary values and more. Track progress in real-time connecting tasks to goals and keep your objectives organized with Goal Folders.
Tackle work from any angle with 20+ real-time views that adapt to your needs. Track tasks on List, update workflows on a Board, drag-and-drop due dates on a Calendar, and so much more.
Bring everyone together in Chat.
Work smarter as a team with real-time chat. Tag individuals or groups, assign comments for action items, and link tasks to get more done together.
Simplify work and get more done.
Plan, track, and manage any type of work with project management that flexes to your team's needs.
Gantt charts for powerful project plans.
Schedule, manage dependencies, and prioritize anything into an elegant project timeline.
Time management made easy.
The dynamic timeline lets you schedule tasks, keep up with project progress, manage deadlines, and handle bottlenecks.
Quickly schedule multiple projects.
The online Gantt chart gives you a bird's eye view of all Spaces, Projects, Lists, and tasks. With clear coloring options, you'll easily know what's happening and where.
Organize and prioritize every task.
Organize how you see your tasks with a quick sorting. Create cascading views with a single click to easily see what important tasks are coming next.
Easily update projects with a simple drag-and-drop action to collaborate amongst your team in real-time. Dynamic progress percentages provide a detailed snapshot.
Manage your dependencies.
Create tasks and link them with dependencies. Dragging a task with dependencies will automatically reschedule tasks in the chain.
Discover the critical path.
Intelligent dependency-path tracking shows you where potential bottlenecks might exist to prevent inefficiencies.
Build your mission control center.
Bring all your work together in a high-level overview with Dashboards.
Build a Dashboard for any business scenario. Easily share with others digitally within your Workspace or even display at the office in full screen mode!
Select any of the 50+ widget variations which instantly provide data for any activities or information you want to gather, display, or understand! There are unlimited ways you can choose to visualize your work.
Flexible time tracking for everything.
ClickUp makes time tracking easy so you can focus on your work. Track time, set estimates, add notes, and view reports of your time from anywhere.
Track time from anywhere.
Record time from your desktop, mobile, or web browser through our free Chrome extension . Easily link the time you track back to any task you're working on in ClickUp.
Start and stop time from any device and jump in-between tasks with our global timer. Add time retroactively or create entries by date range with manual time tracking.
Sync your time into ClickUp.
Bring time tracked from your favorite apps into ClickUp in seconds.
Build and customize time sheets.
View your time tracked by day, week, month, or any custom range with detailed time sheets. Show time totals grouped by dates and see individual tasks and time entries for a deeper look at where time was spent.
Transform your brain dumps into beautiful Mind Maps.
Plan and organize projects, ideas, or existing tasks in ClickUp for the ultimate visual outline.
Visualize the structure of all your tasks. Map out your ClickUp workflow wit
Map out your ClickUp workflow with existing projects
Rearrange tasks into logical paths
Create, edit, and delete tasks right from your view
Create powerful free-form diagrams.
Invent Mind Maps independent from any task structure
Use nodes as reference points for work to be completed
Quickly convert nodes into ClickUp tasks
Create & link all your tasks.
Easily rearrange your projects by dragging branches into logical paths. Quickly add, edit, and delete tasks right from your view!
Share your Mind Map with anyone.
Allow your whole team to visualize the workflow. Collaborate on any adjustments that need made as work progresses!
Automate the routine work.
ClickUp Automations do the busywork and create consistent processes so that your team can focus on what matters.
Spend more time on what matters.
ClickUp makes it easy to automate your routine tasks. Use pre-built automation recipes or customize them based on your needs, so your team can focus where it matters most.
100+ ways to automate your day.
Create new tasks and implement clear SOPs across your team without breaking a sweat. Automatically assign tasks, post comments, move statuses, and more with hundreds of possibilities.
Automate your favorite tools within ClickUp.
ClickUp Automations work with external apps to bring everything into a single, shared workflow, with more integrations releasing every month.
Automate over 50 actions.
Decide which action occurs when an automation is triggered, from changing statuses to creating new tasks, to save your time from manual processes.