ScreenCloud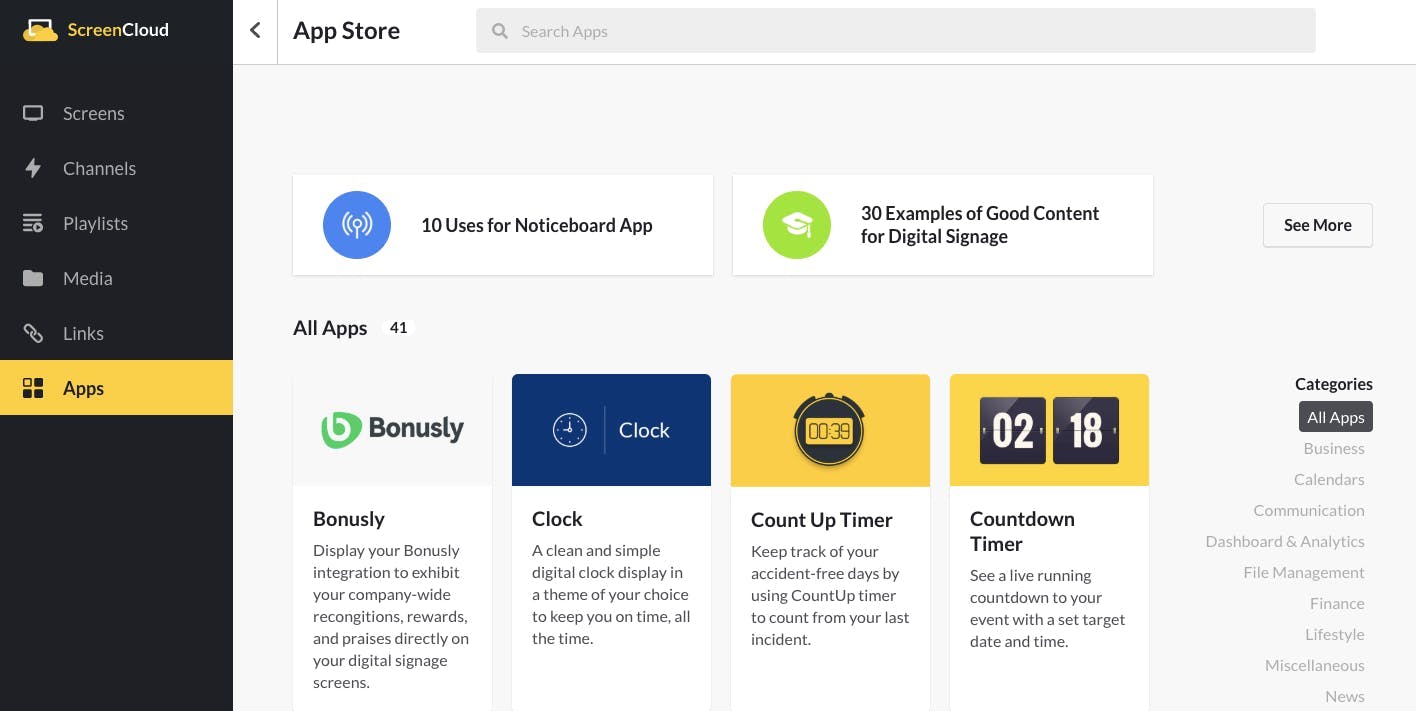 ScreenCloud software | Digital signage software
Your screens can do more Unlock their potential
Setting the standard for barrier-free digital signage
Things you didn't even think were possible
Screens people love, that you love managing
Your screens can do more Unlock their potential
ScreenCloud is the only software platform you need to drive
engagement, productivity and sales with digital signage.
Setting the standard for barrier-free digital signage
ScreenCloud works on any screens, TV or device. It's the flexibility you need to build a network and manage it from anywhere.
Secure and simple content management
Easily aggregate existing content, or create your own. Plus, you'll have peace of mind from enterprise-grade security, audit logging and user controls like SSO and custom permissions.
See what ScreenCloud can do for you
Workplace Employee Screens
The content management system Comms Pros need to drive employee engagement and productivity.
Commercial Customer Screens
Screens for modern comms that drive sales and engage happy, repeat customers.
Screen Network Management
Enterprise-grade security and simple network management for the IT Hero.
Finally, an easy way to curate screen content
Over 70+ apps and thousands of integrations for popular tools and feeds allows you to lift content from where it already lives, to add to your screens.
Connect and repurpose content that already exists
ScreenCloud's apps, integrations and live feeds are the easiest way to create engaging, real-time content for your screens.
Automate updates
Our integrations refresh regularly in the background so your content is always up to date, no manual refresh needed.
No design or development need
All apps are made "screen-ready" so they'll always look great and can be customized to your brand guidelines in a click.
Customize how your company's screens work
ScreenCloud gives you the freedom to integrate your own organization's tools and workflows.
GraphQL API
Our GraphQL API provides an easy way to integrate your organization's apps and workflows into your screen content displays. 
Create a custom app
We help teams build their own custom apps that live inside your own private App Store within the platform.
The only method for showing dashboard data on digital screens securely
Meet the entirely new approach for sharing dashboards securely with anyone in your organization. No longer will you have to sacrifice scale and flexibility to meet security requirements for presenting critical company information.
The proof is in the performance
Real time performance metrics drive action. Yet traditional digital signage methods don't allow you to share dashboards securely, and that's a problem. ScreenCloud dashboards is built by security experts, for the security-conscious organization that wants to share its data with more teams.
Our Dashboards feature takes data from inside the app and creates a screen-ready format without needing design resource, so you can display data faster.
Empower teams to improve productivity
Sharing real-time data has the power to encourage micro-decisions every day that lead to long-term gains in productivity and performance.
Easily scale the number of teams and employees who can see your data, making more of your business intelligence tools by showing support metrics, financials, customer metrics, and more to your screens.
Design content which gets all eyes on your screens
The Canvas design editor provides templates and screen-ready design tools to help you go from new announcement or menu item, to published, in minutes.

Forget third-party design tools, now you can design screen content directly inside ScreenCloud. Canvas has all of the design features you'd expect and love from your favorite design tool. With 140+ screen-ready templates.
Your screens may be in different locations, but your brand doesn't have to be. Streamline how your messaging looks and feels on your screens by delegating designs inside Canvas. Save branded templates with lockable areas and share or duplicate templates to be used again and again.
Every template and design inside Canvas is made to fit screens of all sizes, in portrait or landscape. Your screen content has never looked better.
It's never been easy to go live inside the organization, until now
ScreenCloud Broadcast removes friction so that your organization can broadcast live meetings to every employee, securely and as part of your existing communications.
Frictionless live streaming to all corners of the organization
Broadcast lets you interrupt or schedule as part of your existing screen network, using tools like Zoom, or OBS. When you're ready for the event, employees can join from wherever they are – even if that's at home, on the factory floor, or even on the road.
Securely share to your network
Broadcast is built on the same low-latency live streaming technology that powers Twitch. With all the security protocols you'd expect, like password protection and authentication through existing tools.
Schedule as part of company TV
Use your existing screen network to go live. Easily takeover what's playing in the moment without interrupting your regular content schedule.
Catch live reactions from watchers who can send in emoji reactions as the live stream is happening.
In-built protocols to reach offices, and those at home
Reduce the complex workflows of creating a live broadcast by streaming through your screen network and creating a web-enabled channel for remote employees.
Transform your digital signage experience with ScreenCloud OS
ScreenCloud OS lets you focus on what really matters. Built by digital signage experts, ScreenCloud OS is the industry's newest purpose-built digital signage operating system and device. Its all-in-one solution makes it one of the most powerful and cost-effective options on the market.
Run demanding content with ease
ScreenCloud OS powers a Station P1 device that has up to 2x more CPU performance than the Amazon Fire TV Stick and up to 4x as much total device RAM and storage.
Get up and running in seconds
Remove all complexity with our plug-in-and-play approach. ScreenCloud OS runs on the high-performing Station P1 device, pre-installed with ScreenCloud's software for streamlined deployment in minutes.
Focus on everything but security
As digital signage experts, we understand the complex security issues that come with getting your content onto screens securely. Connect your audiences with compelling screen content to drive sales productivity and engagement – without compromise.

Secure by design, ScreenCloud OS is only built to run digital signage. With enterprise-grade security – including logs and reporting – ScreenCloud OS also provides support for secure network configurations, proxies and custom room CAs.
Purpose-built for digital signage, optimized for ScreenCloud
ScreenCloud's cloud-based software works on any screen, TV or device. But with so many options for media devices, it can be hard to choose the right one for your screen network; which is why we continued our commitment to flexibility with ScreenCloud OS – it works with any screen for seamless deployment.