The easiest way to manage team projects and tasks
Why use Asana? Because only Asana's Work Graph data model gives teams everything they need to stay in sync, hit deadlines, and reach their goals.
AUTOMATION
Let us do the work you hate
Don't waste time on tedious manual tasks. Let Automation do it for you. Simplify workflows, reduce errors, and save time for solving more important problems.
FORMS
Streamline work requests
Create a standard work intake process with Forms. Make it easy for others to request work, and get the details your team needs upfront.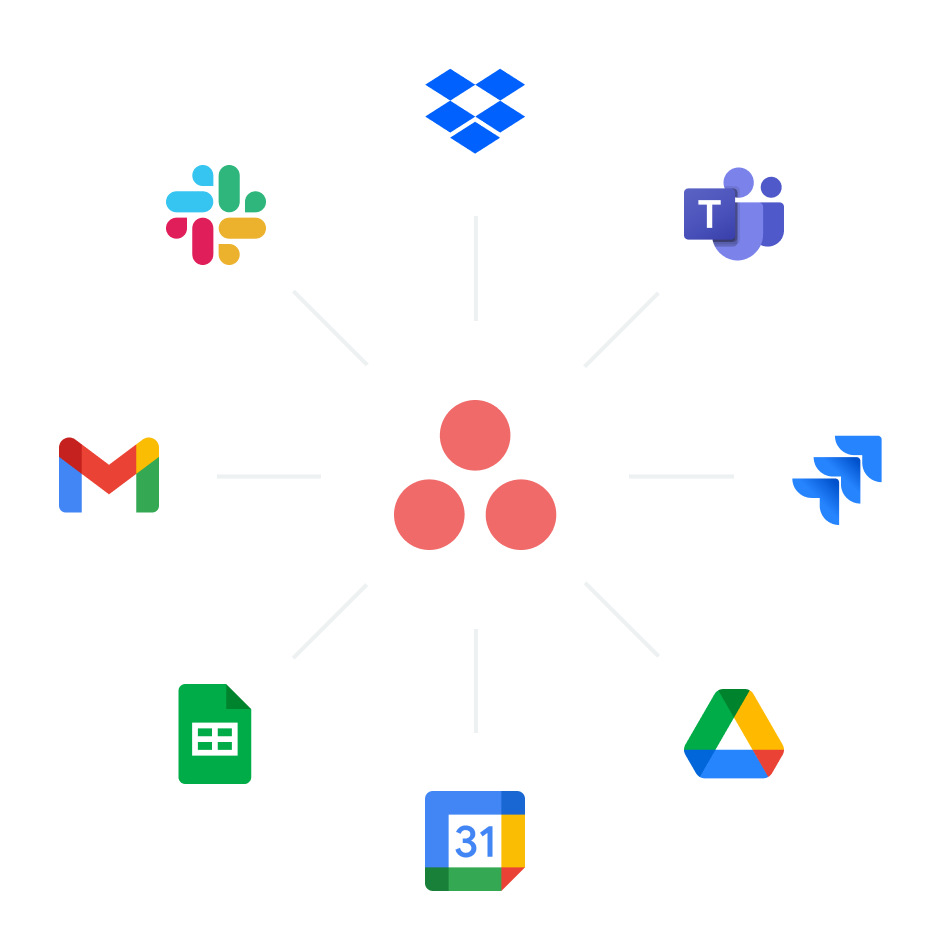 INTEGRATIONS
Tie it all together
Bring emails, files, tickets, and more into Asana with over 100 integrations to choose from, so you can see everything in one place.
ADMIN CONTROLS
Control your data
Easily manage your team's Asana account, enforce the security controls your organization requires, and understand how people are using Asana across your team.
FOR MARKETING AND CREATIVE TEAMS
Your secret to standout marketing
Simplify processes, reduce busywork, and lay out clear goals and plans with Asana work management software—so you and your team can focus on the work you do best.
SET YOUR MARKETING STRATEGY
Create a clear path of action
With Asana, you can make sure everyone knows your marketing goals and expectations. Then, your team is free to run wild with ideas, not deadlines.
MANAGE YOUR MARKETING PROGRAMS
Turn strategy into workable plans
Empower your team to seamlessly and efficiently plan, organize, and execute marketing activities from start to finish. All without missing a step.
STREAMLINE CREATIVE PRODUCTION
Give your team more time to create
From routing requests to tracking approvals, manage your creative production processes and eliminate ad hoc tasks that waste time.
FOR OPERATIONS TEAMS
Your key to operational excellence
Build and scale your processes with Asana. Improve efficiency, and give your team more time to focus on their most important goals.
WORK EFFICIENTLY
Set up processes everyone can rely on
Automate manual tasks so teams don't have to think about them. Streamline processes, and reduce the errors and busywork that delay projects.
SCALE EFFECTIVELY
Turn your team's knowledge into action
Stop solving the same problems over and over. Set up common projects as templates so you can develop and adapt consistent processes and best practices.
SHARE STATUS
Update progress with ease
Don't waste time digging for data. Use Status. This features distills data from Asana into charts and other visual highlights, so you can quickly customize and share updates.
FOR SALES AND ACCOUNT MANAGEMENT TEAMS
A better system for selling
Define efficient sales processes with Asana's work management platform. And free your team to focus on engaging customers and winning loyal fans for life.
SPEED UP TIME TO CLOSE
Break down silos that stall sales
Ensure your sales teams get the information they need to respond to customer requests and questions as quickly as possible.
SCALE AND STAY EFFICIENT
Turn best practice into standard practice
Close deals and successfully onboard customers faster. Set up common projects as templates so you can establish consistent best practices.
KEEP WORK ON TRACK
Create a picture of progress in minutes
Show where work stands with Status. This feature distills data from Asana into charts and other visual highlights, so you can quickly customize and share updates.