Apptio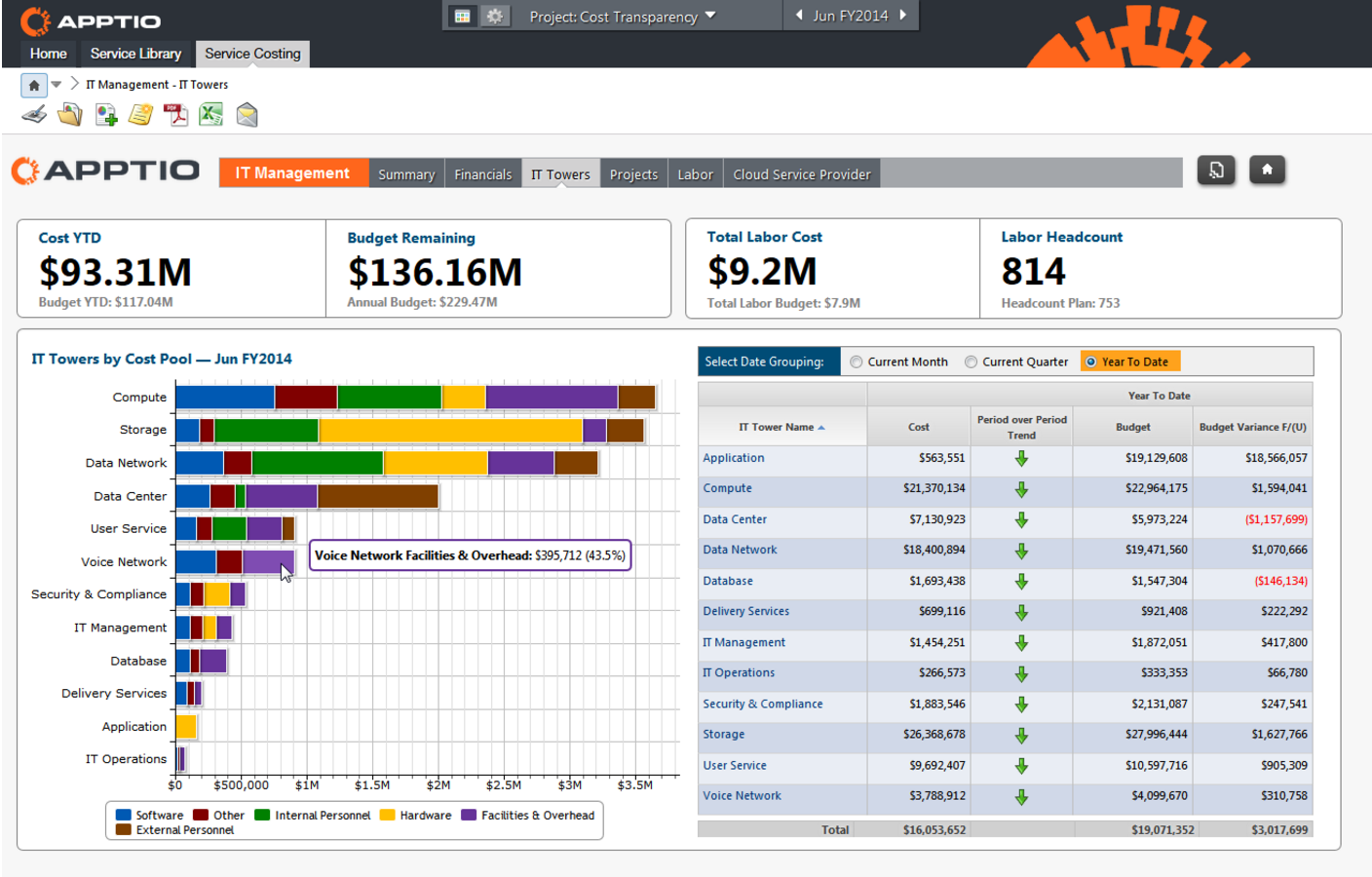 Apptio software | Technology Business Management Software
Optimize Cloud & Hybrid Infrastructure
Analyze, Optimize & Plan IT Spend
Maximize Agile Investment Planning
Technology Business Management
Cloud Migration
Trusted Technology Investment Decisions
Drive better business outcomes with the power of trusted, actionable insights.
Make informed decisions faster, so you can innovate to compete.
Optimize Cloud & Hybrid Infrastructure
Connect your multi-cloud, hybrid, and SaaS infrastructure with cloud financial management best practices to maximize the value of your cloud strategy.
Analyze, Optimize & Plan IT Spend
Establish repeatable and accurate planning, budgeting and forecasting processes while benchmarking against peers for continuous optimization.
Maximize Agile Investment Planning
Align development resources to business outcomes; plan and track value delivery for projects or products.
The Agile Portfolio Management Tool for Your Lean PMO
Apptio Targetprocess acts as a single source of truth for all agile portfolio management and strategy execution activities — from agile portfolio operations to lean governance and high-level strategy and investment decisions, with the freedom for teams to follow any agile method or their own custom work process.
Visually organize strategic themes and business initiatives to align work plans with company vision. Evaluate lean portfolio of products, new solutions and features, and prioritize them based on your company's vision and goals.
Analyze your portfolio backlog — importance of individual products, probability of success, available budget.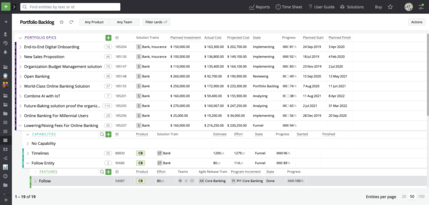 Visualize Company Portfolios
Apptio Targetprocess uses a visualization approach for agile portfolio reporting and value stream funding to gain transparency into a strategy-to-execution flow and manage company portfolios in a lean-agile way. Create portfolio, solution, PI and team-level roadmaps to visualize progress and keep work aligned with business goals and changing demands. Benefit from clear visibility into which exact work items should be completed next to meet important milestones.
Apptio Targetprocess is uniquely flexible to let your teams choose their agile way of working and offers customizable views and reports, and a federated approach with multiple integrations to support an existing delivery flow. Clearly communicate company vision and strategy to teams.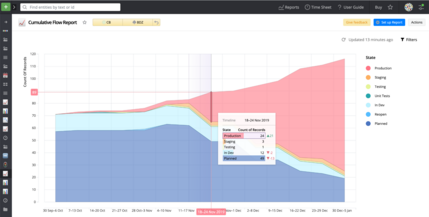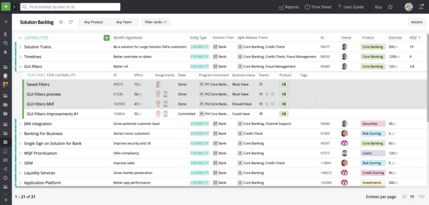 Large Solution SAFe is meant for enterprises that face the biggest challenges — building large-scale solutions that are beyond the scope of a single ART to develop. Solution Trains are used to coordinate the efforts of multiple ARTs and suppliers. Solution Train Engineers (STEs), Solution Management and Solution Architects together coordinate the delivery of business solutions by the Solution Train and its ARTs.
Agile Portfolio Management Software plus Team Work
Use Apptio Targetprocess when your business requires more than your current project management tool is ready to provide.  Get a more flexible and robust agile portfolio management software solution that you can use both for team-level work management and agile portfolio operations at an enterprise scale.
Lean Portfolio Management with Portfolio SAFe
Apptio Targetprocess is a perfect fit for full-fledged enterprise agile portfolio management. It is flexible to adapt to your enterprise work management environment and easy to set up for the Portfolio SAFe or Full SAFe configuration. Moreover, we provide fantastic customer support to make your agile scaling smooth and guide you in the tool adoption.
Application Rationalization
Step-By-Step Framework for Mastering Application Rationalization
The Biggest Challenges to AppRat Success:​
Disengaged business partners can torpedo application rationalization initiatives. The key to engagement is a fact-based dialogue about the total cost of ownership (TCO) of your applications. However, this is a difficult number to build consensus around. If your assumptions are too simplistic, the business will dismiss them. If too complicated, the accuracy of the numbers is hindered by the effort of pulling them together. Striking the right balance between the two drives engagement.
Bloated application portfolios
Bloated application portfolios hide redundancy and lock innovation spend to legacy apps. Simply reducing the number of apps is a win—usage and investment outliers are easier to spot in a reduced pool of apps. With a smaller portfolio, there is also more scrutiny on assessing the business value of new applications. The existence of an application rationalization process drives better new app evaluations.
Redundant platform changes
Increasing a SaaS (Software as a Service) footprint at the expense of on-premises perpetual licenses is a sound IT strategy. But moving all apps from one platform to another, without evaluating business value, is a wasted opportunity. With fewer applications to move, you'll cut the technical workload and deliver a business-value-focused SaaS portfolio.
Under-utilized applications
Buying something new is often the easiest path—but that goes against the spirit of application rationalization initiatives. Organizations with successful app rat initiatives maximize existing apps for business value before adding something new to their portfolio.
How to Build a Successful Application Rationalization Framework
Conduct a complete application portfolio assessment
Application names and owners are the baselines for the portfolio assessment. An application rationalization initiative is often driven by a specific goal (like removing 'retired' apps from the portfolio within two quarters) that focuses on a small part of the total portfolio. However, a baseline assessment of the entire portfolio may find mis-identified apps (wrong owner, incorrect labeling of retired vs active, etc.) important to the current initiative. This also establishes necessary groundwork for follow-on broader app rat initiatives.
Business stakeholders engage early in app rat initiatives by assisting in the portfolio analysis. An application list and an app-to-server mapping file are sometimes the only two pieces of data given to IT Finance. This data needs context and validation. If the source data is wrong, the recommendations coming out of an application rationalization initiative are useless. A successful application rationalization initiative is driven by accurate validated data. Finance doesn't own the data—I&O does and must validate application list data with operational data.
Successful app rat analysis distinguishes between an application's name and its business value. For example, Trello is a SaaS-based project management software. An app rat initiative must define its business value ("With Trello, we project manage contractors that deliver 30% savings on labor vs a full-time employee."). This value assessment makes it easier to evaluate redundant capabilities in similar applications ("We have Trello, but we also have surpluses licenses for Wrike and Nutcache. Let's agree on one standard and retire the others.").
Redundant capabilities with a sound business case are not candidates for rationalization. For example, uptime availability affects organizations with a workforce spanning multiple time zones. Evening hours in North America are early morning hours in Australia; late afternoon in Japan is night time in France. If all app servers for an organization are rationalized to one location, I&O has a maintenance window falling into at least one region's core business hours. In this case, there may be a business need for redundant capabilities.
Calculate application TCO
Application TCO must determine the fully-loaded cost of supporting and delivering apps. This includes general ledger (GL) entries for both license costs and indirect costs for infrastructure and operations. There are always defensibility questions with app TCO analysis: how accurate are these numbers? A successful app rat initiative will have app TCO analysis as an ongoing activity. With Apptio Cost Transparency, our clients bring in monthly operational and financial data that IT finance can unpack and analyze with self-serve analytics.
Application TCO needs to review costs, identify the drivers of those costs, and analyze project spend associated to each application.
Align cost and business value to a business function
Aligning business value to applications creates organizational resistance. Breaking down application costs by business function identifies investments in run-the-business (RTB) versus grow-the-business (GTB) spend. But this can set up an 'us versus them' scenario where GTB is seen as the only spend that matters. Delivering keep-the-lights-on (KTLO) capabilities is a key part of IT's remit and there is resistance to change if KTLO is dismissed as merely a throttle on innovation. Organizations should prepare for this by aligning IT spend to corporate goals and consulting for buy-in with a broad group of stakeholders during the app rat process..