Spin Technology
Spin Technology software | Data Protection Platform
SpinOne for Google Workspace
SaaS Ransomware Protection
SaaS Application Security
SaaS Backup & Recovery
SpinOne for Office 365
SpinOne for Salesforce
All-in-One SaaS Data Protection Platform for your mission-critical SaaS Apps
SaaS security and ransomware protection designed with enterprise security teams in mind.
SaaS security and ransomware protection designed with enterprise security teams in mind.
Proactive SaaS Ransomware Monitoring and Fast Incident Response, SaaS Apps and Browser Extensions Risk Assessment, SaaS DLP, SaaS Backup & Recovery – All-in-One dashboard
Google Workspace Data Protection Platform
All-in-One, fully automated AI-powered platform for Google Workspace data protection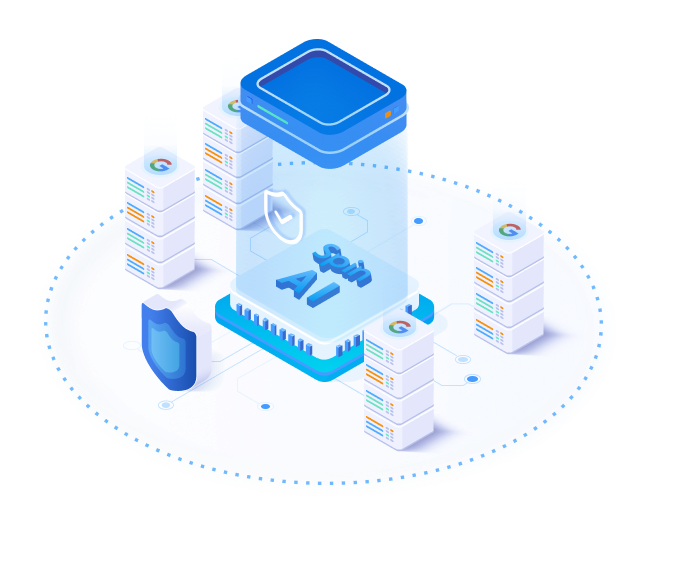 Enterprise-grade features
Augment your Google Workspace data protection and close major security gaps with enhanced functionality.
SaaS application risk assessment
SpinOne performs a risk assessment for all OAuth applications and Chrome extensions and allows you to create policies to fully automate access management.
User Management
SpinOne functionality enables security teams to better control and mitigate user-related risks such as unauthorized access, data transfer, and sharing
Security policy orchestration
SpinOne is a single pane of glass for Google Workspace security that provides comprehensive data analysis, highlights incidents, and enables timely responses.
Google Workspace Data Protection Platform
Save IT budget and Admins time. Use one platform instead of multiple tools and add-ons to protect your Google Workspace data.
Reduce downtime after a cloud ransomware attack from 21 days to several hours with hands-free AI-based ransomware monitoring and detection.
SaaS Application Security
Decrease the time to detect and assess OAuth Applications and Chrome extensions from 2 weeks to 5 seconds and get comprehensive control over app access.
Set precise policies to prevent unauthorized data access, leak, and loss due to human error, man-in-the-middle attacks, and zero-day incidents.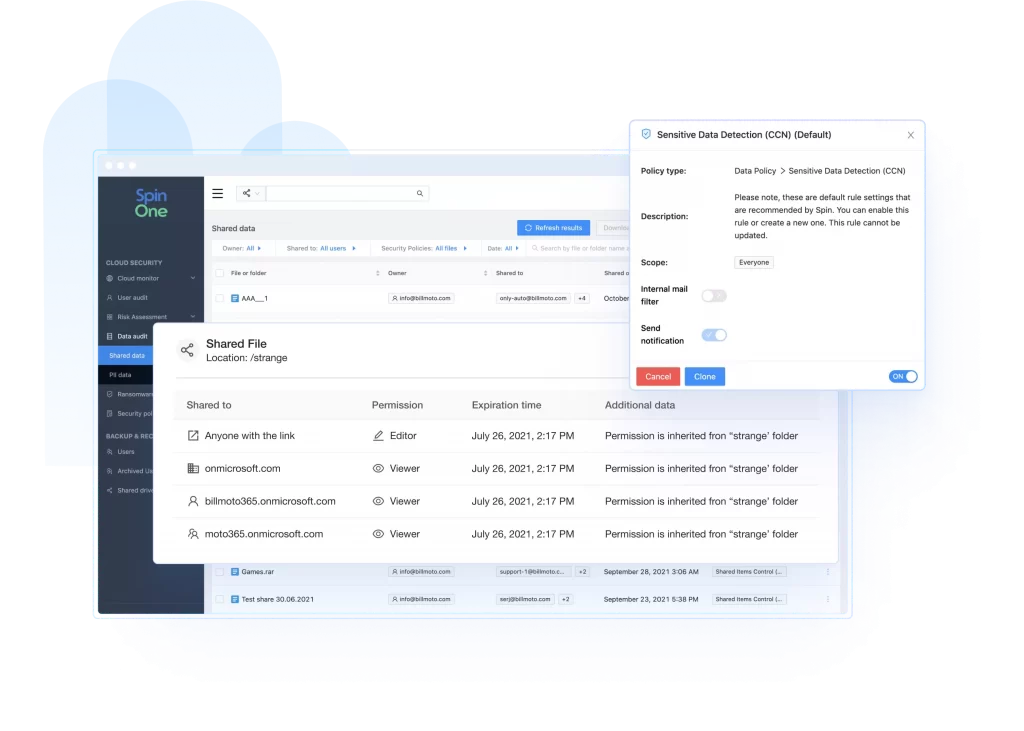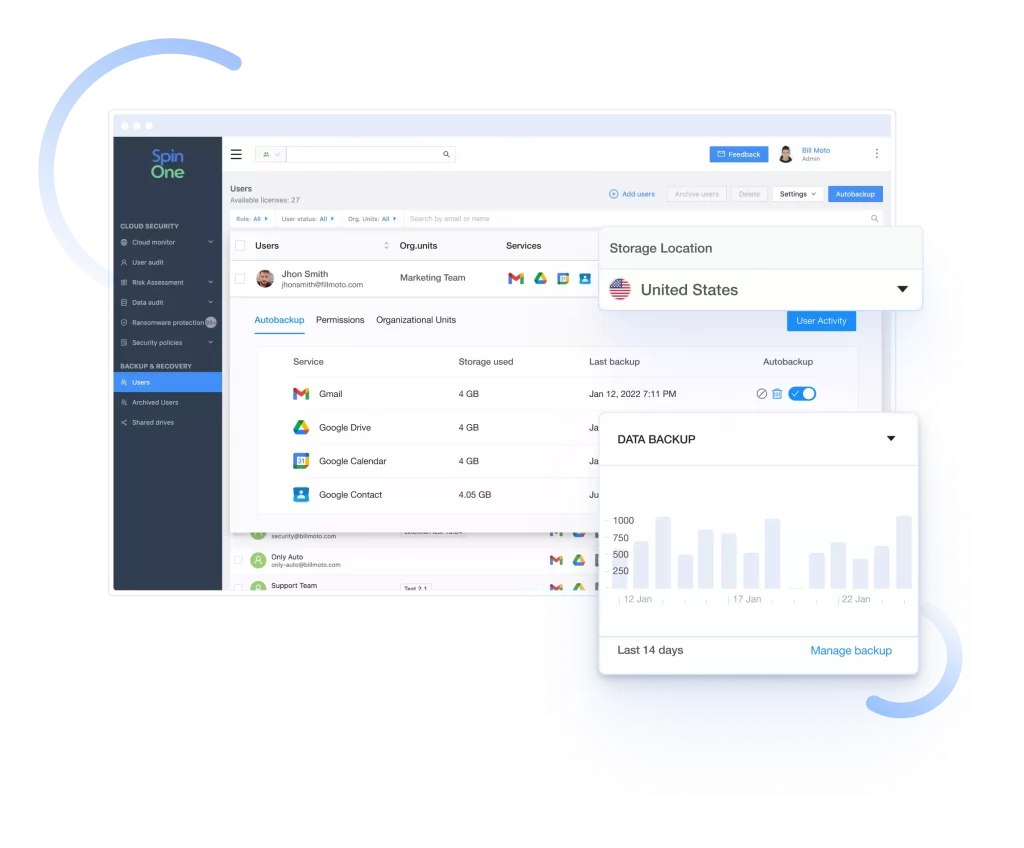 Automated backups of your mission-critical data to comply with local regulations. Find and recover lost files within minutes.
Challenges for Enterprise
Cloud technologies enhance employee performance. However, they don't solve the key challenges of a modern enterprise.
SpinOne offers solutions to each of these challenges.
Shadow IT
80% of workers use SaaS applications at work without notifying IT or getting their approval. This results in 975 unauthorized apps per enterprise on average.
Human Error
Human error is responsible for 52% of all data breaches, 58% of service downtime, 75% of all data loss, and up to 90% of all cyber claims
Ransomware issues
A ransomware attack takes place every 11 seconds with a success rate of 73% and an average downtime of 21 days.
Security and privacy of our customer's data is our number one priority. Spin Technology is committed to ensuring that our security and privacy controls meet or exceed security best practices and regulatory requirements.
We meet security requirements by storing data on trusted cloud providers, encrypting each piece of data we store, and applying best practices of access control.
Hosting Location
Spin works only with the world's top cloud services providers for storing and processing customer data. At the time of the registration with the Spin application services, customers can choose which cloud services provider to use for their data backups. Our cloud services provider partners are:
Amazon Web Services (AWS)

Microsoft Azure

Google Cloud Platform (GCP)
In addition to the cloud provider choice, Spin customers select a geographical region where their data will be stored. Once selected, your data always remains in that region to ensure compliance with any international data transfer restrictions.
Data Security
Your backed-up data always remains encrypted while at rest and when transmitted. We use only the latest versions of secure algorithms and protocols such as TLS 1.3 for data transmissions and AES-256 for the stored data encryption.
To provide even more protection from a potential data breach, we took the security of stored data to the next level. Instead of implementing encryption at the storage level, we encrypt each backed-up data object (email, document, contact, etc.) with a unique encryption key.
Access Control
Physical access security is provided by the best-in-class data centers maintained by our cloud infrastructure partners (AWS, Azure, and GCP). Spin uses strict logical access controls including strong passwords, multi-factor authentication, and deny-by-default network and system access.
All cloud-hosted system components are only accessible through a bastion host over a secure remote Virtual Private Network (VPN)