Manage Engine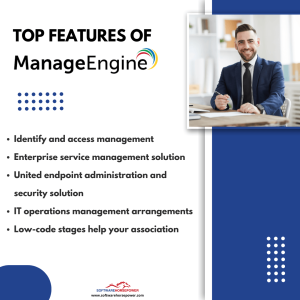 ManageEngine Software | IT management software
Identity and access management
Enterprise service management
Unified endpoint management and security
IT operations management
Security information and event management
Advanced IT analytics
We have complete and easy solutions for even your most difficult IT management problems, from keeping your
business safe, to ensuring high availability, to making your users happy.
Identity and access management
Active Directory & M365 management | MFA & SSO |
Zero Trust | PAM
Manage, govern, and secure digital identities and privileged access.
Enterprise service management
IT service delivery | Customer support | IT asset management
Design, automate, deliver, and manage IT and business services.
Unified endpoint management and security
Desktops | Laptops | Servers | Mobile devices |Browsers
Manage and secure desktops, servers, laptops, mobile devices, and web browsers.
Network monitoring | Server monitoring |
Applications management
Monitor and manage your network, servers, and applications.
Security information and event management
Log management | Security auditing | Threat detection and response | UEBA
Secure your network from cyberattacks and ensure compliance.
IT operational analytics | Predictive analytics |
Augmented analytics
Visualize IT data and gain actionable insights into IT operations.
Business process management | Workflow automation | Custom apps
Build powerful custom applications rapidly and launch them on-premises.
RMM | UEM | ITSM | ITOM | IAM
Grow your MSP business with scalable and secure IT management solutions.
Cloud solutions for enterprise IT
Cloud-ready | Cloud-native
Scale your IT to support multi-cloud and hybrid infrastructures.
Manage and protect users' digital identities.

Why do organizations need an identity and access management solution?
With the number of data breaches rising exponentially, organizations need to adopt governance practices and tools to prevent threats and increase operational efficiency. Gaining access to the corporate perimeter is easier than ever due to remote work. For many organizations, an enormous amount of the workload is stored and shared across a wide variety of on-premises and cloud applications. This is why many organizations use granular access control solutions to keep up with authentication demands.
Identity and access management (IAM) solutions help securely manage the digital identities of users. IAM encompasses three key components: identification, authentication, and authorization. Restricting access to business-critical resources and ensuring data protection can help IT admins track privileged access abuse. IAM solutions protect the organization against security incidents by setting parameters in the system to detect anomalous activities that otherwise go undetected. These IAM security features help with building effective security infrastructure.
How will an identity and access management solution help your organization?
Make the switch to remote work easy and effectively manage the identities of remote users. Enable single sign-on (SSO) for quick, secure access to corporate resources and implement multi-factor authentication (MFA) to strengthen security.
Secure your hybrid cloud infrastructure where data is stored in mixed computing platforms made of on-premises servers and private or public clouds. Monitor network traffic and enforce granular visibility across your offline-online environment. Develop cross-platform risk profiles and enable adaptive access to resources on strict contextual authentication.
Adopt Zero Trust to protect your growing network perimeter. Verify every user, employee, contractor, and respective endpoint before establishing trust with behavior-based security analytics. Make informed choices about data, people, devices, workloads, and networks.
Closely monitor all privileged access pathways to mission-critical assets within your network. Enforce fine-grained access restrictions and request-based approval workflows for privileged accounts.
Achieve dual control over privileged access with real-time session monitoring and anomaly detection. Effectively cut down standing privileges and privileged account sprawl by provisioning just-in-time privilege elevation for domain accounts.
Beat IT disruptions by automating painstaking routines like provisioning, deprovisioning, and password resets. Empower your workforce with seamless identity self-service for on-premises and cloud applications.
ServiceDesk Plus is a game changer in turning IT teams from daily fire-fighting to delivering awesome customer service. It provides great visibility and central control in dealing with IT issues to ensure that businesses suffer no downtime. For 10 years and running, it has been delivering smiles to millions of IT folks, end users, and stakeholders alike.
Best practice ITSM capabilities designed for your IT help desk
Gain control of your help desk
Reduce outages, improve agent productivity, meet SLAs, and manage the complete lifecycle of your IT tickets.
Classify, analyze, and take problems to closure. Analyze the root cause and reduce repeat incidents in your IT.
Manage changes with precision
Streamline planning, approval, and implementation with automated work flows. Ensure that there are no more unauthorized or failed changes.
Optimize service delivery
Create and publish your service catalog with custom service level agreements (SLAs) and multi-stage approvals. Ensure better end user satisfaction and better visibility for IT.
Track and manage all configuration items and map their relationships and dependencies. Visually analyze the impact of changes and outages for informed decision making.
Deliver IT projects on time
Create projects, manage resources, and track progress. Integrate IT projects with requests and changes to fine-tune overall IT service delivery.
Collaborate with other IT systems
Enjoy tight integration with software that monitors and manages your networks, applications, desktops, and active directory. Get what you always wanted – 360-degree visibility of your IT!
Streamline asset management
Discover, track, and manage your IT hardware and software assets in one place. Optimize asset utilization, avoid vulnerabilities, and ensure license compliance
Minimize disruptions, and offer stellar support to employees and customers.
A wide range of tools and resources to help IT and business teams streamline their service management processes.
Ensure high availability of your services
Implement best practice IT service management with ServiceDesk Plus' full-stack ITSM suite
Increase service desk adoption rates
Make your service desk easily accessible by being where your end users are.
Analyze root causes, reduce repeat incidents, and boost your IT help desk's productivity.
Visually build relationships between CIs and analyze the business impact of any outages or change implementations.
Showcase your available services to end users, with custom SLAs and multi-stage approvals.
Streamline planning, approval, and implementation with automated workflows.
Boost your service desk team's productivity
Relieve your service desk team from repetitive service desk chores by setting up efficient automations.
Build a service desk that your business demands
Tailor fit your service desk attributes and processes to meet your business objectives.
Optimize asset utilization to ensure maximum ROI
Discover, track, and manage your IT and non-IT assets from a centralized location.
Control and manage all things IT through 360 ITSM
Extend the scope of your IT service management tool with contextual integrations.
Complement your existing business process
Reduce the gap between your business and service management processes with business app integrations.
Transform your enterprise IT support and service delivery
Build a unique IT service management platform specific to your business and industry
Unify service delivery across business functions
Extend proven IT service management best practices to other business functions and provide a consistent service experience across the enterprise from a centralized platform.
Monitor the health of your service desk
Gain insights on your service management processes by mining service desk data with the built-in reporting module.
Minimize disruptions, and offer stellar support to employees and customers.
A wide range of tools and resources to help IT and business teams streamline their service management processes.