Zoho

Zoho software
Sales & Marketing
Customer Service
Finance
Human Resources
Security & IT Management
Custom Solutions
Business Intelligence
Automate routine sales, marketing, and support functions that take up valuable work time, giving you more time to concentrate on your customers. Create optimized workflows that help you reduce manual data entry, eliminate redundancies, and speed up your overall process.
Capture leads, automate lead scoring, identify leads that will convert, and follow up with detailed contact information.
Close more deals in less time. Track what stage your deals are currently in, and seize every opportunity at the optimal moment.
Get real-time insights about your customers, connect with them across channels, and build strong relationships.
Every time your team follows up with a lead or updates a field it requires significant manual work. Learn how to perform these tasks much faster, using workflows.
Does your sales team know what to do at each stage in your pipeline? With Blueprints, your sales team can find out the next move to make at any moment. Define your sales process for your whole team to follow.
Bring your offline sales processes into your CRM and make sure all your sales reps follow it at every turn.
Set up rules in your CRM based on your real-life sales processes. Assign leads to the right sales rep, approve discounts and validate sales data based on your criteria.
Get clean data in your CRM. Define a process for your team to review incoming information, and approve or reject it with appropriate comments based on their quality.
Create personalized customer journeys with CommandCenter. Coordinate the actions of various departments and third-party apps used by your organization to provide customers a seamless brand experience. Track the journey taken by each prospect or customer so you always know the path they've taken. Use detailed reports to identify delays or loopholes in the different stages and make improvements.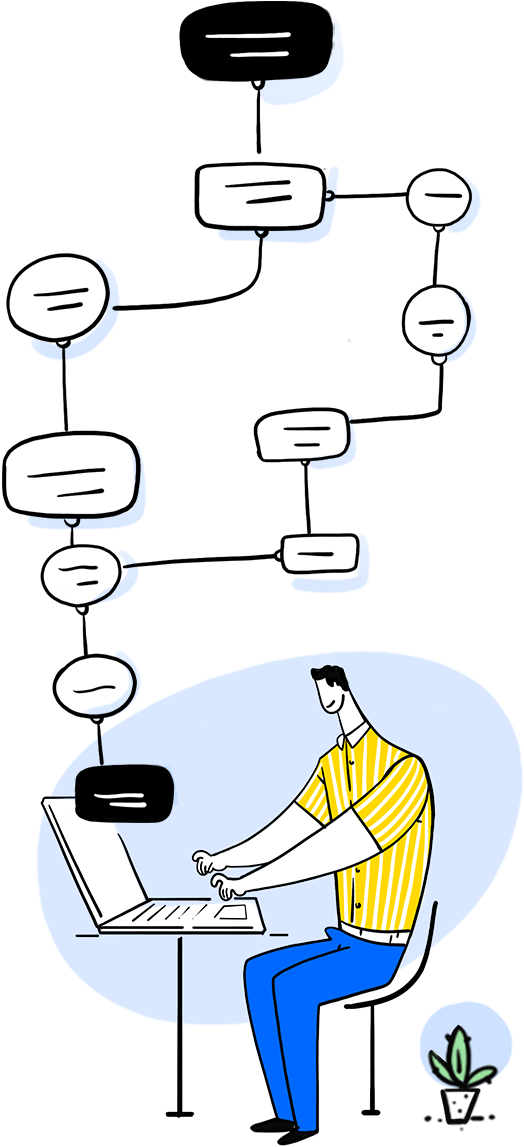 Converse in real time with customers and prospects. Get notified when someone interacts with your brand—whether they're browsing your website, reading an email, or talking about your brand on social media.
Handle email communication completely inside Zoho CRM. Send emails, associate emails to CRM records, and get email insights.
Connect your telephony provider to make calls from within Zoho CRM. Schedule calls, get reminders, and save call logs from every interaction.
Monitor what people are saying about your brand online, and automatically capture new leads from social media that aren't in your CRM.
Facilitate prospects with a self-service portal where they can view your products and make purchasing decisions.
The more your business grows, the more you need to know. Measure the performance of every sales activity, and break quotas down into achievable targets with Zoho CRM's reports, analytics, and forecasts.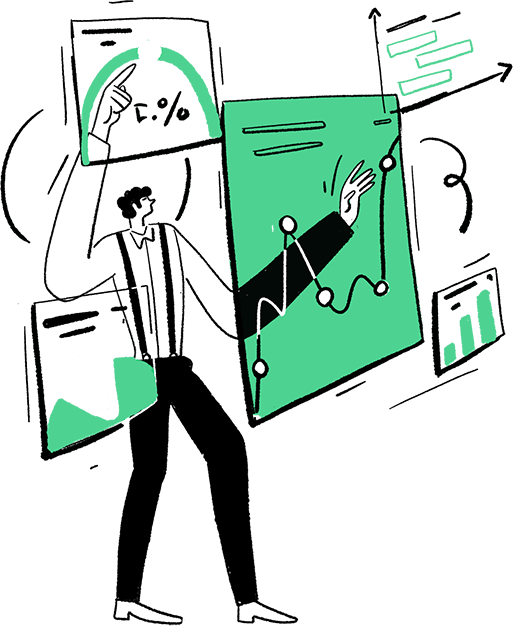 Real-time reporting gives you insight into a variety of metrics such as sales trends, marketing campaigns, activity reports, and team performance.
Create dashboards, analyze trends, stay on top of your key performance indicators, and know where you stand on your targets.
Take a look at the different ways Zoho CRM analytics can help your business grow by helping you make data-backed decisions.
With the right set of tools, your team will never have to struggle. Generate price quotes, and access sales scripts. Permit your customers, vendors, and partners to view, add, or edit information through portals from within your CRM saving your team time and effort.
Generate quotes, invoices, and orders with access to inventory, shipping, and subscription information within Zoho CRM.
Grow your business by giving partners access to create and nurture leads, manage inventory, and view their contacts.
Access all your calendars from one system. Prioritize meetings with multiple reminders and convert them into recurring events by checking a box.
Make the most of your work hubs without shuffling between them using the integration with Zoho CRM.
Accelerate your sales team's productivity with accurate forecasts of potential revenue, and make use of productivity games to exceed your sales quotas. You can categorize customers quickly, set up multiple currencies, use AI predictions to prioritize leads and deals likely to convert, and track website visitors to convert more prospects.
Make more accurate forecasts. Predict future sales, and measure them against current sales.
Categorize customers based on relevant criteria and assign the right sales reps to reach out to them. Exceed quotas with region-wide sales insights.
Encourage your team to exceed sales quotas by awarding badges and trophies when tasks are completed
Predictive Sales and Intelligence
Zia is an AI assistant included in Zoho CRM who can help you manage your CRM data. Zia can fetch the information you want, take notes, predict the future of a sale, detect anomalies, automate tasks, and more! Stay on top of every activity with the newest member of your team.
Zia can predict the likelihood of success for every lead and deal in your CRM, making life simpler for your team.
Need some help? Ask Zia, the conversational assistant built into Zoho CRM. She can help you with many of your everyday activities, from taking notes to computing sales numbers. She's always up for a conversation.
Zia observes your day-to-day sales activities and identifies patterns—combinations of actions based on repetition. Zia registers these patterns and makes personalized macro suggestions to automate these tasks.
Every business is unique, and your CRM should reflect that. Combine various features to mold your CRM to fit your business—the information you collect, the way you view your information, and even the language and currency used can be customized to suit your needs.
Create layouts for different processes, control what data enters your CRM, and close more sales in less time.
Customize the information you want to see inside CRM with custom modules, fields, and buttons.
Focus in on information that matters to you, and easily find any information you need using custom views and advanced filters.
Provide multi-language and multi-currency support to your team so you can sell to customers around the world.
Get your marketing and sales teams on the same page. Generate new leads, execute targeted email marketing campaigns, and compare ad spending to sales revenue with the Google Ads integration.
Segment your contacts and target them with personalized campaigns to improve engagement, retention, and ROI on marketing campaigns.
Strengthen your relationship with your leads by nurturing them with relevant content at every stage of your funnel
Compare your Google Ad campaigns against sales to monitor your spending and determine which campaigns are working and which aren't.
Use CRM to communicate with event attendees, send invites to your contacts or leads, and connect with new leads that you've collected from the event.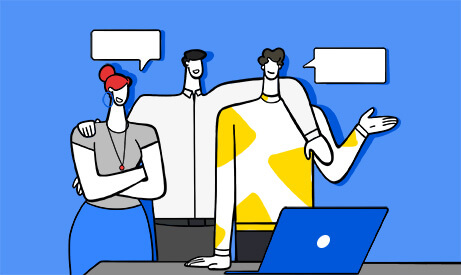 Create groups, tag other reps, share sales updates, or simply leave behind helpful notes for other teammates—your team can work together from anywhere with sales collaboration.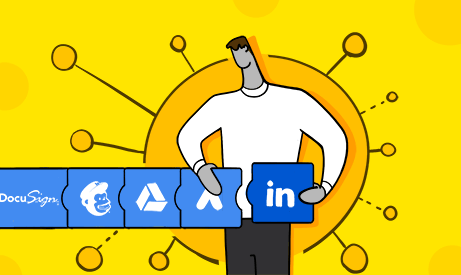 Expand the core functionality of Zoho CRM. Zoho Marketplace offers a host of integrations for third-party applications you use every day, like Google Drive, DocuSign, MailChimp, Google Ads, and more.
Keep up the sales pace with remote-ready features
Today's sales teams need to communicate, collaborate, and do their best work from anywhere – not just from the office. Zoho CRM's remote ready features will let you keep in touch with prospects and leads while working remotely.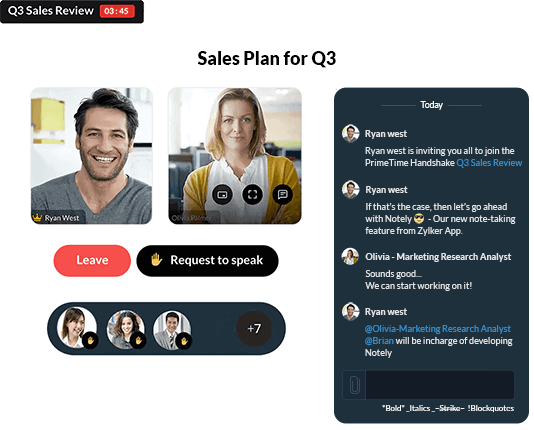 What is Zoho CRM Software?
Zoho CRM is another popular cloud-based CRM solution. It offers a free version of the app that lets users import contacts from Microsoft Outlook. Users can also add notes, attach documents, and link accounts with Zoho CRM.
Zoho offers a free version of its CRM software. That's has features for sales & marketing, powerful integrations, cloud storage.