Deskera CRM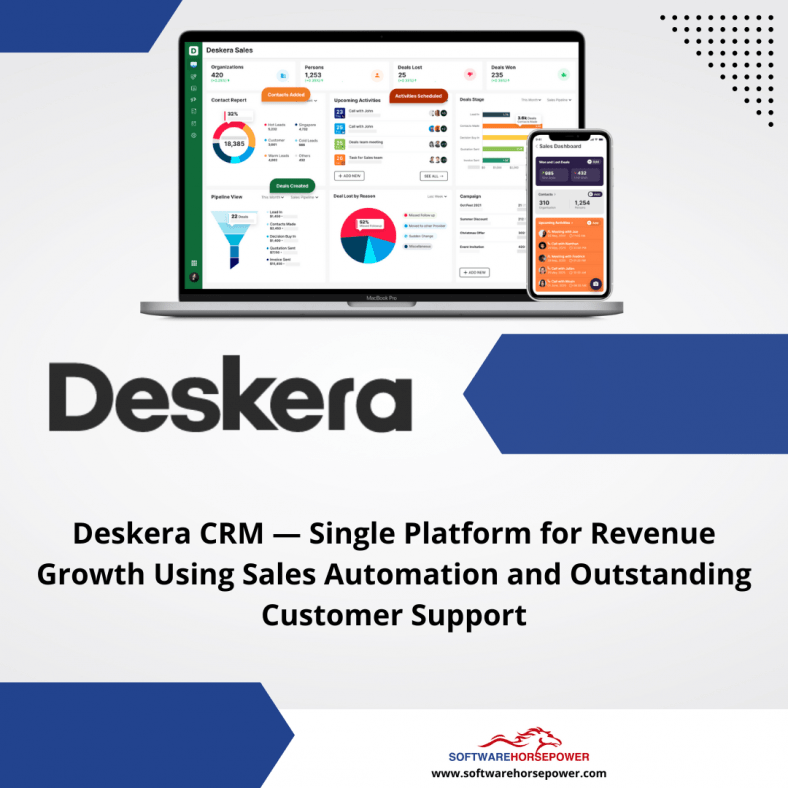 Deskera CRM
Zoho CRM empowers a global network of over 250,000 businesses in 180 countries to convert more leads, engage with customers, and grow their revenue. Transform your business with the gold standard in customer relationship management software.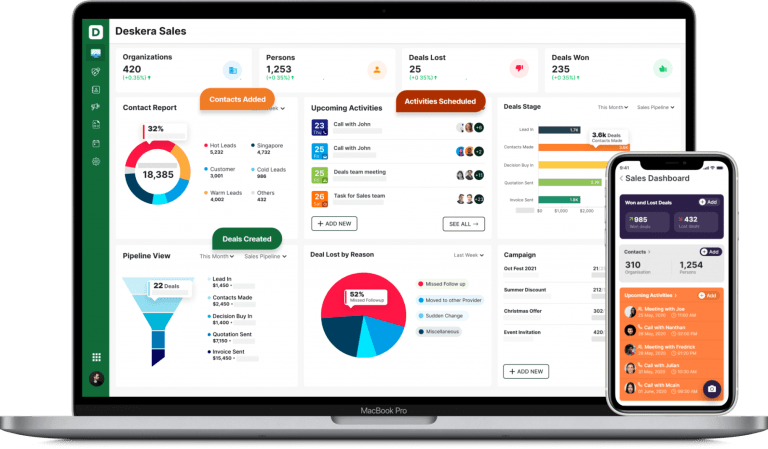 Automate sales, marketing, and support workflows
Manage both sales and support from one single platform. Generate leads by creating an email campaign and view performance with detailed analytics on open rates and click-through rates (CTR). Close deals and provide after-sales support.
Process Management
Does your sales team know what to do at each stage in your pipeline? With Blueprints, your sales team can find out the next move to make at any moment. Define your sales process for your whole team to follow.
Converse in real time with customers and prospects. Get notified when someone interacts with your brand—whether they're browsing your website, reading an email, or talking about your brand on social media.
Save more time with automation
Your Business. Streamlined.
Send and receive money from anywhere in the world with Deskera's integrated payment options.
Connect multiple payment gateways and track your money easily.
Multiple Banks. Connected.
Get banking transactions data from over 10,000 connected banks.
Create rules to automate categorization of bank statements and reconcile bank transactions.
Start selling online without writing a single line of code.
Launch your website and online shop with Deskera No-Code website builder.
eCommerce Stores. Synced.
Connect multiple eCommerce stores, including Amazon, WooCommerce and Shopify.
Sync all orders, payments and inventory in real-time.
Business Process. Automated.
Create custom workflows to mirror your business process.
With ready-to-use connections to over 2,000 apps, and built-in work- flow automation engine, you can run your business the way you want.
Build your own custom dashboard to get the information you want.
Get detailed, real time financial and business reports for deeper insights and faster decisions.
The platform to grow your sales
Capture more leads with email blasts and no-code landing pages. Close deals faster with sales automation & provide world-class customer support with email and chat helpdesk.
Automate Sales, Marketing and Support
Build landing pages, set up conversion funnels and capture emails through lead forms. Send emails and view performance with detailed analytics on open rates and click-through rates (CTR). Automate repetitive manual tasks.
A Million Contacts. No Problem.
Add as many contacts as you want – a million, 10 million – no problem. The more contacts you have, the more you sell.

Import existing contacts via excel, drop them in via webhooks or capture them via landing pages on your website. Add as many fields as you want.

Fetch additional data using webhooks. All the contact information you need to track in one place.
Create Conversion Funnels Effortlessly
Build conversion funnels to drive your visitors towards paid conversions, upsells, and cross-sells.

Select a high-conversion funnel template, or create one from scratch. Build as many funnels as you want.

Track the performance of each step in the funnel and optimize it based on actionable data.
Engage With Email Campaigns
Run beautiful email broadcast campaigns to engage your prospects, leads, customers, or contacts.

Select one of the awesome email templates, pick the target segment and send it. Track open and click rates and compare performance across different campaigns and segments.
Capture Leads with Custom Forms
Create and reuse forms on any webpage. Just select a template, add fields, save the form, and you are all set!

Segment the leads captured automatically based on which forms they came from, so you have a clean, clear view of all your contacts.

You can add the built-in fields or create your field based on types such as text, number, date and more. Moreover, redirect visitors to your desired URL once the form is submitted.
Design Conversion Optimized Landing Pages
Build super-fast, beautiful, responsive landing pages in minutes without coding.

Use one of the high-performing built-in templates or create your own.

Map the pages to your desired domain and add tracking scripts as needed.

Build lead magnets, product pages, registration pages, opt-in pages, and more to give your marketing the boost it needs.
Close Deals Faster with Sales Pipelines
Act on and close deals faster. Just set up activities and get reminded when it is time.

Move deals around different stages of your sales pipeline as they mature, and keep a close eye on the critical ones.

Build your custom pipeline to mirror your sales funnel and let your sales team go full throttle.
Design automation workflow based on triggers such as when a visitor submits a form or a new contact is added.

Add a sequence of steps that must happen once the workflow is triggered, such as sending an email or creating a new deal.

Don't spend countless hours on manual tasks; automate lead follow-ups, nurturing, and repetitive tasks in a few minutes.
Each contact is different. The person who downloaded the free eBook needs a different approach from the person who signed up for a free trial or added a product to the cart.

Segmentation makes this possible.

Add contacts to the desired segments automatically. Run personalized campaigns for different segments, or just split a segment into two for some good old A/B testing.
Get Real-Time Insights with Dashboard
Making the correct business decision isn't always easy. Stay up-to-date with real-time sales insights on the dashboard.

View open and won deals statistics, deal status by team members, activity reminders, and more at a glance on the dashboard. Track your deals and monitor team progress with an intuitive dashboard.
Stay Proactive about Customer Support
Track and solve customer support tickets in one place with ease. Categorize, prioritize, and assign tickets to your support team.

Connect your support email in Deskera to receive and respond to customer issues and queries.

Create custom ticket views by selecting assignee, priority, status, and more. Set up custom views to see relevant tickets on your ticketing dashboard.
Build a Helpdesk for Your Customers
Reduce support tickets and empower customers to find the answers they need by creating a smart knowledge base. Create and manage articles and sections according to your needs.

Brand your helpdesk by uploading your company's banner and logo. Create a repository of articles so that your customers can find answers by themselves.
View all your activities in a calendar view to plan your day efficiently. Schedule activities, tasks, meetings, emails, and more with your contacts or deals. Receive instant reminders and notifications for overdue activities.

Create, manage, and track activities for your team members on the Deskera web and mobile app. Follow up on your deals and contacts by creating linked activities.
Manage Your Team Effectively
Organize your sales staff into teams to track their performance. Create different teams to get a clear picture of the deals and activities they are working on.

Evaluate sales team performance by viewing real-time insights on your dashboard. Set records visibility by the team so that they are only visible to your team.
Grow Your Business On The Go
Sales & marketing teams are frequently on the move or working remote. It is crucial to share real-time updates, even if you are not near your laptop so that you never miss a sales opportunity.

With Deskera's mobile app, you can manage the sales and marketing of your business while you are on the go.
What is a Deskera CRM used for?
Deskera CRM is a Complete CRM Solution for Revenue & Sales Teams.
Customer Relationship Management (CRM) software helps you build and maintain relationships with customers and prospects. CRM software lets you create and maintain a comprehensive profile for your customers and prospects. CRM software has all the features right from lead generation to customer support.
Who should use CRM software?
CRM software is mainly used by business owners, sales, marketing, service, and customer support teams to manage the current and future customers.
What are the key features of a CRM?
The key features of a CRM are contacts management, deal management, sales force automation, customer support, knowledgebase management, sales team performance management, analytics, track communications, email marketing, activity management, team collaboration, sales pipeline management, and more.
Can CRM software help me to improve customer service?
Customer Relationship Management (CRM) software enables businesses to provide efficient support to their customers. With CRM software, you can create a help site for your customers to find all the answers they need.
Can I customize sales pipelines according to my business needs?
Yes, Deskera CRM software lets you configure pipeline stages as per your business requirements.