Teamgate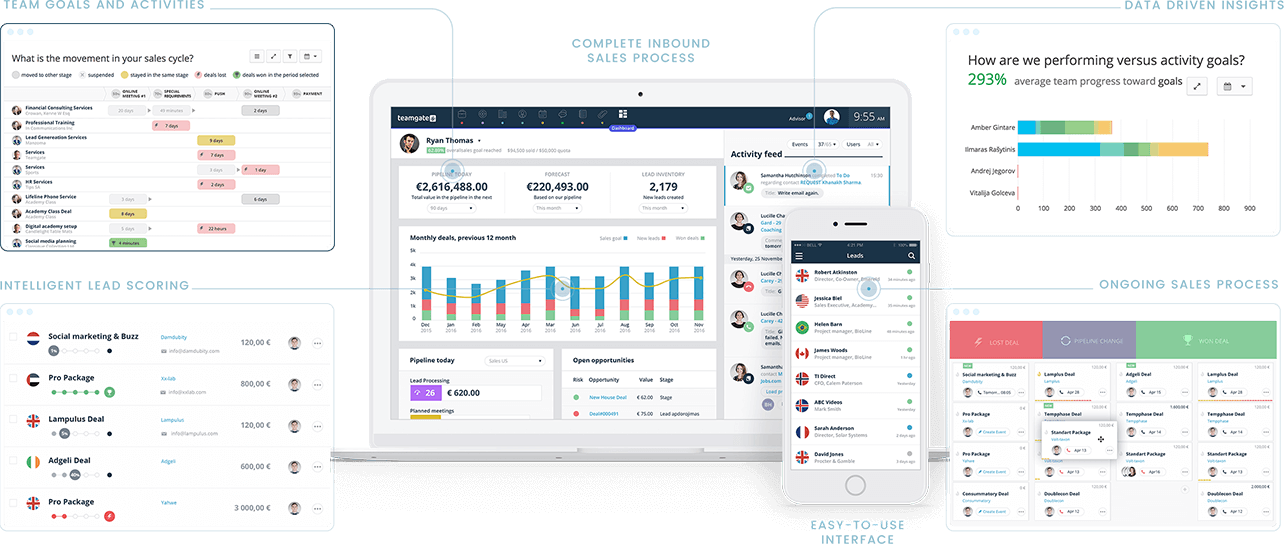 Teamgate software
Sales Dashboard

Lead Management

Contact Management

Sales Pipeline Management

Time Management

CRM

SmartDialer
The simply smart sales CRM
with the strength to power your success
What is your experience with sales CRM?
At first sight, Sales CRM world may look confusing. Luckily, Teamgate gathered a bunch of resources to help those new to Sales CRM to understand it
I KNOW ENOUGH ABOUT SALES CRM TO BE ADVENTUROUS
Click here, if you are ready to learn more about Sales CRM and get to know about its added value to your business.
I KNOW THE VALUE OF CRMS – WHY TEAMGATE IS THE BEST SALES CRM FOR ME?
Check out documentation resources to understand why Teamgate may be the best choice for you in terms of added value.
Teamgate integrated sales inbox allows you to send and receive emails directly from your CRM account. It integrates with all of your favorite email service providers therefore integration is smooth, fast and effortless. You will avoid migrating between tools while communicating with clients and that does not only save you up to 20% of your precious time but also prevents human errors such as misspelled names or typos in email addresses.
Your CRM dashboard offers you a visual display of all the metrics and information you need to visualise your entire sales process. It offers you an overview of everything you need to know about the health of your sales process – all in one place. Regardless of which segment of your sales pipeline you wish to examine; team performance statistics; deals won or lost; lead sources and success of marketing campaigns; your sales management dashboard has it all.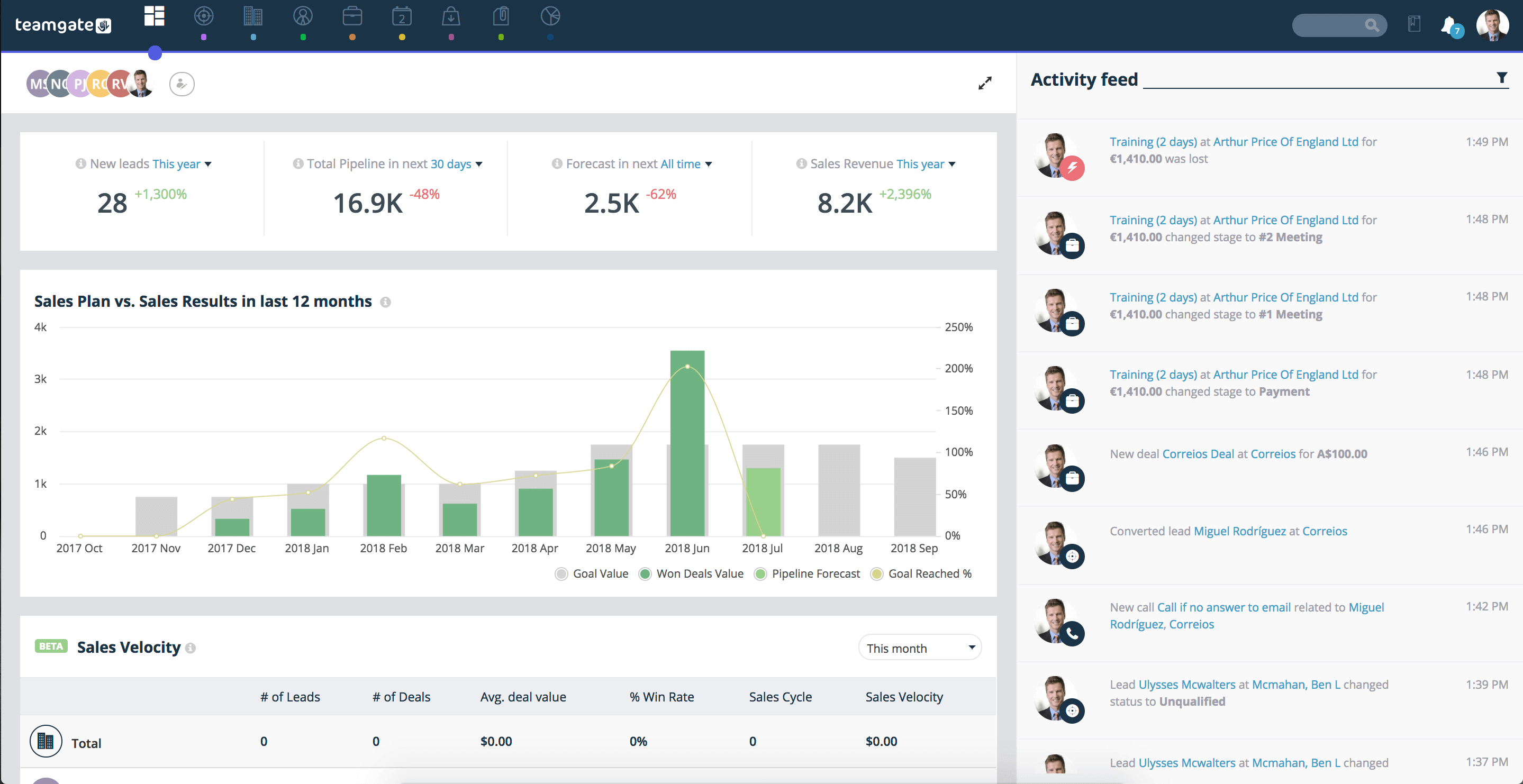 Your Overview To Everything
Your Teamgate sales dashboard displays the topmost-level of your most important sales performance indicators. It offers sales executives, and individual salespeople, instant views of the entire sales process, including; top loss reasons; activity and goal management issues; identification of sales pipeline bottlenecks; and much more.
This pipeline dashboard view automatically gives you the opportunity to quickly analyse the overall situation, and to then delve deeper in order to investigate any situations, in more detail.
A sales analytics dashboard can help you identify the main loss reasons among closed deals. By continuously entering loss reasons, as deals progress, your sales performance dashboard can outline the top loss reasons, such as; price; preference for a competitor; decided against use of product; lost contact; or any other reason which may arise.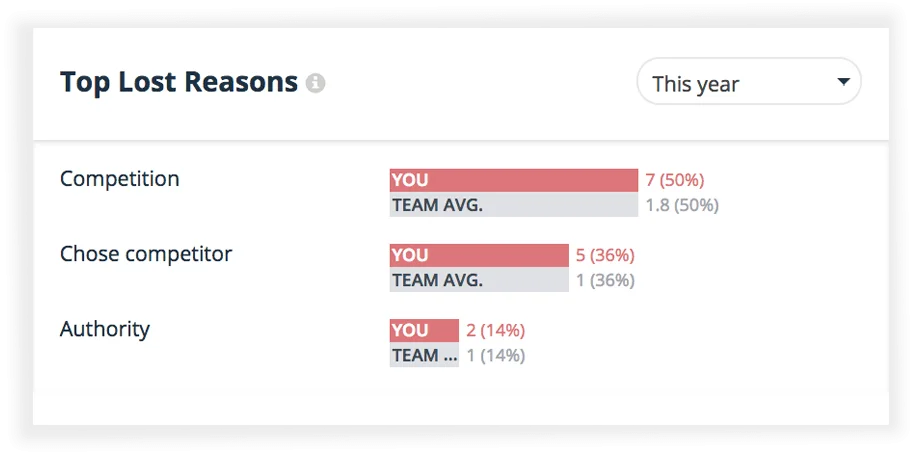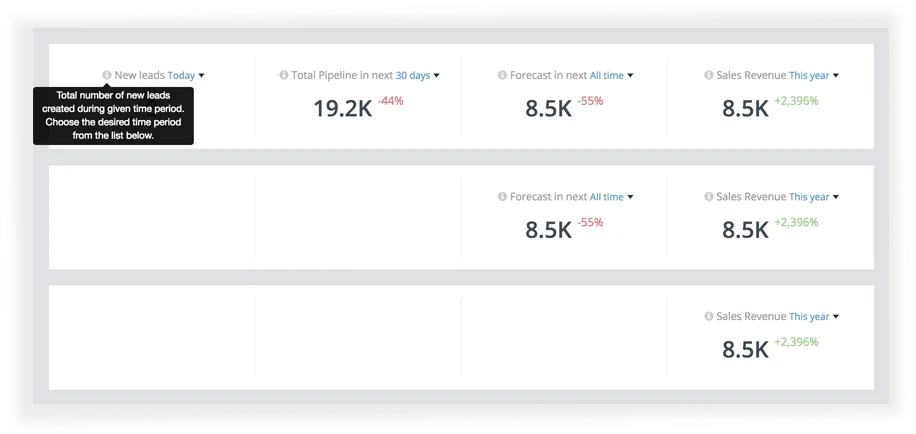 Sometimes it's necessary to get an instant, and accurate, update on your pipeline's sales situation – urgent meetings, demands from superiors, rapidly changing situations, etc. With Teamgate your sales report dashboard can provide you with all those up-to-date metrics on-demand; numbers of new leads; total value of the pipeline; and sales forecast value. You can get a real-time feel for the current situation on the ground, plus you can also create a preview for any selected period of time, based on the information to-hand.
Track your team's performance against set activity goals. Employ useful overviews for sales managers to help you evaluate a team's KPIs for any selected period. Your Teamgate sales team dashboard is the one-stop shop for analysing sales performance, and using all the relevant data to make the right decisions. By analysing the available metrics, you can easily distinguish the links between sales activities, and outcomes.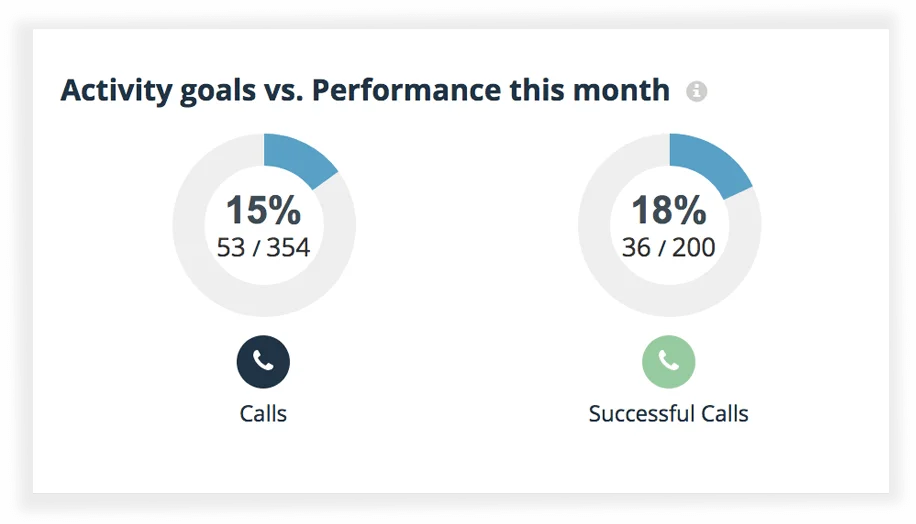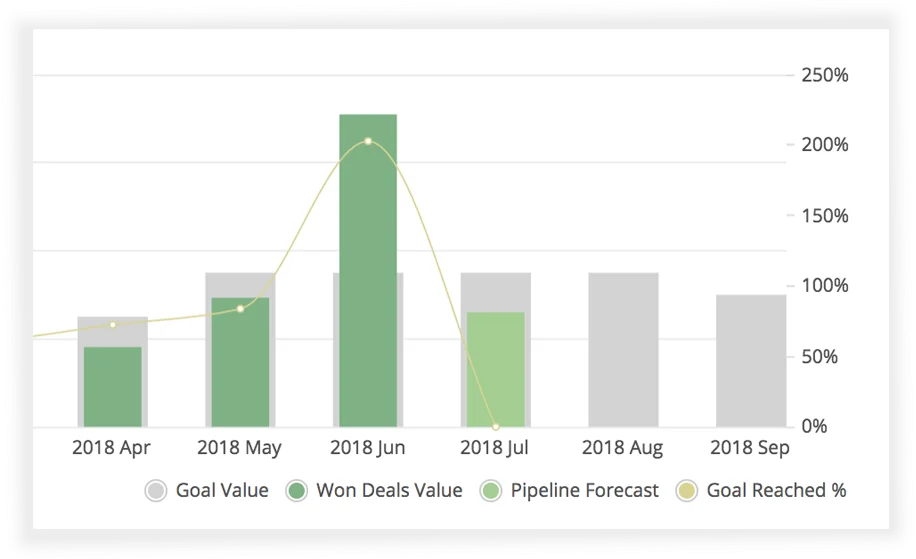 Make use of simple, yet detailed, illustrated charts of sales goals against actual results for the past 12 months, or any other selected time-frame. There's no need for confusing graphs or multiple indicators; just the facts you need, when you need them. Track your sales movement and profitability, and easily identify the most import loss-reasons, and know who your top customers are.
The Teamgate sales dashboard offers you and your sales team the kind of simple, yet detailed, metrics and analysis you won't find in a free sales dashboard. One of the most important metrics delivered concerns risk management. Risk management allows you to pinpoint the highs and lows of your current live opportunities, and to take the necessary action on those which require your attention.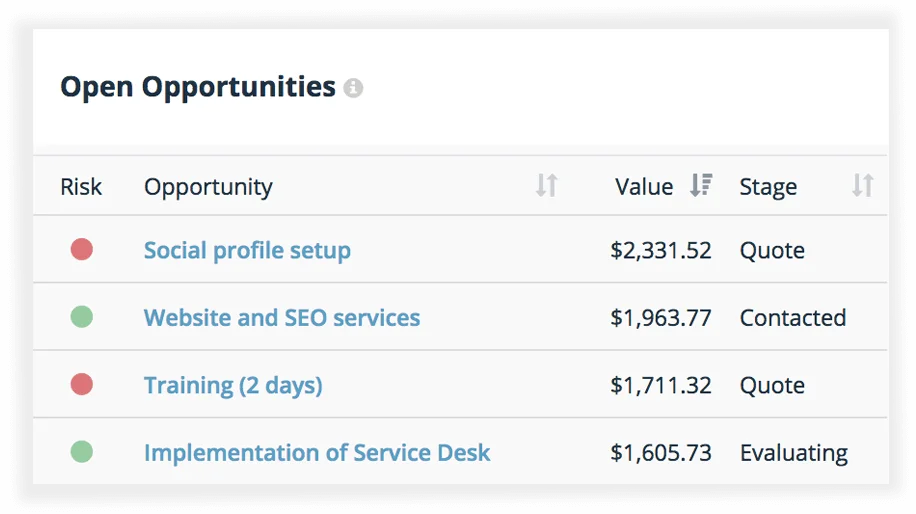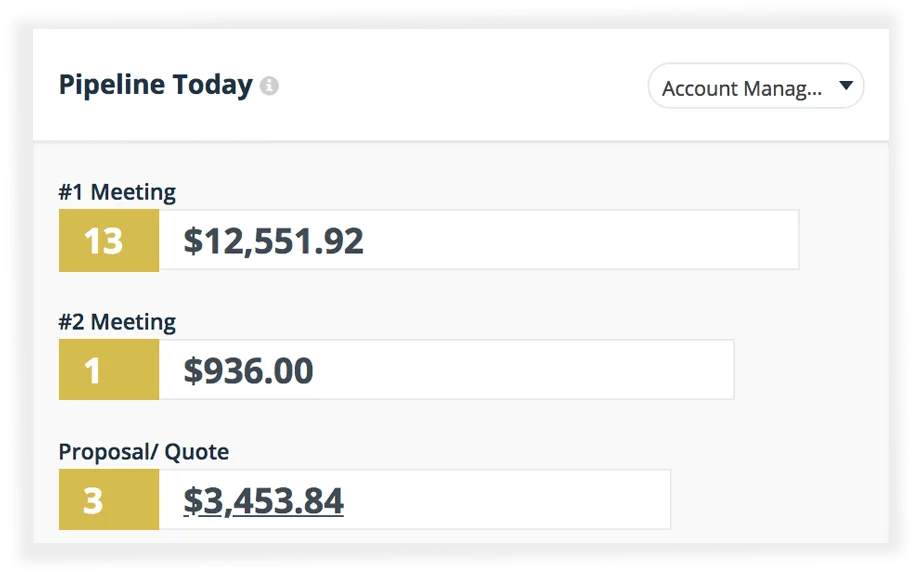 It is highly recommended that you regularly take time to overview dashboard metrics concerning your sales funnel management. Here you can track the current financial situation of your pipeline, and identify any possible bottlenecks. You can then focus on the overcrowded segment of the process and manage your pipeline more easily and efficiently. Within your sales funnel metrics you also have access to; lead management; marketing reports, new lead sources; pipeline reports; predictive forecasting features; the complete sales funnel; and your overall sales cycle.
Easily identify the correct steps required to complete a successful deal closure. Armed with such valuable information, you can then take the necessary steps to increase your win ratios by improving your communication and pre-sales process, along with managing the overall quality of leads. For example: you might notice that there are low conversion rates at the meetings stage of the process, this may require you to take steps in order to improve the quality of meetings, or even realise that the customer's potential should be further evaluated before scheduling meetings.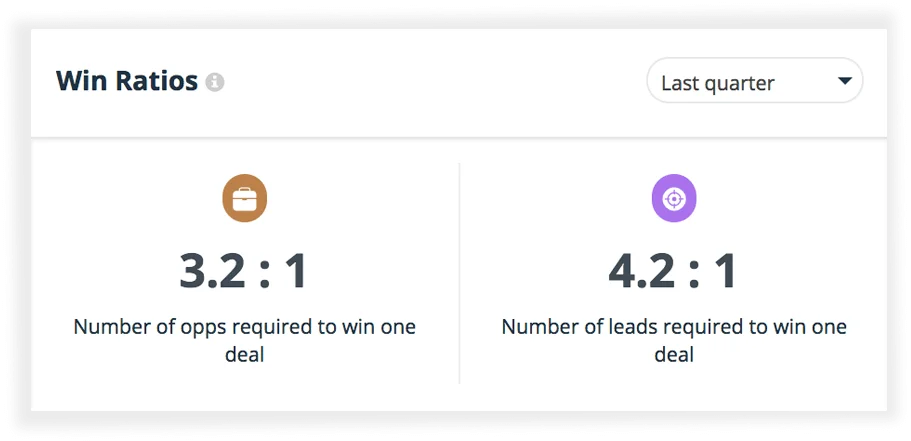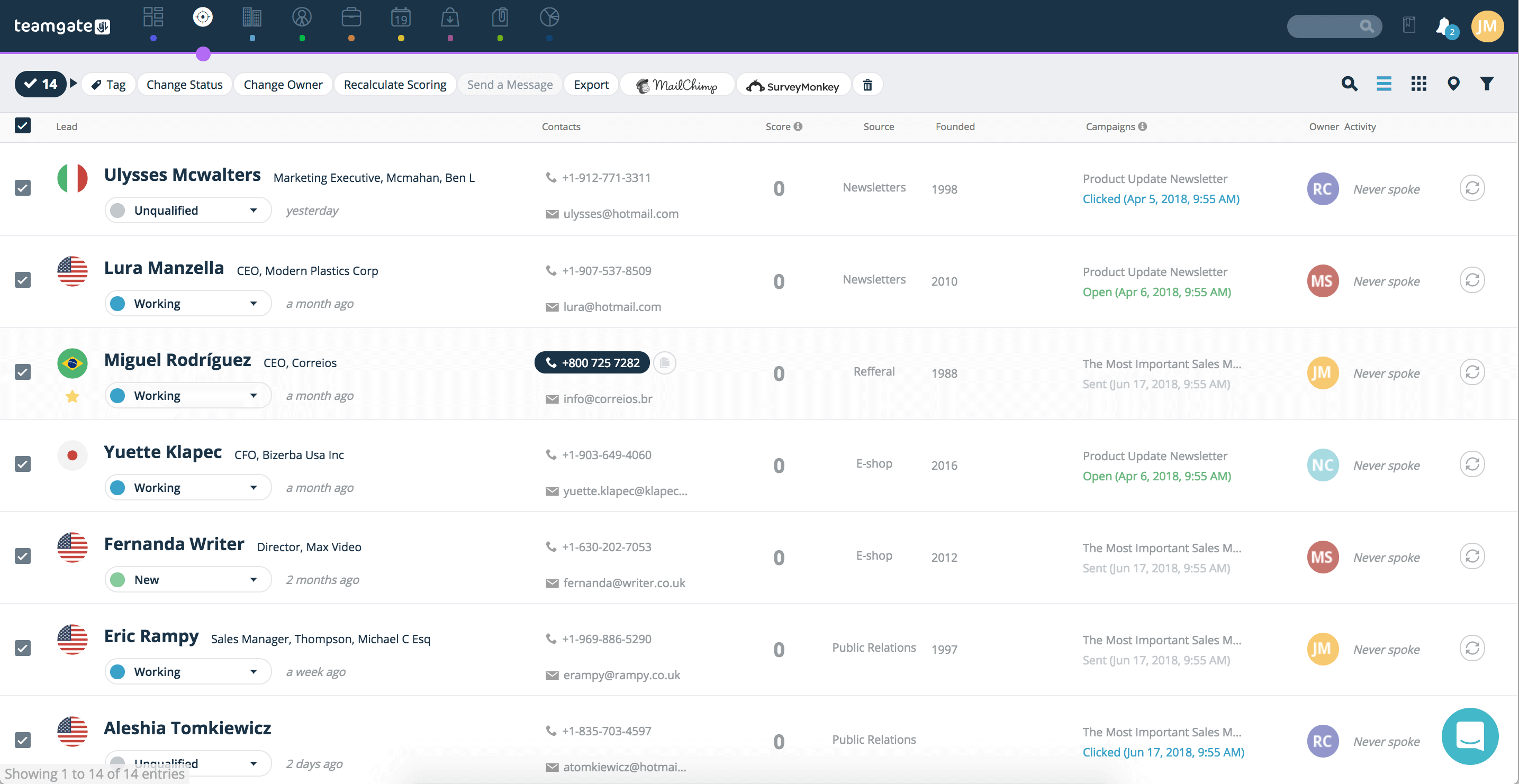 Carefully nurturing new connections and leads is the first step on the road to a successful sale. Using Teamgate, as part of your overall lead management system, organises, and simplifies the whole process. It allows you to manage your whole CRM lead generation process, and have instant access to all of your leads, in one place, for convenient cultivation. CRM lead management software allows you to; plan activities; interact with and segment leads; and, finally convert leads to deals at the appropriate time.
Manage Your Leads in the Most Comfortable Way
Regardless of whether you are dealing with a person, a company, or a business opportunity – which is not yet part of your sales pipeline – you can still manage all of these leads using the Teamgate sales CRM. After which, you can eventually convert them to either a prospective contact, or an active deal.
Featuring a host of really useful features, such as; importing leads; detecting duplicates; filtering and global searching; geographic location sourcing; calendar integration; and a lot more can all help you manage your leads in the most convenient, and organised manner possible.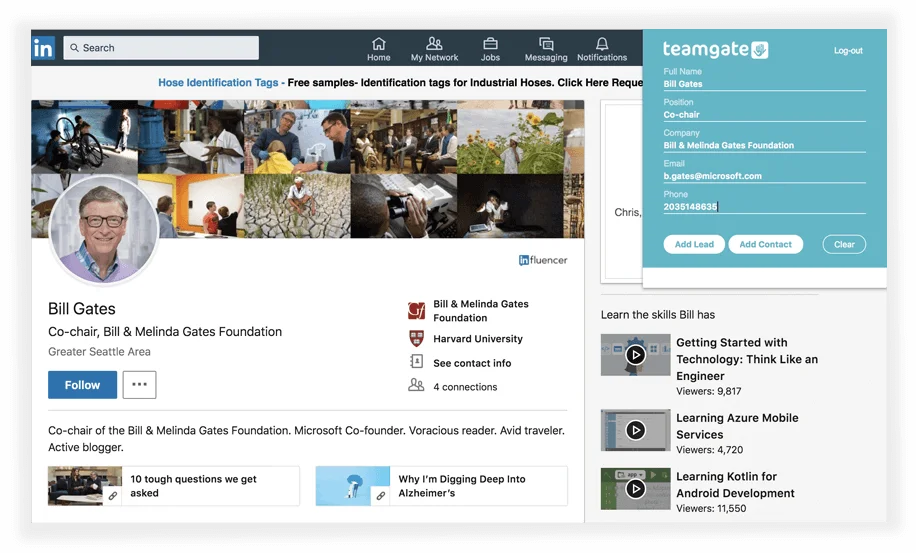 TEAMGATE-LINKEDIN SHUTTLE
This is a really killer tool which lets you simplify the whole CRM lead management process by easily importing Linkedin contacts directly to your Teamgate account. With one click, import and absorb all data straight from your contact's Linkedin account profile; name, status, position, company, email, and even phone. As a hugely intelligent lead management solution,Teamgate-Linkedin Shuttle allows you to remove one of the most time-consuming tasks – manual data entry. It can be downloaded directly from the Google Chrome Web Store.
Manage scheduled activities straight from your lead list using Teamgate's sales lead tracking software. Schedule a meeting or add a reminder all in one click. You can also easily add pre-created events, and eliminate manually entering recurring meetings and actions. With the Teamgate sales lead management software, it couldn't be simpler.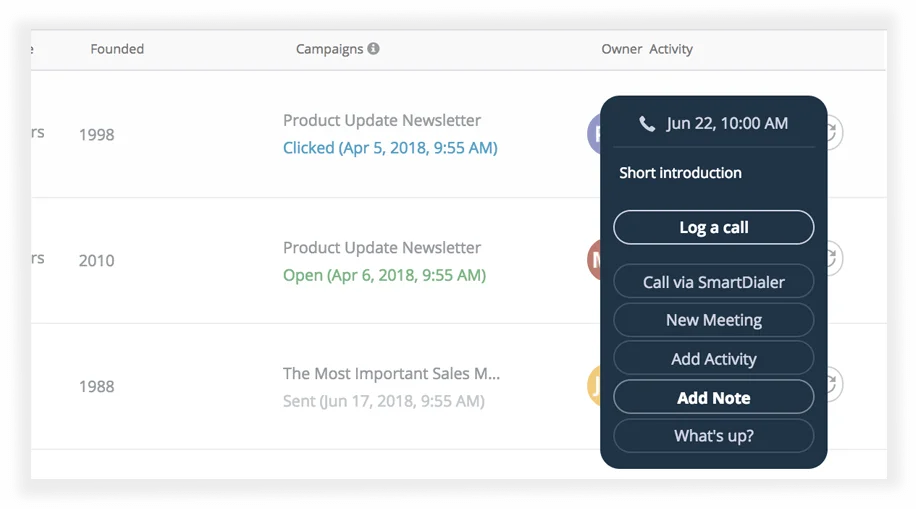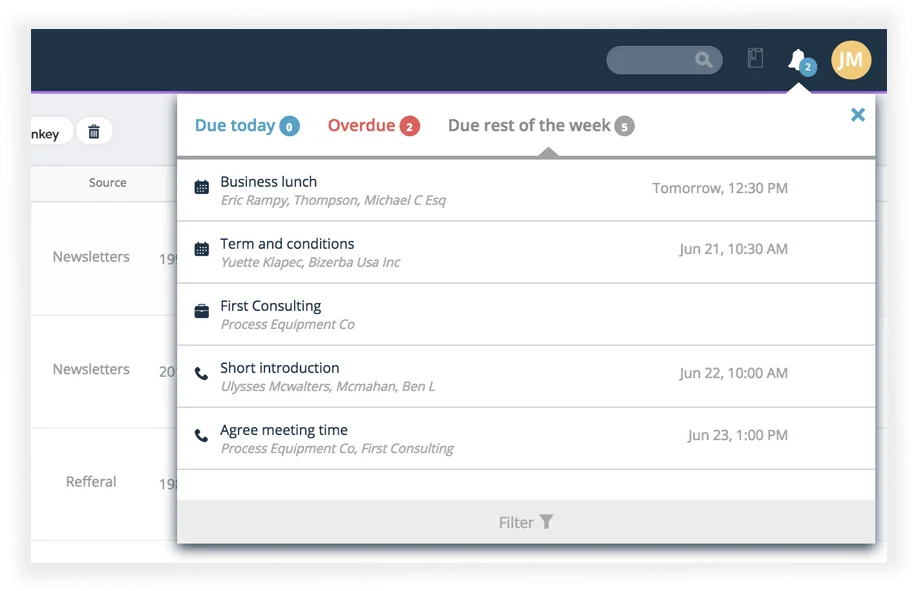 Lead software just got smarter. Using Teamgate's lead management system you'll never again have to miss an event or appointment, no matter where it appears on your calendar. Simply set your automatic reminders – which can be sent by email or SMS – and stay on top of your lead management process, and your tasks. As an integral part of your complete lead management solution, reminders and follow ups, may seem small details, but are in fact vital to driving your sales forward.
With Teamgate's lead management email attachment feature, automatically attach relevant email conversations to a lead card, saving you valuable time searching through mountains of previous correspondence. CRM lead management simplified.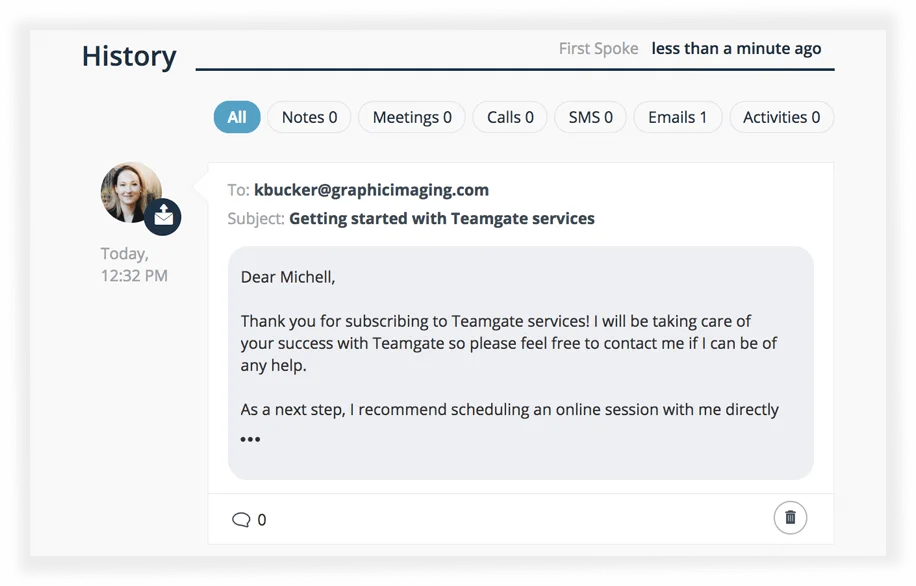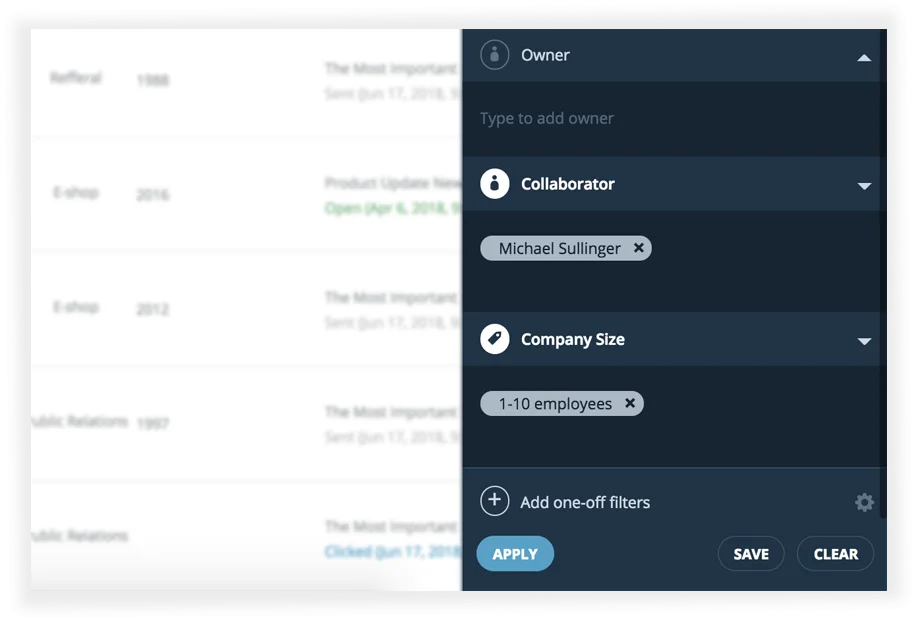 Teamgate's lead management system simplifies working with target groups, and allows you to filter and work only with the segments you require. Using our premier sales lead software, eliminate searching through cluttered and confusing lists and simply target the required segments with just one click. It's never been easier to simplify your lead management. Teamgate really is your one-stop lead management solution.
In collaboration with MailChimp, leads may now be viewed and filtered based solely on the level of email campaign engagement. After easily launching your email campaign – using our Mailchimp integration system as part of the lead management software – you can now actively track the results, and interact easily, and directly with those you've engaged. This is just another great, and simple way in which Teamgate provides you with the ultimate sales lead tracking software.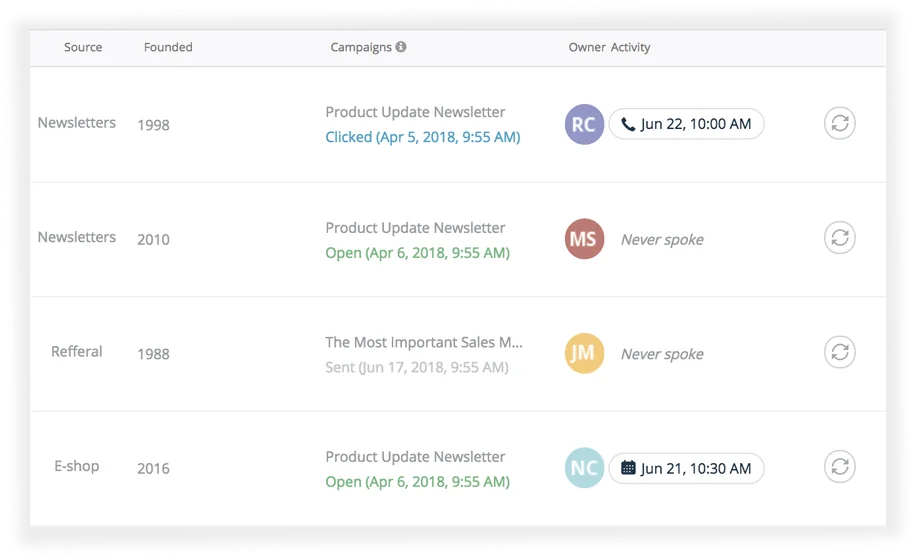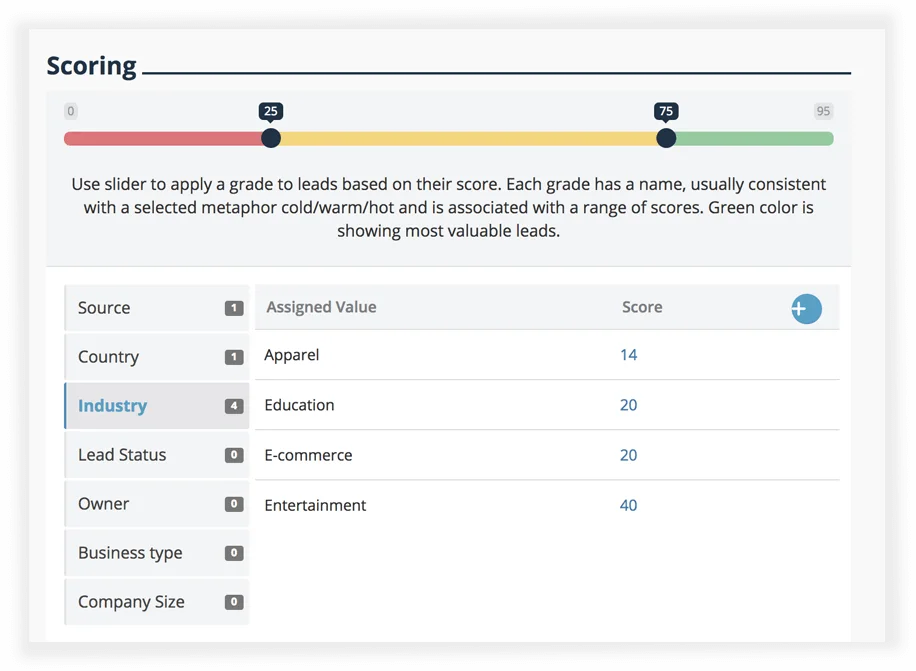 This is one of Teamgate's most important information features allowing you to identify precisely the origination of any particular lead. On top of that, Teamgate will calculate the lead-to-deal conversion rate likelihood – the lead score – making it easier for you to assess the value of the source. This is a critical feature of your lead management system, and vital for up-to-date and accurate sales analysis.
Teamgate sales CRM features a convenient, and intelligent in-browser calling feature, which comes equipped with auto-dialer, call recording, call routing, and a lot more, to smartly manage your telephone communications. SmartDialer is the one-stop solution for all hands-on sales managers wishing to remain available and contactable at all times. This great integration is a really smart, easy-to-use, and useful addition to your complete lead management system.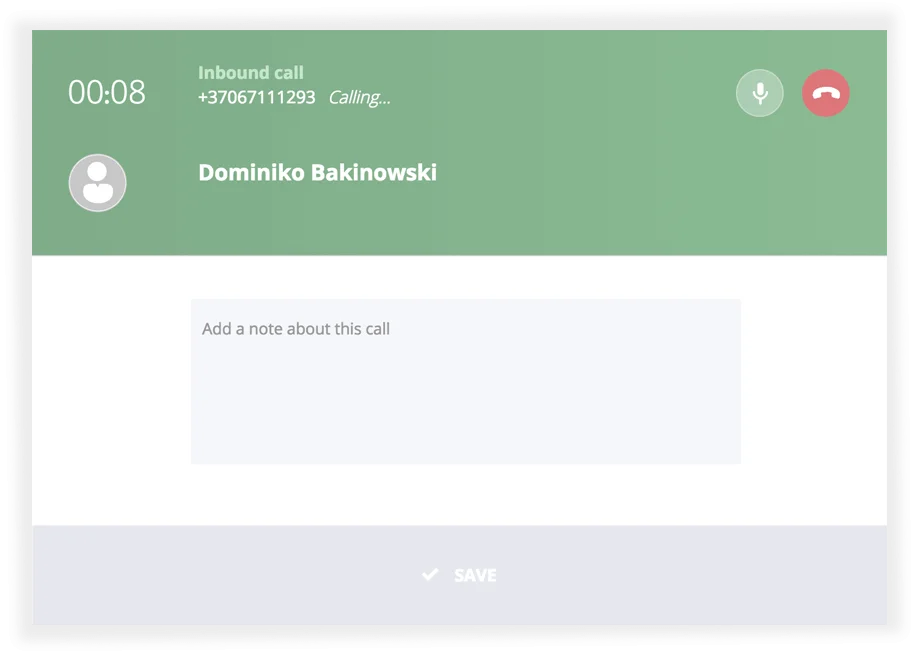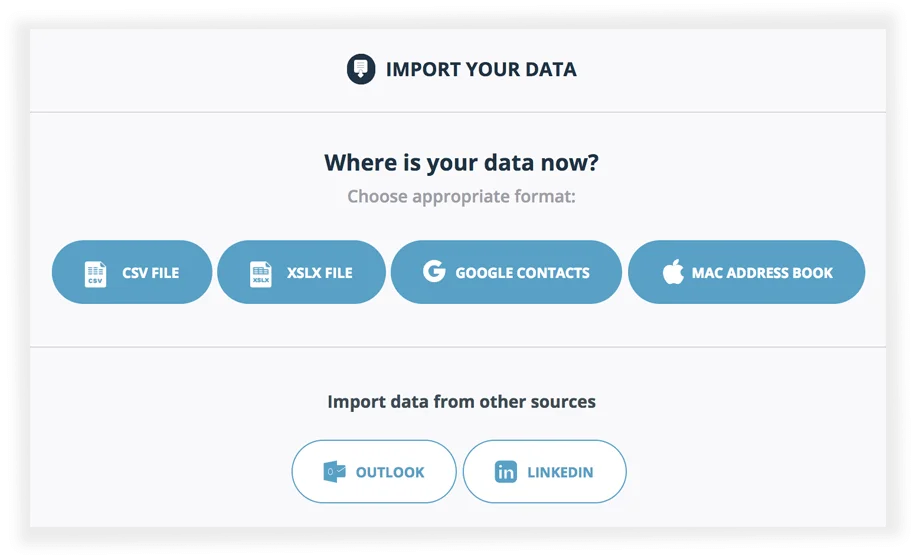 To get you up and running with Teamgate, as quickly, and as effortlessly as possible, we've integrated flexible, lead-importing options; such as Google Contacts, Excel and other document imports, and our very own smart lead-capture system. Lead importing is a major part of your lead management system, so why waste valuable time importing and entering data manually when Teamgate can handle it all, easily and accurately?
When a lead qualifies – from being merely interested, to being a fully qualified prospect – you may then convert that lead into a New Business Opportunity (Deal). All the communication history associated with that lead will then be transferred to a deal's card automatically, meaning no lost information, no lost communications, and no lost time, in the process. Another great range of tools and features at the heart of your lead management solutions.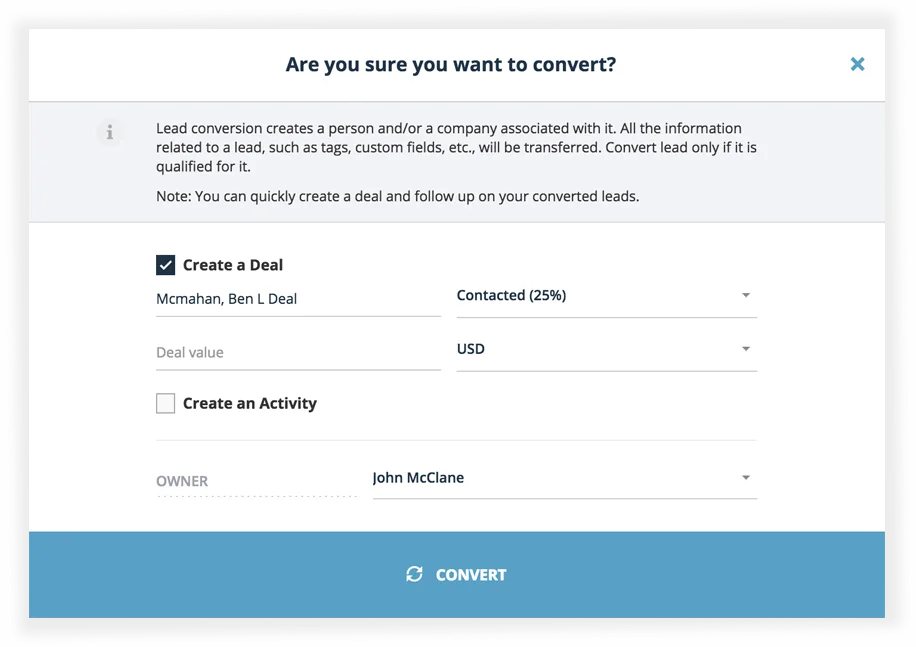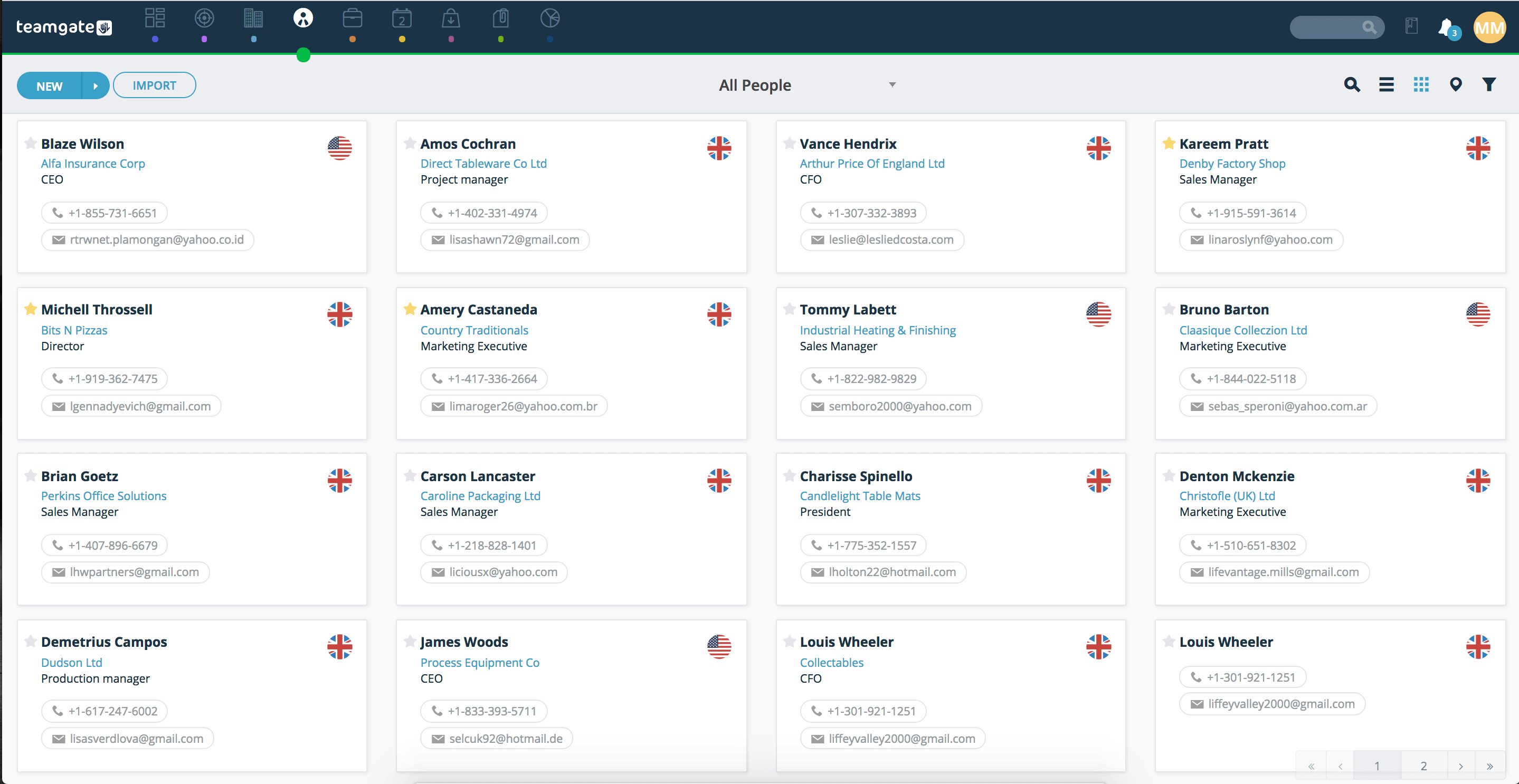 Teamgate is the award-winning, easy-to-use Sales CRM software designed to help businesses deal with the critical task of managing contacts, organizations, partners, vendors, and suppliers. Find customer data using an intelligent customer contact management feature, manage communication history, quickly and easily, with Teamgate. You'll get a complete picture of every customer from call records and campaign history, to deals in which they are currently involved.
Build Highly Personalised Relationships
Within the contact management database feature, there are two distinct contact categories available – People and Companies – each containing different types of contacts. But, most importantly, these sections are strongly related, ensuring that all of the business contacts database information remains connected to the individual's details. Adding new contacts to your business contacts database is a simple process and also allows you to conveniently convert qualified leads into contacts; import them, or add them manually.
Keep track of all your contact communications; whether these are emails, call logs, or simply comments, everything is housed in one convenient place with the smartest contact management system app available. Your complete CRM contact database can be seen and reviewed by both you and your fellow team members. Never again allow bad contact management cloud your vital decision-making process.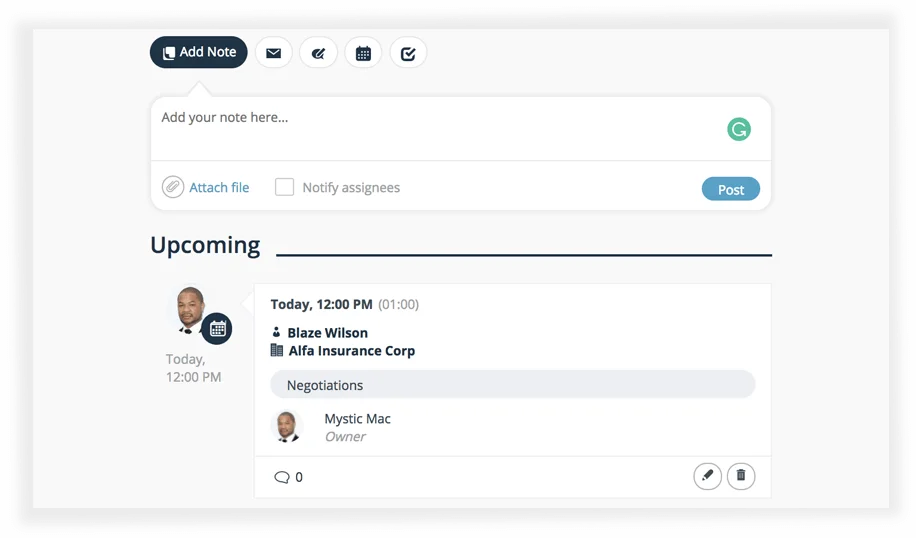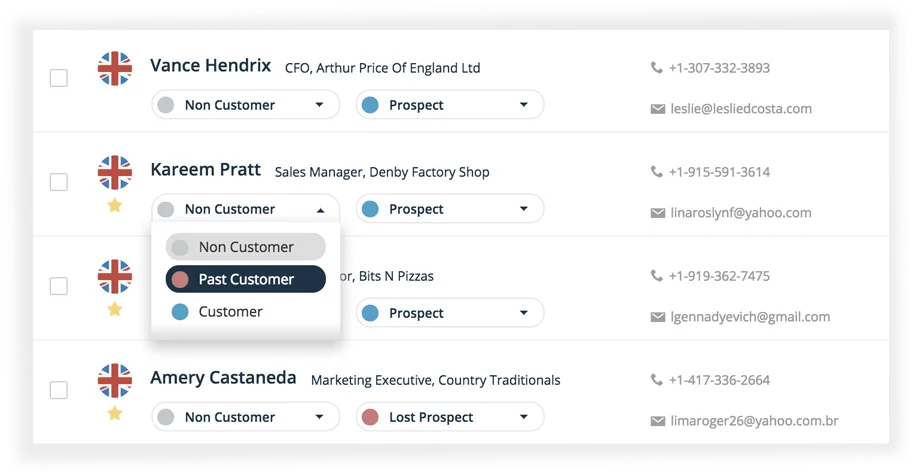 SEGMENTATION AND FILTERING
Sales contact management is vitally important to your business. With Teamgate contacts can be segmented into various categories, such as customer, non-customer or past customer, which helps when working with specific target groups. These categories are static, which aids in keeping the data in your contact database software tidy and well organised. Note: The customer's status will change automatically when the deal is closed, making the Teamgate Sales CRM software the ideal contact relationship management system.
Do you need to have a clear picture of the exact geographic location of where your contacts are located? Within Teamgate's powerful Sales CRM, contact management integration via OpenStreetMap allows you to clearly pinpoint geolocations from your contact management software. Such features make Teamgate one of the best contact management apps in the marketplace.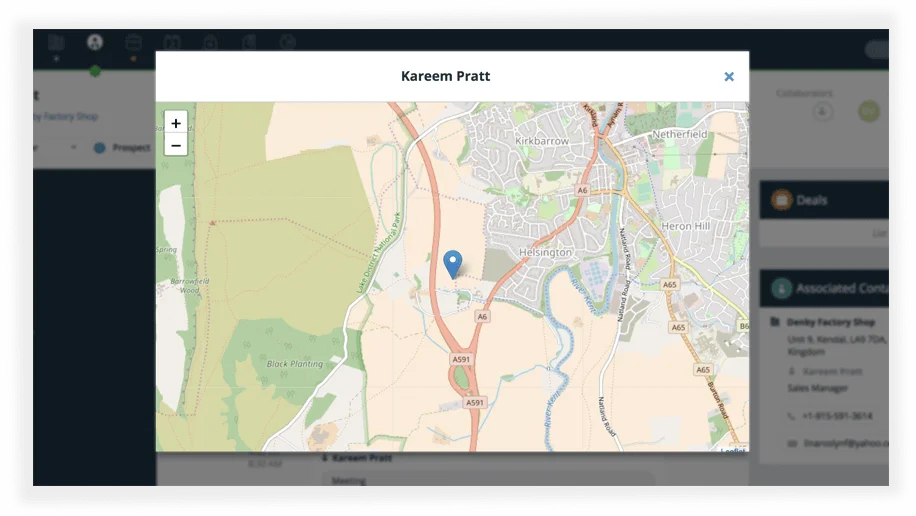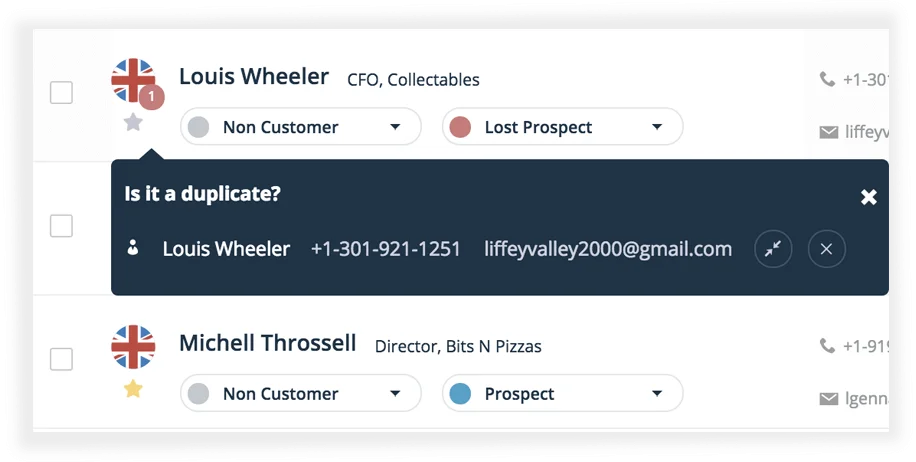 An online contact management database populated with duplicates is every manager's nightmare, but now there is a simple solution. In the CRM contact management system, Teamgate automatically marks duplicates and asks if duplicating contacts should be merged or removed. Teamgate really does possess the most trouble-free CRM contact management software to drive your business forward, faster. No more duplicates, no more nightmares.
Ooops! Is more than one member of your sales team interacting with a customer? We all know that can lead to complications and confusion – and worse still, lost sales opportunities. No worries, Teamgate allows you to nominate the contact 'owner' within the software's intelligent online contact management feature, and also enables you to add several collaborators who have the ability to spectate communication performance and add their input if necessary.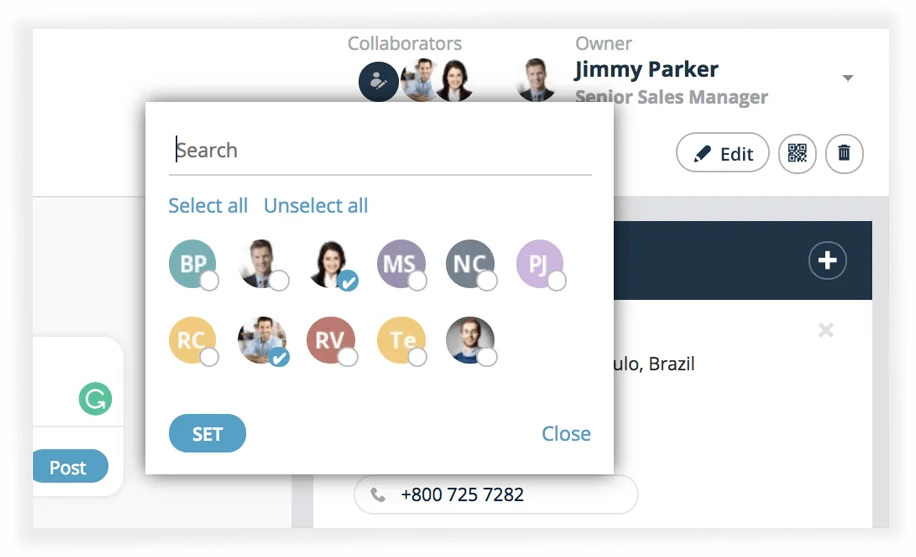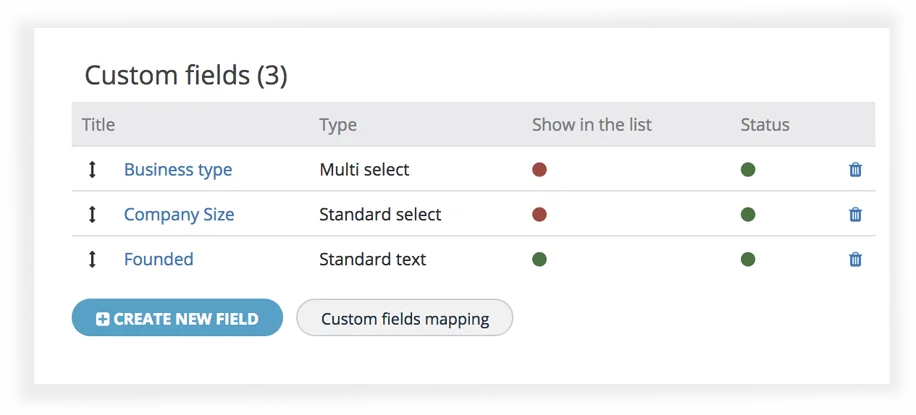 To accommodate various types of businesses, Teamgate – including its truly stress free contact management feature – uses a system of custom features, containing the information pertinent to only that customer. Fields can be pre-set or made 'on-the-fly' as they are required; filtering is also an option based on any new fields created. This function allows for quick and convenient data entry no matter where you are located; on site, on the road, or in the office.
Teamgate allows you access to a new in-browser calling feature; equipped with auto-dialer, call recording, call routing and much more making it the smartest contact management app out there. SmartDialer™ is the perfect solution for any busy sales manager for whom it's vital to stay in communication at all times, using an ever up to date business contacts organiser. The SmartDialerTM and Teamgate integration offer you the smartest contacts manager for pc, tablet, or mobile.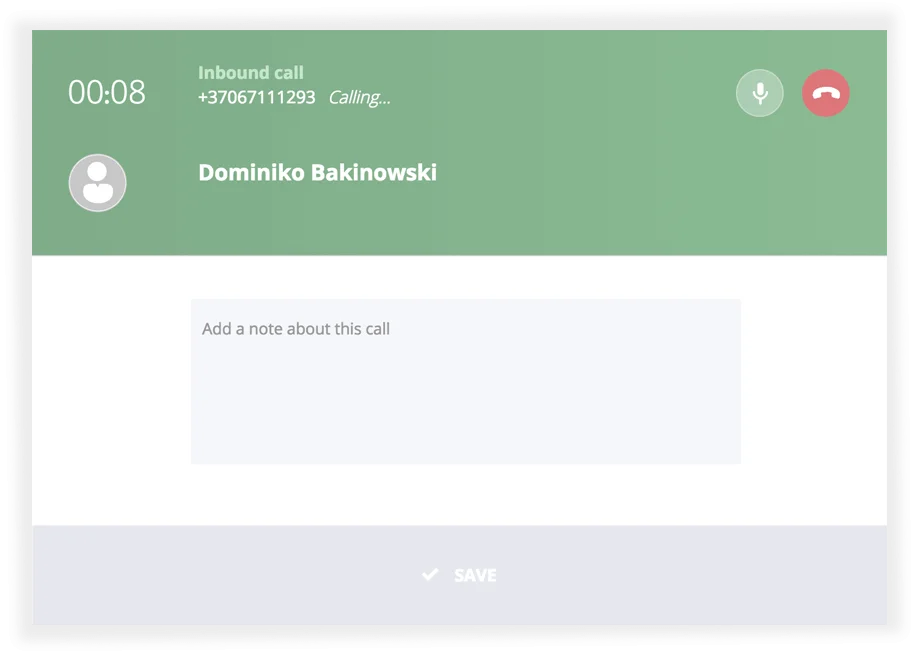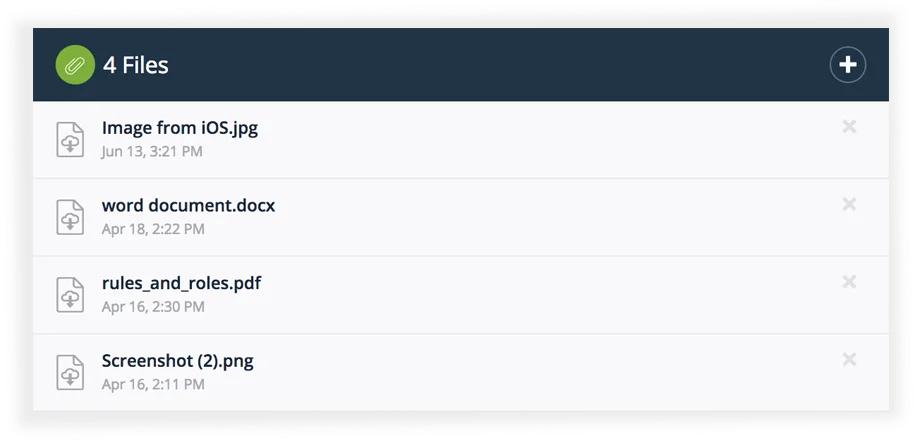 Maintaining your client contact software wisely – Do you have exclusive files which need to be associated with specific persons or companies? Upload the files to the contact's card and the file is instantly available for any future transaction. This is a really great, time-saving feature which keeps exclusive files exactly where they belong, neatly within your CRM's customer contact software.