Gong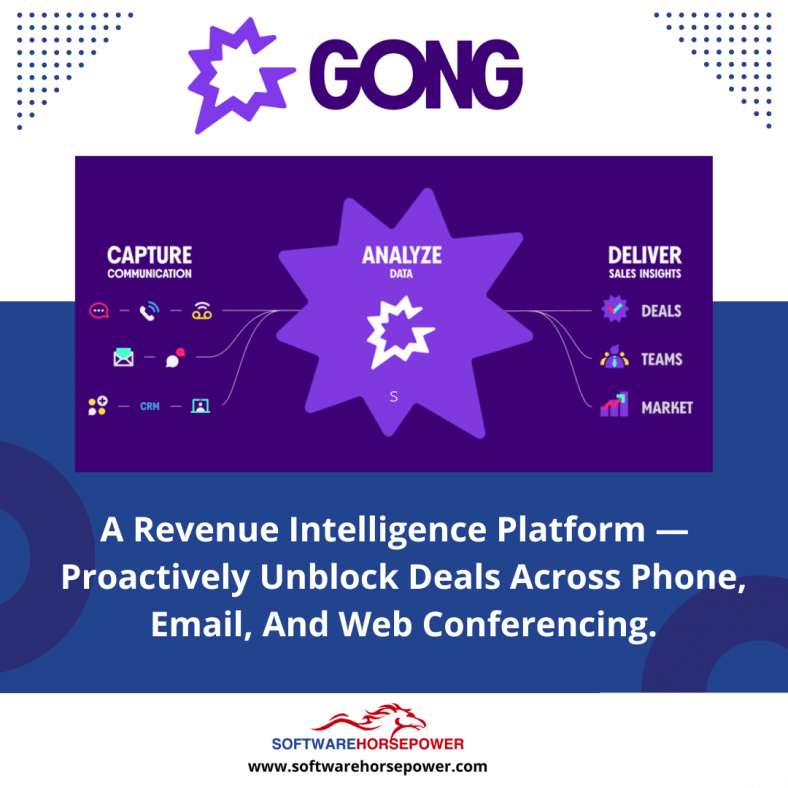 Gong software
Deal and Forecasting
Team coaching
Strategic initiatives
UNLOCK REALITY. FUEL YOUR REVENUE ENGINE.
Give your teams and leadership complete visibility into all deals, team performance, and market changes. Know for sure what is actually coming down the pipeline each month.
FIND HIDDEN GEMS IN EVERY INTERACTION
Revenue intelligence helps you capture frontline conversations to better understand your deals, teams, and market. Here is how it works.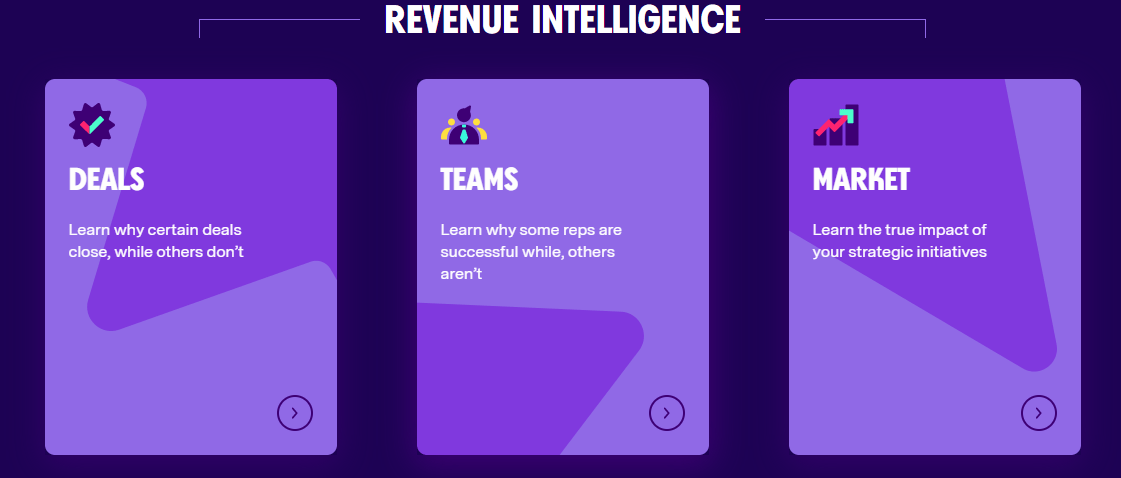 Get true visibility — from your pipeline to deals and customer interactions — in a single view so you can proactively address risks before deals go dark.
See a 360° view of risks in your pipeline and keep sales from going south.
Positively influence the outcome of deals and help your team strategize a path to closed won.
Connect cross-functional teams, and identify and replicate your best reps.
Scale and drive consistency in your coaching culture, and ramp new hires faster. Drive better alignment amongst teams, functions, the enterprise.
Get full visibility into coaching opportunities for critical sales behaviors and deal-closing skills.
Assess sales readiness and train new hires faster, while reducing the burden on internal teams.
Keep your managers accountable for coaching consistently over time and across all team members.
Measure the success of your most strategic initiatives. Learn how buyers react to new initiatives and which competitors they mention.
Get real-time visibility into leading indicators like field adoption and market response.
See who's nailing it and who needs help, then reinforce the right sales behaviors.
Track early indicators against critical business metrics, like win rate and sales velocity.
Don't settle for anecdotes and spotty notes. Gong gives you a single, unfiltered view of what's going on across your deals so you can quickly understand which ones are healthy and which ones are at risk of stalling.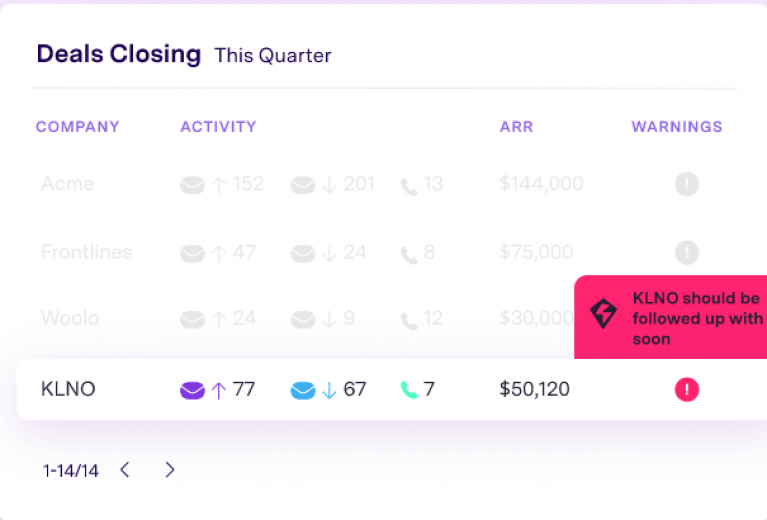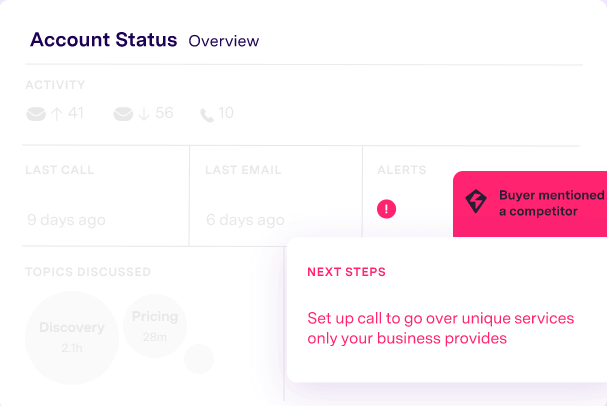 PROACTIVELY UNBLOCK DEALS
Quickly audit deals to identify trouble spots. Are the right decision makers in the deal? Have the next steps been set up? Be proactive and strategize with your reps to course correct in time and keep sales moving.
Selling is a team sport. Gong enables knowledge transfer at scale, so the entire deal team is up to date on the latest for any deal. Work together to deliver a better buyer experience and close more deals.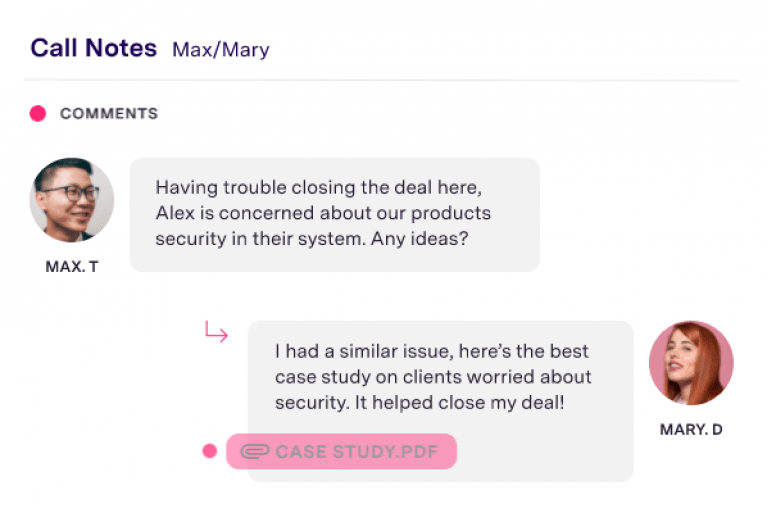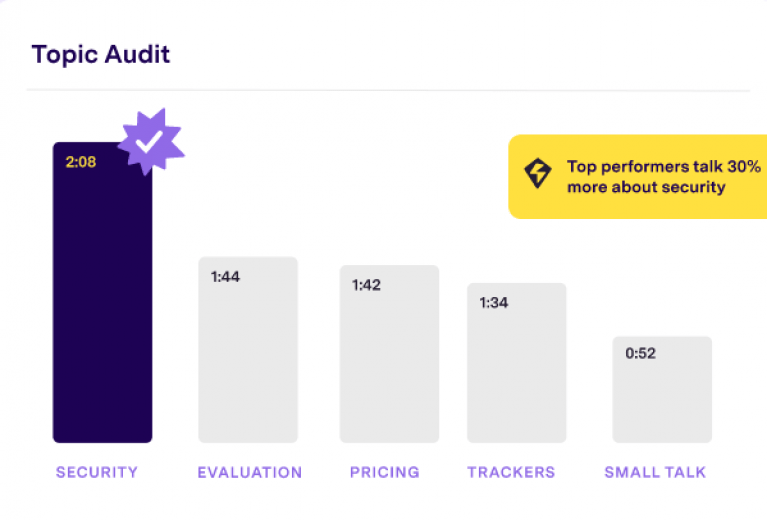 Don't settle for anecdotes on what your buyer cares about. Capture the true voice of your customer in their own words, and understand what customers care about at scale, so you can speak directly to their challenges.
UNDERSTAND YOUR COMPETITION
Get a dose of reality. How much are competitors really coming up in your deals? Are those competitive conversations speed bumps, or full-on roadblocks? Gong will help you understand the difference so you can crush the competition.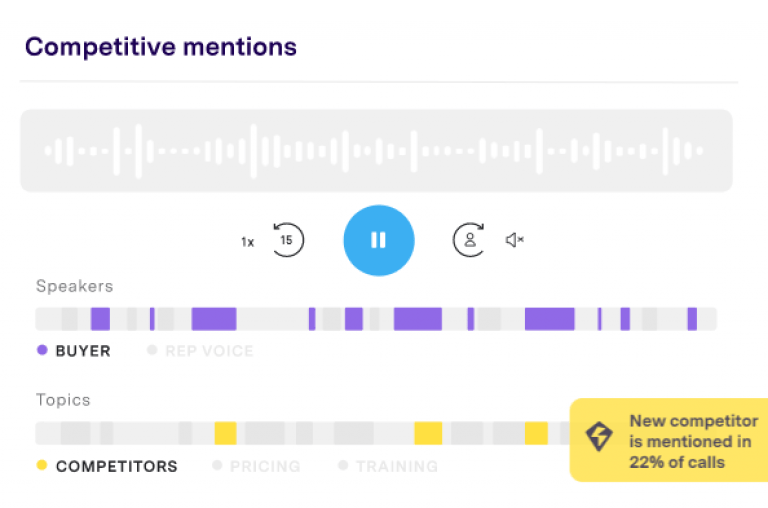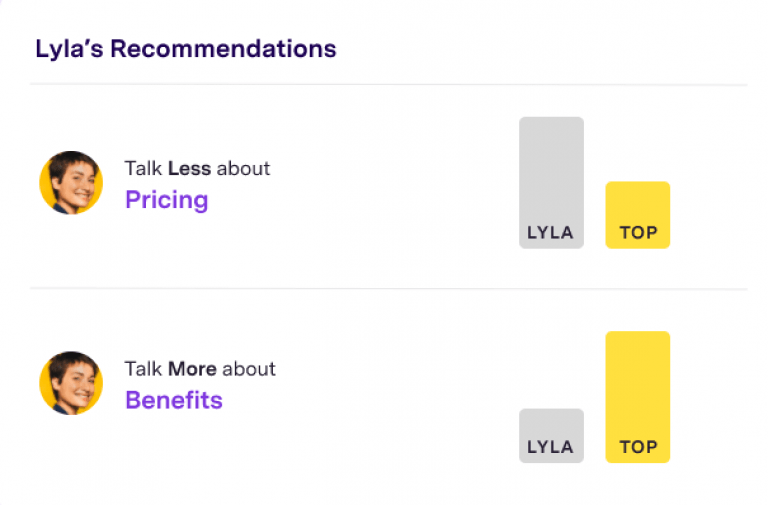 A winning strategy starts with winning data. Gong understands which talk tracks work, so you can track initiatives, and pick real winners vetted by the market. Stay ahead of the competition.
GONG IS A LIGHT IN THE DARK
No more opinions. With Gong, you'll get hard data on how each of your team members is performing vs. the rest of the team and industry benchmarks so you can provide personalized coaching based on data, not guesswork.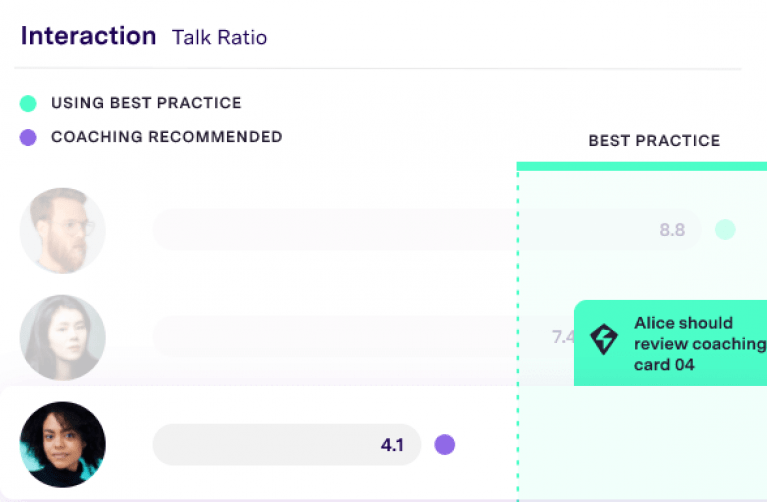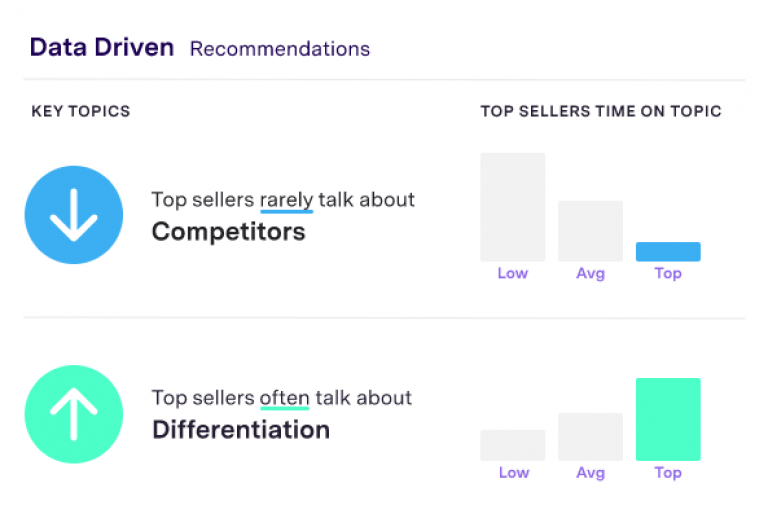 PERSONALIZED COACHING RECOMMENDATIONS PER REP
Gong highlights exactly what each rep needs to do differently to be more effective and close more deals. That lets you unlock each rep's full potential.
CREATE A TEAM OF A-PLAYERS
Gong's insights help you move your team's B and C players into the big leagues and increase the number of reps who hit (and exceed!) their numbers.