TapClicks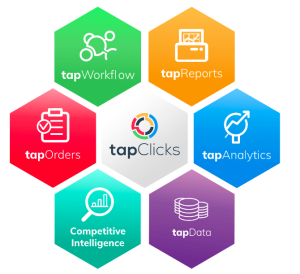 TapClicks software | Marketing software
Marketing Operations Platform
TapAnalytics
TapReports
TapWorkflow
Competitive Intelligence
Google Data Studio
Automated Marketing Data And Reporting Platform
TapClicks has put together a truly remarkable marketing operations platform. This is a must-have for marketers in this day and age. They automate the ingestion of huge volumes of data and the campaign executables associated with that data." – Bill Macaitis,  former CMO of Slack
Make Quick, Smart Decisions For Your Business
A set of automated marketing solutions designed to work in unison, powered by your data
Everything you need to differentiate yourself, tell compelling campaign stories, become more efficient and scale your business.
A set of automated marketing solutions designed to work in unison, powered by your data
Take charge of your campaigns
Ignite your fulfillment process
Transform & Control Your Data​
TapClicks Smart Connector is the flexible way to import offline & third-party data, no more data blocks.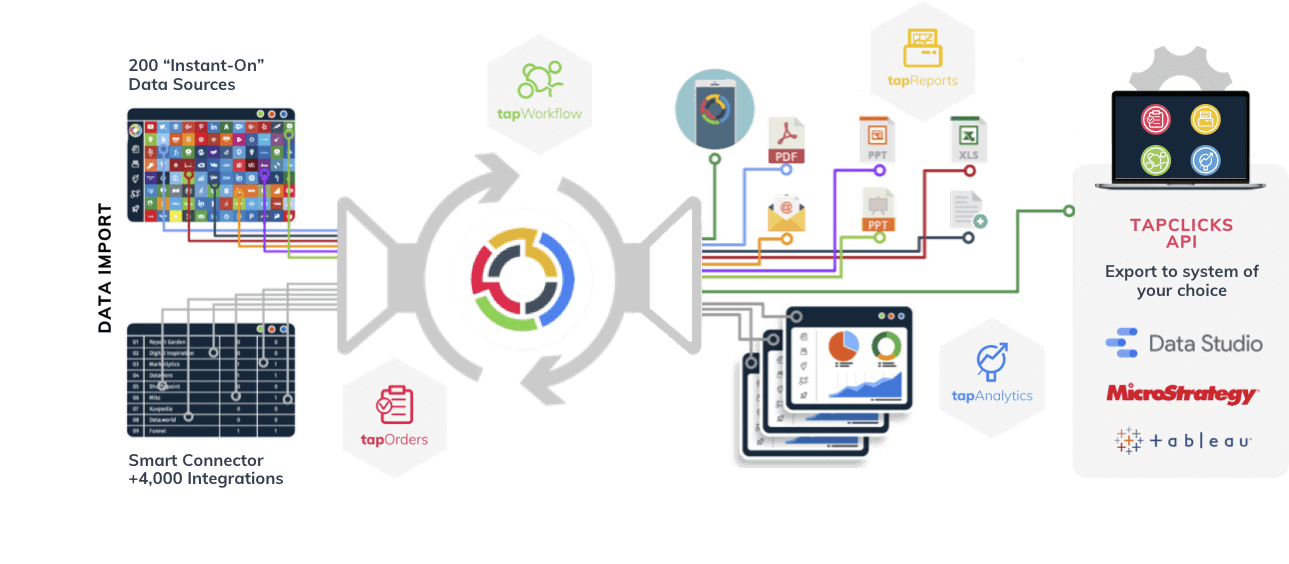 Create your product catalog with customizable forms that adapt to any sales workflow. Collect details on purchased products applying package guidelines. Hide and show sections based on sales and ad ops roles. Enforce minimums, campaign dates, and apply defaults to prevent costly mistakes.  
Automate Your Marketing Product Catalog
Through TapOrders flexible product lists and customizable forms, construct a product catalog that best meets your business needs, easy up-sell options and configurable products that reflect your go-to-market strategies. 
Visualize Your Leading Indicators and Trends
Get back to running your business. With all of your data in a unified dashboard, monitor delivery and get breakdowns of monthly billing by product, task durations by customer, order trending and product adoption. Optimize your business based on data.
Integrate with your billing system, collect data from CRMs, and push to external parties for additional processing. Import and export data automatically to save time, reduce costly errors and ensure your invoice activity accurately reflects your orders. Public API and webhook connections available to support specialized integrations. 
Self-Service Booking and Payment Processing
Provide your clients with an easy to use payment portal to quickly enter campaign requests and provide payment information.
The TapWorkflow task system automatically creates and assigns tasks to the right people in the process using industry best practices. Push activations directly to partners or serving platforms.  
Make Your Billing and Revenue Process More Efficient
Automate Handoffs Between Teams
Automatically route tasks based on your business processes. Facilitate communication between teams collaborating on projects.

Simplify Proposal and Order Capture
Transfer proposal requests and orders automatically from CRM systems or create customized forms for entry. Reduce miscommunication between Sales and Operations by entering objectives and goals right at the point of sale.
Manage Your Operation's Workforce
Enables remote work and accurate tracking for billable hours. Manage due dates and monitor workload through queue dashboard. 
Derive Deep Analytical and Actionable Business Insights
Data Grouping/Segmentation
Divide and group data based on chosen parameters, such as location, so that you can use it more efficiently within marketing and operations. Scale and compare the performance across your parameters to analyze what strategies work.
Normalize Naming Conventions
Add meta-data at any level (campaigns, ads, ad sets, etc.) to gain deeper insight. Divide or group data based on the tags. Normalize naming conventions, visualize, compare performance sets and share.
Normalize Naming Conventions
Create custom metrics to show value, KPIs to stakeholders, and more. Easily create these for analysis and visualization within TapAnalytics in just a few clicks.
Be Your Own Data Scientist
Business intelligence for your whole team. Visualizations on the fly.
Uncover trends and opportunities.
The TapClicks platform allows you to pace campaign budgets or any other metric. With Goals and Pacing, you don't need to show just the end goal. Track progress at any point in time.
All your data on one platform. Measure offline and online marketing campaigns, aggregate data to tell the story of your marketing campaigns. Visualize your data in Report Studio and share it in dashboards and reports.
Channels and Custom Groupings
Group your marketing tools to combine your data and show your clients a higher-level view of their performance. Combine data into a single Channel for "SEM," and your clients get the combined impressions, clicks, keywords and more.