ClickDimensions
ClickDimensions software | Marketing Automation Software
Easily create compelling email campaigns.
Capture and identify new prospects with web forms
Integrate with event and webinar solutions
Evaluate the success of your sales and marketing efforts
Discover interested prospects through web intelligence
Create landing pages without knowing HTML
Marketing Automation Application for Microsoft Dynamics
The ClickDimensions marketing automation platform helps Microsoft Dynamics users worldwide achieve more with their marketing. Our marketing automation solution includes essential marketing tools like email marketing, campaign automation, web intelligence, surveys, web forms and landing pages, social marketing and more to help our customers attract more leads, close more sales and more effectively engage customers. Explore our full feature set below.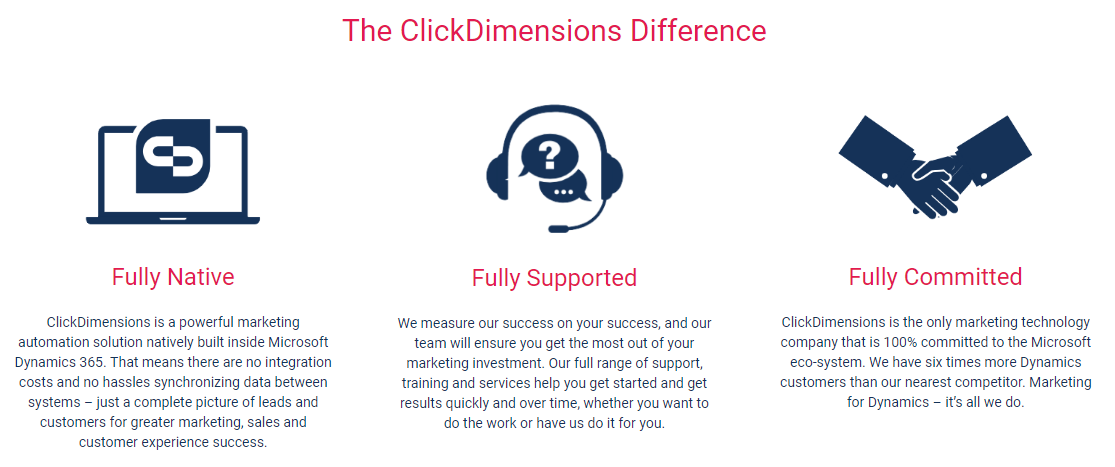 Put your campaigns on auto-pilot
Easily create compelling email campaigns.
Capture and identify new prospects with web forms
Integrate with event and webinar solutions
Evaluate the success of your sales and marketing efforts
Gather insight through surveys
Discover interested prospects through web intelligence
Quickly and easily determine which leads to pursue
The ClickDimensions Marketing Platform
Digital marketing applications designed to drive growth and engagement – at the best price in the market.
An enterprise-grade marketing intelligence suite to unify and analyze marketing, sales and customer data.
Comprehensive customer success, managed services and support with expertise in marketing and Microsoft Dynamics
The ClickDimensions Marketing Platform
Achieve More with Your Digital Marketing
ClickDimensions marketing services provides comprehensive marketing services, customer success and product support with domain expertise in both marketing and Microsoft Dynamics to effectively leverage marketing technology and to analyze and optimize performance for better results.
Technology alone can't meet the needs of modern marketers
Making every user a power user
The Data Foundation You Need for More Effective Sales and Marketing
Together, ClickDimensions Customer Data Solutions provide the data foundation you need to run effective campaigns, attract new leads, engage them with relevant content, convert them into paying customers and keep them for a lifetime.
Understand and Improve Your Data Quality
Proactively Manage Your Data Quality
Understand and Improve Your Data Quality
Flexible to meet your needs, ClickDimensions Clean and Activate Services can help you get to the root of customer data issues and provide a roadmap for future data maturity. This one-time data optimization and enhancement service helps organizations improve the quality and depth of lead, contact and account data in Dynamics 365 Sales.
Data Assessment and Roadmap
At ClickDimensions, we are 100 percent committed to our partners. As part of that commitment, we ensure that our partners have everything they need to be successful at selling our technology and solutions. Within our partner portal, you will find a variety of resources that will help you increase sales, add new services revenue and delight your customers through your partnership with ClickDimensions.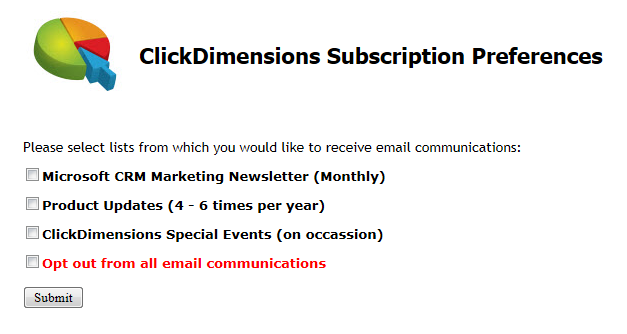 The ClickDimensions Partner Academy