Engagebay
Engagebay software | CRM Software
Attract Web Visitors
Integrations
Alternatives
Sales & Engage Prospects
Email Tracker
Real Estate CRM
Market better. Sell faster. Support smarter
One platform for all your Marketing, Sales, and Support teams
Single Solution for All Your Activities
Identify new opportunities, convert visitors, deliver customer happiness, and more!
Store unlimited contacts and build stronger relationships by keeping track of all your customer details in one place.
Save time by automating your marketing processes and sending personalized messages to target audiences.
Resolve queries faster and deliver exceptional support to delight your customers.
Market Your Business Like the World's Best Companies
With our comprehensive set of Marketing tools, including Email Marketing, Marketing Automation, Email Template Builder, Landing Page Builder, Lead Generation tools, Social Suite & more, your marketing team can take things to the next level.
Stop paying thousands of dollars to dozens of marketing, sales, and support software. Experience the world's most affordable, unified software. EngageBay's all-in-one CRM software is the most comprehensive solution for your business.
Powerful Email Marketing System To Grow Your Business
Try proven email marketing solutions like rich text formatting, landing page builder, email marketing templates, free email automation, and more.
One click for a great design
Choose from a wide array of email marketing templates to suit your business needs. Whether you are a fashion designer, an educational consultant, or a small business dealing in customized products, the visually appealing emails will definitely score with your clientele. You can use the pre-designed templates or personalize one as per your requirement. Presentation matters!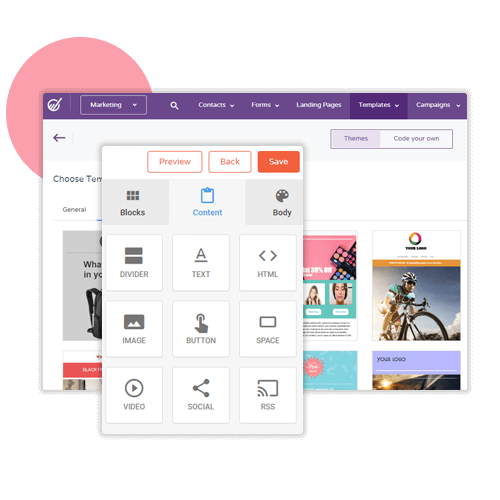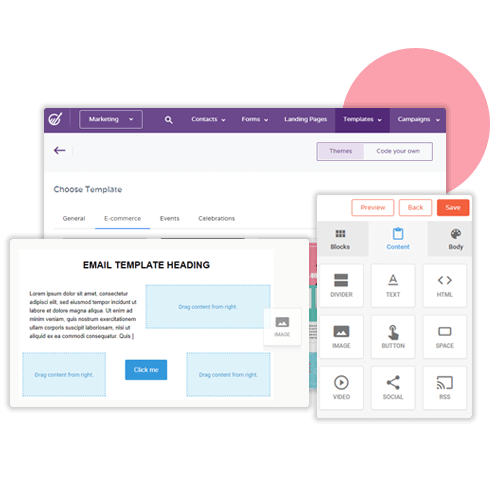 Drag and Drop email builder
With EngageBay, creating email templates is a cakewalk. Use our simple drag and drop interface to create a template that suits your business need. With the help of an easy-to-use text editor coupled with design elements, you can seamlessly integrate images and social share buttons into design blocks.
Segment and target your subscriber lists
Choose a subset of users by applying various filters of your choice. Our wide filters range from filtering based on country, created date, source, to tags and a lot more. Precision is key!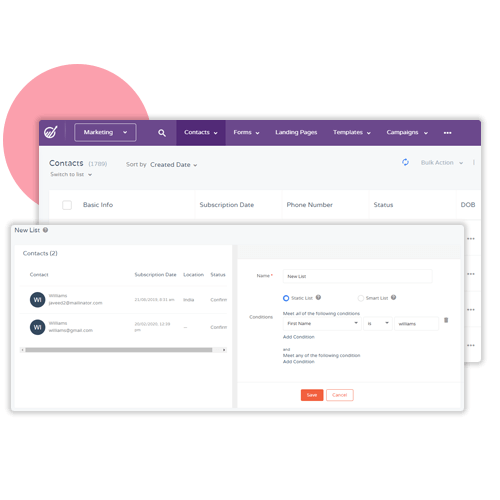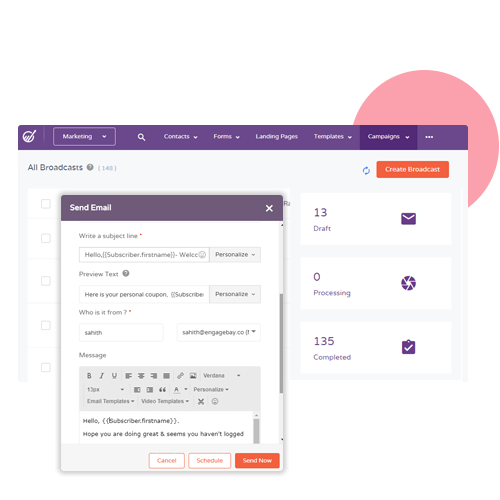 EngageBay helps you personalize your emails by adding your contacts' attributes to the emails, rendering a personal touch. You can choose from their First Name, Last Name, Full Name or email address. These details will be auto-filled when the email is sent. Personalize your outreach!
EngageBay helps you design beautiful email templates with its rich text formatting. This helps in making the email content more engaging and results in better click rates.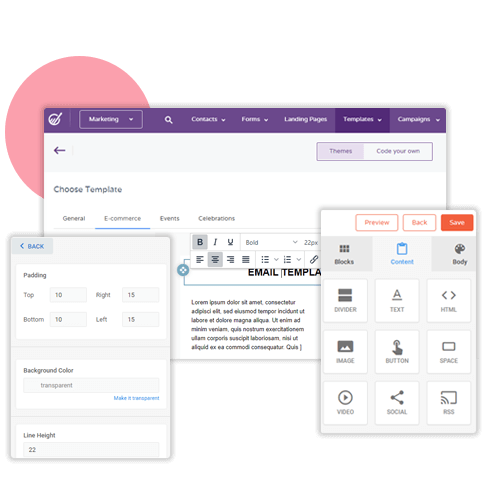 Track and optimize your Campaigns
Engagebay provides an easy option to track your campaign performance. Based on these metrics, you can rework and reposition your content. This acts as a performance metric to churn more engaging content to increase your opens and click-throughs. As they say, engage with Engagebay!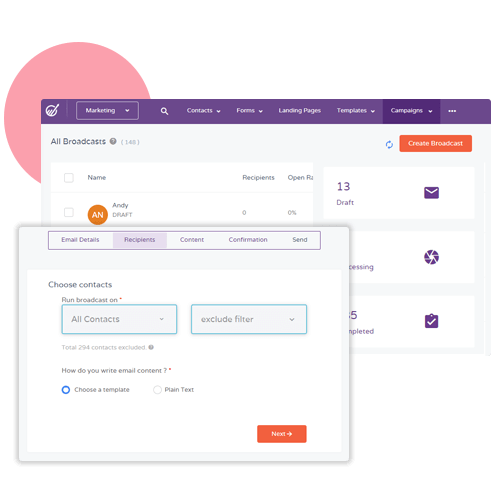 Email Sequences for Effective Marketing
Use email sequence tools and make follow-up easy. Try EngageBay free email sequence software and turn your warm leads into paying customers now.
Save time, enhance RoI with Email Sequences
Leads often fall out of the sales funnel if you don't follow up. EngageBay offers a free email sequence software to help you cut down the mechanical task of sending out follow-up emails. Decide when you will send what message, and to whom. Set up the sequence once and let EngageBay do the rest!
The Perfect InfusionSoft(Keap) Alternative InfusionSoft vs EngageBay
Built with love for growing companies
Save up to 90% of costs by moving to EngageBay without losing features.
No mandatory on-boarding training fee. All customers on-boarded for free.
Simple implementation and maintenance. No expensive third-party experts required.
Reduce your marketing and sales software budget by over 90%.
EngageBay offers you the most affordable yet a comprehensive sales and marketing software for growing companies. You also get the flexibility of monthly and annual payments. Don't waste your budgets on expensive software. Pay only for what you need. If you are looking for a free InfusionSoft(Keap) alternative, sign up for a 14-day free trial or check out our free plan.
View the status in your mailbox whether your sent emails have been opened. The status will visually be displayed next to the email.
Add Documents & Email Templates
Include your documents and beautifully designed email templates with a single click in your email. Track when the document is opened or downloaded.
Add all your incoming & outgoing emails as contacts in your EngageBay CRM. You can use our other marketing tools to nurture them and convert to customers.
Receive real-time notification pop-ups when someone is viewing your email, an attachment or downloading the email attachment(s)
View real-time email activity and every other detail you need to be on top of the game. Eliminate the guesswork by knowing who opened the email, clicked a link in the email or when an attachment is opened or downloaded.
Build Lasting Customer Relationships
Along with a full stack of software for marketing, sales, and customer service, EngageBay also offers a completely free CRM at its core. While they're powerful when used individually, they are at their best when used together.
With our exhaustive set of Sales tools such as Contact Management, Email Tracking, Telephony, Appointment Scheduling, Project Management, Gamification,
Telephony

Sales Automation

Multiple Deal Pipelines

Email Sequences
Provide Awesome Support to Your Customers
With our seamless stack of Service tools such as Ticketing, Helpdesk, Customer Feedback Forms, Knowledge Base, Canned Responses and your support team can now connect better, resolve faster, and retain your customers for a lifetime.
Automated A/B Testing Emails for Great Results
Use EngageBay's automated a/b testing or split testing software to avoid bounce and accelerate your conversions.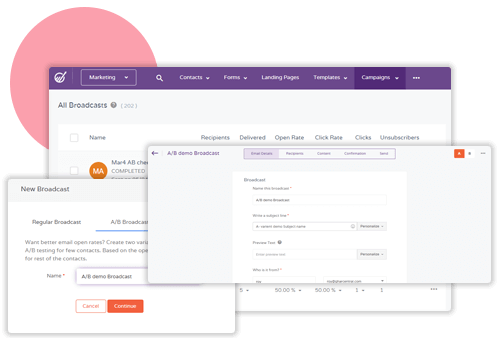 Reducing Bounce Rates With Email A/B Testing
The bounce rate of an email campaign is one of the most defining metrics to be tracked. The email subject line is crucial. With Email A/B testing, you can test multiple variations of an email with different subject lines till you find the best possible variant. This improves user experience, getting visitors to open your email and consequently reducing bounce rates.
Enjoy Higher Click-Through Rates
With EngageBay's Email A/B testing, you can send out two different versions of body content for your email as well. This variation test will help you identify the better performer of the two that produces a better click-through rate, thus allowing you to determine the one that engages your audience more, and then working with that version.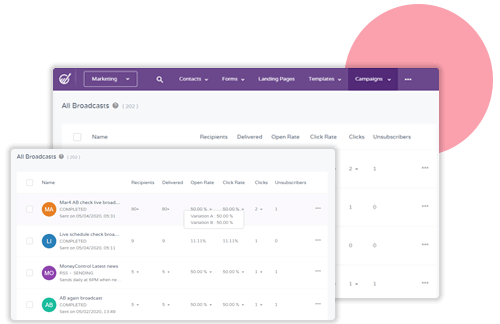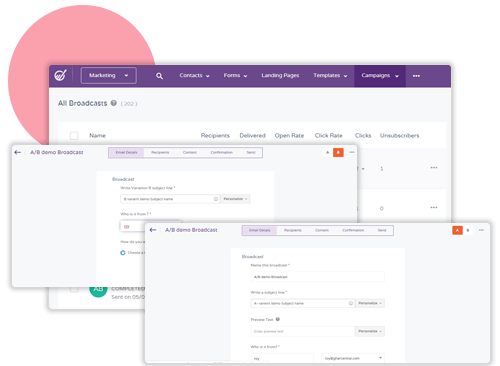 A/B Testing (Split Testing) For Images
Images express better and speak volumes. But once again, there is no way to identify that one right image to send to your subscribers in your email. With EngageBay's A/B Testing tool, you can test two separate images that you feel your audience may find attractive and then use the one that generates the higher click-through rate.
Automating The A/B Testing Email Process
EngageBay's Email A/B Testing feature allows you to automate tests and be free of manual repetition. Pre-set the criteria around which you would like to measure different campaigns by, and let EngageBay's email marketing automation take care of the rest. Free yourself for your other core tasks with automated A/B Email Testing.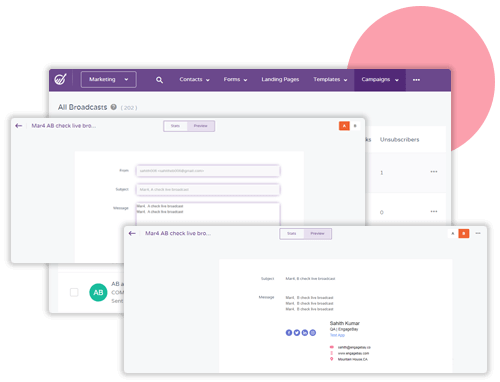 Drip Campaign Software for Awesome Open & Click Rates
Free CRM with drip marketing to automate your drip emails for effective and powerful marketing campaigns.
Setting Up a Drip Campaign
When EngageBay is your free drip campaign software, setting up your drip campaign from scratch can be a breeze. First, identify your target audience, and craft the message you must send. Then, define the parameters of how many emails you need to send out, and when. You'll have to set triggers for the drip campaign to work, and have your triggers in good alignment with the message your emails convey. For more info, read our blog detailing the simple steps to creating a powerful email drip campaign.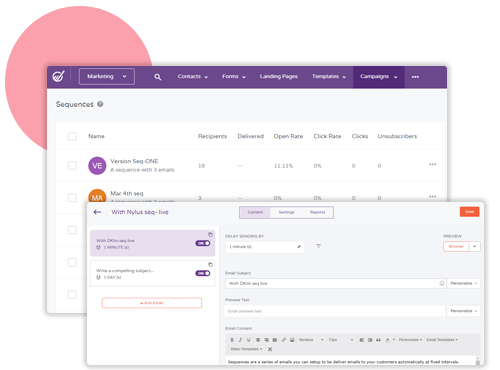 Once you define the triggers, timing and content of your email campaign, let EngageBay's smart marketing automation do the rest. You get to decide when EngageBay should send out your email, how frequently, and to whom. As your leads respond, EngageBay will share live updates on your dashboard.
Measure & Enhance your Drip Campaigns
With EngageBay's real-time data analytics, you can easily evaluate the open and click rates of your emails. Use the stats on your dashboard to correct the course, if you must. EngageBay records and presents all information about actions taken by your email recipients in simple, understandable charts. Measure the performance of your email drip campaign and enhance your future campaigns as you learn from live info.
Handy & Customizable Email Templates
Our drip email campaign software gives you free access to cool email templates that you can pick and customize for your audience. EngageBay has a host of email and video templates, and you can create your own templates and save them in the software for possible applications in the future. Personalize your emails with a wide array of automated, handy personalization tools to connect better with every lead.
Make Segmented Email Lists
EngageBay is an all-in-one marketing automation software, which means you get to do everything you need to convert leads here in one place. To segment your email lists, just pick the right tags or add automation for predictive lead scoring based on the actions your leads take when they receive your emails, and EngageBay will segment your email lists per your parameters.
Use Drip Campaign Automation
You can automate your entire email drip campaign using the marketing automation features that EngageBay offers for free. From welcome emails for first-time visitors to polite reminder emails for leads that opened a cart but abandoned it, your drip campaign can evolve as it goes ahead based on the actions of your leads. Set the criteria for sending out follow-up or reminder emails, or even assigning the right set of leads to your sales team, and EngageBay will do all the repetitive tasks for you.
Lead Generation for Drip Campaigns
When you use EngageBay, you can automate a million small and repetitive tasks to make your marketing and customer relationship management simple. Use multichannel campaign features to build your leads from other marketing channels to add to any drip email campaign. For instance, you can tune the free drip campaign software to tag all leads that fill a pop-up query form to be added to your new drip campaign. Lead generation made easy and efficient like never before!