Text Magic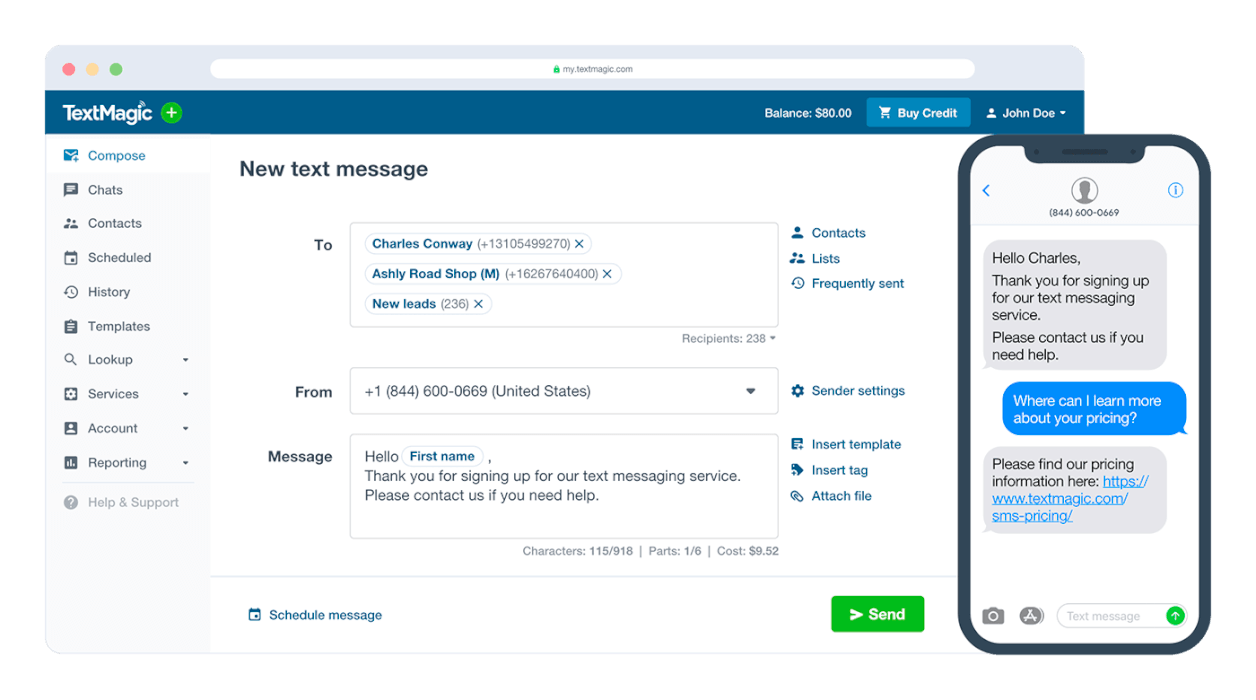 TextMagic software | SMS Software
Send Texts Online
Email to SMS Service
SMS Software for PC & Mac
Virtual Mobile Numbers
SMS Gateway API
Text Message Marketing Software for Business
Transform customer experiences with our easy-to-use text messaging marketing software. Send notifications, alerts, reminders, confirmations, and SMS marketing campaigns anytime, anywhere.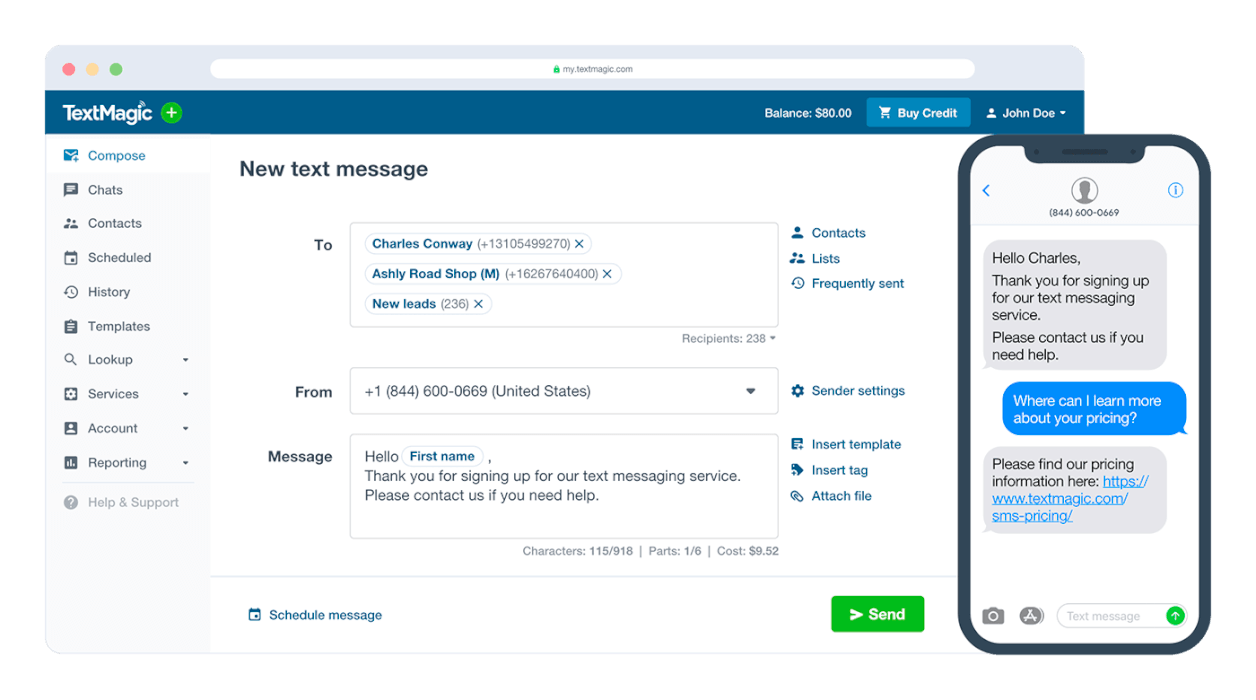 Text messaging software that scales with your business
Use our mass texting software to send personalized SMS texts to your customers, staff, and suppliers.
Login to your account and send mass texts online to 190+ countries.
Convert your emails into text messages and deliver them to any mobile phone.
Integrate SMS API into your business and text directly from your app.
SMS software for PC & Mac
Download our text message software for your PC or Mac desktop.
Send and receive text messages online using our two-way SMS chat.
Forward critical emails as text messages with SMS distribution lists.
Send Texts Online with Our Web App
A complete online SMS texting solution that enables you to quickly and cost-effectively
send texts online from the web to anywhere in the world.
Send out text promotions, alerts, notifications and reminders.
Receive text messages from your customers, staff and suppliers.
Reach your mobile workforce or customers wherever they are.
Manage Your SMS Communications Online
TextMagic's online SMS service lets you send bulk text messages at the click of a mouse. Use it to build successful text-messaging campaigns or to support your sales and customer service departments.
Use SMS chat to start and manage two-way text conversations with customers or staff members.
Search SMS chat logs to find the right message or export texts in popular Excel formats if needed.
Easily manage contacts & lists
Manage recipients effectively by sorting your contacts into different lists.
Track every message with SMS reports
Track the delivery status of your sent text messages and monitor delivery rates and quality.
Schedule your texts in advance
Write text messages days or months in advance and schedule them to be sent out automatically.
Personalise your texts with tags
Look more professional by merging custom fields and sending personalized texts to your customers.
Improve Your Business Processes by Sending Texts Online
Our online SMS solution will help you reach out to hundreds of contacts in a matter of seconds. Here are the mainbenefits of sending text messages online:
Send & receive all your texts in one place
The TextMagic online SMS app enables you to securely store all your messages, templates and contacts in one place.
Stop wasting precious time
Sending SMS messages online through our web app means that you will never have to waste time responding to texts from your smart-phone again.
Communicate effectively with your contacts
Our tags and templates will help you personalise text messages easily, thus increasing the effectiveness of your mobile campaign.
Email to SMS Gateway Service
Turn any email into a text with our email to SMS gateway.
We convert your email into an SMS and deliver it, with all replies then arriving as emails.
Send texts from any email
Grant access to a valid email address by adding it to the allowed emails list.
Send to multiple recepients
Send messages to multiple recipients straight from your preferred email client.
Receive SMS replies as emails
All SMS replies will arrive as emails via our SMS to Email gateway.
Integrate our email to SMS gateway into your application
Send business text messages from any email without worrying about expensive integration costs. Simply type your message,  and we will do the rest.
No development skills needed to integrate
As long as your application can send an email, it can also send text messages with the help of TextMagic.
Remove email footers and signatures
There is no need to send email signatures and footers in the SMS – we remove them for you.
Improve your open rates with our email to SMS application
Send time-sensitive SMS marketing campaigns, confirmations, alerts, and offers directly from your email application.
Remind your clients about upcoming appointments and reduce the number of no-shows.
Send text alerts from your email whenever you need to share an update with your team.
Confirm customer bookings with a quick text message.
Promote your business and services by sending SMS campaigns to customers.
Hardware monitoring alerts
When a server crashes at 2 a.m., send a text alert to your IT team.
Boost your business by sending alerts and notifications about critical updates.
Texting Messaging Software for Business
Send text messages via your desktop computer using TextMagic Messenger – a two-way bulk SMS software application.
Bulk SMS text messaging software
Promote your business and services by sending SMS campaigns to customers.
Import your mobile contacts and send mass text messages.
nclude personal details in your texts with mail merge tags.
Send Texts from Your Computer
Send text messages straight from your PC computer or Mac with the easy-to-use TextMagic Messenger.
Make your own or get inspired by ourtext message templates to take full advantage of our SMS marketing campaign software.
Our text marketing software allows you to keep an eye on your sms campaign. TextMagic Messenger saves every sent text for easy tracking.
SMS inbox on your desktop
Have a two-way conversation with your recipients – replies land straight in your Messenger inbox.
Why Use the TextMagic SMS Software for PC & Mac
Many of our clients prefer to use the SMS software instead of the web app. Here are the main benefits of TextMagic's SMS solutions for PC:
Quickly send & receive texts
The PC app will notify you when a new message is received and make it easy for you to respond.
Store all messages locally
All your sent and received messages are stored within the TextMagic SMS software account, and can be easily accessed any time.
Instantly important contact
You can use the Import feature to automatically import and encrypt contact information.
Dedicated Virtual Mobile Numbers
With a dedicated virtual SMS number, you will be able to receive text messages from anyone.
Get a local number, toll-free number, or 800 number for your business today.
Quickly send & receive texts
The PC app will notify you when a new message is received and make it easy for you to respond.
When people text you, they pay only normal texting costs.
No contracts or hidden fees
Cancel your virtual SMS number any time you want.
Why you need a virtual phone number
Having two-way conversations with your customers via SMS is quick and easy with a virtual phone system.
You can use virtual numbers for promotional campaigns, call routing, or customer support.
Inbound messages delivered to email
Never miss an incoming text. Our software can forward them to your email address or mobile app.
Activate a local area code number in one of the 25 countries listed below, or reserve a toll-free number.
Main Benefits of Virtual Mobile Numbers
Virtual SMS numbers have many benefits that make the setup process well worth it:
TextMagic's virtual mobile numbers can be used anywhere. Send and receive SMS or forward calls to your mobile phone or business numbers.
Separate personal & professional life
Many small business owners make the mistake of using their personal number for professional needs. Renting virtual mobile numbers can solve this.
Access all our SMS features
Reserve a dedicated virtual phone service and access our other features, including call forwarding, SMS automation, bulk texting, two-way chats, and more.