ZoomInfo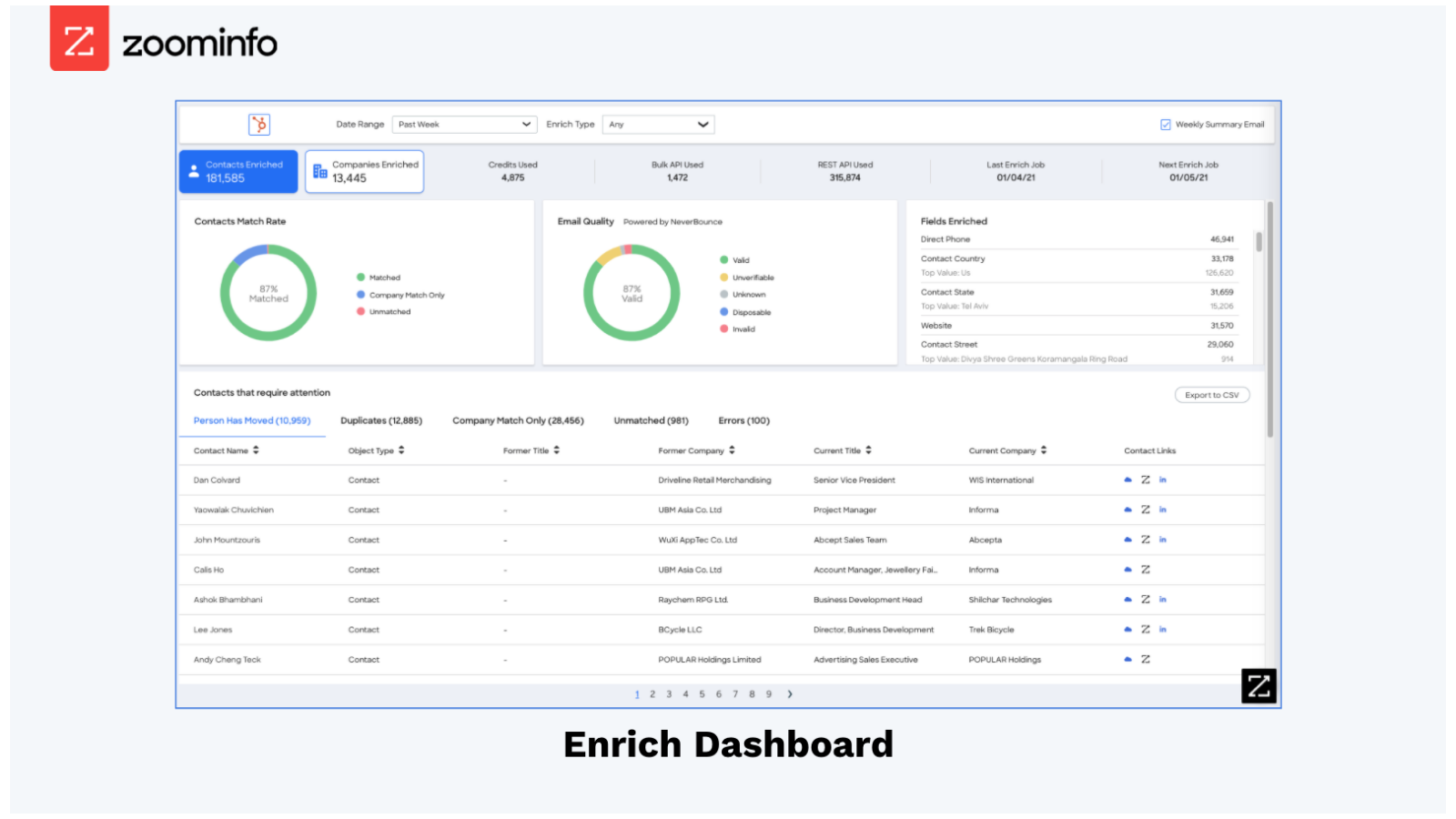 ZoomInfo software | sales software
Meet the world's first Revenue Operating System
Get premium apps for more profitable conversations
Fast-Track Sales Enablement With ZoomInfo + Chorus.Ai
Capture Your Most Valuable, Active Buyer
It's Our Business to Grow Yours.
Get the B2B data and software you need to connect with and close your most valuable buyers — all in one operating system.
Meet the world's first Revenue Operating System.
ZoomInfo RevOS is a unified system of data, insights, software and integrations that creates complete visibility into how to identify, engage and convert customers within your total addressable market.
Uncover opportunities within your market by understanding how to engage active buyers.
Contact And Company Search
Define your targeted market and reach ideal buyers with comprehensive B2B intelligence.
Pump the richest B2B data into your tech stack or take advantage of ZoomInfo's fully-loaded suite of applications to reach your buyers faster.
Sales Automation
Build and execute multi-touch sales cadences with our native phone dialer and email tool.
Kickstart your go-to-market activities across the technologies and channels you know and love.
Insight-Driven Workflows
Build workflows that put your sales process into motion. Select insights that matter most to your business, define your ideal customer profile, and trigger an action.
Maximize productivity, accelerate pipeline and reach the revenue potential you didn't imagine possible with ZoomInfo SalesOS.
Define markets, discover buyers
Maximize productivity, accelerate pipeline and reach the revenue potential you didn't imagine possible with ZoomInfo SalesOS.
Create more conversations that convert customers
Generate and analyze interactions across communication channels, including your sales calls, email and phone outreach and business website.
Build and execute multi-touch sales cadences with our native phone dialer and email tool.
Shorten your sales cycle with ZoomInfo Chat, an easy-to-use, data-driven chat bot tool. Set real-time lead alerts to engage best-fit buyers or automate lead-qualifying interactions to free up your internal team.
Push sales velocity to the limit
Maximize sales productivity by automating manual processes based on relevant external and internal activities.
Act faster on critical market signals, from buyer intent to funding updates and technology installations, with automated outreach and sales activities.
Clean house on incomplete and inaccurate data and get fresh, precise information streaming into your database.Use ZoomInfo Enrich to capture, append, and standardize high-quality data on your most valuable new and existing records.
Accounts Buy, But People Decide.
ZoomInfo MarketingOS is the missing piece to your ABM puzzle. Bring actionable company insights and contact data to your omni-channel marketing strategy.
Find the right leads — at scale
Generate pipeline across your demand generation strategy with essential and advanced B2B intelligence.
Buyer Intent: Identify sales-ready leads researching relevant topics and keywords on the web

Contact Data: Access 50M+ direct dial phone numbers and 129M+ verified email addresses

Advanced Firmographics: Tailor your account universe with 300+ attributes, insights and recent activities
Build and manage campaigns with our Demand-Side Platform
Launch targeted display and social advertising campaigns to prospects based on their job title, management level and department at companies showing buying intent.
Target high-value accounts and buyers within your addressable market

Trigger marketing campaigns with industry-leading buyer intent signals, scoops, and technographic data

Easily plug-and-play with your CRM and marketing automation software for cross-system targeting
Pump up visitor conversions
Entice website visitors to take action and convert to leads — from starting a conversation to filling out your form.
Chatbot: Engage, nurture and convert more website visitors by harnessing real-time company insights and on-page behaviors

Form Optimization: Auto-adjust required form fields to maximize conversion rates and enrich leads in real time with FormComplete

Visitor Tracking: Convert company IP addresses from your traffic into comprehensive buyer profiles for your sales team to contact and close
Make B2B intelligence work around the clock for your team and the channels and technologies they rely on to exceed goals.
Insight-Driven Workflows
Build workflows that activate go-to-market activities based on internal and external insights. Select your trigger, define your market, and set an action.
Go to Market with Infinite Data Possibilities.
Join the 25,000+ businesses whose sales and marketing teams rely on ZoomInfo's B2B database to identify, connect with, and close more customers.
Contact and company search data — that's just the beginning.
Get the most accurate B2B contact data — from direct dials to verified email addresses — to connect with buyers when it matters most.
Access professional profiles, including job responsibilities, work experience, education, and social media profile links, and receive alerts when target profiles are updated.
Prospect the entire buying committee
Secure high-value deals and renewals with access to department org charts, decision makers' direct dials and business emails, and curated insights about company initiatives — courtesy of our research team.
Discover your next best customer
Navigate your addressable market and reach the right buyers with an advanced B2B search engine that provides 300+ company attributes for infinite data combinations and CRM, MAT, and engagement filters for optimal refinement.
Keep your team informed about activities that will impact existing relationships or open new business opportunities with direct notifications about buyers' job and company changes.
Capture Your Most Valuable, Active Buyers
With ZoomInfo Intent, identify and engage buyers right when they begin researching solutions like yours.
Turn buyer research into revenue.
With ZoomInfo Intent, identify and engage buyers right when they begin researching solutions like yours.
Capitalize on buying signals
Map your ideal customer profile against ZoomInfo's database to uncover sales-ready prospects searching for topics and keywords related to your business. Our intent engine triggers signals tracked from a network of 300,000 publisher domains and more than a trillion new keyword-to-device pairings — all sourced monthly from over 90% of accessible devices across the U.S.
Build data-rich workflows across your tech stack
Push intent and contact data into your "empty box" CRM, sales, and marketing software to set up automated workflows that close more leads with less effort.
Tap into the world's most trustworthy B2B data source.
Keep your CRM and marketing automation data accurate and up to date
Enrich your CRM and marketing automation platforms at the frequency of your choice with easy to configure enrichment workflows. Get insights into your database health through metrics and embedded reports.
Curate your perfect multi-vendor recipe
A multi-vendor data strategy needn't be difficult anymore. Support all your large and niche data needs from 60 vendors through a flexible, rules-based data enrichment recipe selection via an intuitive, codeless interface.
Be it CRMs, MATs, webforms, list uploads, data warehouses, or custom requirements, ZoomInfo supports complete, accurate and consistent data across your stack, on-demand, on-schedule or in real-time.
Enrich Your CRM And Marketing Automation Platforms Seamlessly With ZoomInfo's Leading Company, Contacts, Leads, Intents And Scoops Data.
Standardize, Dedupe, Normalize, Segment, Enrich From Multiple Data Vendors And Match Leads To Accounts, Access Advanced Transformations Through Code-Less, Rules-Based Configuration.
Enrich Data From ZoomInfo Into Any System Or Workflow In Real-Time And Proactively Re-Enrich Data Through Flexible And Powerful ZoomInfo APIs And Webhooks.
Access The Highest Match And Fill Rates With Bespoke Consultation For Complex Or Large-Scale Data Service Requests Through ZoomInfo Data Experts.
Convert Your Leads Faster With Shorter Forms. Ask For An Email Address And Let ZoomInfo FormComplete Give You All The Data You Need To Score And Route.
Enable End-Users To Self-Serve Data Cleanse, Dedupe, Enrich Directly Through List Uploads Directly Within The ZoomInfo Platform.