Socialpilot
Socialpilot software | Social Media Marketing Software
Publishing & Scheduling
Analytics & Reports
Create a new income stream
Get your own social media tool
Added to wishlist
Removed from wishlist
0
Everything you need to hit your social media marketing goals at an AMAZING Price!
Powerful Publishing. Insightful Analytics. Seamless Collaboration.
Easily schedule and publish posts on all major social media platforms including Facebook Groups, Pinterest Boards, TikTok, Google Business Pages, and more from one place.
Customize your posts

Create and schedule customized posts with images, videos, gifs, tags, and more for each social media platform. You can also bulk schedule up to 500 posts with a single upload.

Get a bird's eye view

Social Calendar gives you a macro as well as a micro view of your social media strategy and execution. You can choose to dive into the details or get a high-level overview.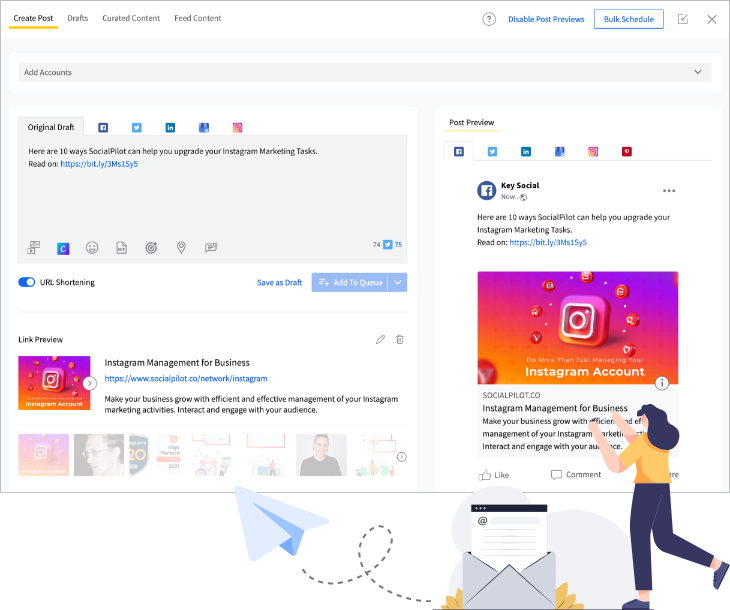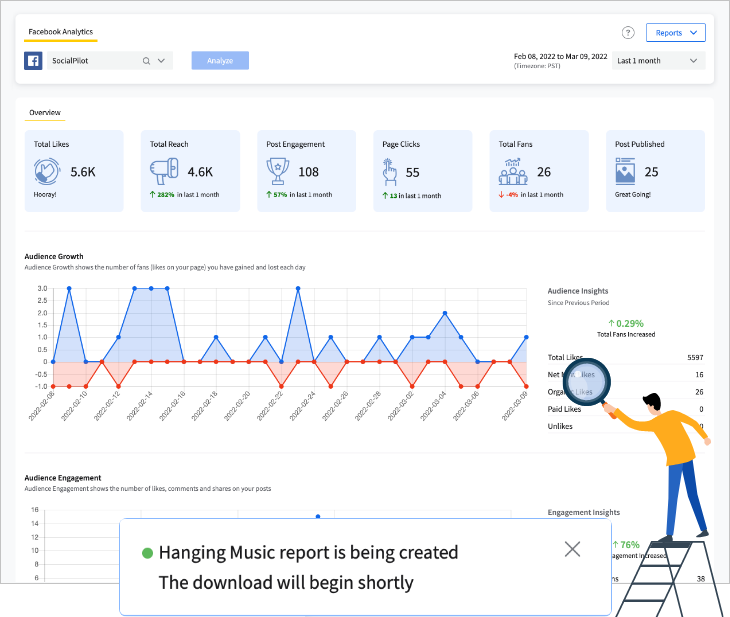 Get all the insights and data you need to make the right decisions for your social media strategy. Download your reports or instantly share them with your clients via email – complete with your own branding.
Understand your data

Get a clear picture of your account's performance and gain insights into your audience with easy-to-read charts and graphs of critical metrics.

Generate and share white-label reports

Customize your social media reports with your branding. With just one click, your reports will be ready to download as PDFs or automatically shared with your clients and other stakeholders via email.
Keep the conversation flowing with our simple and effective Social Inbox. Engage with your audience efficiently and keep track of open conversations on Instagram and Facebook.
Bring everything under one roof

Be it comments, messages, story replies on Instagram, or posts made by your fans on your Facebook Page, our Social Inbox brings all your conversations together for easy management.

Converse proficiently and improve response rates

Reply to conversations in real-time across all your Facebook Pages and Instagram Accounts. Focus on conversations that matter and mark resolved queries done.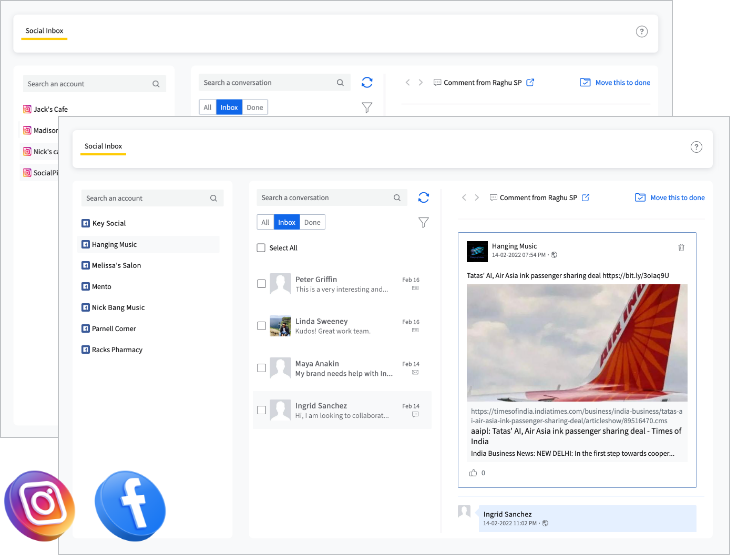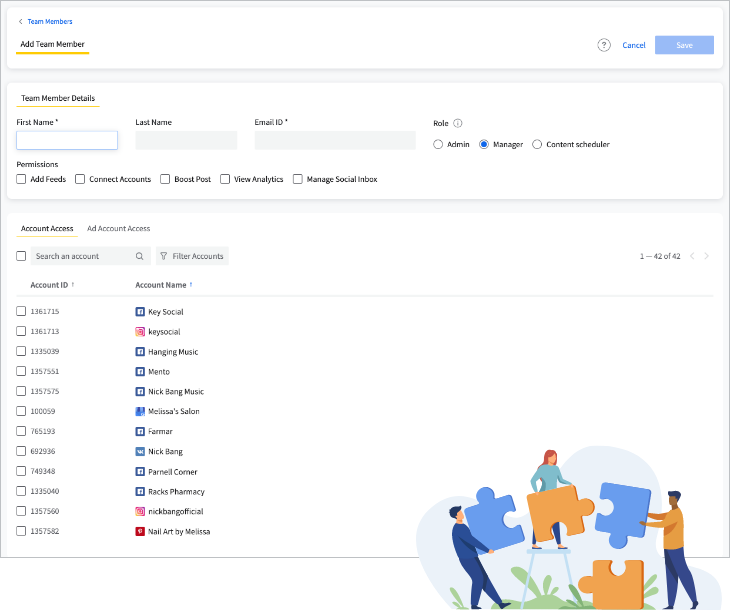 Whether you are coordinating with your team members or collaborating with your client, SocialPilot makes every interaction stress-free. Keep the workflow clutter-free for the entire team.
Do more with your entire team

Enhance your team's efficiency by inviting members to manage and collaborate on specific accounts. A tight workflow means a faster approval process.

Set clear roles & responsibilities

Avoid repetition of work and effort by assigning specific roles and access rules to your team members. Cut down on time and effort required to manage your multiple social media profiles.
Customize SocialPilot to match your brand identity. From a branded dashboard to branded analytics reports, SocialPilot will truly be your own.
Get your own social media tool

Give your clients a seamless branded experience. Put your brand at the center stage with a completely customized interface to match your brand's image and style.

Create a new income stream

Boost your income by adding new revenue streams thanks to the superior reseller benefits of SocialPilot's white label setup.
Why SocialPilot is the Right Fit?
Powerful Publishing. Insightful Analytics. Seamless Collaboration.

Small Business & Professionals
Use analytics to see what works
Post through web, mobile and browser extensions
Content suggestion to never let your queue empty
Priority email support to never let you down

Marketing Agency & Teams
Collaborate with team members using in-built workflows
Manage client profiles without asking for social media credentials
White label PDF reports to share and present without any edits
Priority email and phone support

Enterprise
SocialPilot customized to your specific needs
Profiles and posts configured to cater to all your clients
Complete white label platform to support your branding
Dedicated account manager with email and phone support
Make Social Media Scheduling & Publishing Effortless for You & Your Entire Team
Publish your social media content across all major social networks using this ultimate social media scheduler.
Fret less, save time, and generate more leads!
Create and Schedule Customized Social Media Posts on Every Platform
Easily customize posts for each platform with SocialPilot's advanced Post Composer. It enables you to
optimize a post for multiple social networks in one place.
Maximize Reach with Customized Posts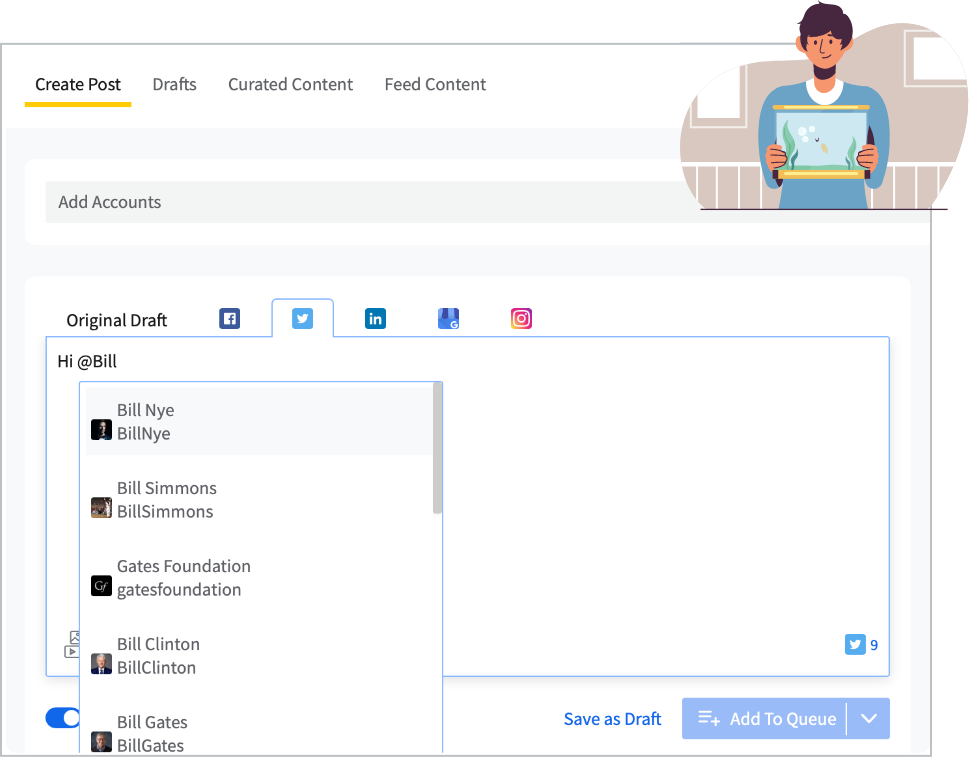 Get Seen by Your Audience at all times with Flexible Scheduling
Multiple scheduling options make it easier to accommodate different time zones and activity
periods to automate posting at the best time for maximum impact.
Automate Your Social Media Strategy

Put your social media strategy on autopilot by scheduling social media posts to time slots when your fans and followers are most active.

Never Miss Out Any Opportunity to Share

Found something you liked and need to publish a post immediately? Share them right away on all your accounts by clicking on the 'Share Now' option.

Share More by Scheduling Newer Ones to the Next Time Slot

Want to share a post immediately without hampering your regular social media posting schedule? Click on the 'Share Next' option to schedule the new post to a time slot after the first post in your queue.

Save Time and Effort by Repeating Posts

Share the same posts of events and other announcements multiple times at varying time slots for maximum retentivity.

Draft Your Ideas by Saving Unfinished Posts

Have another task at hand? Save posts as drafts and pick up from where you left to share or schedule them anytime.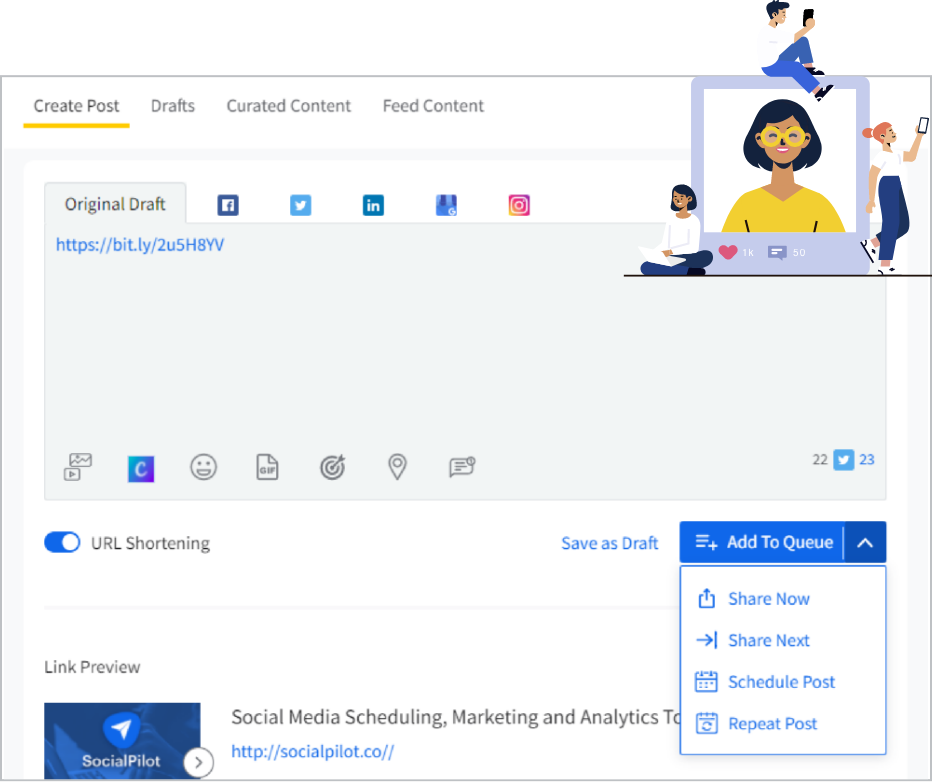 Visualize Your Long-Term Strategy with Personalized Social Media Scheduling Calendar
Visualize and optimize your social media strategy on the go with a bird's eye view of your
content schedule for all your connected social accounts.
Keep Your Schedule On Track
Gain a better understanding of what needs to be published each day, week, or month without drifting away from your schedule.
Filter Out All Chaos
Getting confused between your and your clients' postings? Filter your calendar to see posts scheduled for specific accounts to get an overview.
Catch Hold of Errors and Inconsistencies Beforehand
Is there an empty slot in your calendar or a mistimed post just got scheduled? Create posts right from the calendar after spotting out the inconsistency.
Reschedule Faster
Want to reschedule a post to a more suitable day or time? Just drag and drop to reschedule those from the calendar itself.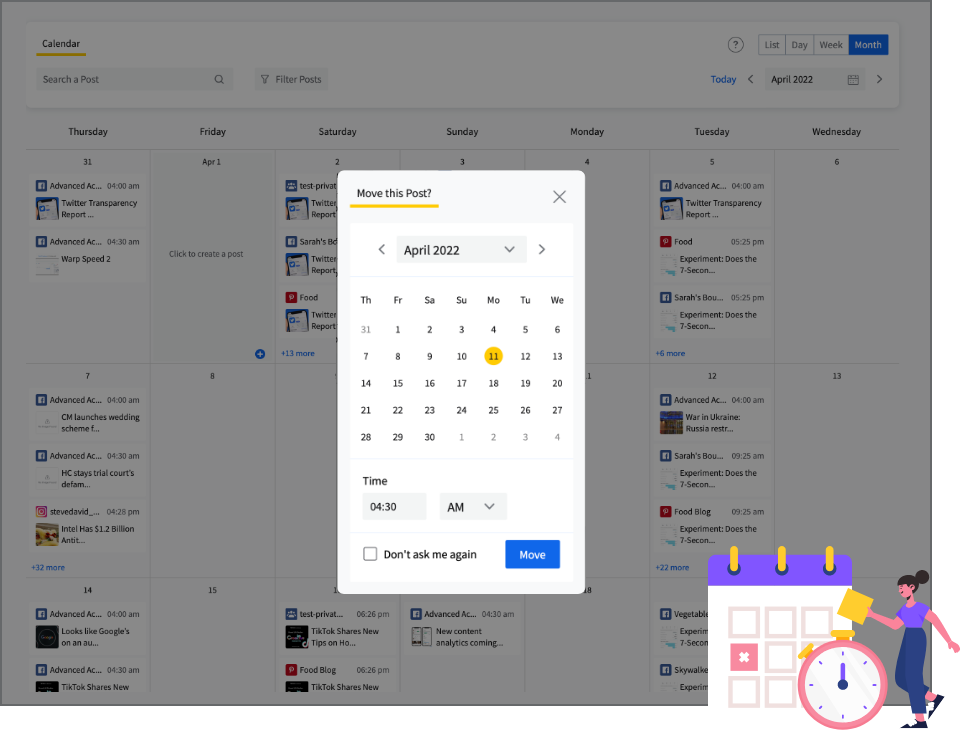 Know What Works
Get the most out of your popular content. Reshare your evergreen posts directly from the calendar for massive reach.
Never Run Out of Great Content to Schedule and Publish
Discover curated content that drives engagement and provides great value. Also share content automatically
from your favorite source or blog with RSS feeds.
Get Share-Ready Content

Ever ran out of good content to share? No more! Get gripping content with SocialPilot's curated content list based on categories, keywords, influencers, and recency.

Share Anytime from Anywhere

Share content from a website or a blog you found without switching windows or tabs from SocialPilot's extension. Share right from your smartphone with SocialPilot's iOS or Android app during casual surfing on the Internet.

Automate More to Save More

Have a favorite website or blog that you love? Share content from there without even visiting that site. Add their RSS feed URL, and SocialPilot will share those posts automatically.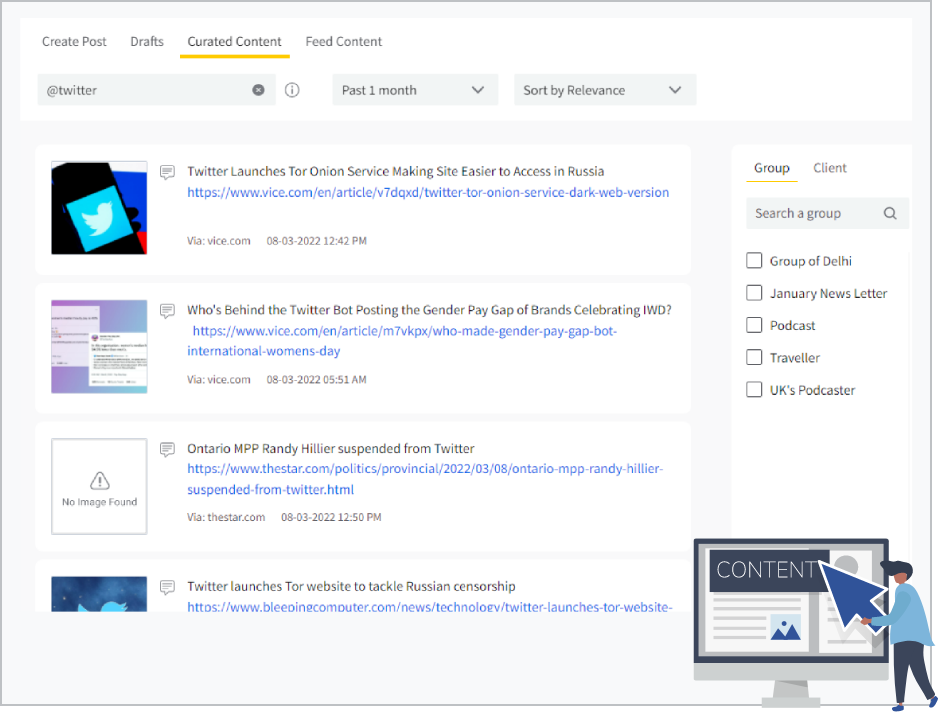 Design and Schedule Media Posts Seamlessly
Drive engagement and catch your audience's eye with attractive designer-quality visuals and image posts.
Go Beyond Images

SocialPilot lets you add images and videos. And yes, it has built-in GIPHY support, so that you can create catchy GIFs.

Bring out the Designer in You

Tired of waiting for a designer to tweak your posts or even for creating them? Integrated within the dashboard, Canva provides a hassle-free and seamless design solution for every occasion.

Make Space for What Matters

Avoid clunky URLs in your posts by using Sniply, Bitly, or Rebrandly to shorten your URLs.

Seamless Integrations

Share media seamlessly from your cloud storage with SocialPilot built-in Box.com and Dropbox support.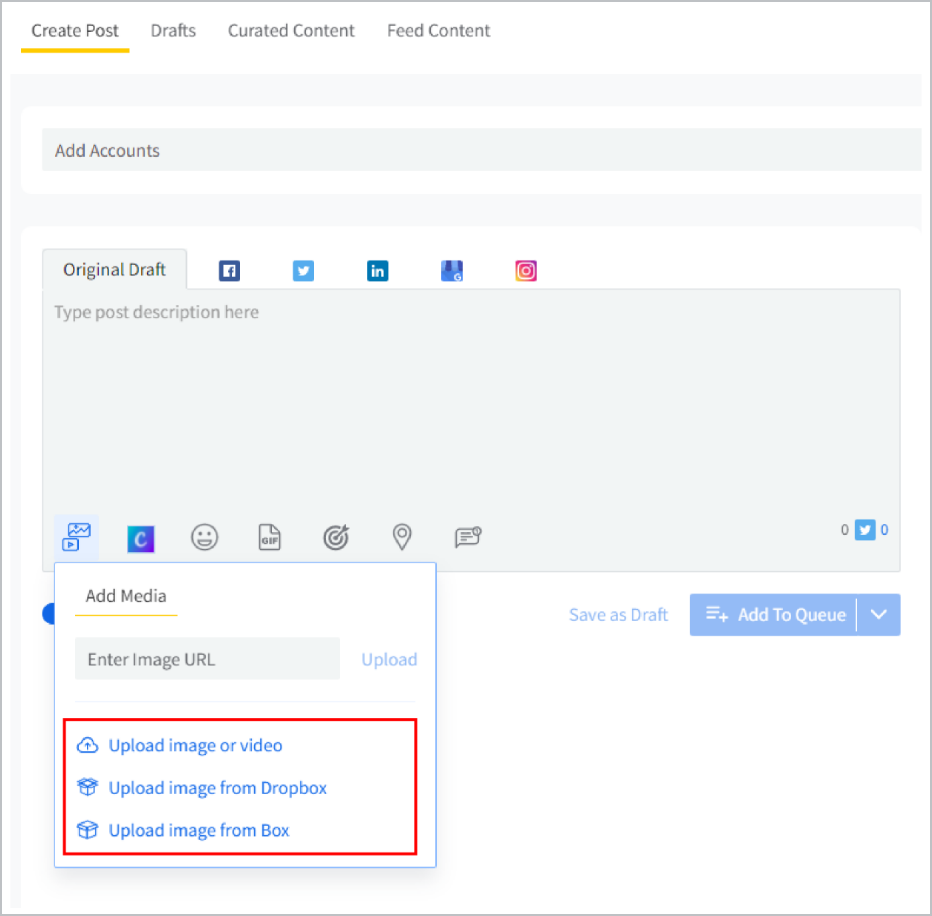 Do More Than Posting With the Advanced Post Composer
Make your posts more engaging and reach the right audience with a suite of impressive social media marketing features.
Reach your Ideal Audience

Target the right people with Facebook's Audience Targeting ability directly from SocialPilot while composing your posts. Set filters to make sure your posts are viewed by audiences that are most likely to be converted.

Widen Your Content's Reach

Boost your Facebook posts directly from the Post Composer. Schedule them in advance to ensure that maximum prospects see it.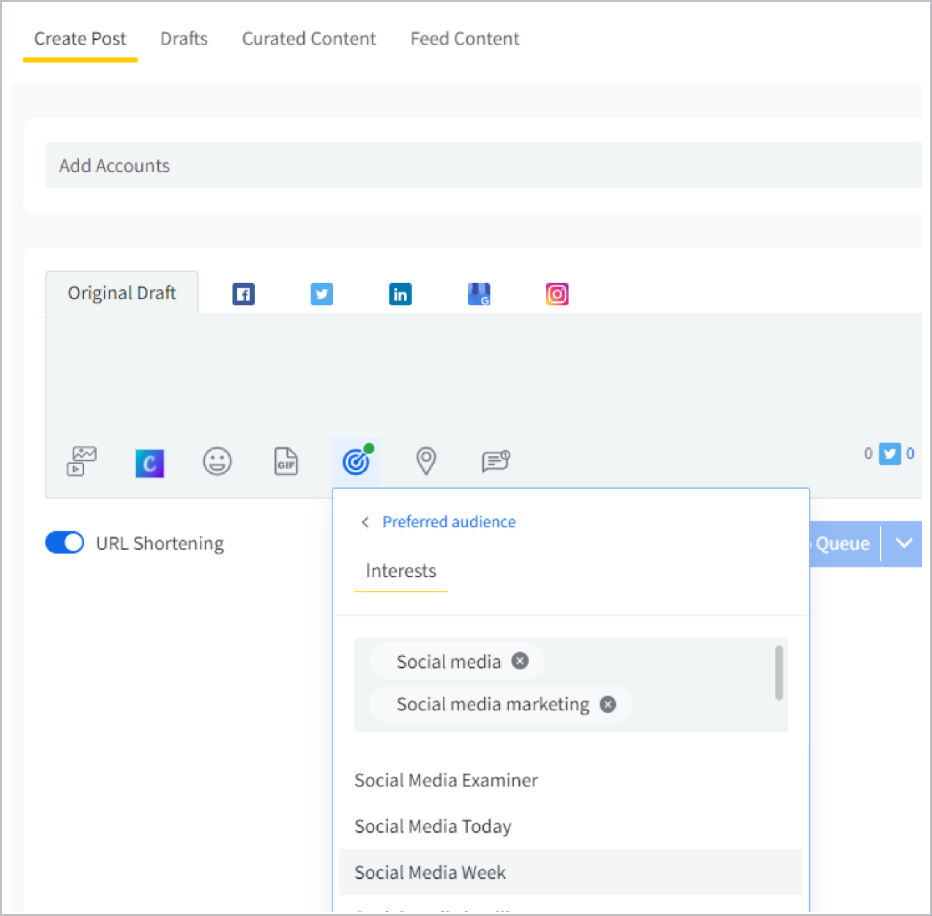 Build a Dream Team with Streamlined Workflows
Smoothen the process of content creation and publishing with well-defined roles and workflows for your entire team.
Efficient Collaboration

Craft posts and save them in contributed posts for review. Collaborate with the team to get rid of possible mistakes.

Approval Checks

Set approval rights and privileges to edit or delete posts. Once approved, the post gets added to the queue automatically.

Under Supervision

Add more of your team members and assign them roles to multiple social media accounts for better management.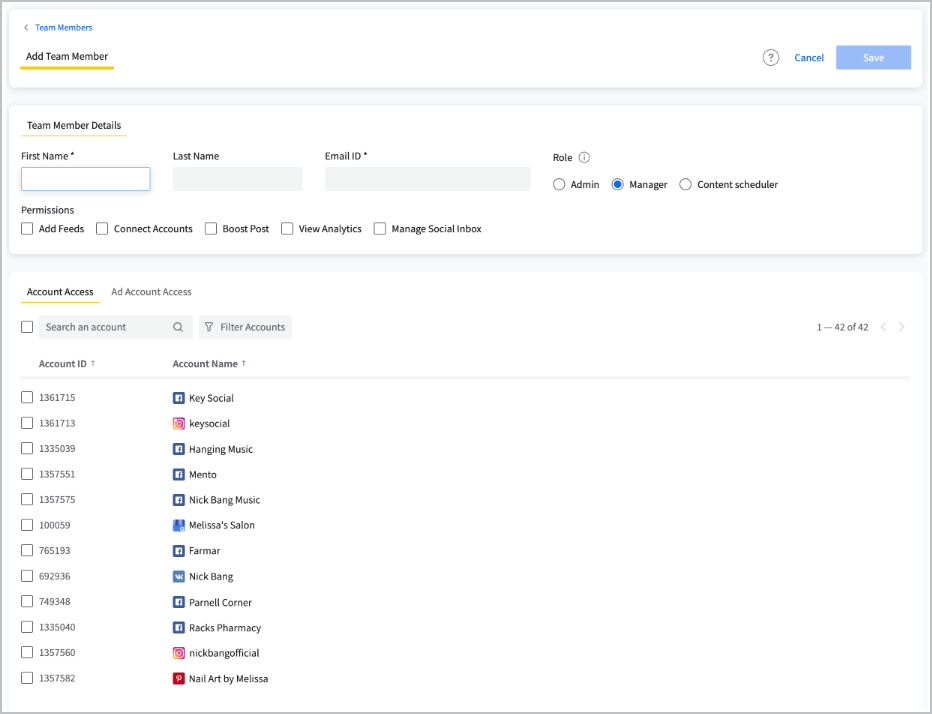 Content Performance
Understand your top content that engages your audience the most.

Audience Insights
Understand your audience better & analyze growth patterns to create engagement strategy with integrated social media insight tool.

Identify Your Biggest Fans
Discover who interacts with your posts the most with useful insights like most active sharer, commenter, liker and more.

Best Time to Post
Discover the best time to post on by analyzing active fans during the week.

Comprehensive Analytics
SocialPilot shows analytics of all posts irrespective of whether it is posted from SocialPIlot or not.

Share PDF Analytics Reports
Schedule your detailed pdf reports to share automatically via email with clients & colleagues or download them from the Analytics tab.
Measure your Facebook page's performance by understanding growth of your fans/audience. Also understand what content works the most with your fans from Facebook Audience Insights.
Account Overview          Post Performance
Audience Growth           Most Comments
Audience Engagement  Most Likes & Shares
Post Engagement        PDF Analytics Report
Demographics             Popular Tag Clouds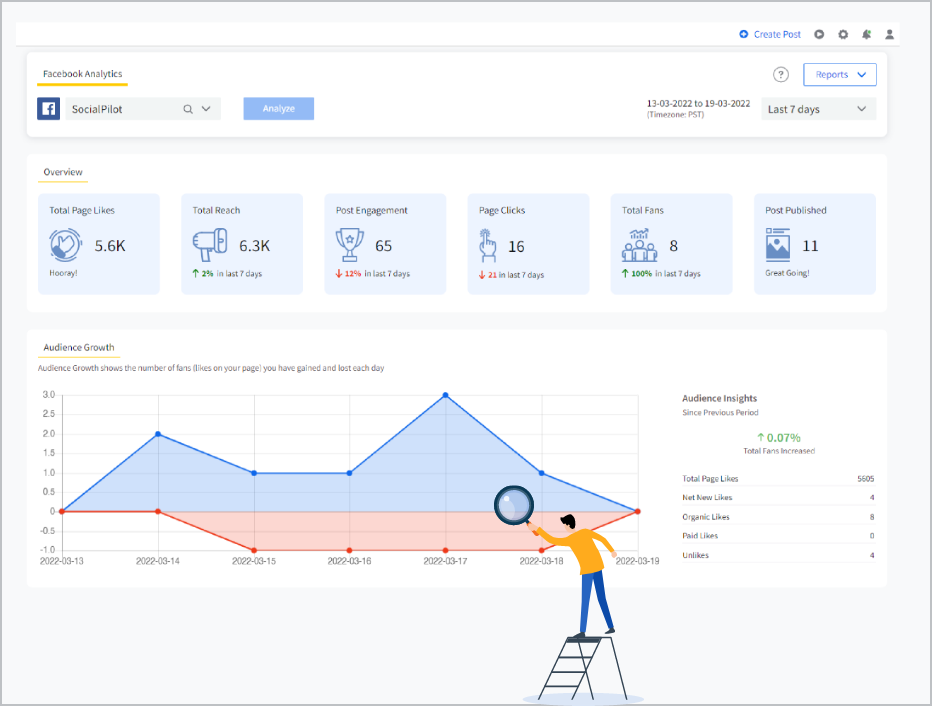 Get detailed insights into your audience's behavior and demographics on Instagram. Make data-driven decisions based on engagement and post-performance metrics for higher reach and impact on your audience.
Profile Overview                Post Performance
Post Engagement             New Followers
Audience Demographics   Hashtag Performance
Stories Performance         Follower Online Activity
Reach                               Impressions
Website Clicks
Analyze how your Twitter profile is faring by understanding retweets, replies and favorites for each of your tweet from Tweet activity dashboard. Also get to know your top influencers and top tweets that mention your brand.
Account Overview               Engagement Insight
Date Wise Posts                  Audience Engagement
Posted on Days and Time   Top Performing Tweets
Audience Preferences         Popular Tag Clouds
PDF Analytics Report


Monitor your company's performance and growth with a comprehensive social media analytics tool for LinkedIn. Measure your follower trends and how well your posts are performing. Get a complete overview of your LinkedIn business page and take necessary steps to improve your branding.
Account Overview            Follower Count Trend
Reach/Impression Trend  Engagement Trend
Post Analytics                   PDF Analytics Report
Google My Business Analytics Tool
Analyze your Google My Business listing and its performance through key metrics. Gain crucial insights about customer behavior and take actions to increase your business growth and popularity. Also get detailed data about post performance and use it to entice your audience with content that works. Download detailed analytics reports to use in presentations or client reports.
Reviews & Ratings     Search Performance
View Analysis           Customer Actions
Post Performance

Bring all your conversations across all Facebook Pages and Instagram accounts in one place. Social Inbox gives you a clear view of your comments to posts and private messages on your Facebook Pages and Instagram accounts. You can also respond to posts made on your Facebook Pages. Filter the list to see only posts, comments or conversations separately
Share Social Inbox access with the right people – be it a content creator or a manager. Ensure that conversations are replied to faster without your team getting overwhelmed. Don't keep your fans and customers waiting.
Go Visual With Pictures And GIFs
Make the conversations lively and fun with pictures and GIFs. Attach your screenshots, memes, illustrations, photos, and the funniest GIFs and see the response rate go high.
Focus on Conversations That Matter
See a lot of comments, messages, or posts that nobody seems to be interacting with? Mark them as done and focus on the conversations that need your attention. Want something back? Simply move it to Inbox.
Bulk Upload Social Media Posts
With SocialPilot, you can bulk schedule posts in just 2 steps—upload, and review.
Effortlessly schedule up to 500 posts in advance to make sure that you never miss posting on the times that your audience is most active.
And there's the option to customize your posts too — you can bulk upload article posts as well as image posts. You can bulk schedule Facebook posts as well as twitter, LinkedIn, Tumblr, and Instagram posts. Make bulk posting effortless with SocialPilot.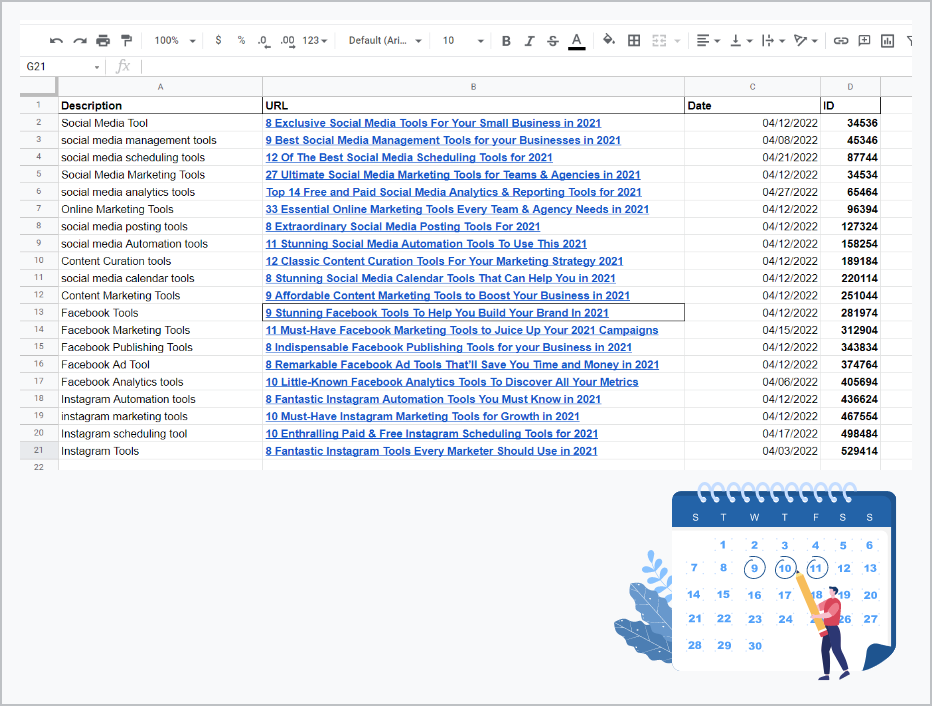 SocialPilot's Bulk Upload feature enables you to schedule both articles as well as image posts unlike bulk upload in Buffer or Hootsuite's bulk upload capability.
With Hootsuite bulk upload you can add images in the review section, SocialPilot's bulk upload capability directly pulls images from the links in the .csv file.
Just add the public image URL in the .csv file that you are creating for bulk upload to schedule image posts. Learn more about it .
Review Your Posts With Post Planner
The intuitive list view makes it extremely convenient to review all the aspects of your posts before scheduling. You can edit content for each post, change the scheduling date and time, and select the account for which the post is to be scheduled.
If an account id has already been mentioned in the .csv file then the account will be automatically selected.
In case you have a change of plans and don't want to schedule one of the posts, you can delete it directly from the review screen.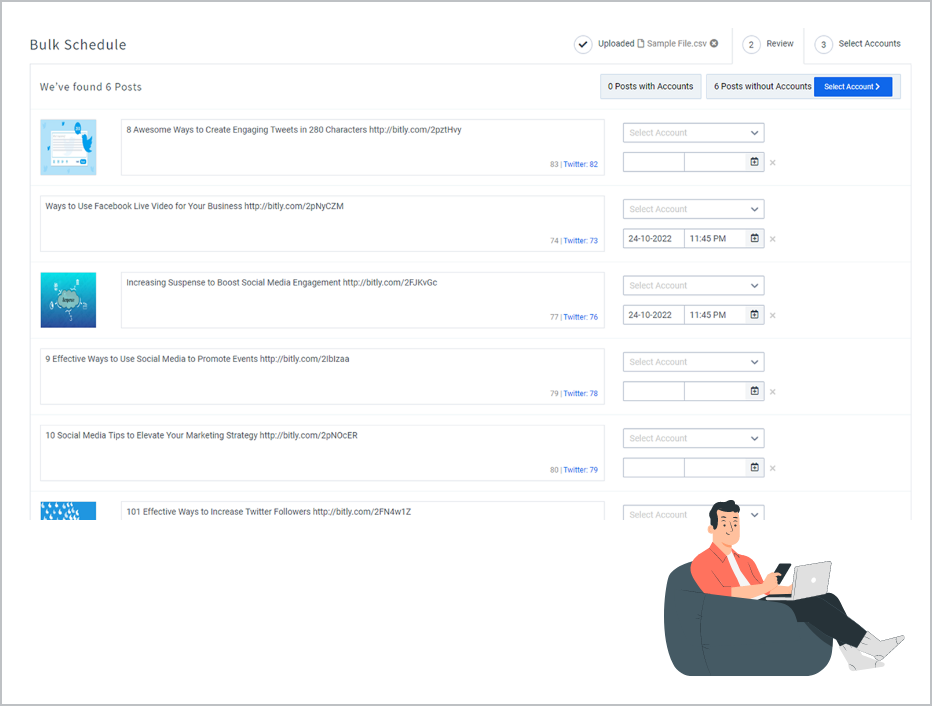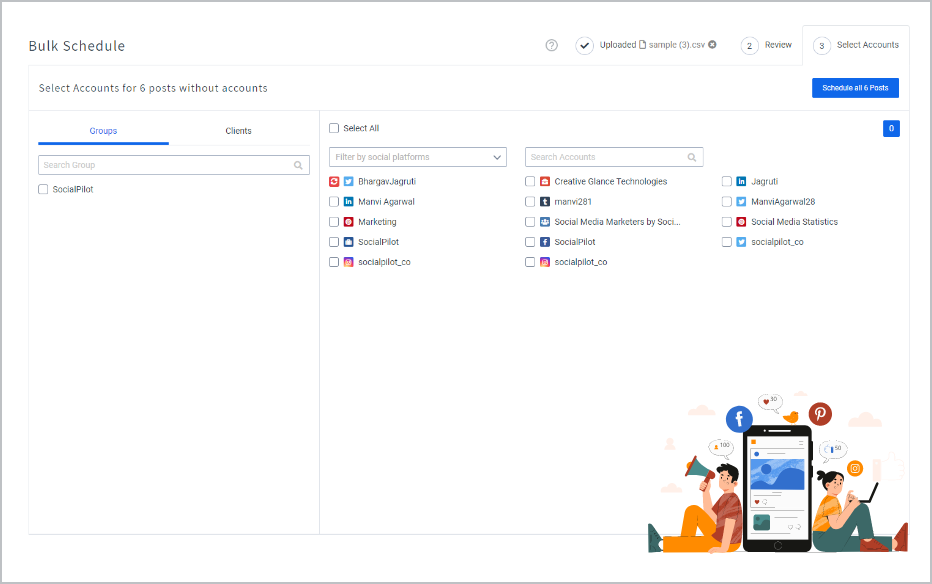 Map Posts to Social Media Accounts
To make your bulk social media posting even simpler, you can easily map each post to specific social media accounts on which it will be published.
Just mention the relevant account ids in the .CSV file and schedule up to 500 posts to their specific social media accounts.
The bulk scheduler allows you to change the accounts or even select one if you have not mentioned the account id in the .CSV file. This can be done after uploading your .CSV file in the Post Planner section.