SocialBee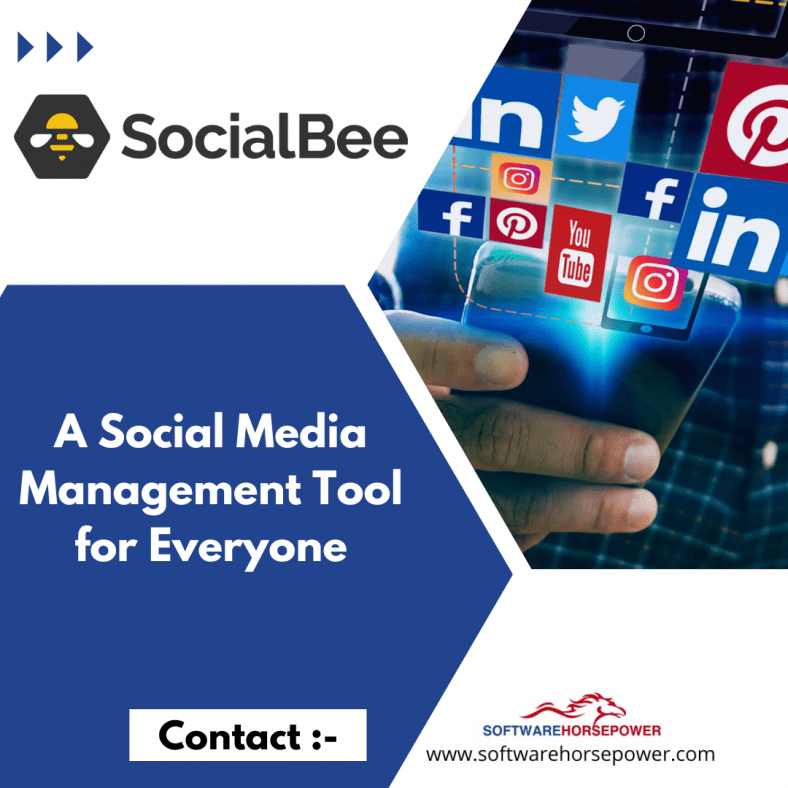 Added to wishlist
Removed from wishlist
0
Social Media Management Tool for Entrepreneurs, Service Providers, and Small Businesses
Automate your social media posting, so you can focus on what truly matters.
Plan Your Social Media Content
Organize your posts in a content calendar, and you'll be covered for weeks.
Import different content types and ideas, assign them to your posting schedule, and have them shared automatically for you. 
Design with Canva in SocialBee
Open the Canva editor right inside SocialBee and design your graphics. 
Once your design is ready, select the social media profiles you want it to be shared on – along with a caption, emojis, and hashtags. 
Build a Better Social Media Presence
Adding posts on the fly is easier if you can customize them for different platforms' requirements — all from one place. 
Recycle your posts multiple times by adding slight variations to them. If it's time-sensitive content, you can set it to expire, so it will not be shared again.
The best part? While editing your posts, you can preview in real-time the way they will look like on specific networks.
Track the engagement rate, comments, likes, shares, and impressions for each post, so you know what's working best for your audience.
Once you've identified high-performing posts, you can share them once again.
Improve Teamwork and Collaboration
Build a social media workflow to make sure your posts are timely and error-free.Invite people to your workspace, assign roles, leave feedback with mentions and approve the social media posts that are ready to go live.
Category Based Scheduling​
Assign each post to a specific category, and start scheduling your posts in bulk. 
Whenever you need to pause your regular posting routine, you can do so by pausing scheduled content categories.
Don't spend time while scheduling the same content multiple times—set your top-performing content to be recycled!
Customize for Each Profile
Tweak each post to fit the best practices for each network, but still keep it linked to the same post.
Keep your evergreen content looking fresh and updated thanks to unlimited post variations.  
Change multiple posts from one category at once: assign to more profiles, approve, delete, and more.
Schedule and Share Your Content
Publish content on your favorite platforms from one place based on a set schedule — all while having a control over what will be published. 
Post on your Facebook Profiles, Facebook Pages you manage, and Facebook Groups. 
Post content directly on your Twitter Profiles. 
Post on your LinkedIn Profiles and Company Pages you're an Admin of. 
Post content on Instagram directly (single-post images or videos) and via reminders (carousel posts or stories).
Share posts directly in your Pinterest boards.
Post on Google My Business
Post directly on your Google my Business profile.
Share content on TikTok with absolute freedom. 
Choose one or multiple days & hours and your content will be shared precisely then.
Expire Posts at a Specific Date
Post directly on your Google my Business profile.
Expire Posts After a Number of Shares
You can make posts expire after a specific number of times they were posted. 
Click on the emoji plugin to open up a list of emojis you can use from SocialBee's content editor.
Organize your hashtags in multiple categories and add them to your posts with a few clicks
See in a calendar-like view the exact scheduled posts that are due to be shared.
Individual Schedule for Each Profile​​
Have full control over what gets posted on each one of your social media profiles thanks to the category-based calendar.
See exactly how each post will look like on each social network in real-time while you're editing.
Easy Import & Editing Features
Upload your content in different formats from various sources, in no time. 
Import Multiple Media Files at Once
Import multiple media files at once into the same category with the Import Media feature. 
Import Multiple Links at Once
Have lots of links you'd like to import at once? Easily do so with the Links Import functionality.
Import Through a CSV Upload​
Import your existing content via a CSV files.
Import RSS feeds of any blog or site that has an RSS functionality – this way whenever there's a new article added, a new post is created automatically in SocialBee.
Curate content into your SocialBee account through our Quuu Integration. Then, send it directly to one (or multiple) of your SocialBee Categories. 
Open Canva to design your graphics in SocialBee. 
Custom URLs & Tracking Features
Customize any link you'll be sharing on your social media profiles.
Make your links short by using our own URL shortener. Your links will be short and sweet!
Integrations with URL Shortening Tools
Shorten your links with our integrations: Rebrandly, Bitly, RocketLink, JotURL, Replug, PixelMe, BL.INK.
Category Based UTM Settings
Set custom UTM and Ref parameters for each content category to track the links you're sharing. 
Teamwork makes the dream work! 
If you manage multiple brands, keep everything separated with workspaces.
Invite users to your workspace, assign them roles, and work together on editing content. 
Go to the posts you want to review, add comments with your feedback and tag your team members. 
Analytics & Performance Reports
Have a better overview of your profiles' performance with tailor-made analytics for all your social media profiles.  
Take a look at how fast your audience is growing on each social media platform and find out more about your followers' demographics.
Select a specific social media platform and a specific time frame to discover data about your activity and page growth.
Keep track of your posting schedule and monitor your post reach (both paid and organic), engagement, and post evolution.
Discover which content categories and topics engage your audience the most and use this data to create more successful posts.
See the posts that got the most engagement over your selected period and identify the post type and content topics with the most results.
See how and when people engage with your content throughout the day (likes, comments, shares) visually on a heat or bubble map.
You're not alone. We're here to help!
Check out our Help Documentation for step-by-step instructions to get anything done in SoicalBee. 
Live Chat & Email Support
Ask your questions in our live chat or send us an email at hello@socialbee.io.