TimeDoctor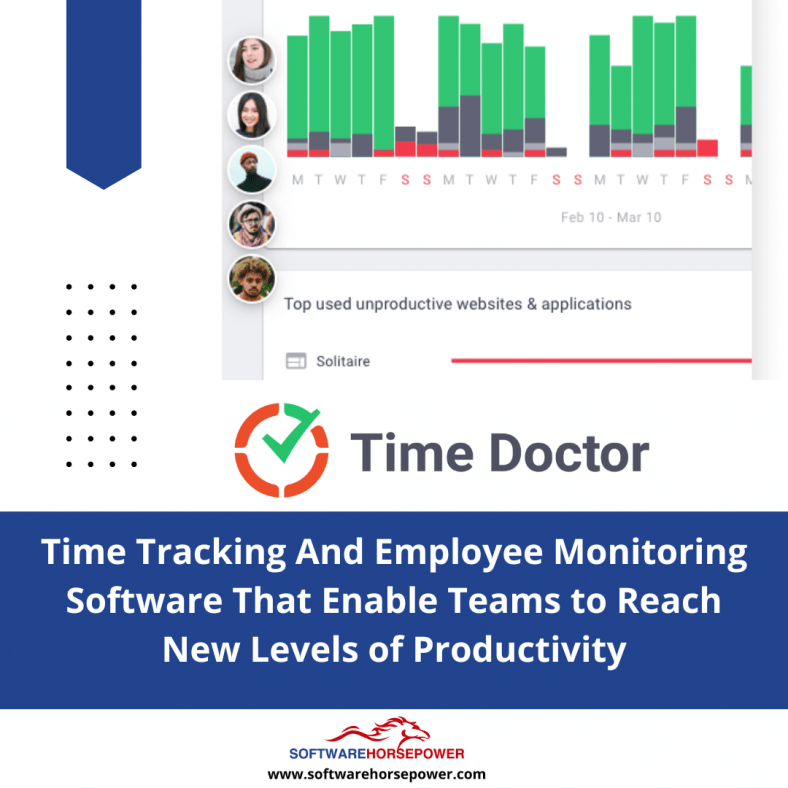 There's no "I" in team, but there is one in time
Track your time and watch your productivity soar!
People using Time Doctor save an average of $37,000 a year in lost time


By measuring and analyzing how your team spends its time, you'll be able to be more engaged on each project offering encouragement and stepping in when necessary. Plus our insight will help you recognize strong performers building morale across the organization.

When your employees see how tracking their time gives them valuable knowledge about their strengths and weaknesses, when they are overwhelmed and when they are underutilized you'll be amazed at how productive, accountable and self directed they become. 
Better for the organization
Happy employees are productive employees so Time Doctor facilitates their happiness by enabling a "work from anywhere world" with full transparency and accountability. Whether at home, in-office or on the road, they'll work the way that works best for both you and them. 

With features and reports everyone will trust to help run the organization efficiently, Time Doctor helps you create a coaching relationship with every employee using data to illuminate their performance.
Frequently Asked Questions
How much time will it take to use Time Doctor?
The initial set up will take around 10 minutes for the admin and 3-5 minutes for the users of the software plus a few minutes to watch training videos. After that it takes very little time each day (a few minutes).
Can Time Doctor monitor the websites that I or my team visit?
Yes. Time Doctor's reports will give you detailed insights into which websites are being used and for how long. You can access these reports online, and can also receive them weekly by email.
Is the data stored in a secure environment?
All communication to the server is secured by SSL encryption. The files on the server are encrypted to provide an extra level of security for company data. The servers are located in secure enterprise data center facilities with 24/7 monitoring and hosting support.
What are the hardware and software requirements?
Time Doctor desktop application runs smoothly on MAC OS 10.11 and above, most Linux OS versions, all Windows computers with Windows 7 or later. There is also a web component which works in all the latest browsers (IE, Firefox, Safari, Chrome).
Can users record time when offline?
Yes Time Doctor tracks work even when not connected to the Internet. The data will be uploaded to the Internet when the Internet connection is restored.
Are there any privacy concerns?
For the interactive version of the software, the software does not monitor anything on someone's computer when they're on a break or when they're not working. So even people working from home can be comfortable knowing that they are not being monitored during their own time. Our position on privacy is that a company has the right to know what employees are doing during work hours, and have no right at all to know what they're doing during breaks or after working.
Does this software work for individuals?
Absolutely. Although some of Time Doctor's features are only relevant to teams and not individual users, many individual users do use Time Doctor manage their own time more effectively. Time Doctor will help you to know how long you're spending on which tasks, and stay focused on what you should be working on.
How can I use Time Doctor to ensure that my team is working productively?
Time Doctor tracks the websites and applications used while people are working. Managers can receive a report with this information. Managers can also receive a report listing potentially "poor-time-use" websites such as Facebook, and how long they were used.

Time Doctor can also take screenshots of your employees' computers while they're working (this is an optional feature). The process of reviewing these screenshots is extremely quick for a management or HR person. The software also tracks keyboard & mouse activity so you'll know if people are using their computers when they say they are.

Time Doctor also provides various online and email reports to management which provide additional information on how time is spent in your business.
Do you have mobile applications for tracking time?
We have an Android app. Most of the benefits of the software come from using the desktop version of the app. However the mobile apps are useful for people who need to track time away from their computers, or want to edit/review their task lists on their phone.
What is Time Doctor used for?
Time Doctor helps to increase productivity by providing insights into how time is spent while the desktop app is tracking time.
What can Time Doctor see?
Time Doctor creates a summary of the time spent on each project, client, and task. See how much time employees spend working at the computer vs. away and how long their breaks last. You can manually edit time if needed.
what are the features of time doctor?
Some of the most important features include Time Tracking, Payroll, Timesheets, Time Management, Screen Monitoring, Employee Productivity and Attendance.