Connecteam
Connecteam software
Manage Your Employees With One Solution
One Stop-Shop for All Business Operations
Effortlessly Communicate With Your Deskless Workforce
HR & People Management Made Easy
Full Clarity On Your Entire Business
Manage Your Employees With One Solution
Communicate, manage, and train your non-desk employees with Connecteam's
all-in-one company app. Easy to use, easy to customize, and easy to scale.
One Stop-Shop for All Business Operations
Everything your business needs to manage time efficiently and get things done quickly & paper free
Effortlessly Communicate With Your Deskless Workforce
Everything you need to simplify work communication and keep everyone on the same page
HR & People Management Made Easy
Everything your HR department needs to keep employees engaged, professional, and motivated
Full Clarity On Your Entire Business
The admin dashboard is your everyday tool as a manager. It allows you to add features to your employee app, create content, run and export reports, modify admin access, and supervise all employees from a single place. Automatically track and measure everything in your company app and make all data clearly visible and actionable.
All of Your Business Operations Under One Roof
Save time and effort running business operations, everything from one genius platform!
Employee scheduling
Employee time clock
Online timesheets
Simplify staff scheduling from planning to distribution
Schedule and dispatch shifts faster than ever!
Assign shifts in one click
Oversee shift-related tasks
Keep employees informed and notified
Mobile interface for managers on the go
Smooth process from time tracking to payroll
The world-leading time clock solution for the deskless workforce
The Connecteam time clock gives your business all the tools you need to track time on jobs and projects, manage timesheets, and process payroll.
Mobile time tracking
GPS location tracking
Geofence
Manage all of your tasks in one single place
Create and delegate tasks in the blink of an eye
Your deskless team won't believe how simple and easy completing their tasks is!
Receive real-time push notifications upon execution
360-degree view on the status of your tasks
In-app communication chat
Repeating checklists & tasks
Digitize manual work processes with zero effort
Go paperless with digital forms and checklists
Gone are the days of filling out files and documents with pen and paper and storing them in the file cabinet.
Turn manual tasks into online forms
Employees fill in forms using their mobile device
Real-time notifications upon completion
Easy to review, export, and share

The #1 Employee Time Clock App for Busy Managers
Simple, accurate time clock app for deskless teams
One-touch clock in and out
Real-time visibility with GPS
Absence & PTO approvals in a click
Payroll integrations
Tracking employees' work hours has never been easier
Turn any device into an employee time clock
Simple and intuitive to use
Customized automated reminders
Track work hours spent on jobs, projects, clients, and more
Track time using a mobile clock-in app, a tablet kiosk, or from a computer
Bridge the gap between you and your employees
Stay on top of your business in real-time
Always know who clocked in and out, when, and where
Accurate real-time GPS location tracking
Get alerts when employees are late clocking in for shifts
Gain real-time visibility into staff activity
Take back control of your time with digital timesheets
100% accurate timesheets in zero time
Quick actions and visual flags point out what matters
Auto-breaks, overtime, double-time, daily limits, and more
Streamline the timesheet review and approval process
In-app chat for shift-related communication
Save Money and Prevent Payroll Issues
Eliminate time theft, buddy punching, rounded hours, and overtime expenses
Avoid early clock-ins and forgotten clock-outs
Make sure employees clock in from the right location with geofencing
Ensure peace of mind with full compliance
Set correct break and overtime rules to comply with federal/state/city laws
Comply with FLSA record-keeping rules with stored time cards
Calculate hours/wages for completely accurate payroll, including PTO, breaks, and overtime
Manage Employee Schedules in a Breeze
No matter the size of your business, this employee scheduling app is for you!
Create schedules in minutes
Avoid conflicts and unnecessary costs
Share instantly with your team
Manage from anywhere
Easily Plan Your Crystal Clear Work Schedule
Straightforward drag & drop scheduling app
Assign, duplicate, drag & drop, or set repeating shifts
Enable online shift swaps between your employees
Create open shifts and let your employees claim them
Vacation days, unavailabilities and overtime are available
Save Time by Scheduling with Pre-made Templates
Work with scheduling templates and reduce manual work
Use single shift templates, full week templates or repeating shifts
Save your schedules as templates for future use
Tailor the schedule planning process to your needs
Easily fill shift templates based on employee availability
Provide Your Team All the Information They Need
Improve operations and go beyond the basics of scheduling
Keep employees informed with shift information
Add shift instructions such as location, time, notes & attachments
Reduce unnecessary interaction and speed up processes
Mobile interface for employees and managers on the go
Get Full Visibility with Real-Time Updates
Track progress and get notified upon execution
Ensure that all shifts are completed to perfection
GPS Scheduling updates
Shift status changes
Real-time shift updates
Check-in late
Shift task completion
Shift rejection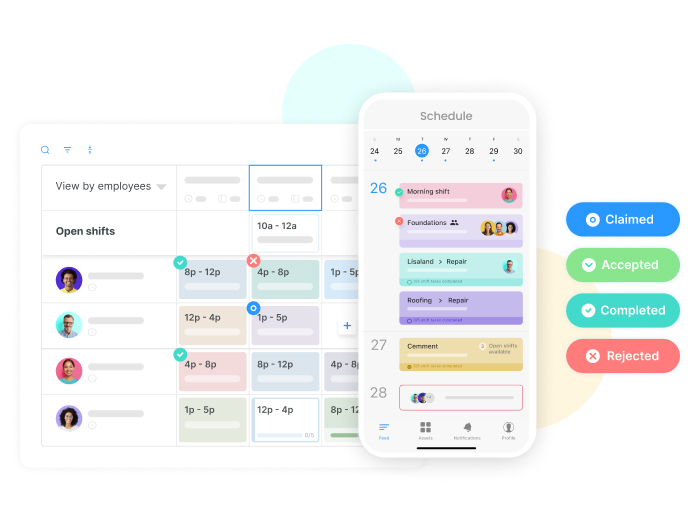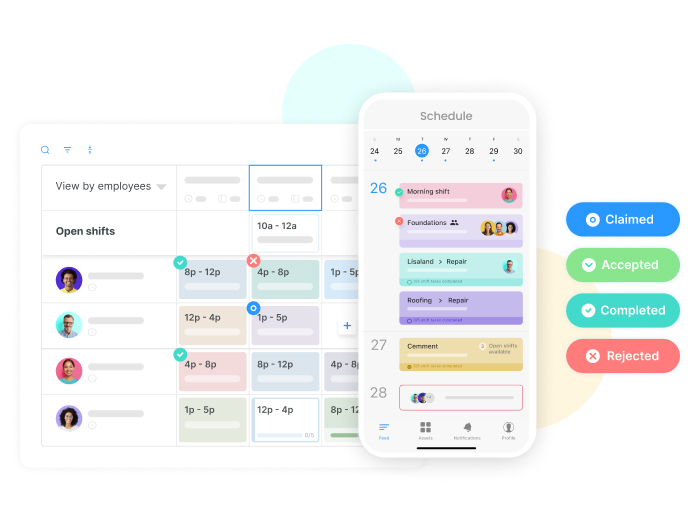 An attractive user interface that employees love
Super easy for your employees to quickly understand their schedule
Your employees know exactly where they need to be, and when to be there
Users have all of the information they need to execute their shift perfectly
No more needless back and forth or last-minute phone calls
Everything is transparent and visually easy to understand directly from their mobile app
The Best Online Forms & Checklists App for the Deskless Workforce
Say goodbye to pen and paper forever! Allow your employees to fill in reports, forms, checklists, requests, and more, directly from their mobile app.
Gather information from your team more efficiently
Digitize your business instantly
Improve response time and eliminate back & forth
Full visibility & control while on-the-go
Streamline Workflows and Empower Your Entire Team
Turn manual tasks into online forms and checklists
Forget about endless calls and texting, or filling in paperwork. Effortlessly create any form or checklist in seconds and send it directly to your employees.
Attach images and videos in a click
Provide E-signatures and GPS timestamps
Attach PDFs, Excel spreadsheets and other files
Record instant audio messages
Customize Forms, Tailored to Your Team's Specific Needs
Easily create your own form, or choose from a variety of templates
Conduct inspections on the go
Operational checklists
Safety forms
For compliance purposes
For onboarding employees
HR-focused templates
Always Available and Always Up-to-Date
No more messy handwriting or outdated forms
No need to wait days for critical paperwork to arrive
Every entry is sent from the field to the office in the blink of an eye
All forms are instantly available on mobile devices
Forms are digitally stored in an orderly manner
Easily export forms