Pipeline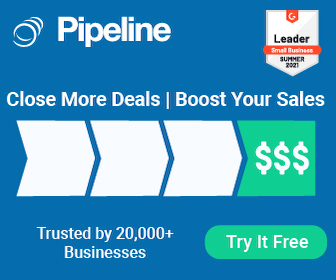 Pipeline software | Sales CRM Software
Made by Salespeople, For Salespeople
Get a sales platform that offers easy setup, seamless integrations, and intuitive tools. With Pipeline CRM, you'll have everything you need to accelerate sales.
Tools You Already Know How to Use
We've built sales enablement tools for 15 years and listened to our customers every step of the way. The result is easy to use, customizable, and fluff-free.
Win More Deals Faster With Pipeline CRM
Every detail about your sales pipelines, right there when you need it and hidden when you don't.
See all of your deals in a single, customizable list view. Use filters to find exactly what you're looking for.
Real people, based in the US, and all expert daily users of Pipeline. Our customer care is second to none.
Integrations Continue using the apps you love.​
Get ready for a seamless transition. From Gmail to QuickBooks, Pipeline CRM offers popular integrations with email providers, marketing, and sales software. So don't think of a new CRM platform as changing your process, think of it as streamlining it. Save yourself more time and effort, and even discover a new app or two.
Sync your Google Contacts and Calendar with your Pipeline Contacts and Calendar.
Connect Pipeline contacts with email marketing campaigns in your Mailchimp account.
Keep your Outlook email messages, contacts, and calendar events aligned with your Pipeline CRM.
Export your leads and deals on demand to create custom dashboards for reporting.
Give your accounts team early access to sales forecasts, share won deals with them, and generate invoices.
Connect Pipeline to hundreds of different apps, including WuFoo, LinkedIn, and Xero.
Instantly send price quotes, estimates, and invoices from Pipeline when you move a deal forward.
Sync details from your customer's profile to their Help Scout profile for enhanced customer experience.
Align your sales and marketing teams by integrating your Pipeline account with this marketing automation platform.
Log into your Pipeline account automatically, without typing usernames and passwords.
Transfer your live chat transcripts and offline messages to your Pipeline account.
Import and segment your Pipeline contacts to send automated marketing emails or manual email broadcasts.
Automate your initial data import from other CRMs, such as Zoho, Sugar, or Highrise.
Protect your CRM – all user and client data – with state of the art security standards.
Connect the data between your CRM and other essential business apps in marketing, finance, and operations.
Automatically import user-submitted data from forms on your website as leads in your Pipeline account.
Sync Pipeline data with WebMerge and generate quotes, contracts, and more documents.
Seamlessly connect your accounts: Google Contacts, Mailchimp, Outlook, Office 365, and more.
Use CallRail to capture all your phone conversations with leads and customers, and attach notes to your Pipeline account.
Log all sales calls with this enterprise phone service, through a two-way integration with Pipeline.
Automate redundant tasks and create workflows by connecting two or multiple apps to increase productivity
Customization Custom CRM software to suit your unique needs.
Decide which data you need to see first every day, change the colors to suit your brand, and custom name every field. Or if you don't know exactly what you need yet, get started with our best-practice templates. Change as much or as little as you like. Pipeline CRM is intuitive enough for your small business and robust enough to feel tailored for an enterprise team.
Boost your sales process with personalized details.
Choose the default titles for stages: Qualified Lead, Proposal, Contract, and Signed. Or you can customize these deal stage titles to suit your team's sales language.
Tailor the entire Pipeline CRM interface to match your company brand colors – or any colors you like. You can also replace the Pipeline CRM logo in the top left with your own logo or company name.
Assign permissions for your team members to set what they can see and do within the application. Only those with Executive permission can view all deals, contacts, and leads without restriction.
Prioritize the customer details that are most important to your business. You can create up to 25 custom fields that will automatically appear on every deal page, such as primary contact information, industry, currency type – anything you need.
Filters let you get right to the data you need. For example, find people with your zip code, or high-priority deals in the negotiation stage. Then save and share filters, so you can easily get to these preferred list views.
Add your most frequent notes as "one-click" activities to save time. Instead of manually typing each time, select that you "made a phone call," "visited site," or whatever your most common tasks are.
Sales Pipeline Mobile App
Access your sales pipeline anywhere.
Pipeline CRM mobile CRM for iOS and Android helps you stay on top of your sales while you're out doing your job. We get it, on-the-go salespeople are usually on their phone more than their desktop. Now you can manage contacts from your car, check customer history or deal details while you're walking to a meeting, and get real-time insights to help close more deals. Mobile-specific sales means minimal taps and customizable features. Work with the data you need, when you need it.
Simple and sales-focused mobile features.
Mobile business card scanner
With the mobile business card scanner you can go from card to Pipeline CRM contact instantly. You can create CRM contacts from business card photos you've taken in the past. Add multiple new contacts without leaving the app.
Nearby geolocation feature
Instantly access a map of a contact's location from Pipeline's CRM leading CRM mobile app. View multiple contact locations where you are, help your sales team meet clients faster, and make the most use of their time out in the field.
Save time by adding your most frequent notes as "one-click" activities. Instead of manually typing, with just one click you can add common activities such as "made a phone call" or "signed contract".
Record and store all of your field sales activities while it's fresh in your mind, and it will be converted to text. No more manually typing in your notes while you're on the go.
Receive phone alerts when someone mentions you on a lead, contact, or ongoing deal. Stay up-to-date with recently won or lost deals, stage changes, and more pipeline updates.
Update, organize, and view your calendar from the app. Get quicker access to priority contacts and leads you've recently interacted with.
Easily track data and create powerful reports.
Get the proof you need to make smarter, data-driven business decisions. Track your team's performance metrics, the types of deals you acquire, and their performance across time, or any custom data point you want. Then create comparison charts to view the types of leads or team members that bring the most revenue, or the success of certain deals over their sales lifecycle. And when you want to share the results, our reports are shareable across your team. There's no more disconnect with what your sales reps are doing. Easily integrate with Excel and Google Sheets.
More time selling and less time updating.
Sales automations is the future of the sales profession – they save time and help you work smarter. Pipeline CRM can help you add efficient workflows to your sales process. Free up time for selling and engaging your leads across multiple channels for greater success. Allow your sales team to focus on their most valuable tasks. They'll get activity reminders, suggested next steps, and easily share progress across their team as leads move through the sales pipeline to become closed deals.
Features to improve your job (and sales).
Let Pipeline CRM facilitate your sales process by automatically assigning tasks and updating leads as they move through the sales pipeline. Get real-time visibility into your pipeline, from start to finish.
Update once, update everywhere. Automated actions will instantly notify sales managers and other team members when deals are closed, milestones are reached, and more.
Automatically prompt the next move on a deal. Pipeline CRM will help your salespeople maintain focus and stay on track with the best action to take at every stage in the process.
Manage emails in your sales pipeline.
Send, receive, and track your emails in the same place you track your pipeline: with Pipeline CRM email sync. This way, there's no more switching back and forth or spending hours looking for important emails. Email sync streamlines your workflow. The full history of your sales communication is in one easy-to-filter place, and less deals slip through the cracks as a result. Pipeline CRM email sync feature integrates with cloud-based email applications like Gmail and Outlook.
Boost your sales process with personalized details.
Share everything with your team. Reuse and share your most successful email templates to get better together. Add team members to certain deals to automatically share emails without messy CC's or BCC's.
Track all your email messages, opens, clicks, and downloads automatically as activities in your account. You'll know who to advance through your pipeline and when to contact them.
Schedule to send a mass email campaign from Pipeline CRM. Use filters to target and send personalized emails to members of a predefined group. Then use Pipeline CRM tracking to monitor the campaign's success.