Outgrow
Outgrow software | Content Marketing Software
Variety Of Tools To Boost Your Marketing
All Layouts Are Heavily Optimized For
Bring Out Your Brand
Powerful Funnel Analytics
Branching Logic
Conditional Messaging
Boost Your Marketing with Interactive Content
Use Outgrow's simple, no-code tools to acquire qualified leads.
Content Optimized For The Modern Marketer
Increase Lead Conversion Rates
Use our 1000+ beautiful pre-optimized templates to improve your conversion rates to over 40%!
Qualify Leads and Add Value
Give personalized answers to your customer's most pressing questions, while qualifying your leads.
Publish Within Minutes Anywhere
Embed Outgrow content on your page, as a popup, in chat, exit intent or on your subdomain.
Feature Packed Calculators, Quizzes, Chatbots, Surveys, and Forms
Get new customers with powerful and easy-to-configure interactive content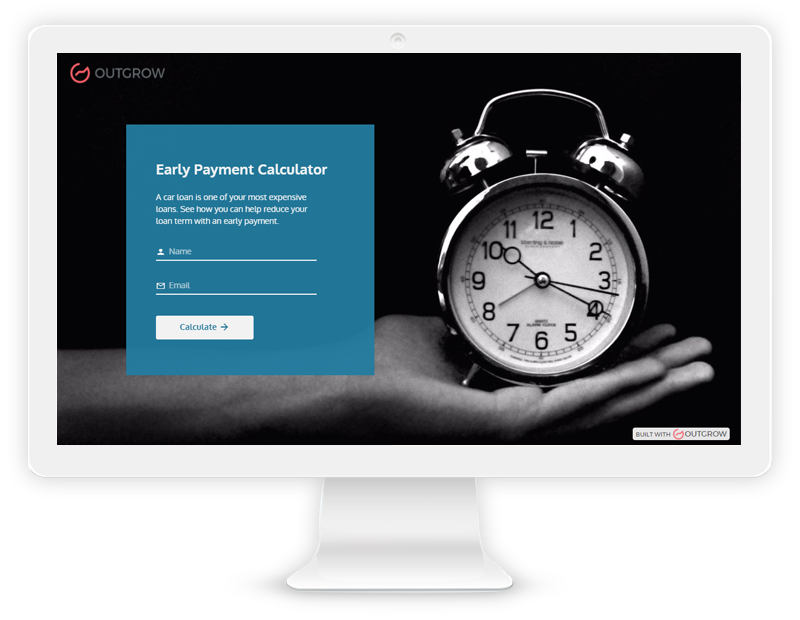 Variety Of Tools To Boost Your Marketing
Numerical Calculators
Outcome Quizzes
Graded Tests / Assessments
Ecommerce Recommendations
Polls
Chatbots
Surveys
All Layouts Are Heavily Optimized For
Conversion
Engagement
Multiple Screen Sizes
Different Browsers
Share Rates
Layouts have been optimized through intensive A/B testing
Your Logo
Your Colors
Your Assets (images, icons etc.)
Your Fonts
Your Style
The look and feel can be easily customized to showcase your brand.
Powerful Funnel Analytics
Conversion Rate At Each Stage
Section and Question Level Funnel Charts
Analytics For Each User
Identify patterns and drop-off points so you can increase your conversion rates.
Unlimited Branches For Each Question
And/Or Logic
Send To A Specific Question Or Result
Send respondents down different paths based on their responses.
Different Messages For Different Results
Unlimited Result Conditions
Add Images, Videos To Each Message
Show result-specific messages to make your calculators and quizzes more personalized.
Outgrow's Platform is Rated Highly by G2 Users
G2 loves us! We've been awarded for Best Support, Most Implementable and Best Usability in our category.
Smart Builder Accelerates Development to Minutes
Easily craft questions and options with an easy-to-use intuitive interface.
Text Input
Single Select, Multi Select
Numeric Slider
Opinion Scale, Rating
Date/Time Picker
File Upload and more
Easily Create Complex Formulas
Calculate anything and everything you learned in your Statistics/Math classes.
Mortgages, Bonds, Interest
If/else and nested if Statements
Upload Math from Excel
Percentages and Discounts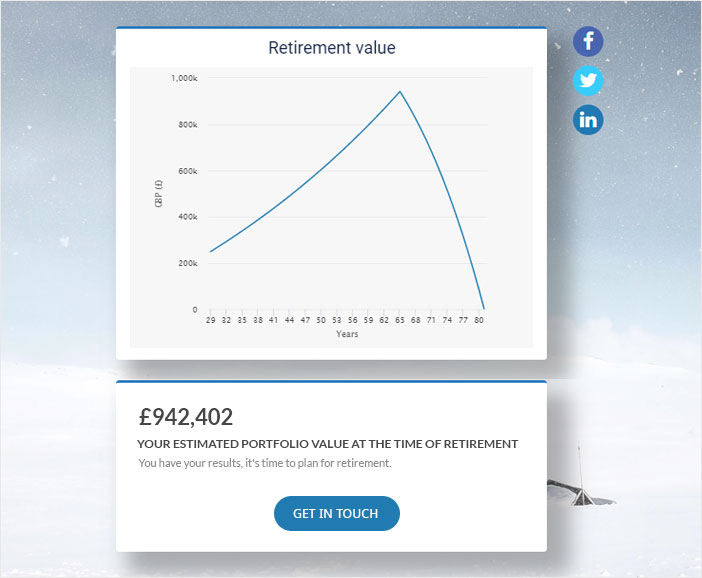 Engage with Graphs and Charts
Increase interactivity with dynamic charts based on user inputs.
Line Charts
Pie Charts
Tables
Bar Charts
Radar / Polar Charts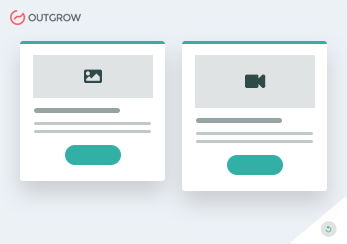 Want to show the total cost, discounted costs, total savings, and how many trees will be saved? No problem!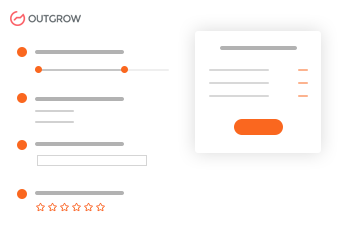 Want to get more interactive and show the results in real time? One click can let you do that!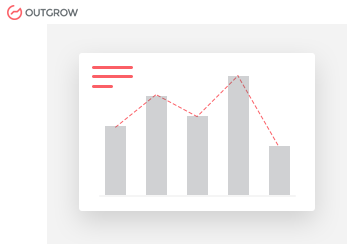 Get complete information about the users who used your calculator. Complete funnel visualization.

Fullscreen responsive pages. Optimized to work for all screen sizes and devices.

Embed your interactive experience on your blog or site, without diverting visitors.

Embed your interactive experience inside a popup or inside of a slide in.

Have your interactive experience open up as a chat-window on your website.

Personalized Confirmation Emails
Dynamic Text
Segment leads & assign to different campaigns
Send marketing emails with personalized text right from our development studio.

Generate New Targeted Leads
Flexible Lead Gen
Optimized For Conversion
Multiple Form Field Options
Generate rich, targeted leads at any stage of your calculator.

Add Share Call-To-Actions
Embed Like & Follow Buttons
Share on Facebook, Twitter and LinkedIn
Step up your social game with just one click. It really is that simple!
Let's Start With The Metrics
Interactive content provides real value to users thus boosting conversion rate exponentially
Interactive content takes users on a journey to the results page thus reducing bounce rate.
Interactive content is more engaging and personal, increasing your share rates and referral traffic.
Why Interactive Content is Awesome!
Unlike Ads, Interactive Content Adds Real Value
It builds trust by answering your customer's most pressing questions early on in the buying cycle.

Buyers who don't convert the first time will use interactive content. It forms the optimal step in the buyer journey between the first visit and the eventual buy.
Interactive Content Brings in New Traffic
It is inherently viral. Due to the personalized nature of the responses, one is more attuned to sharing results.

More people are searching for "How much does X cost" or "What is my risk of getting a X disease". Interactive content like quizzes and calculators provides the best answers to these questions so rise to the top of search results.
Quizzes and Calculators Increase Engagement & Conversion
Highly interactive quizzes and calculators provide instant gratification and hence visitors are more likely to share their contact information.

Conversion rates from interactive content are nearly 30% higher than your run-of-the-mill landing pages because users benefit from the personalized results page
Golf Avenue is one of the biggest online retailers of golfing equipment through different selling platforms around the world. It was founded in 2006 and started as an eBay retailer. Today, it has more than 50000 golf clubs at all times and aims to provide the best price equipment for every kind of golfer.
Golf avenue has content ranging from clubs to bags to apparel to shoes. They needed a solution that would help their users to know exactly which equipment suits them the most. They also wanted to know about their customers' preferences. These were some of the problems that Golf Avenue was looking to solve by using Outgrow
Experimenting With Interactive Content
Golf Avenue used Outgrow to create a quiz titled 'Guess Your Handicap.' They added questions like the number of birdies, golf balls lost, length of a hit, etc. It took into account a number of factors and calculated the average handicap.

Lead Generation, Lead Targeting
The quiz provided valuable information to the people who needed it. This helped them in the process of lead generation. And these leads could be segmented into different categories. Thereafter, these different segments could be targeted separately as per their preferences. Golfers with different kinds of choices could be targeted with different products.

Through these quizzes, Golf Avenue offered customized offers and discounts to the users. This helped them in nurturing leads and satisfying existing customers. The monetary incentive increased intent for re-purchase and promoted the products. Consequently, this also increased customer loyalty towards the brand.

The content used in the quiz reflects the brand image of the company. The quiz is fun, interesting and resonates with the company's values. This develops a sense of familiarity with the brand within the users.