Nextiva
Nextiva software | Communication Software
Record Meetings
File Management
Team Collaboration
Software that helps you run your business
Manage all conversations and engage with customers and teams with one powerful easy-to-use solution.
Use less apps. Get more done.
All conversations in one place with phone, SMS, video, and email together with customer experience and productivity tools.Watch to learn more about how Nextiva can help you…
Work smarter. Grow fearlessly.
Reduce app fatigue by communicating with customers and teams from one tool. Get rid of productivity loss from not having the information you need, when you need it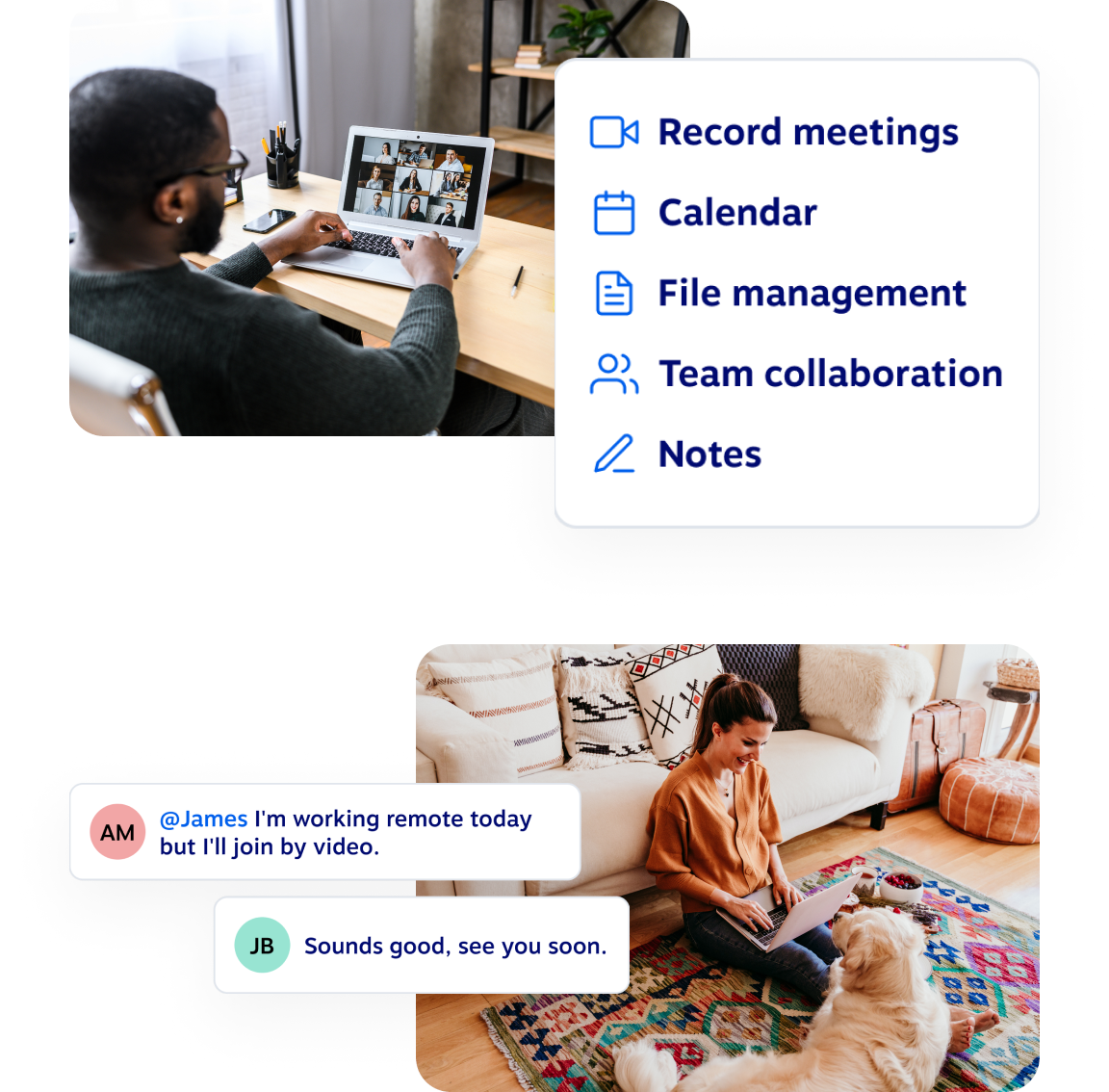 Delight customers with great conversations.
Communicate with customers however they come to you and track their conversations and feedback in a single view.
Timely notifications. Better phone calls.
Let your cell phone double as a personal and business phone line. Get the Nextiva mobile app on your iOS or Android device.
Instantly connect your business phone number and set up caller ID, call waiting, and even hold music. Take our business VoIP desktop app out for a spin, too.
Give your existing PBX superpowers.
Not ready to spend on a new VoIP phone system? Phone service providers like Nextiva connect your existing PBX system to the internet.
No new equipment or service disruptions. Get all the upsides of traditional office phone service in the cloud.
Call management for your remote office.
With a cloud phone solution, your small business or enterprise has the freedom to stay nimble. Get one-click conference calling, a sleek smartphone app, call transferring, and other advanced features.
Our unified communications platform has built-in CRM, call center, and multi-line customer support software.
HD call quality without breaking the bank.
Compared to traditional office phone service, save up to 60% by switching to Nextiva's cloud-based business phone service.
With VoIP, you pay per phone line and not per desk phone. The more users, the lower your business communication software bill.
Small business phone service with big company benefits.
Operate like a Fortune 500 company,
without the Fortune 500 prices
Small business phone service features
Operate like a Fortune 500 company,
without the Fortune 500 prices
Route inbound calls to the right teams quickly with this professional phone system feature. If you've ever heard, "Press 1 for Sales, Press 2 for Support," then you've used an auto attendant.
Get HD voice and video conferencing on your computer and mobile phone. Also use screen sharing to collaborate in real time. Join online meetings in just one click.
Record all calls without any hardware. Use call recordings for QA or to provide coaching opportunities for your team. Access your recordings for up to six months.
Increase your productivity by listening to your voicemail messages directly from your email inbox. If you can read your email, you can hear your voicemail.
No more long-distance or toll charges to speak with your customers. Enjoy truly unlimited calls in the United States, Canada, and Puerto Rico using VoIP.
VoIP providers like Nextiva let you direct inbound calls to your team based on set criteria, transfer to other members, and even adapt to your business hours.
HD voice with 

enterprise-grade

 call quality
Compatible with iOS or Android devices
Advanced call controls in the palm of your hand
One-click meetings from your cell phone
Free app download for Windows or macOS
Call anyone straight from your laptop
One-click audio and video conferencing
Integrates with Salesforce, Microsoft Dynamics, and more
Three-way conferencing and multi-line support
Extended talk time and standby period
Wireless (WiFi) or DECT phones
Optional Power over Ethernet (PoE) and Bluetooth support
Sleek, easy-to-use conference phones
Extended vocal range and built-in noise reduction
Optional WiFi and Bluetooth connectivity
Intuitive call-handling features
Changing voice providers is a big deal. We work with you to ensure porting is successful.
We connected over 1 billion calls last year. We've built the most reliable VoIP network in the industry.
Redundant data centers give you low-latency voice connectivity with multiple call routes.
A better phone system for your small business
A complete phone system with advanced features to match your business needs in this new normal.
Want to take call quality up a notch on your business phone calls? We can help you provision IP phones, cordless phones or even your existing analog phones as reliable business lines.
Manage inbound and outbound calls with the same business phone number right from your mobile phone app. Carry your virtual phone system in the palm of your hands. iOS- and Android-compatible.
Want to take call quality up a notch on your business phone calls? We can help you provision IP phones, cordless phones or even your existing analog phones as reliable business lines.
Get advanced features with your small business VoIP.
Get the Nextiva desktop app or Android / iOS app on your mobile device. Your call center is ready to go with a fast internet connection.
Send texts from your WiFi-enabled mobile phone or desktop VoIP system. Get unlimited texting to and from your business phone number.


Why choose Nextiva for small business VoIP?
New faces on your customer support team? Simply add more virtual phone lines! Can't do that with your private branch exchange and PSTN, can you?
Always stay connected with our highly redundant network. We're proud to be a service provider with 99.999% uptime, 24/7.
Slash your current business phone bill by ~60%. The best virtual phone features can now be yours.
Make calls and manage your phone system from anywhere. Goodbye, landlines. Hello, productivity!
Receive the best support from our 100% in-house team. Your business needs are our top priority.
Choose from VoIP service starting at just $20/mo per user. Now, that's unified communications on a budget.
10 reasons why Nextiva is an award-winning small business VoIP solution.
As one of America's most trusted small business VoIP providers, Nextiva has been delivering Amazing Service® since 2006. We take pride in our high-quality, feature-rich internet phone service for small businesses. Most small businesses save around 60% on their phone bill when switching to Nextiva's business VoIP service.
Customers of Nextiva's small business VoIP phone service typically experience savings of up to 60% on their monthly phone bill.
A scalable network developed by over 1,500 engineers powers Nextiva business VoIP phone service. We promise top quality, security, and reliability.
3. Designed for all industries
There's something for everyone. Our small business VoIP features benefit all industries, including insurance, hospitality, consulting firms, real estate, education, health care, and more!
We are always innovating and improving our VoIP phone service. Your small business will always have the latest and greatest in business VoIP technology and phone systems.
We are committed to delivering Amazing Service to your small business, at every point of contact you make with Nextiva. This is our brand promise.
Run your small business anywhere with the Nextiva app. Seamlessly text message your customers and team members right from your smartphone. Feel the power of business VoIP right at your fingertips.
Experience crystal-clear HD voice quality with Nextiva's small business VoIP phone service. You'll never have to worry about poor call quality ever again.
Get enterprise-grade business VoIP features without the hefty price tag. Auto-attendant, business text messaging, caller ID, voicemail to text, CRM integration, and much more.
Our business VoIP phones are so easy to use, you'll be up and running within minutes. You don't need to be a tech wizard or have an IT department to get the most out of your phone system. Nextiva was designed for non-technical small business owners.