Creatio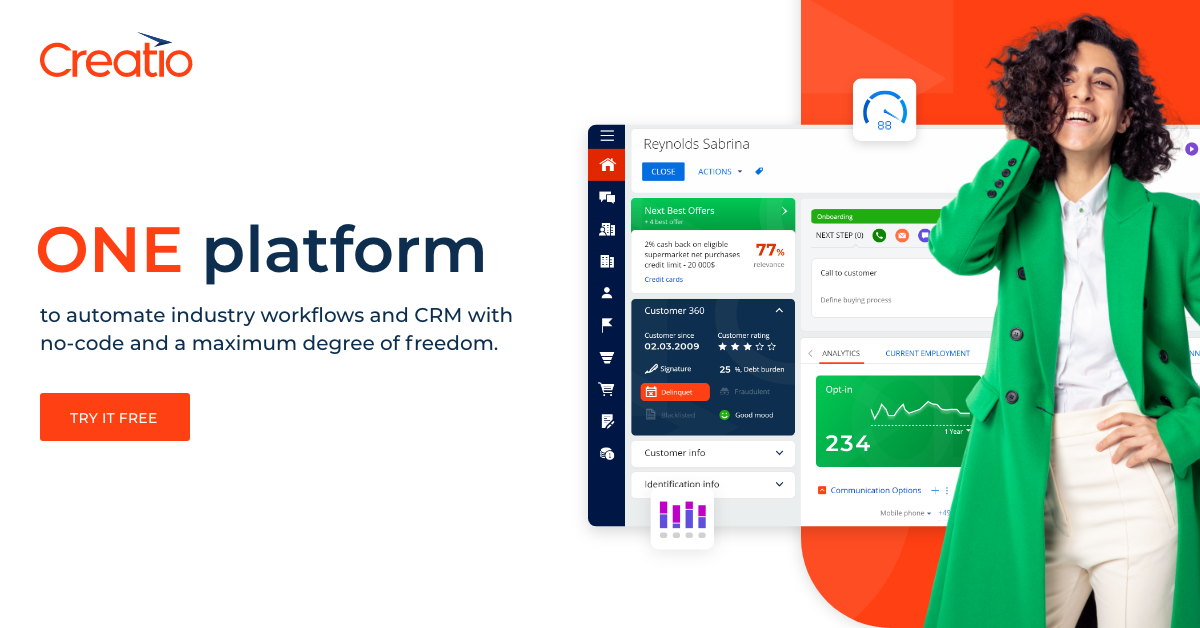 Creatio software | Sales Software
Technical Support
Customer Success Management
Implementation And Consulting
Self-Service Portal
CRM Software
Creatio
End-to-end sales management platform
to accelerate sales processes of any complexity

USE EFFICIENT SFA TO MANAGE THE COMPLETE SALES CYCLES – FROM LEAD TO REPEAT SALES – AND AUTOMATE SALES PROCESSES OF ANY TYPE
Streak was awarded the Google Technology Partner of the Year, in recognition of our fully integrated CRM and deep, powerful integration with all of G Suite – Gmail, Calendar, Drive and Sheets.
Enjoy seamless integration with Microsoft Exchange to simplify the processes of synchronizing email, contacts, and tasks. You can adjust synchronization frequency (daily, hourly or more frequent) and always have all the relevant data on hand.


Take advantage of the extended capabilities for user interface customization. Use the System designer to set up workplaces, show/hide system sections for different user roles, or personalize the application by adding company's logo and applying your corporate color scheme.
Leverage simplified localization tools to support a multilingual environment in your organization and combine several languages in a single interface. Not only can you localize the system terminology, but also lookup values, analytical data and every step of your business-processes. Improved user tools for system translation and multilingual support enable users to painlessly localize the system into any language.
AUTOMATE ALL TYPES OF SALES FOR ANY ORGANIZATION
Use Creatio's scoring tools for opportunity management to focus on the hottest leads and the most promising opportunities. Automate B2B and B2C long and short sales cycles using built-in best-practice sales processes or create custom ones with efficient low-code tools.

LEVERAGE CREATIO SUPERPOWERS THAT HELP SALES ORGANIZATIONS ACCELERATE
Data volume that is stored in Creatio. 1 GB storage for each user is already included in the subscription. Cost of additional 1 GB of storage space is $20 per year.
DEPLOYMENT ON DEDICATED SERVERS
The ability to deploy a system on a dedicated server where other companies' systems are not hosted. It enables a more flexible system configuration and customization. The cost of this service is calculated separately and is based on the resources required. Recommended for organizations that have one of the following requirements:
Resource-intensive integrations, project improvements.
Increased security level.
The need for more flexible configuration of the OS and the installation of additional software on application servers and DBMS.
Maintaining a continuously high performance level and excluding the impact of other system instances.
Custom maintenance window requirement.
Secure access between a client's IT Infrastructure and a client's site in the Cloud. Mainly used for safe integration setup. This service costs $1950 as a setup payment and $800 per year for one site. The service has limitations to be clarified before purchasing.
Additional system instance, used for development and testing. When purchasing subscriptions for over 20 users, an additional system instance could be provided for two users free of charge. When purchasing subscriptions for fewer than 20 users, an additional system instance is provided according to the price list of the chosen product. There is an additional charge for disk storage space.
AUTOMATIC DATABASE UNLOADING (BACKING UP)
File that the client can independently download via FTP. This service costs $800 per year. Additional charge for disk storage space applies.
Build applications in just a few clicks. Get a consolidated view of all available apps, connectors, and templates. Manage instances and facilitate collaborative no-code development process.
Get access to an intuitive and robust set of no-code design tools. Create and modify pages and views, data models, workflows, and integrations, in a single no-code workplace.
Design a beautiful interface of any type with a maximum degree of freedom. Benefit from a library of predefined views, widgets, and templates to accelerate the design process.
Optimize and manage your structured and fluid processes using industry-leading workflow automation capabilities.

Connect your enterprise. Set up integrations using SOAP and REST services in minutes and take advantage of ready-to-use connectors.
Streamline decision making and increase your efficiency by utilizing powerful yet simple AI/ML models. Configure your AI use cases with no limits and no-code.
Accelerate process design
Design process diagrams with simple visual tools, store them in a convenient process library and manage all the processes in the unified environment.
Standardize process management
Take advantage of the robust process designer that leverages BPMN 2.0 standard, which enables both business and IT to easily understand and work with process models. Export process diagrams to and import from other BPM systems thanks to *bpmn support.
Build processes jointly with your team
Collaborate on process design with your team: involve colleagues to work on your process, share links to processes for remote viewing and commenting, edit processes together in real time.
Simplify process documentation
Capture information and add necessary explanations to a process on the fly. The system allows for converting process descriptions in the app into PDF files to get comprehensive process documentation.
At Creatio, we are inspired to help companies ACCELERATE business transformation. To do this, we rely on our highly trained and certified network of partners to provide implementation and consulting services for Creatio products. With more than 700 exceptionally skilled systems integrator and consulting partners in 110 countries around the world, Creatio matches organization with the best partner for their implementation needs.
Project Implementation Methodology
The Creatio implementation methodology is based on PRINCE2, a worldwide acclaimed approach to project management that helps to significantly reduce project timelines, improve communication between team members, and deliver a turnkey solution that meets all business requirements. 
During the elaboration phase, together, we will determine project milestones, its concept, and specify goals and tasks.The PRINCE2 approach includes the following stages of the project execution: Elaboration, Execution, Transition, and Operation.
The Project Charter is an essential document that defines agreements and project goals. When preparing a project charter, we thoroughly study all the customer's needs to define project outcomes and timelines.
The Project Concept is created based on customer business cases and describes the whole process of the user experience, including workflow processes outside the system. This enables a common understanding of the system operation.
At this stage, your task force tests the entire functionality of the system and your employees learn to work in the system.
The Creatio team performs end-to-end testing of the system and delivers the product to your task force after completing the test cases.
After training, the test group starts working in the system. Creatio experts may supervise users for the first few days if needed.
Creatio experts tutor all your employees and the pilot group starts operating in the system.
The operation phase includes the formal closure of the project, analysis and future planning. The Statement of Acceptance is signed and Creatio conducts a user satisfaction survey and launches project support.
Creatio experts present the project results and system functionality at a face-to-face meeting. After signing the required documents, both parties agree on further actions.
All your employees are now operating in the system. A Customer Success Manager is assigned to support your system.