Klenty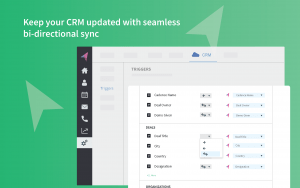 Klenty software | Sales Engagement Software
Inbound Sales
Outbound Sales
Cold Email Software
Email Sequence Software
The Sales Engagement Platform
That gets more replies and meetings booked
Use Klenty to execute multi-channel sales outreach. Send personalized emails and automate your follow-ups at scale with calls and LinkedIn tasks.
A Lot Less Work. A Lot More Engagement.
Engage Across Multiple Channels Without Losing Focus
Switch from email to call to Linkedin easily – all from 1 screen. Group tasks according to sequence or channel and execute like clockwork. Faster activity rates, more conversations opened.

Send Highly Personalized Emails, Delivered at the Right Time
Go beyond "Firstname" personalization. Adding specific details to each message makes it more personal. Add additional personalization for prospects who engaged with your previous email.

Land in Your Prospect's Inbox. Every Time.
Klenty is packed with features that ensure every mail lands in your prospect's Primary inbox. Neither spam, nor promotions.
Email Validation
Custom Domain Tracking
Cadence Throttle
Random Intervals
Use Data and Insights to Book More Meetings
Implement a data-driven sales strategy.
Learn from every sales interaction.


Automate CRM and Admin Work. Put Time Back in Your Day.
Sync emails, opens, clicks, and replies to your CRM.
Handle bounces, out-of-office replies, and unsubscribes automatically.
Don't shuttle between multiple CSV files.
Auto-Reply, Bounce Detection
Automate CRM and Admin Work. Put Time Back in Your Day.
Sync emails, opens, clicks, and replies to your CRM.
Handle bounces, out-of-office replies, and unsubscribes automatically.
Don't shuttle between multiple CSV files.
Auto-Reply, Bounce Detection

Execute a Flexible, Multi-channel Playbook
Engage prospects across email, call, text, and LinkedIn, all from one screen. Increase your likelihood of a response without the endless tool-switching. Hit your activity targets, book meetings faster and keep your CRM updated.
Goodbye, One-trick Pony. Hello, 3-D Outreach
Your Call Blitz Only Stops for Coffee Breaks
No more dialling. Place calls and pre-recorded voicemails in
1-click with Klenty's Dialer. Blast through your call session at break-neck speed, zero distractions. Transform into the cold calling machine you've always wanted to be.
Call Data and Notes Sync
to CRM


More LinkedIn Conversations. Less Clicks.
Wave goodbye to manually struggling through LinkedIn tasks. Klenty's LinkedIn Plugin semi-automates 99% of your LinkedIn workload, so you execute tasks in 1-click (while staying safely below LinkedIn's strict sending limits).
Activities and Engagement Sync to CRM
Hyper-Personalized Steps. Fully Automated Journeys
LinkedIn sales gurus tell you to make emails sound personal. We show you how to do it at scale. Klenty's Personalization Engine magically changes your emails based on who your prospects are, what they do, when you send, and how they behave in your sequence. So you get a 300% increase in response rates.


Instant Communication at your Service
Struggling to contact prospects that don't answer your calls or listen to your voicemails? Not anymore. Harness the power of text messaging to give them a quick gist of why you called, and increase your chances of striking a conversation.
All Communications. One Roof.
Reaching out to prospects at the right time using the right channel has never been easier. Klenty's Multi-channel Inbox collates all prospect communication in one place. Now, stay
on top of prospect communication and achieve your targets
like a pro.

Book more meetings with an intent-driven sales strategy
Automatically send prospects to different cadences based on intent.
Know which prospects are ready for a sales call and who needs more time
Knowing your prospect's intent levels puts you in control over your outreach strategy. Use Playbooks to filter prospects based on intent signals like opens, clicks or replies.


Use intent to pick the right steps to the right prospects
Automatically transfer prospects to different cadences based on intent. Effortlessly combine cadences to build the perfect strategy for every prospect.
Prioritize prospects based on intent
Focus your sales team's efforts on the highest intent prospects while using automation to create intent among other prospects. Double your response rates by winning more on-the-fence prospects.

Personalize + Scale. The Sales Holy Grail
Customize your outreach based on who your prospects are, what they do, where they live and how they behave inside your sequence.

Lights. Camera. Engagement!
Boring, lifeless emails remain unopened emails.Embed personalized Videos into your sales sequences. Record videos and access video libraries without leaving Klenty. Track video engagement.
Make every email memorable. Skyrocket response rates.
Show and Sell with images
Use placeholders like company name, first name, etc, and make each image personal to your prospects.
Get creative with your images by editing them on the go using different shapes, text overlay, etc.
Make your emails memorable and fun. Get better engagement rates.


Make a splash in every inbox
So, placeholders make your prospects feel warm and connected. Nope, we didn't think so.
Create custom emails for every prospect with Liquid Templates. Don't just alter the first name. Or just a few lines. Use dynamic formulas to assemble entire emails on autopilot.
Personalize while you sleep. Wake up to an inbox full of responses.
A pitch in time saves nine
Don't miss out on a prospect just because your email landed at the wrong time.
Using Delivery Windows, pick the date and time at which you want emails to hit the inbox.
Send timely emails when prospects are ready to talk business. No matter where they live


Don't execute the same generic sequence for every prospect.
Use Preview & Edit to add an extra layer of personalization for critical prospects. Find 95% of the sequence done-for-you while you bring the 5% that matters. Approve emails before sending.
Take prospects from ''Yeah, so?'' to ''Hell, yeah!''