Tipalti
Tipalti software | Payment Software
Supplier Management
Invoice Management
PO Matching
Self-Billing Module
Payment Reconciliation
Global Payments
Fraud Detection
Tax and VAT Compliance
Transform the way your finance team works
Tipalti delivers smart payables that elevate modern business. Let's bring scale, efficiency, and focus to your business through fully automated, end-to-end solutions.
Free up your team to focus and scale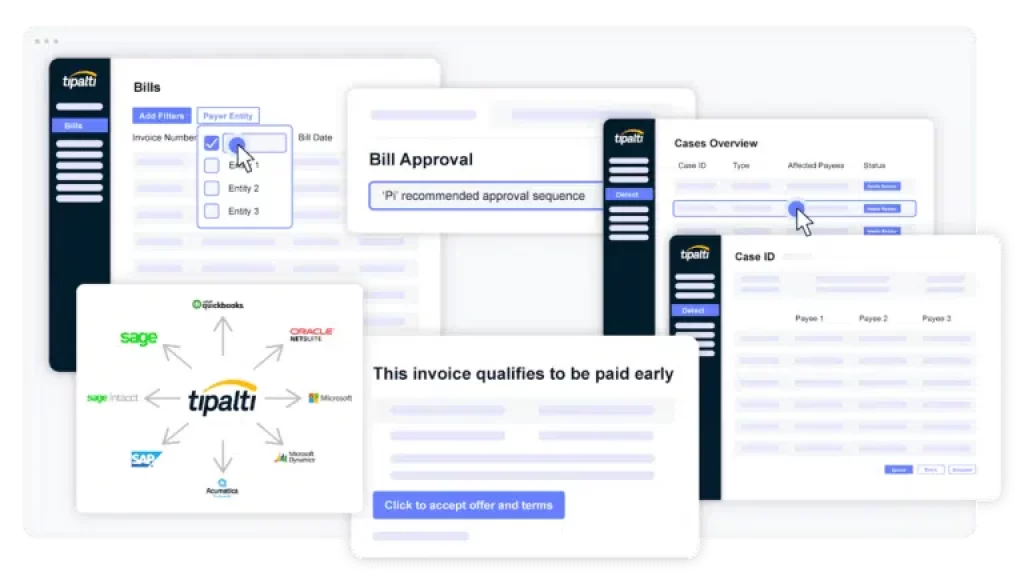 Automating payables isn't just easier, safer, and more efficient. Modernizing your financial operations means your team can focus on what matters most—growing and scaling your business.
ACCOUNTS PAYABLE AUTOMATION
Modernize your financial operations
Free up your finance teams from the day-to-day inefficiencies of manual accounts payable, and working with point systems. Tipalti delivers end to end payables solutions, purpose-built to handle the evolving needs of your business—with a focus on scale, efficiency, controls, and visibility.
Scale rapidly without adding resources
Eliminate payables workload and focus on high-value initiatives
Strengthen financial controls and reduce compliance risk
Accelerate financial close and get real-time spend insight
Easily capture & transcribe
Stop manual invoice processes
Easily pay supplier in minutes
Streamline your global workflow
Stay compliment and reduce risk
Focus on value added task
Deliver best-in-class partner experiences
Unique to Tipalti, Global Partner Payments ensures your digital-first company can offer a top-tier partner experience that leading disrupters rely on to take their platform to the next level.
Attract and retain a stronger partner ecosystem
Deliver a payouts process scalable for hyper-growth
Pay thousands of partners around the globe in minutes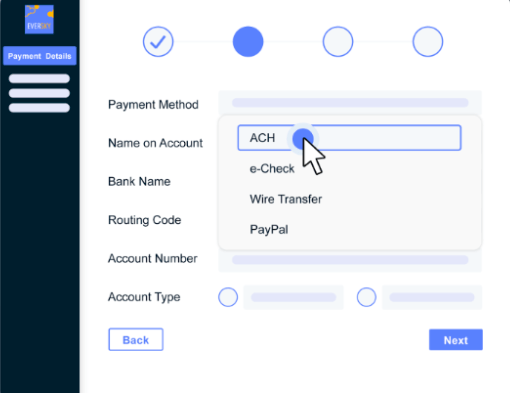 Effortlessly onboard partners
Proactively prevent fraud
PURCHASE ORDER MANAGEMENT
Reduce the risk of maverick spend
Finally, your finance team can have greater visibility and control over corporate spending. We help streamline purchase requests, approvals, vendor selection, PO creation with real-time budget visibility.
Get control and visibility over your company's purchase orders
Standardize and streamline purchase requests and approvals
Simplify with automatic PO creation & ERP sync

Bring corporate spend under management
Put an end to purchase order chaos
Gain visibility and control
Why Everyone Loves Tipalti
Business Leaders and Visionaries
Add scale, reliability, and best practices to your payables effort. Tipalti turns your vision into reality without the complexities of large-scale, global payables.
Remove the need for manual payables
Reappropriate high-value staff
Elevate teams to focus on strategy
Go to market sooner
Expand regionally with less friction
Reduce payment compliance risk
Move beyond manual, tactical AP and payment operations and leverage the talents of your team to make a real strategic impact.
Reduce payables risk
Strengthen financial controls
Improve tax and regulatory compliance
Achieve faster financial close
Real-time payment reconciliation
Centralize AP across global entities
Bring your organization to a new level with technology that enables efficient payments in a world-class, end-to-end platform.
Ensure high volume and performance
Reliable SSAE16 SOC multi-tenant infrastructure
Meets rigorous money transmitter compliance requirements
Integrate with ERP and in-house systems
Secure payables API
Minimal-impact implementation processes
Tipalti's solution for invoice-based supplier and vendor payments.
Mass Payments to Partners
Tipalti's solution for digital marketplaces, networks, or communities.