Keap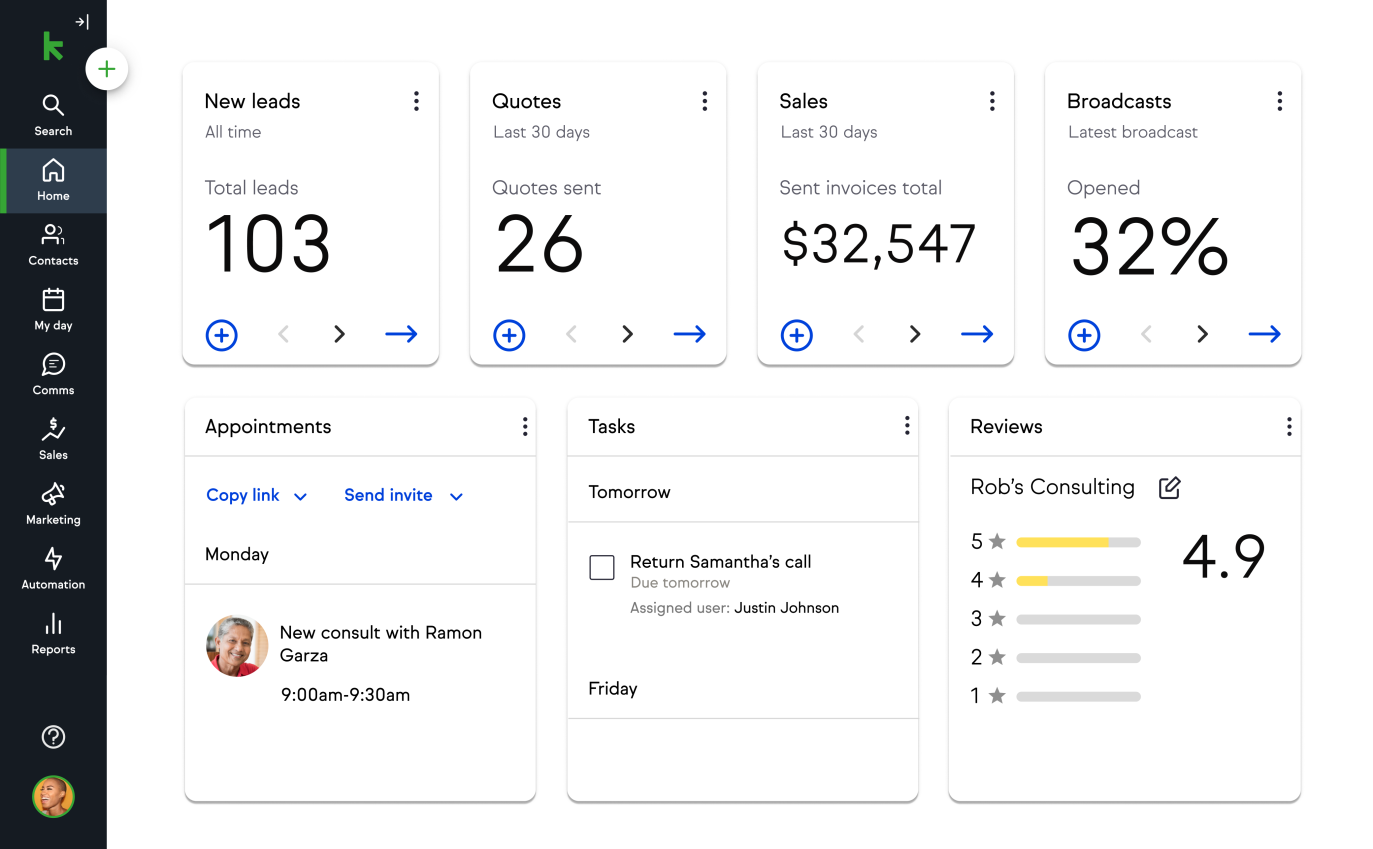 Keap Software | Sales and Marketing Software
Sales & Marketing Automation
CRM
Sales Pipeline
Ecommerce & Payments
Reporting & Analytics
Appointments
Email Marketing
Absolutely everything an entrepreneur needs to win
Collect more leads, convert them to clients, and turn those clients into fans with Keap's powerful CRM and sales and marketing automation.
Automated email is just the beginning
With Keap, you get the all-in-one sales and marketing automation platform designed to help you grow.
Collect new leads with minimal effort
Collect leads consistently and seamlessly, using Keap's powerful CRM, lead capture blueprints, landing page templates, and appointment setting.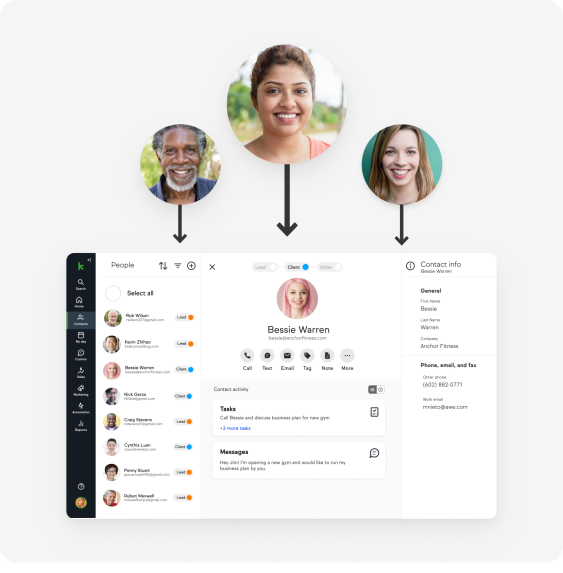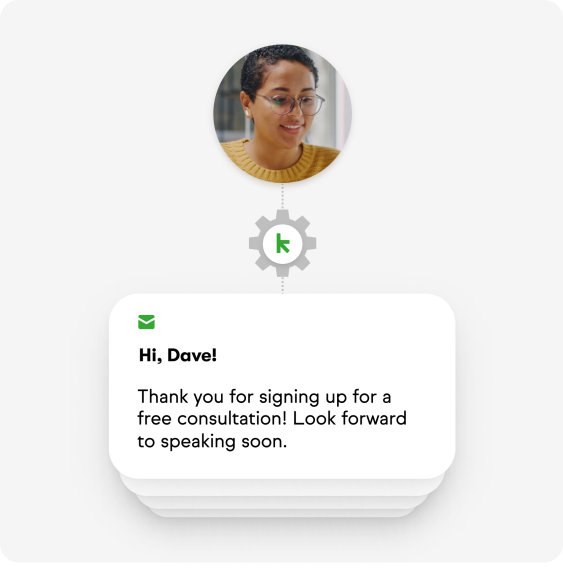 Stay focused on what you're good at
Keap's personalized automations save you from distracting busy work, while still sounding and converting exactly like you.
Messages that your audience actually wants to read
Write emails and texts using Keap's curated templates, send them to segmented lists in your CRM, and watch the results roll in.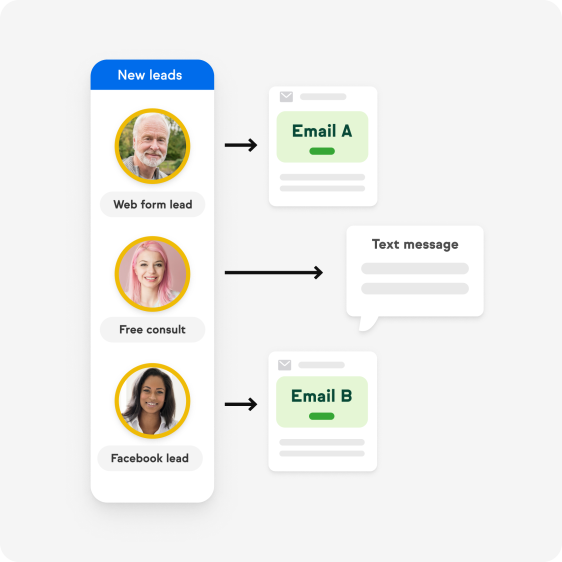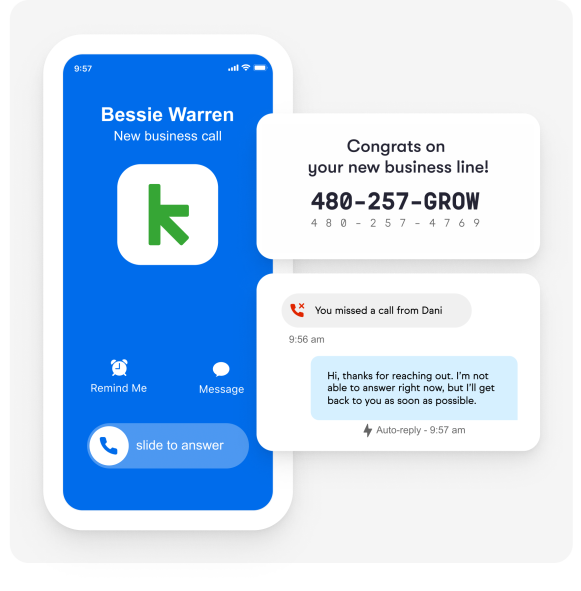 Business stays business, personal stays personal
Keap Business Line gives you access to work calls and texts on your smartphone, while keeping your personal conversations separate.
Put 200,000+ entrepreneurs on your team
With Keap, you get the all-in-one sales and marketing automation platform designed to help you grow.
Through Keap Academy, you can learn from educational content, live events, webinars, and customized strategic playbooks.
When you join the Keap User Community, you put the knowledge and experience of other entrepreneurs to work for you.
Raise your entrepreneurial game (and your sales) with blogs, podcasts, and more in our ever-growing content library.
Meet your all-in-one system for creating predictable business growth
Keap's features combine CRM, marketing automation, sales automation, payments, and much more in a single, integrated platform, so you can consistently convert more clients and grow your business.
For growing businesses with custom needs. Our automations allow you to create repeatable sales processes and marketing campaigns to save time while moving your business forward.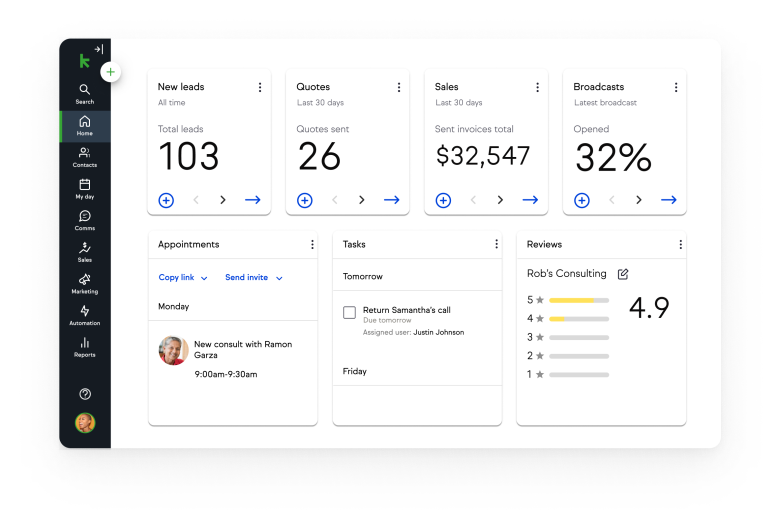 For established businesses and teams that need a robust CRM solution. Power your growth with advanced marketing and sales automation, customizable campaigns, ecommerce, and analytics.
Everything small businesses need, in one place
Keap's features combine CRM, marketing automation, sales automation, payments, and much more in a single, integrated platform, so you can consistently convert more clients and grow your business.
All your client information, accessible on all your devices
Sales & Marketing Automation
Emails, texts, and other marketing actions are triggered by client action
Visual dashboard to easily track your sales process
Easily sell online and collect payments
Know what's working and where to focus your time
Easy setup for email automations and templates
Clients book time based on your availability
Connect your data with hundreds of apps
Easy Automations and Advanced Automations—more growth in less time
Use each solo or both combined. Either way, you'll convert more leads and close more deals with highly personalized and automated follow-up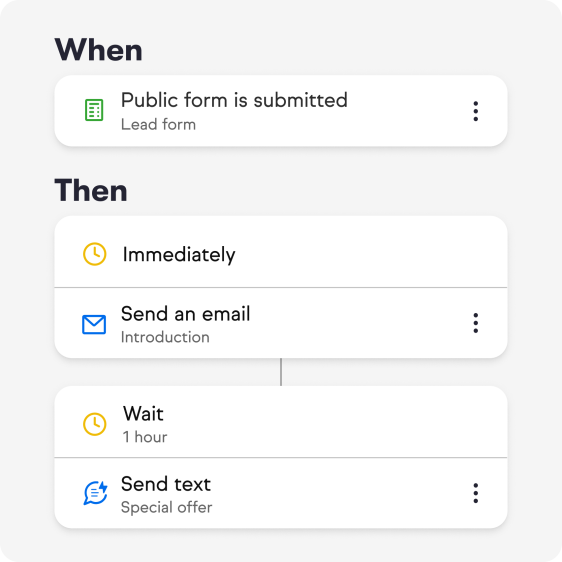 Keap customers save 10 hours a week*
Save time by automating repetitive tasks like lead capture and follow-up so you can focus on your business.
Convert leads with automated follow-up
Send text and email follow-ups to potential clients as soon as they fill out a form on your website or social media.
44% of potential clients move on to another company if you don't respond fast enough.* Quick follow-up with your clients drives repeat sales and more referrals.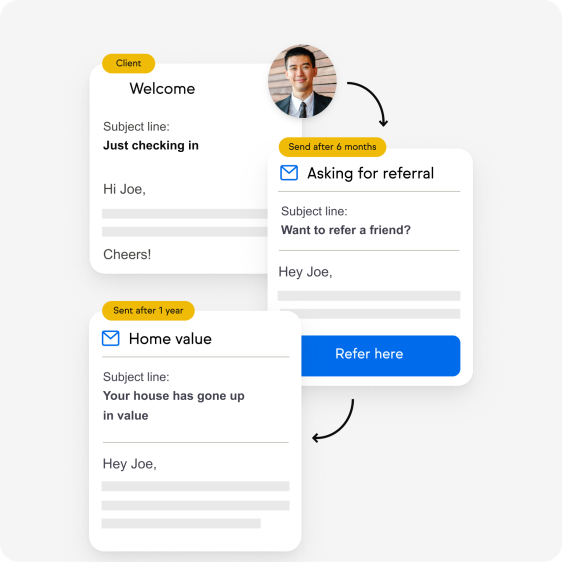 Close more sales with a CRM powered by sales and marketing automation
Capture lead info like behavior, preferences, or likeliness to buy, and then use Keap's sales and marketing automation to more effectively convert those leads into clients.
Integrate thousands of tools and apps to trigger automations in Keap
Connect to over 4,000 apps with Keap's Zapier integration. Your third-party apps can be integrated to trigger more effective (and creative) sales and marketing automations in Keap.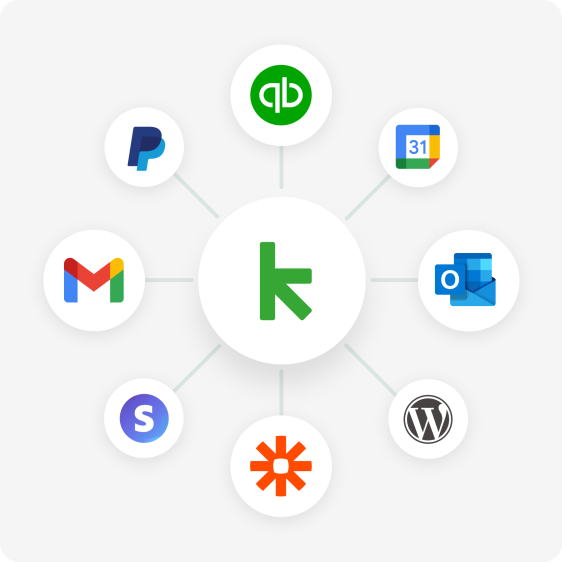 Scale up and automate anything with Keap's Advanced Automations builder
Advanced Automations builder lets you customize your sales and marketing processes to create predictable, repeatable growth with advanced nurture sequences, personalization response triggers, and much more.
Plus, integrations with thousands of powerful apps and tools mean you can suit the unique needs of your business.
The premiere client management system for entrepreneurs and small businesses
Keap's client management software for small business is powered by sales and marketing automation, helping you optimize your customer experiences and effectively manage your day-to-day.
Never miss a new lead with automated lead capture
Collect and organize contacts automatically through custom lead forms, landing pages, and social media.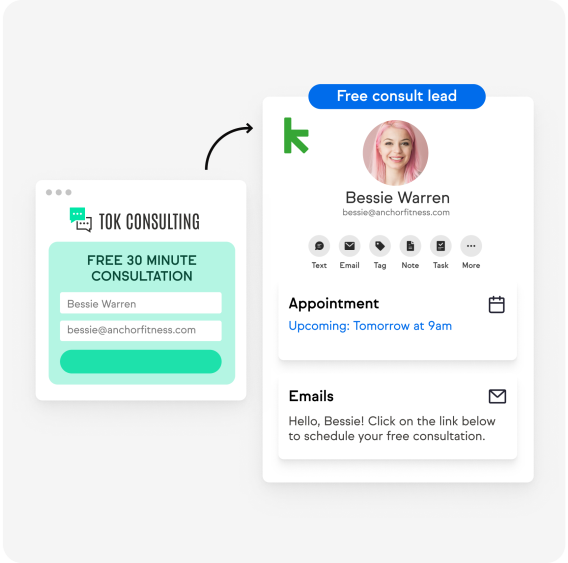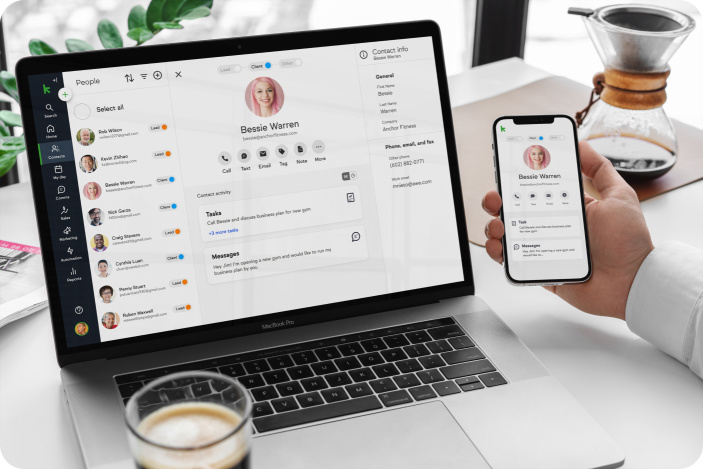 All your data in one place (accessible anywhere)
See everything at once and take quick actions directly from the contact record. Access company and contact details from the Keap destop or mobile app.
Trigger personalized follow-ups that convert more leads
Quickly tag and segment contacts to trigger automations that are personalized based on client data and activity.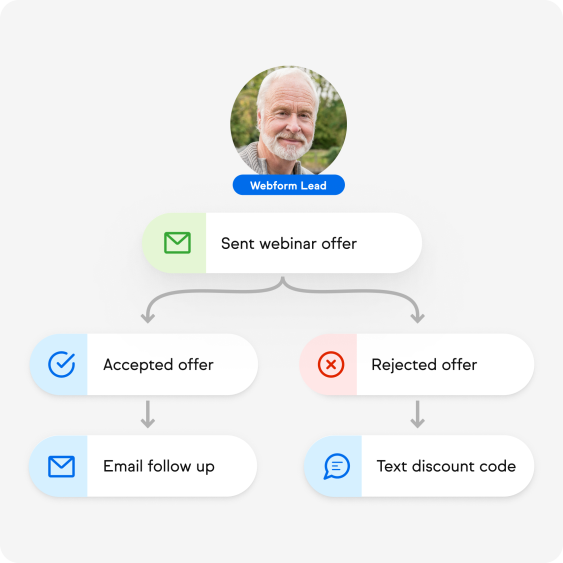 Integration without the hassle
Choose from thousands of apps to support your business. Sync contacts and trigger automations with native integrations for Gmail, PayPal, Quickbooks, and more.
Close more leads with sales pipeline management
Keap's easy-to-use, drag-and-drop sales pipeline helps you move leads faster, close more sales, and know the status of every deal in one place.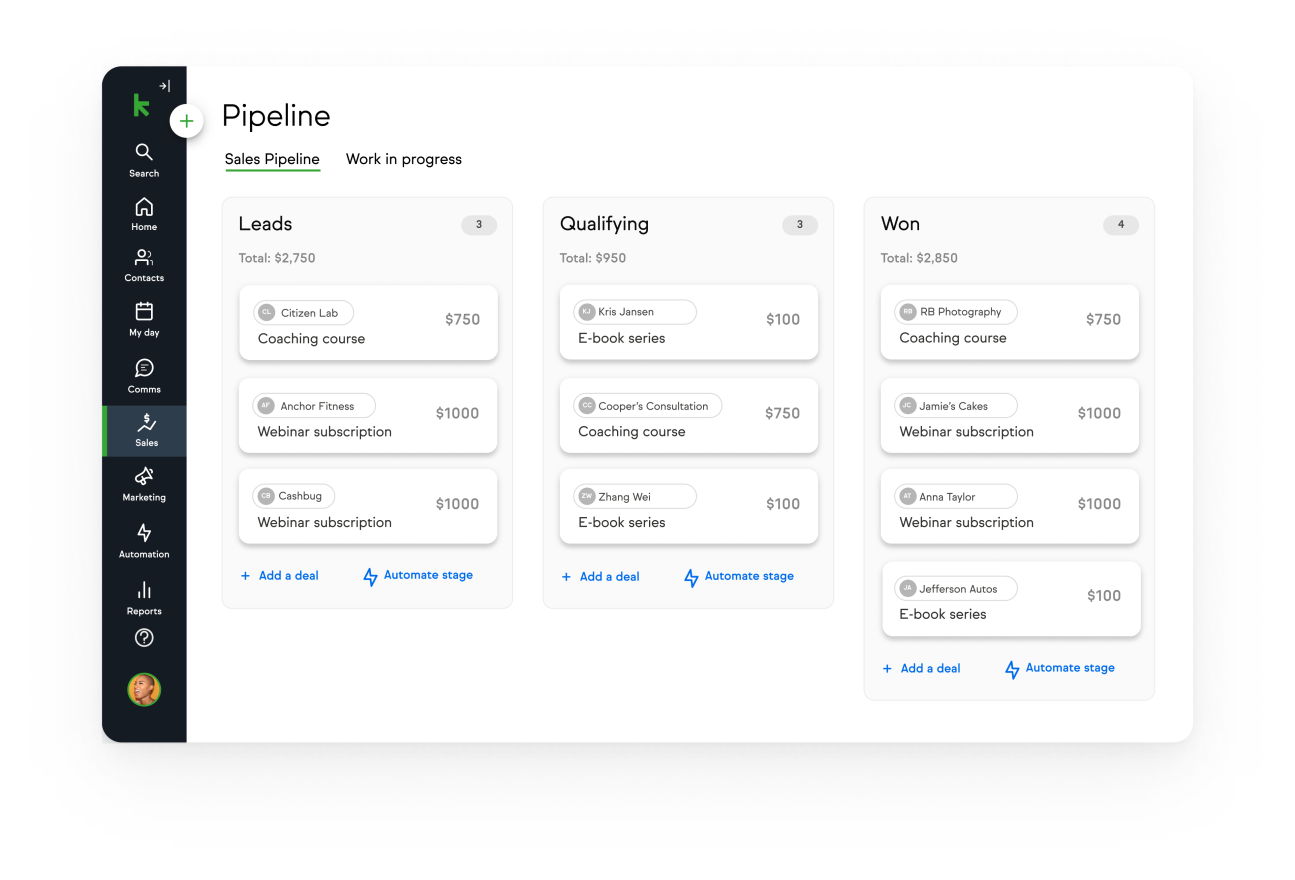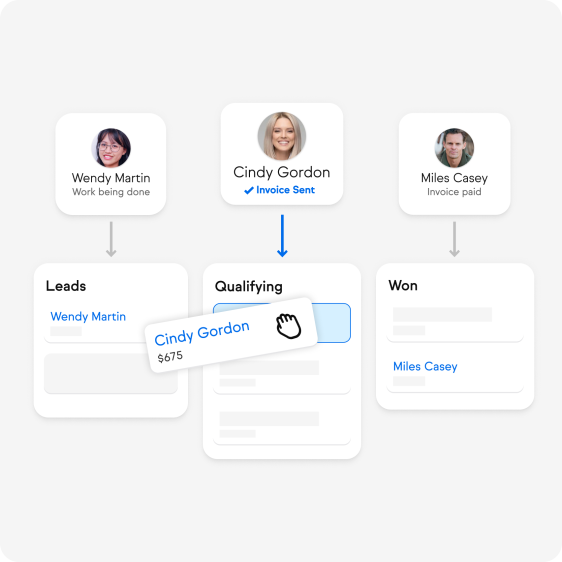 Stay organized and on task every time
Stop wasting time with spreadsheets. Get a big picture view of your entire process and easily manage new leads as they move through the funnel. Create multiple, customizable pipelines that sync with Keap's CRM to automatically turn leads into deals.
Follow up to close the deal
Track and manage leads on your customizable dashboard and stay on top of everything until you bring home the sale. You can trigger automated follow-up and tasks to nurture leads through the sales funnel.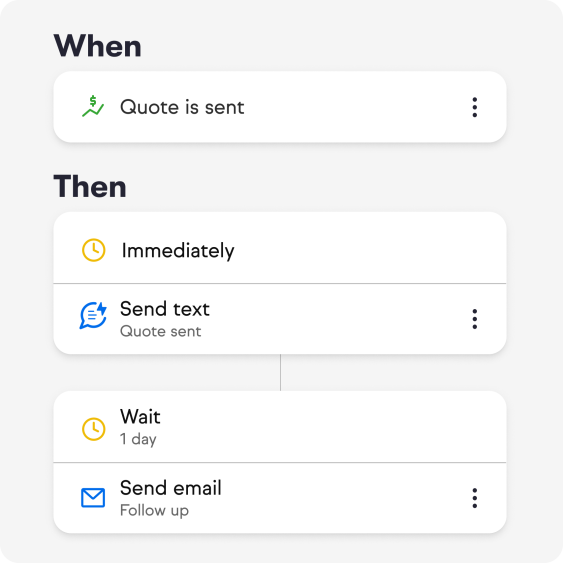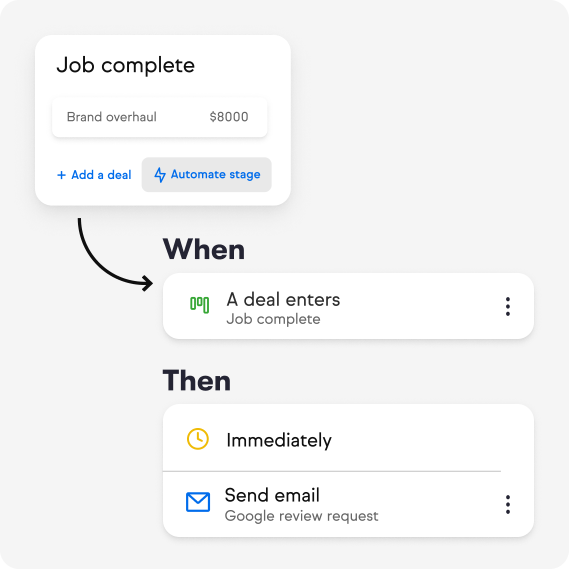 Automate your entire sales process
Sales automations help you get more leads and move leads through your funnel. Create automations right in the pipeline, trigger actions based on pipeline stages, set up easy automations, or assign specific tasks to team members.
Easily track pipeline performance
Gain greater visibility into the performance of your sales pipeline with Keap's analytics. See a variety of reports, including:
Deal conversions by stage
Average deal duration
Average time in stage
Deal revenue forecasting