Jira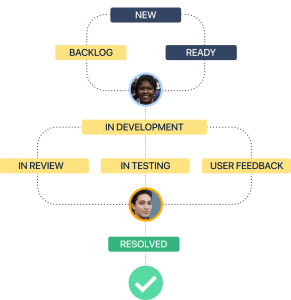 Move fast, stay aligned, and build better - together

The #1 software development tool used by agile teams
All from a single source of truth

Distribute user stories, issues, and tasks across teams to break down the big ideas into manageable chunks.
Discuss your team's work in context with full visibility at every level, setting priorities.


You can ship more quickly knowing that the information you have is always current.
Based on real-time, visual data, enhance team performance in context.


With no-code automation, you can save time, keep your team focused, and improve work flow.
Scrum boards assist agile teams in breaking up large, complicated projects into manageable chunks of work so that focused teams that work in sprints can ship more quickly.


Try adding epics, mapping work items, dependencies, and releases on a timeline using the interactive roadmap. Your teams and stakeholders stay in sync with your roadmap.
Jira Software's built-in reports and dashboards provide crucial insights into your work's context, ensuring that your teams are always up to date and prepared for success.

See code and deployment status at a glance in Jira

Incorporate an issue key in a commit, branch name, or PR and it will naturally refresh in Jira.
Within the Jira issue development panel, you can view commits, pull requests, and branches.


Envision and measure progress from thought through to creation across all apparatuses.
Jira works for every enterprise
Customization and control for large companies

Security
Add an additional layer of assurance with cutting edge security controls to safeguard your most basic work.

Scale
Scale with confidence without sacrificing performance or dependability. Up to 35,000 users, as well as all of their custom fields, issues, and workflows.

Analytics
With pre-built DevOps dashboards, you can power insight-driven decision making by analyzing the impact of your development cycle, identifying obstacles, and connecting data across tools.

Compliance
Remain on top of things and meet worldwide, public, and industry-explicit consistence commitments and administrative necessities like HIPAA and EBA.
A one-stop shop for admins

Centralized visibility and control
See detailed user actions and triage suspicious behavior with advanced audit logs
Icon user security
Sync your directories across products to save admins' time with automated user provisioning
Icon security lock
Protect your information with enforced two-factor authentication and external user security