Fresh chat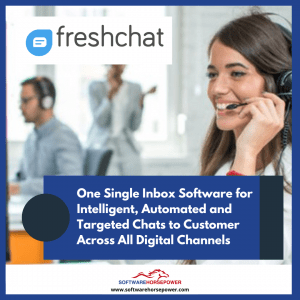 Unified and contextual conversational engagement
Make it easy for sales, marketing, and support teams to have proactive and meaningful conversations
Intelligent conversations, anywhere
Unify messaging channels and personalize self-service on your website, in-app, and across digital messaging channels (WhatsApp, SMS and more!)
Simplify customer experience with no-code, easy-to-build chatbots
Bring insights to action with native-AI to power next-generation messaging
Simplified and contextual agent experiences
Give agents real-time context to perform faster and with ease
Respond to conversations from a single screen, wherever your customers message you
Give your agents complete customer context to boost CSAT with every conversation
Modern, cost-effective support
Fuel growth, while reducing your costs to serve 
Enable high rates of zero contact resolution and scale effortlessly
Drive value faster with pre-built templates for chatbots and journeys
Better together: Freshchat + Freshworks Neo platform
Deliver delightful customer experiences with the Freshworks Neo platform
Efficiently scale your business with the help of the unified Messaging API and customizable analytics
Easily add new messaging channels to ensure uninterrupted customer engagement
Seamlessly integrate Freshchat with existing customer workflows
Automate customer engagement with proactive messaging
Proactively engage your visitors and customers wherever they are with Journeys.
Create messages that resonate with your customers
Increase customer engagement on your website, mobile app, email, SMS, or WhatsApp with compelling messages, images, GIFs, and videos.
Get started with journeys on just a click
Get a headstart with ready-to-use, customizable templates. Offer a personalized experience with just a click.
Target, trigger, and deliver high-context engagement
Design intricate flows and segment your customers and visitors with ease. Trigger contextual messages at the right time or based on intent on your website, product, or app.
Use data without the data scientists
Measure and analyze key metrics from your ongoing campaigns with dashboards that work out of the box. Review and tweak your journeys based on their performance.
Journeys are workflows to personalize engagement with your customers and visitors throughout their lifecycle.
Contextual customized conversations
Proactively reach out to provide contextual customer service.
Be where your customers are
Engage with your customers through chat or bots on email, WhatsApp, SMS, or social media.
Personalize their experience based on their behavior and interactions.
Give your visitors and users the experience of modern messaging
Topics help streamline conversations between visitors and your business. With topics, visitors can pick up the subject relevant to their query, and hear back from experts in your team who have been mapped to those topics. Team members can customize welcome messages to set context or expectations, and schedule campaigns and triggers to arrive inside topics, making conversations accessible and continuous.
Contacts are website visitors who converse with you or users of your product. Is your team deleting old contacts to accommodate new ones? With unlimited contacts, your team won't have to worry about deleting data with increasing website visitors or users.
Admins and team members can create custom chat views to identify conversations that are assigned to a specific group or set of team members, or mapped to a topic. This helps team members jump in on conversations that need them the most, or shadow others on the team.
Give your website visitors the experience of modern messaging they are used to, with a personal, customizable, and user-friendly messenger.
Don't keep your most important site visitors waiting. The priority inbox view presents an ordered list of conversations for your team members to act on messages that need immediate attention.
Team members can talk to website visitors from the apps they already use, with an intuitive team widget that sits inside their CRM and helpdesk tools. Converse with prospects, move deals down the funnel, resolve support queries – without switching tabs and losing patience.
Give your visitors and users the experience of modern messaging
Auto-assign conversations to members in a group based on their skill levels and conversation load. Free your team members from reeling under the pressure of having to periodically pick conversations, or supervisors from having to keep a tab on what team members are up to at different times.
Groups are set of team members who may handle conversations of similar nature. Groups may be formed on the basis of functions (Sales, Customer Success, Operations), or based on skills and abilitiies (say language based groups). Intended for both small and large teams, grouping lets you streamline interactions and processes. Groups may be mapped to specific topics, or conversations may be moved to a specific group manually. You can have load balanced assignment turned on for assignment within the group.
Create advance rules with user properties, topics, time of the day, message text, and map team members or groups to it. Auto-assign conversations to groups and members based on keywords, and let assignment rules take precedence over topic-group mapping.
Don't make self-service another silo
Help from inside the messenger
The grid view gives users visual cues to quickly choose the right category of FAQs(Frequently Asked Questions), and find the right answers. The grid view is intuitive, optimized for mobile as well, and completely customizable, allowing you to add or reconfigure icons and update content on the fly.
Speak to your visitors in the language they are comfortable in. Team members can create FAQ content in multiple languages, and the messenger presents the right content for every user based on their local or selected language
Give your team everything they need to focus on great conversations
SmartPlugs brings all the data from your apps and systems inside the inbox. Be it a CRM, helpdesk, delivery tracking, or other third party applications, with SmartPlugs, your team members can get all the contextual information to recommend better, sell smarter, and support faster.
Set up pre-formatted responses for the most common questions, saving your team the trouble of typing in common messages. You can also set up shortcodes to access a canned response even faster.
With private notes, team members can record details and log updates for future references, making it visible to other members in the team and sharing information in real-time.
Turn business hours on for your team, communicating team member availability to visitors when they reach out. Set-up expectations ahead of the conversation and control availability based on day-of-the-week
Respond and engage with multiple visitors at the same time and in a single action. Select multiple conversations and engage, assign, or resolve in one go. Save time, and increase productivity.
Connect with the tools you use to run your business
Delightful experiences in the palm of your hand, literally
Be accessible with in-app chat
Let your customers initiate live chats with your support agents with just a click of a button from within your mobile app. Set up welcome messages, and streamline and route conversations to the right teams.  
Localize the app experience with multi-lingual capabilities so you speak the language customers understand best.
Automate with self-service
Enable self-service through FAQs & bots so your customers can browse through the articles for answers any time, even on flaky networks before reaching your agents. 
Make your bots the first line of defense. Create a bot in the bot builder and have both your Answers & bot flows triggered on the mobile apps natively.
Retain your brand's identity
Depending on the theme you have set up for your business, the support section can also be customized extensively. Take advantage of the various different fonts, font sizes, button colors, and background colors, to reflect your brand.
CSAT surveys
Trigger customer satisfaction surveys and get responses from your customers after their conversations to assess and better your support.
Alert users with push notifications to ensure they do not miss out on conversations when they are not actively using your app or are out of your app.
The Freshchat SDK can be integrated with apps built on all major platforms like native Android, native iOS, React Native, Phonegap, Xamarin.
Empower your team with the mobile app
The Freshchat app for Android and iOS enables your agents to engage customers even when they are away from their desks or are on the move.
With instant alerts to new messages, agents can view conversations, user details, activity, assign conversations to other agents, resolve, reply, add private notes, use canned responses, send images
, share FAQs, and more!
Freshchat is a modern messaging software built for customer support teams to talk customers on the website, mobile app, or social.
What is Freshchat used for?
Freshchat helps you offer anytime, personalized customer support powered by a bot and human assistance across convenient and familiar channels.
What is Wechat Freshchat?
Freshchat is a modern messaging app for sales, support, and customer engagement. A leap from legacy live-chat systems, it brings the continuity and experience of consumer messaging apps to businesses to help them convert visitors and delight customers.
What is omnichannel software?
An omnichannel platform is a customer experience software that helps companies provide a consistent customer experience across all channels. Omnichannel platforms provide the ability to: Access real-time customer data from any channel. Connect with customers on any channel through automation.
When you sign up for a Freshchat account, you will be on the Pro plan for the first 21-day free trial period. Post which, you can switch to the Free Freshchat plan which is free up to 100 team members and 10K Monthly Unique Visitors.