Zoho desk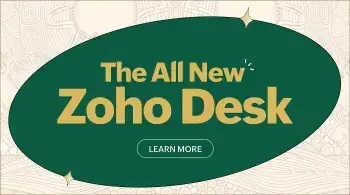 Ticket Management
Self Servivce
Agent Productivity
Process automation
Superior customer service. Lasting experiences.

Zoho Desk helps you simplify your customer service operations, improve agent productivity, and deliver lasting customer experiences.

50x implementation of most customer service software
Purpose-built training program with flat learning curve
Customizable workspace that works across industries, brands and departments
Hassle-free with account manager assistance Migrate
No long-term hidden costs
Compliant with privacy laws such as GDPR, HIPAA, CCPA
Great customer service for every business size
Zoho's overarching goal is to make quality technology accessible, accessible, and affordable for everyone. Zoho Desk meets the needs of organizations of all sizes.
We make significant early investments to develop and strengthen our client relationships.
Turn your growing customer base into brand loyalty with world-class service
Deliver an enhanced service experience to all stakeholders using the powerful CX stack.
Then it's time to invest in robust help desk software. Here's a wall-to-wall overview of what help desk software can do to your business.
What is a help desk software?
Customers contact the helpdesk with questions or problems. A company employee then answers the question and satisfies the customer. All you really need is a good way to reach out to someone in your company when you need help.
Key Functionalities of a Help Desk Support Software
This is the heart of support software, helping you organize customer requests and clear up confusion. Here's how:
Support Software retrieves customer emails from customer support email addresses and lists them online in one place.
Allows helpdesk managers to take customer calls and easily record them in the cloud.
Account managers can read and act on customer feedback on social media such as Facebook and Twitter.
The leading service desk software goes a step further, enabling better assignment and work execution. This means that
Customer questions can be forwarded to staff who are better at answering them.
You can set up automatic notification rules to notify customers when they reply or leave feedback.
If a support agent doesn't respond to a ticket, or if it takes too long to resolve a ticket, the SLA will let you know and take immediate action.
Reporting and Optimization
This part of the ticketing software represents the most important function of customer service and captures relevant information on all important aspects of a web-based helpdesk. Managers and leaders can track and understand,etc.
Customer Service Team Ticket Count
Handle Time and Resolution Rate for Each Team Member
Average Customer Satisfaction.
Convert chat conversations into tickets.
When a customer has an issue that requires more time and attention, agents can turn chat conversations into tickets with one click. This allows agents to save the entire context of a chat conversation without wasting time.


Set assignment rules for each channel.
Leave chat tickets to the trusted experts on our team. Zoho Desk allows you to assign tickets to specific agents or teams from various channels. This way, agents can work more efficiently and customer interactions are safe.
Automate, so nothing slips through the cracks.
Despite our best efforts, the right agent may not be available at the right time. In such cases, you can set the waiting time for chats to be converted to tickets. This way, your team never misses a chat with a customer.

An issue tracking system is a software application that allows you to record and track the progress of each customer ticket or "problem" in your inbox until the issue is resolved.
What should you look for in an issue tracking system?
Multi-Channel Ticketing Software collects all support tickets from different channels and organizes them into one tab. This allows agents to reply to everyone from the same tab. These channels include:

Email: Engage your customers better by having all your emails in one easy-to-manage place. This is important if you have multiple email addresses.
Social Media: Your customer can now manage her Facebook and Twitter interactions with your business from one tab. Reply to tweets and posts from your helpdesk, set up keyword alerts, and more.
Live Chat: Chat with your customers to better understand their concerns and provide instant, personalized support. If an issue needs your attention or is time consuming, our issue tracking software turns chats into tickets with one click.
Telephony: An effective ticketing tool allows you to receive and make calls from your helpdesk using cloud telephony. Record and monitor these calls and convert them to tickets or link them to existing calls.
Web Forms: Embed a customizable web form widget on your website to allow customers to fill out forms with required details and submit questions as tickets.