DesktopReady
DesktopReady software | Customer Support Software
Simple, Scalable, Secure
Fully managed
Industry-Specific
Modern Virtual Desktop Simple, Scalable, Secure
The first complete Virtual Desktop solution that provides both automation and services to deliver secure Modern Workspaces.
DesktopReady integrates best-in-class technology platforms, products and a comprehensive set of Services to bring a turnkey Desktop as a Service (DaaS) solution for today's distributed workforce.
Fully Managed
Freedom from desktop maintenance means you can focus on strategic initiatives central to your core business. DesktopReady keeps your cloud desktop infrastructure updated and always available for your end-users.
Simple and Scalable
Easy to deploy in minutes with self-service options for change requests and dynamic scalability. Dynamically add new users when you need without any specialized IT intervention.
Secure and Compliant
Engineered to comply with enterprise-grade security and regulatory standards and powered by the inherently secure Azure infrastructure. Access all your applications and data securely from anywhere, anytime, and on any device.
Trusted Industry Leader
DesktopReady is a global leader in VDI/DaaS management and has successfully deployed close to half a million remote desktops across varied use-cases.
The future of work is here. Let's get started!
We offer Business and Individual plans to provide the best value for every type of user.
Prices start from $40/desktop a month
Transparent upfront pricing with NO hidden fees
Cloud Workspace for Financial Services
As a business owner, corporate executive, or IT professional, you know that nothing is more important than security when dealing with financial services and information.
Remote Desktop Services for Finance
DesktopReady is a global leader in VDI/DaaS management and has successfully deployed close to half a million remote desktops across varied use-cases.
Onboarding
contract staff quickly during peak times. Cloud services better allow for remote onboarding, which can be a challenge for many companies.
Ensuring
that remote staff have bank-grade security, and reliable access, when working from home or another location.
Eliminating
the risk of data misappropriation, data theft, and unintended access. PII and financial information requires data protection and governance to comply with regulatory and legal requirements.
Creating
systems that can support large amounts of real-time data, such as latency-free high-frequency trading, and financial modeling that can quickly assess the value of data, detect fraud, etc.
DaaS for Financial Services and Accounting
Desktop as a Service, or DaaS, can provide your office with valuable infrastructure, regardless of how and where you serve your customers throughout the world.

For the financial industry, DaaS provides significant benefits, which include:
Built-in security and compliance mechanisms to access data from anywhere while ensuring compliance with PCI DSS 2.0 standards.
Easily scalable architecture that grows with your company as you expand to new regions and product lines.
Secure access for your mobile workforce, providing location-agnostic access to resources and systems to resolve performance issues.
Reduced TCO (total cost of ownership) by use of multi-tenant architecture and the use of zero or thin clients that allow for cheaper endpoints to be used.
DaaS is a modern solution to modern challenges.
With DaaS you can bring your business into the 21st century and position to serve the changing needs of your customers.
Benefits 

of Cloud-Based Remote Desktops
Security and governance
Built-in security mechanisms (MFA, SSO, etc.) allow users to access enterprise applications and databases anywhere, anytime, and on any device without comprising data security and integrity.

Compliance (PCI DSS 2.0) with industry and local regulations through policy-basedcontrols and updated IT estate (apps, patches, anti-virus, etc.).
IT efficiency
Expansion to alternative business models, geographies, and product lines with scalable architecture and limited upfront investment.

Hosted on cloud infrastructure, DaaS allows firms to seamlessly integrate with other IT stacks during mergers, acquisitions, and divestitures.
User enablement
Mobile workforce provision with secure access to business applications and databases

On-demand location-agnostic access
to compute resources.

Leveraging predictive and prescriptive analytics to proactively identify and resolve desktop availability and performance issues
Cost optimization
Multi-tenant architecture helps reduce the Total Cost of Ownership (TCO).

Access to lag-free, high-performance desktop infrastructure through relativelyinexpensive thin clients.
Anunta DesktopReady has been delivering cloud computing solutions forover 10 years.With a‍ fully managed deployment process,proactive technical support and monitoring,and‍
one of the lowest incident rates in the industry, DesktopReady provides desktop solutions that minimize disruptions to your professional services business. DesktopReady, offering cloud-based Desktop as a Service that moves your desktops to a virtual workspace.
Virtual Desktops for Professional Services
Virtual desktops empower your professional services business to operate more efficiently, securely, and reliably in the cloud. DesktopReady delivers virtual solutions for a wide range of industries, including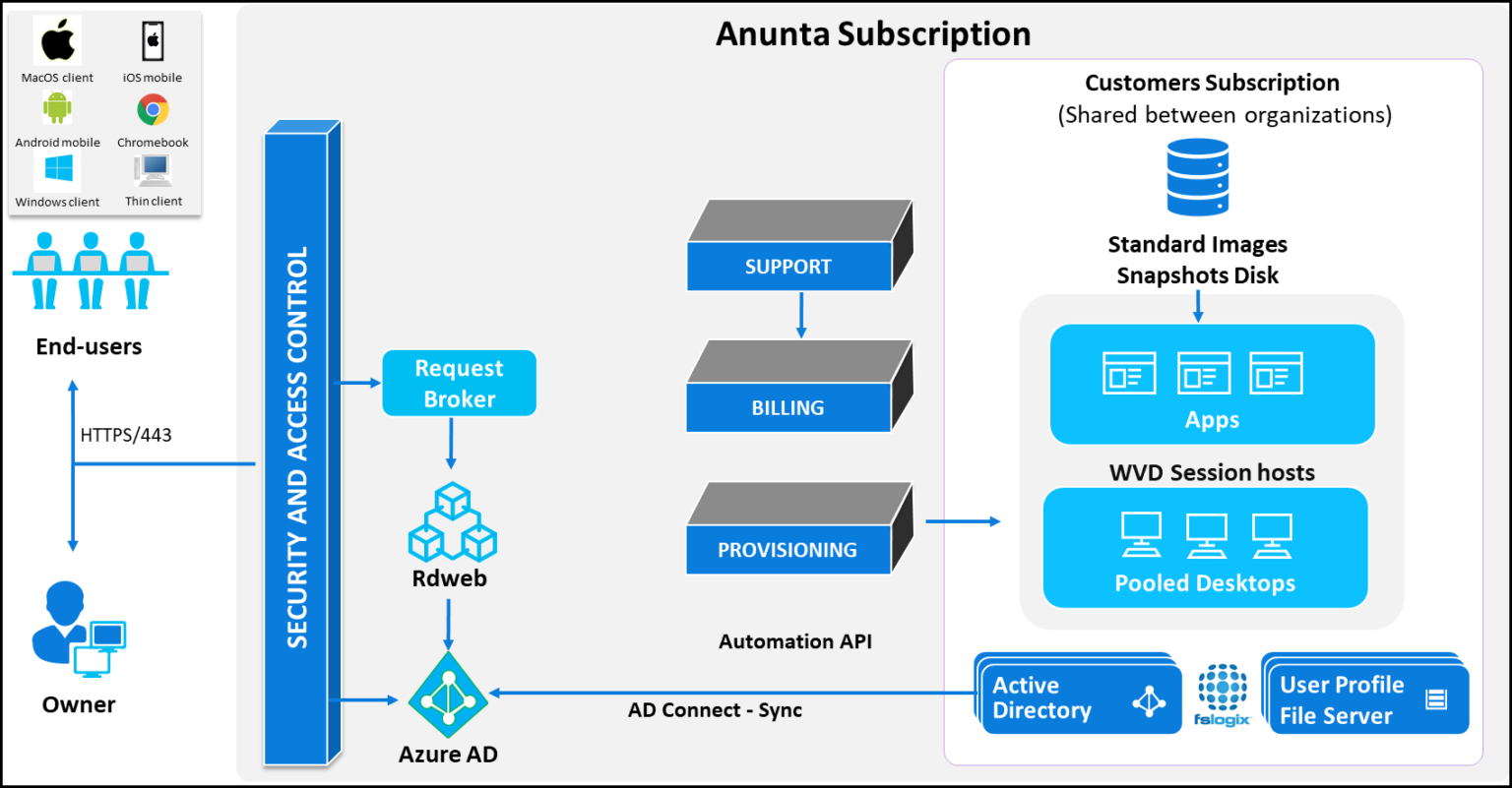 Accounting
Law
Engineering
Consulting