zoho vault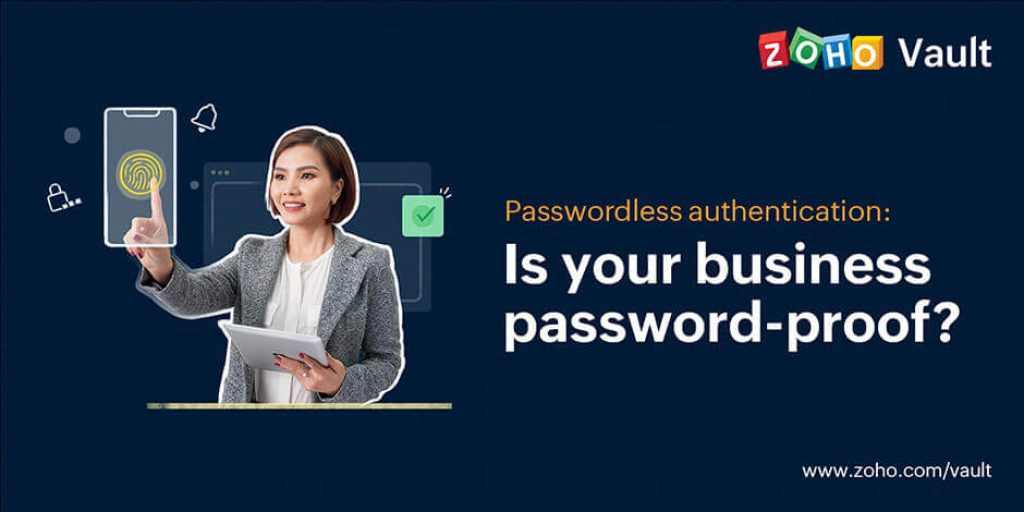 Bulk Password Sharing
Streamlined Access Management
Detailed Visual Reports
Password Reset Alerts
Your online security starts with a password manager

No more remembering passwords. let's do it for you. Zoho Vault is a secure password manager that securely manages and automatically fills passwords across websites and apps.
Password Manager for everyone
Ideal security for all your personal passwords
Secure password management for teams of all sizes
Comprehensive protection and advanced password security for businesses
Zoho Vault is an online password manager designed with flexibility in mind. Available for individuals, families, teams and even large companies. Vault is forever free for personal use and affordable for teams and businesses.
Vault provides all the features your business needs, integrates with your existing identity federation services such as AD/LDAP, Google Workspace, Microsoft Office 365, Okta, and integrates One Login accounts so you can start make it available. Teams can also import passwords from browsers, CSV files, and other password managers, and view your organization's password threat analysis.
Store unlimited passwords, documents, notes and other sensitive data. All with unlimited storage.
Import all your passwords from a CSV file, browser or any other password manager in seconds. Protect and organize important data and documents with customizable categories.
With over 400 pre-defined websites to choose from, saving your most-used credentials has never been easier.
Store everything in one secure vault
Store personal and business passwords, documents and confidential information in a single vault secured with military-grade AES 256 encryption.
Stay up to date, wherever you go
Sync your data for free across browsers, extensions and mobile apps for access anywhere in the world.
Simple, secure password sharing

You can share multiple accounts with family, friends and colleagues. Fully secure, even across multiple teams. Grant and revoke password access for multiple users or user groups with a single click.
Safer third-party sharing

Securely share passwords with third-party contractors, consultants, freelancers, or time-limited flex workers. Track all accounts accessed by external users and comply with real-time security checks.
Multi-level access filters

Choose from several different permission levels to give each user the right level of access. You can also turn off plain text view to prevent users from seeing passwords for shared accounts.
Extra protection for your critical shared accounts

Prevents users from accessing shared accounts without permission. Configure the Request Approval Workflow for Sensitive Shared Account Information so that all requests are validated by a valid ticket ID from a user, administrator, or helpdesk that meets predefined criteria.
Sets the password policy that specifies how often users change their passwords. Enable automatic password reset notifications to keep everyone up to date.

Most organizations have well-defined security policies that must be followed throughout the organization. With Vault, admins can now help users comply with their organization's password policies and ensure all passwords are rotated according to security policies.
Reset your passwords on time
Vault automatically sends reminders to users starting three days before their password expires. Vault will send frequent notifications until the user is reset. This gives you enough time to update your password and comply with your organization's security policies.

Keep your business running 24*7
Critical business passwords are often held by a small number of employees. However, these passwords should be accessible at all times, even if the employee is away. Vault allows you to add emergency contacts who have temporary access to all your business passwords in an emergency.
Grant emergency access for trusted contacts
Super administrators can add themselves or anyone in their organization as an emergency trusted contact. These contacts are privileged to declare emergencies and access critical passwords during business crises.
Terminate suspicious sessions
In case of emergency, designated emergency contacts will have temporary access to all business passwords for a limited time. However, super admins can force an ongoing emergency to end if they determine the reason is invalid.
Block access to potential threats
Prevent hackers and cybercriminals from accessing your accounts by blocking rogue or potentially malicious IPs and protecting your passwords and other sensitive information from cyber threats.


Selectively exclude trusted users from IP restrictions, allowing other employees to access her Vault only from approved IPs within the office.