Streak
Streak software | Streak Gmail software provider
Track Sales
Project Management
Real estate
Reporting
Hiring
Send personalized, tracked mass emails
and follow-up sequences in Gmail.
Personalize messages for higher response rates
Send personalized individual emails to hundreds of recipients in just a few clicks. Address recipients by first name, reference their company, or include record from your CSV file.
Prevent that faux pas with smart email alerts
Never send a cold outbound message to a recipient your team has already emailed. Streak alerts you if your team has ever emailed with a recipient and shows you a beautiful timeline of your team's communication history.
Instant previews of what the recipient sees
Preview the exact messages before sending them out. Better yet, send yourself a test email to be 100% certain you know what your recipient will see.
Built in email tracking to see who's opened your email
Schedule your mail merge and follow-up emails to arrive in your recipient's inbox at the perfect moment.
Target your recipients with organized lists
Want to send a follow-up to specific recipients? Import your contacts into a pipeline to keep them organized. Filter and sort them based on any criteria and send your next mail merge to a targeted list
Know when your email is viewed
Get notifiedwhen your email is opened
Get immediately notified with a browser or email notification as soon as the recipient opens your email.
Turn on or off with a single-click
Turn email tracking on or off with a simple toggle right in the Gmail compose window.
See all your tracked emails in an organized list
Know exactly who to follow up with next based on when they opened your last email. See all your tracked emails in chronological order.
Mass email recipients if they opened your last email
Improve your response rate and save time by sending a mass email to only those recipients who viewed your last email.
Web and mobile support
Native Android and iOS apps and directly built into Gmail on web and mobile
Comprehensive integrations
Our open API integrates with G Suite and Zapier to connect your Streak to everything you require.
Rigorous security and privacy
Built in the same cloud as Gmail and G Suite and GDPR compliant
Mail merge
Send personalized emails to contact groups from your pipelines
Thread splitter
Split conversations into separate email threads when topics start to branch
Send later
Schedule emails to be sent at just the right time
Your pipeline on autopilot
Automatically capture records from your contacts and emails. Get notified as things growth through your pipeline by never forgetting a follow-up with tasks and reminders.
Built into the tools you use
Work where you're comfortable — inside your inbox!  Built directly inside of Gmail for desktop and mobile, with G Suite integrations (Sheets, Chat, Drive, and more) to help you access and gather your records rapidly.
Built into the tools you use
Work where you're comfortable — inside your inbox!  Built directly inside of Gmail for desktop and mobile, with G Suite integrations (Sheets, Chat, Drive, and more) to help you access and gather your records rapidly.
Streak
Manage Everything from Gmail
Manage any workflow from your inbox
Streak was awarded the Google Technology Partner of the Year, in recognition of our fully integrated CRM and deep, powerful integration with all of G Suite – Gmail, Calendar, Drive and Sheets.
Track everything and always have context
Information about your pipelines, contacts, and tasks directly in your inbox and pocket.
Custom views of your pipeline
Search, filter, group, and sort your data in any configuration and save the results as a custom view. Share with the entire team or surface directly in your inbox.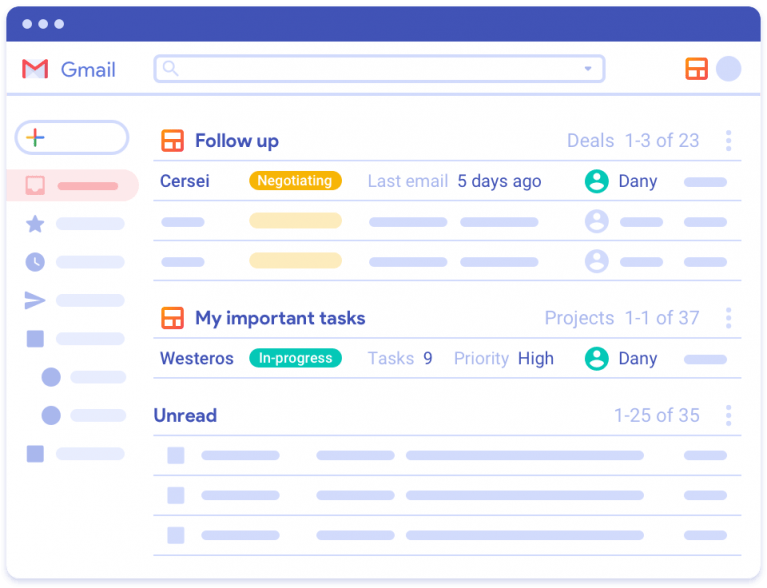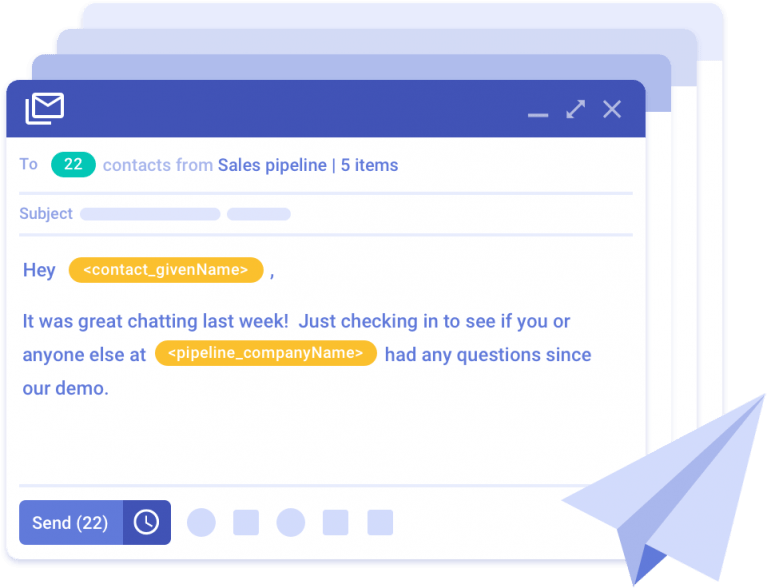 Supercharge your inbox with email power tools
Always have a personal touch and manage your conversations at scale.
Know instantly when someone sees your message.
View tracking
Receive notifications and view tracking information directly in your inbox and Sent folder. Sort your tracked emails to follow-up with those who may have missed it.
Mail Merge
In just a few clicks, personalize mass emails with recipient names, company details or any data from your pipeline.  Always have an instant preview of what recipients will see before you send it. Easily generate contact groups from your pipeline, or an imported CSV.
Integration
Works with your existing tools and workflow
Frequently Asked Questions
How does your billing work?
Streak charges a fee for each user on your team. You can choose to pay the fee monthly or pay for a year up front and save 20%.
Can I have team members on different plans?
Sorry, everyone on your team must be on the same plan
How do I sign up for the Enterprise plan?
Hit the contact us button and we'll work with you to setup deep customizations to our reporting and integrations, only available on the Enterprise plan. We only offer this plan on annual billing with 10 or more team members.
*What is the mail merge limit for Gmail accounts?
For Gmail accounts (i.e. johndoe@gmail.com), you'll be limited to 400 emails per day on all paid plans.
Do you have special plans for view only access?
We currently do not offer any different pricing for users who only need view access to Streak data.
What payment types do you accept?
We accept Visa, MasterCard, American Express, JCB, Discover and Diners Club. Sorry, we do not accept PayPal. Bank wire transfers are only available on our yearly Enterprise plan.