Soon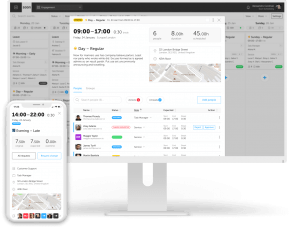 Soon software | Workforce Management Software
Employee scheduling for champions
Get the best scheduling experience
Manage your team with confidence
Boost team engagement and productivity
Employee scheduling for champions
Soon puts you in control of your team's schedule with adaptive features. This helps you make a schedule to fit exactly how you want to operate, and not the other way around.
SCHEDULE
Manage your teams' schedule in a blazingly fast and highly effective way.
MANAGE
Easily manage your team while focussing on what matters most — your people.
ENGAGE
Elevate team engagement with an intuitive and streamlined user experience
Get the best scheduling experience
Simplify the day-to-day scheduling operations — create dynamic schedules accurately and error-free in minutes, handle unexpected changes on the fly, and manage real-time workforce performance.
Extremely flexible events
From simple to complex, you can fully customize your events for any schedule setup. Create events in seconds, easily edit them when needed, and always keep track of their status.
Smart people picker
Always know who is best suited for your shift. Stay compliant and increase happiness by picking the best matching people for your event based on role or skills, availability, conflicts, and contract hours.
Clear timeline views
Zoom in and out of your teams' schedule with the day, week, and month timeline views. These views help you to get highly visual coverage for the selected time frame.
Manage your team with confidence
Integrated team management —  capture accurate timesheets, manage team members' time-off, and bring structure with user groups and roles.
Advanced leave management
Soon's advanced leave management enables you to manage your teams' time-off efficiently. Create leave categories, review, and approve all your teams' leave requests with ease.
User groups and roles
Bring structure to your team. Create groups to manage, filter, and target convenient compositions of users at once. Schedule faster by assigning roles based on specific skills.
Time and attendance
Effortlessly capture time and attendance data within events to automatically generate accurate timesheets that can quickly be exported for payroll purposes.
Boost team engagement and productivity
Drive engagement throughout the entire scheduling lifecycle  — give your team tools that are easy to use, make them feel valued, and help with smarter work decisions.
Collaboration at the core of our product
Our mission is to make it easy for any team to create their best schedule ever.
Workforce management — without the training time
Create shifts, manage leave, and streamline tasks to achieve your goals.
Good schedules help you reach your goals
Team scheduling usually starts off in a spreadsheet. Becomes a chore for someone who never signed up for it. And generally becomes a chore for the team. With Soon you can turn this around and make a great schedule your secret ingredient for success. We help you get rid of business bottlenecks. Add structure to your employee schedules. And make you a more productive team.
Schedule your team with ease. We've made our software so anyone can use it without experience.
Boost team engagement while scheduling together. Get more done in less time and with better results.
From simple to complex. Soon fits into your workflow, even when your team grows and things change.
Schedule without spreadsheets
Soon brings you a new approach to shift scheduling. We group shifts together in event cards. These help you find the best match between your employees and shifts. On top of that, they let your team communicate about things related to their shifts.
Your window into your team's daily workload
Soon Workload gives your team a clear visual overview of who's doing what, and what's coming up next. Make sure your team is aligned, activities adequately staffed and prioritized, and team members aren't over or underworked — all in one view.
Boards bring information together
Soon's boards are the smart workspace where scheduling happens. Boards centralize all necessary information and communication related to your schedule and let you manage and monitor your planning through multiple stages.