Outplay
Outplay software | Sales Software
Personalized multi-channel outreach
Your local dashboard dialer
Magic outbound chat
Email on steroids
Connect with an SMS
Effective LinkedIn outreach
Engage with prospects on Twitter
Personalize your outreach
Engage your prospects wherever they are
Your prospects are everywhere, is your sales engagement? Combine email, call, SMS, LinkedIn, Twitter, outbound chat and reach your prospects across all channels. Engage them wherever they are and increase your chances of booking a meeting.
Sell more with the right mix of personalization and automation
Eliminate busywork by automating your sales workflows with Triggers. Put time back in your reps' day so that they can focus more on what matters – selling!
Do account based marketing the right way. Notify your sales team the minute a prospect from your outbound sequences lands on your website. Initiate chat with them in one-click, and engage personally with prospects when the interest is hot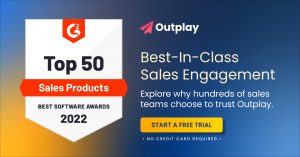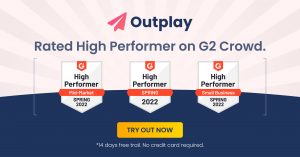 Insights to drive revenue growth
Make informed business decisions based on real-time data. Outplay's analytics provide information on what moves the needle forward, & how you can leverage that data into successful messaging, segments, & market direction. Now your sales team can truly optimize its strategy to drive more revenue.
Email, phone, social, chat. Everything you need to get more meetings
Want to get more meetings booked and close your deals faster? Outplay's multi-channel sales outreach platform has everything you've been looking for.
Personalized multi-channel outreach
With Outplay's multi-channel approach, your sales teams can include multiple channels in their sales sequences – be it email, phone, SMS, LinkedIn, or even Twitter. Personalize your sequences at scale and create opportunities faster.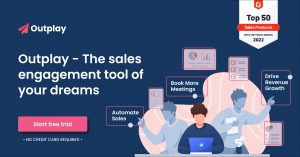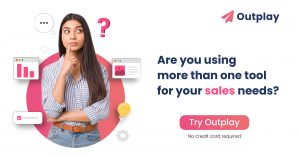 Your local dashboard dialer
Call your prospects up in one click. All you need is your browser (and one click!) to make and receive calls to/from anyone, anywhere and anytime. 
Get your prospects straight from email to chat when they show up on your website. Impress your prospects by being available on your website to start a live conversation and book meetings quickly.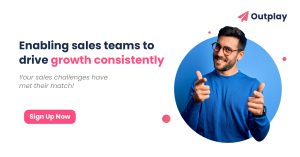 Not your regular email. Share your calendar right inside your email; and have access to various features like link tracking, automating sequences, built-in templates and sending timely reminders
Being a multi-channel outreach platform, you're not just restricted to emails. Now you can connect with your prospects with the help of an SMS too! What's better? You can get all your replies to your personal phone too!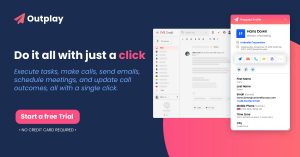 Effective LinkedIn outreach
Are your prospects more active on LinkedIn? With Outplay's outreach feature, you can now send your prospects timely messages on LinkedIn as well
Engage with prospects on Twitter
Connect with your prospects effortlessly across multiple channels. You can now add Twitter as a channel of outreach to your sales sequences too. 
What is a Sales Engagement Platform?
Sales Engagement is the sum of all interactions made between the buyer and seller throughout the lifetime of a sale. A sales engagement platform is the tool that helps these interactions take place seamlessly to ensure they drive sales and revenue. Often, a Sales Engagement Platform is used interchangeably with a CRM. This is a myth, and there are many more. The truth is that sales teams NEED a sales engagement platform to do what they do best. SELL.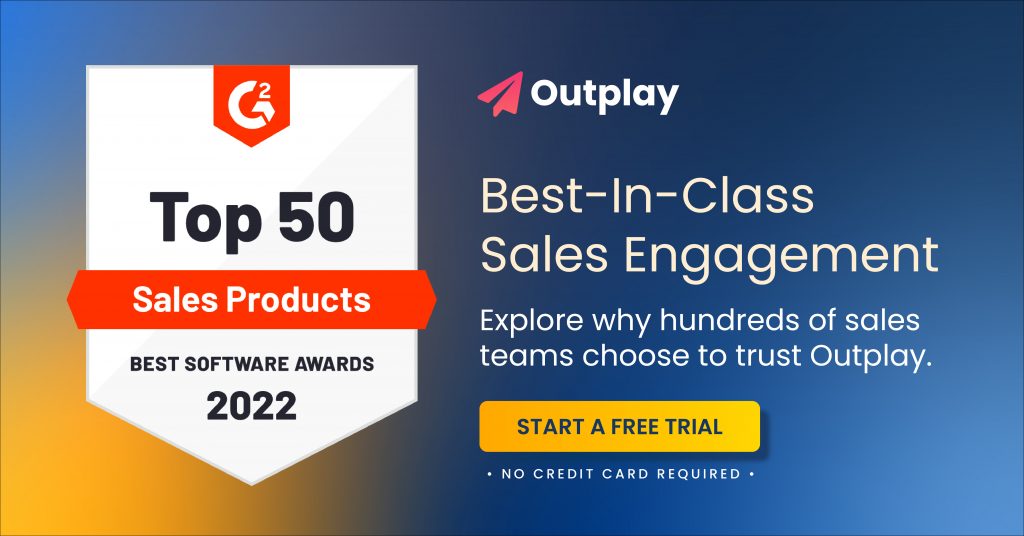 Why do you need a Sales Engagement Platform?
Here are a few common ways an organization benefits from implementing a sales engagement platform:
Sales engagement platforms help teams automate trivial processes by setting up templates, schedules, and sequences using disparate sales tools. These messages can often be customized and personalized on the spot or sent as-is, depending on the sales team's goals. The advantage of using software for sales engagement comes with real-time messaging across platforms to allow sales members to reply quickly—never missing a potential sale because of a delayed response. It also gives reps the opportunity to use templates that have worked, to build a scalable and repeatable process.
Sales engagement platforms also integrate with sales tools, such as CRMs, Outlook, phone, SMS, and social media to keep sales teams organized and on top of competitive landscapes. By accumulating and organizing these tools in one area, it unlocks a massive competitive advantage over organizations whose sales teams don't operate with clear vision and tasking across platforms.
Sales team members can place their prospects in specific sequences and work through a list of tasks that involve initiating, engaging, and closing sales.
Teams will likely see a significant boost in productivity once a sales engagement platform is integrated. However, performance and revenue increases don't stop there. Many platforms will help salespeople sell smarter by using the right forms of communication with the right tone at the right time.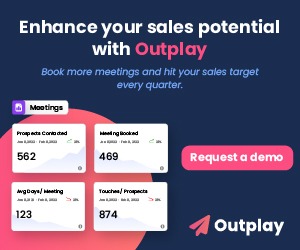 One of the most important benefits of a sales engagement platform is revenue growth. By improving your team's communication, becoming more efficient, and being able to optimize your sequences through data your sales team can expect to see a growth in revenue.
Sales Enablement Vs. Sales Engagement
It's a common mistake to get sales enablement and sales engagement mixed up—but understandable as they coexist and share a common goal.
Each interaction a prospect makes with an organization or sales team is considered a touchpoint. This includes contacting customer support, viewing the website, trying a demo, and engaging on social media. All these touchpoints live in different areas of the sales funnel—sales teams only focus on a specific set of touchpoints to complete the sale.Here are some common touchpoints used in sales engagement sequences: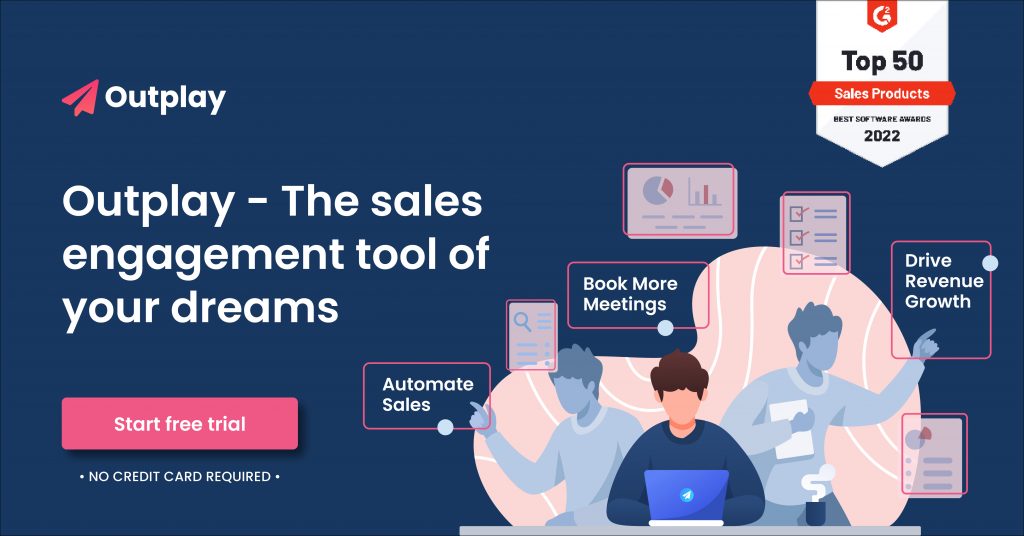 Picking up the phone and calling a prospect is one of the most effective touchpoints for some teams in closing a sale. Today's calls are often recorded (for review and coaching purposes) on sales engagement platforms. Cold calling strategy obviously varies by company and prospect, but there are proven best practices that always get results.
Emails are invaluable communication tools with many uses. The stage of the sales funnel a prospect is in determines which type of email is most effective. Some examples of email touchpoints include:
Welcome Emails
Email Newsletters
‍Lead Nurturing Emails
‍Dedicated Emails
‍Re-Engagement
Emails
Sharing content and engaging on social media can be a powerful tool for sales teams to build awareness through value-providing posts, meaningful conversations, and connections with new contacts. Like email, there are multiple touchpoint types inside of the social media construct. LinkedIn, for example, helps sales teams generate personalized connection requests, send direct messages through InMail, engage on existing posts, and create/share valuable content
Sending a text/SMS message is a quick, personable way to communicate with customers throughout the buyer journey. Text messages have much higher open rates than emails and better response rates than phone calls. Sending a message is often used to move the prospect into the next stage of the sales pipeline. For example, sales teams can send a message to communicate quickly and qualify the prospect into a lead. Then, send another message to set up a meeting or discovery call.
Personalized Multi-Channel Outreach at Scale
Sales engagement platforms need the most efficient mediums of communication available to reach buyers faster than the competition. These include:
Another helpful feature on sales engagement platforms is task execution. When a sequence of touchpoints is created, platforms need effectively execute touchpoints at scale. These tasks should run seamlessly without jumping from page to page
Managers can often improve results with a few tweaks to the process. Streamlining and compartmentalizing workflows on a sales engagement platform allows for better measurement. 
A Sales Engagement Platform doesn't work alone to empower your reps. There are many other tools, software, apps and platforms your reps need to use to sell successfully. A good Sales Engagement Platform has to integrate seamlessly with all other tools that your reps use, and give them a single platform view of everything they need. You could be using Salesforce, Hubspot or Pipedrive as your CRM. You'll probably use a tool like Gong to monitor calls. Your reps will obviously need to configure their email and calendar tools. Your Sales Engagement Platform should ensure that your whole tech stack works as one, and your reps are looking only at one dashboard to go ahead and close those deals. 
Sales engagement is every interaction between salespeople and their prospects, leads, and (hopefully) buyers. Platforms for sales engagement are designed to boost productivity for sales teams without compromising value using tools designed to interact and enhance communications through various touchpoints. These touchpoints can be added into a large block of communications—often referred to as sequences—which can be automatically sent using pre-defined time parameters.
The goal of using sequences and other essential features like task execution, analytics, and multi-channel outreach is to help sales teams generate meaningful one-on-one conversations throughout the buyer's journey—and do it at scale.