Google Workspace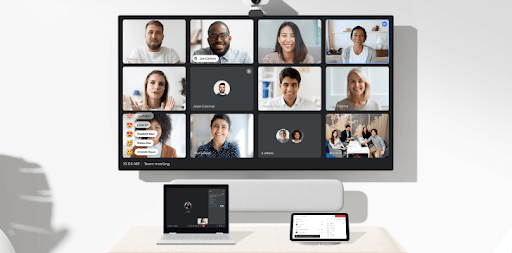 Gmail
Meet
Chat
Apps Script
How teams of all sizes connect, create and collaborate.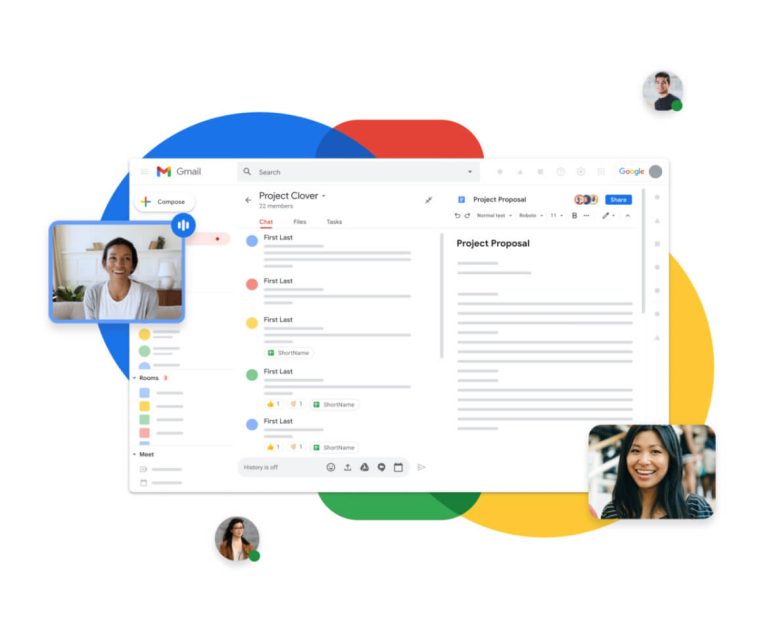 Flexible, innovative solutions to help people and organizations achieve more.
Secure business email and so much more
Get custom email @yourcompany
Build customer trust by providing everyone in your business with a professional email address within your domain. For example: priya@yourcompany and joe@yourcompany. Also create a group mailing list such as sales@yourcompany.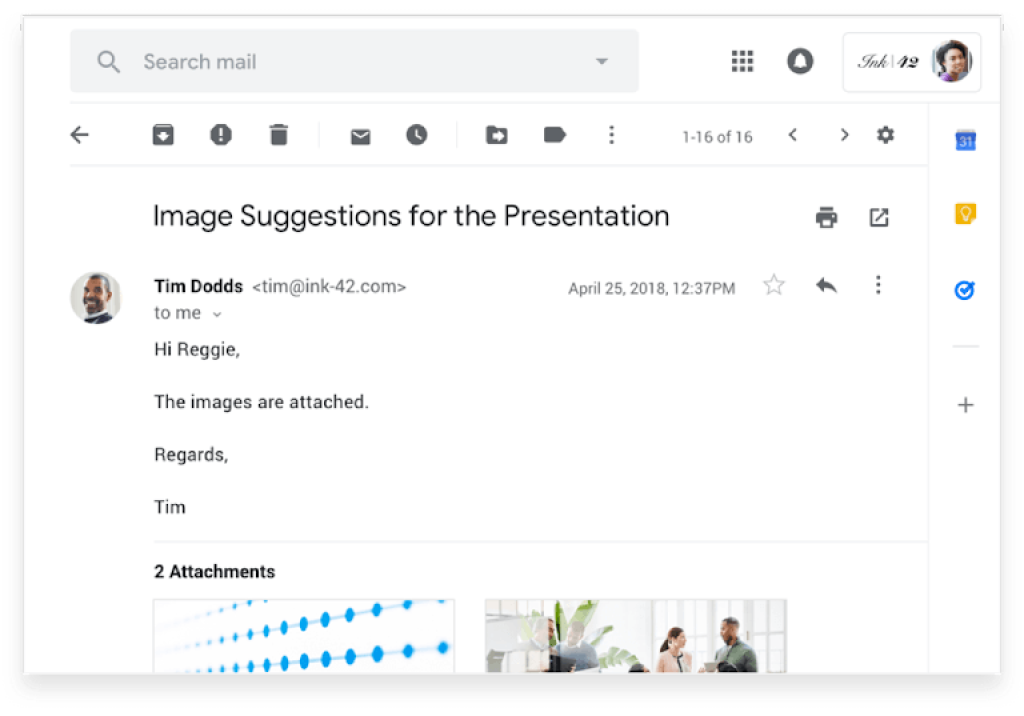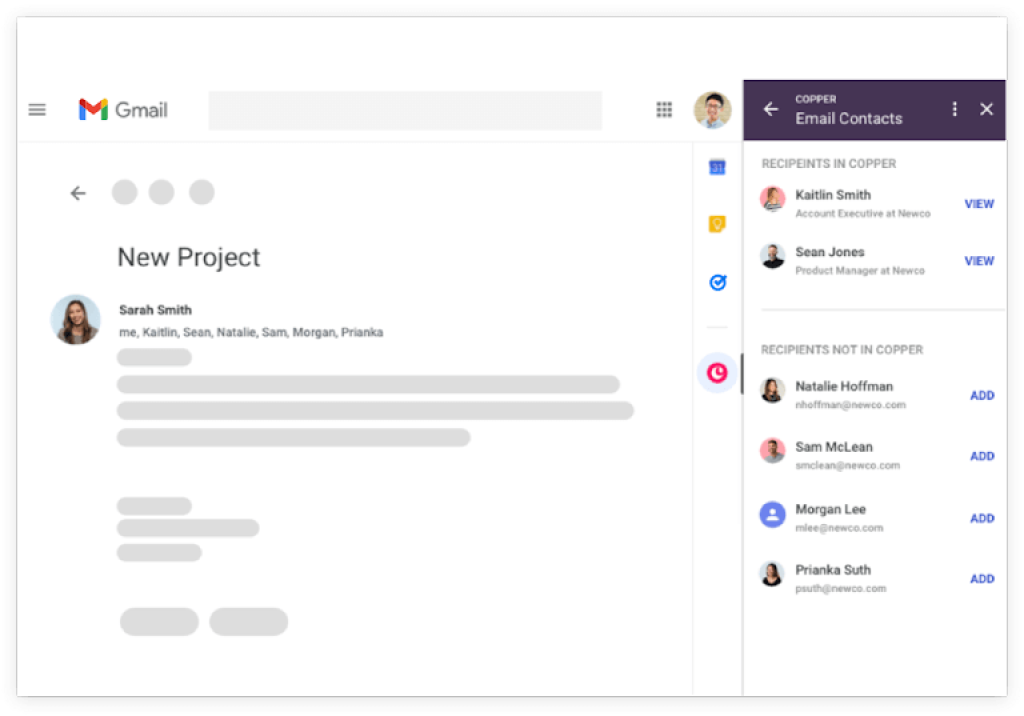 Connect with colleagues via Google Meet or Google Chat, send invitations to your calendar, and add actions to your to-do list. You can do all this without leaving Gmail. Also, connect your favorite 3rd party apps in the side panel to Google Workspace add-ons.
Smart suggestions for simple tasks
Suggested actions such as Smart Reply, Smart Compose, Grammar Suggestions, and Nudges help you stay on top of your work and focus on simpler tasks so you can use your time more efficiently.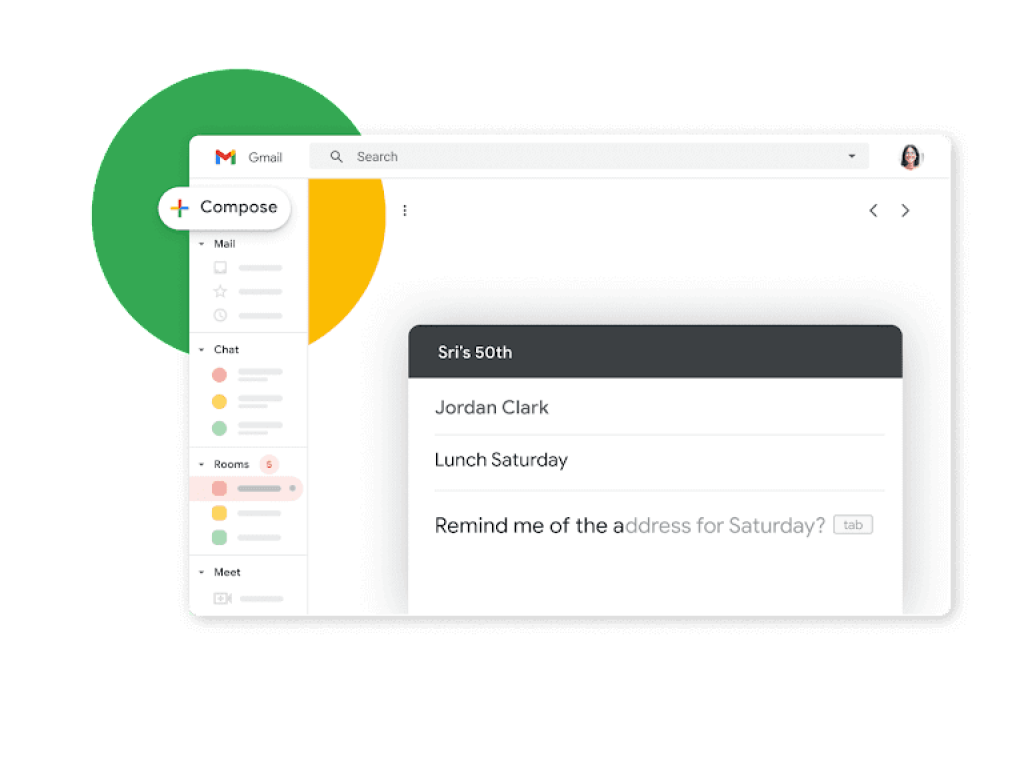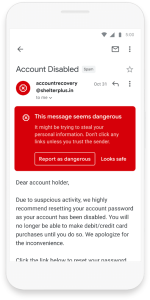 Designed to protect you from threats
Gmail is committed to keeping our users safe. Our machine learning models block over 99.9% of spam, phishing, and malware from reaching your users.
Integration with Other Tools
Gmail works well with desktop clients such as Microsoft Outlook, Apple Mail and Mozilla Thunderbird. Outlook users can sync emails, appointments, and contacts with Google Workspace.
Easy Migration from Outlook and Legacy Services
Easily migrate email from Outlook, Exchange or Lotus with customized tools that help preserve important messages.
99.9% guaranteed uptime, 0% planned downtime
Take advantage of Google's secure and resilient global infrastructure 24/7. Protect your business data with automatic backups, spam protection, and industry-leading security measures.
Securely connect with anyone with whom you work, and take group work to the next level with shared chat, files and tasks.
See all of your messages in one place
Use Chat directly from Gmail or as a standalone app. Seamlessly integrated tools let you stay on top of all your work communications and choose the right channel for every conversation.
Collaborate in dedicated Spaces
Spaces are central places for teams to discuss topics, share knowledge and ideas, advance projects, and build community and team culture.
Tap into the best of Google Workspace
Seamlessly collaborate on content in Google Docs, Sheets, and Slides with Chat and Spaces. Easily find previous conversations and files with powerful Google search, and use bots and smart suggestions to connect with meeting participants and help you get more done, faster.
Powerful, filterable search across chats and email threads makes it easy to find what you need, when you need it. Search acts as a collective memory for your team, allowing you to review past discussions and decisions.
We encrypt your data in transit and at rest, and a set of anti-abuse protections enabled by default helps protect your business.
Easily integrate with Google and 3rd party apps like Salesforce and Jira to keep all your notifications in one place and automate simple tasks with bots so that you can focus on what you need to do. Start with bots.
Secure video meetings for your business.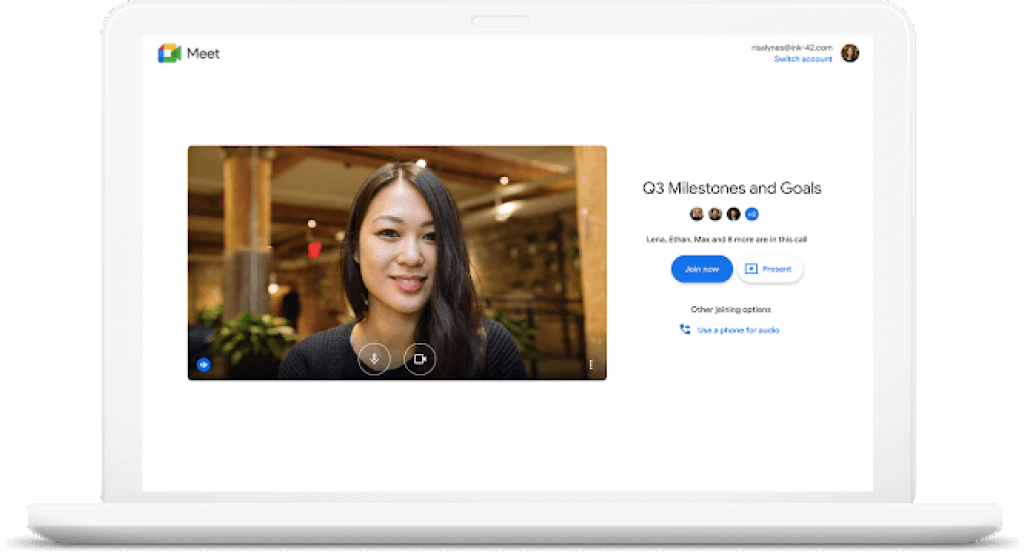 Enjoy frictionless meetings.
Meet takes the headache out of joining video calls at work. Just set up a meeting and share the link. Never worry about your teammates, clients and customers having the right accounts and plugins. A fast, lightweight user interface and intelligent participant management make video calling with 30 people a breeze.
Designed for every kind of business
Meet is fully integrated with Google Workspace, so you can join meetings directly from your calendar events or email invites. All important event details are at your fingertips when you need them, whether you're joining from your laptop, phone, or conference room.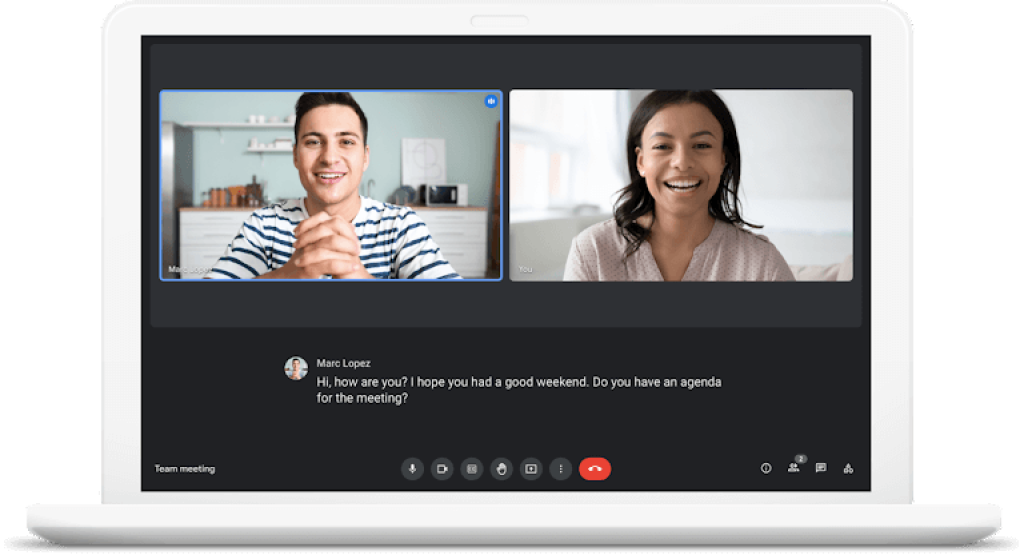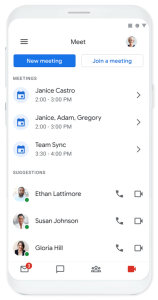 Easily view all your scheduled meetings for the day and join meetings with a tap directly from the Gmail mobile app or the dedicated Meet app. Meetings hosted by Google Workspace users also create a call-in number for each meeting, ensuring all guests have a great experience, even without Wi-Fi or data.
Meet is fully integrated with Google Workspace. Join video calls seamlessly from chat, or connect via video to take your document collaboration to the next level. Everything is connected so you can always be connected and collaborate in context.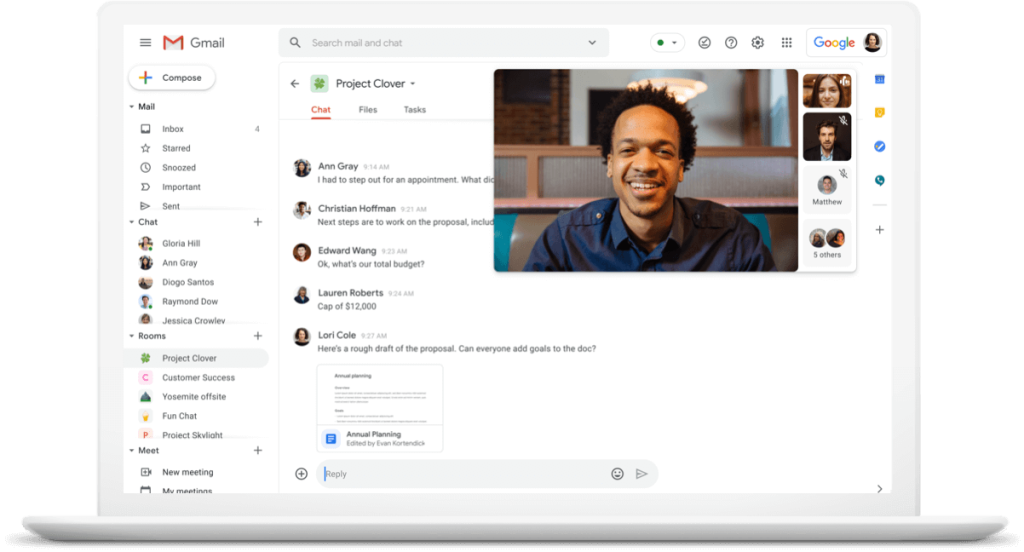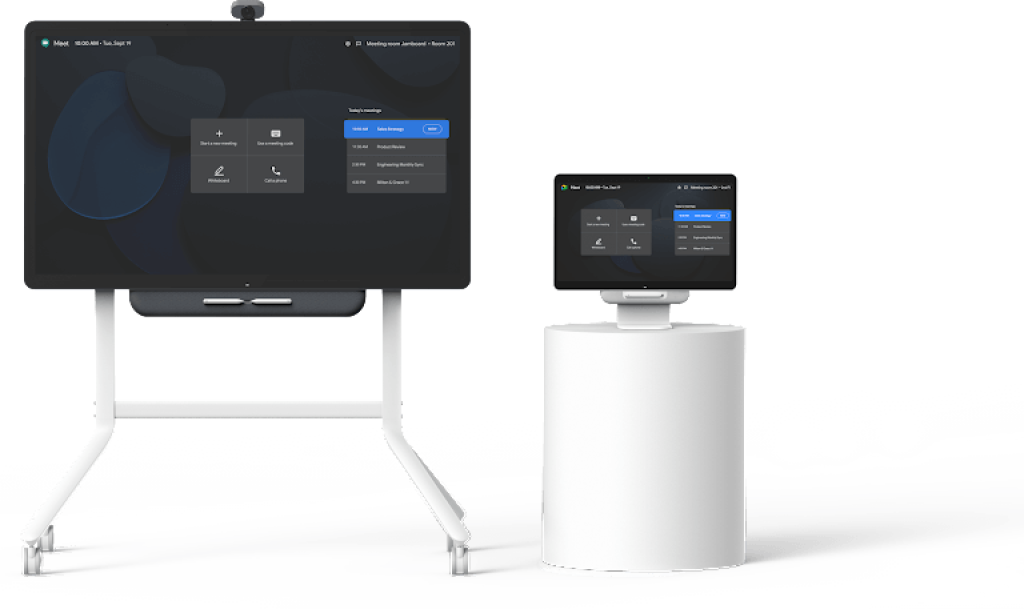 Connect in the office or remotely.
Meet hardware connects any meeting room or space to video conferencing with a single click, from the desktop to the huddle room to the boardroom. Easy to use, easy to manage, and easy to deploy at scale. All units can be set up in minutes and managed online.
Dial-in number for each meeting
Google Workspace automatically includes unique dial-in information for each meeting. Guests can quickly dial in with a tap of their smartphone. A Global Dial add-on is also available for advanced call support.
Integrated with Google Workspace.
Google Calendar information is available directly in the meeting so you can quickly get the agenda and meeting details.
Works with other conferencing solutions.
Teams using Skype for Business or conferencing systems based on SIP and H.323 standards (such as Polycom and Cisco) can join Meet conferences seamlessly through the Pexip Infinity platform.