Envoy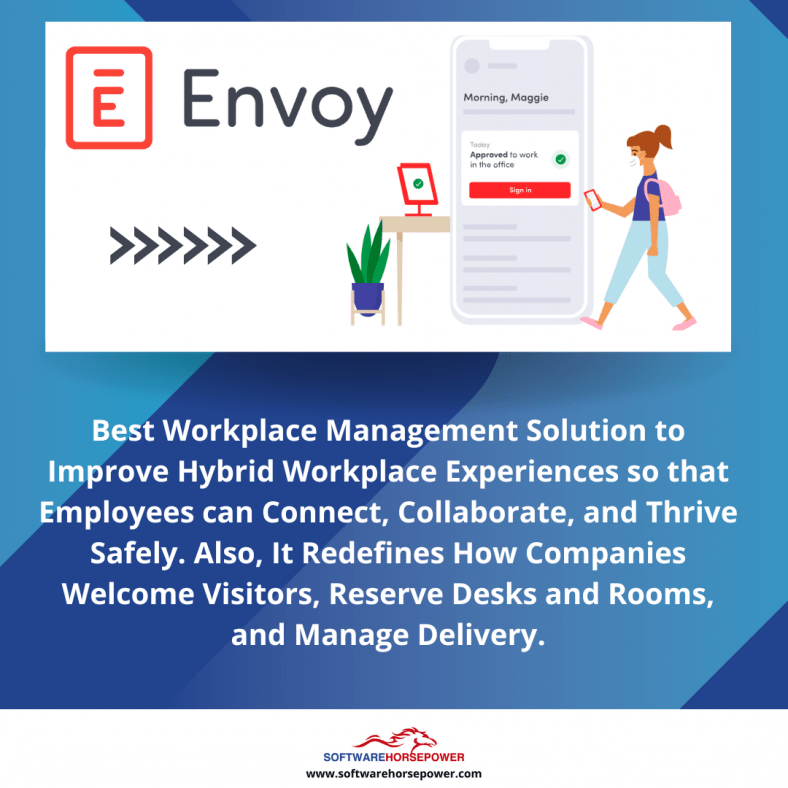 Welcome to the flexible workplace platform
Join thousands of companies that rely on Envoy to manage safe hybrid workplaces, so everyone inside can connect, collaborate, and thrive.
Manage hybrid schedules and keep employees safe.
Welcome guests while keeping people, property, and ideas safe.
Empower employees to reserve a desk in the workplace.
The enterprise-grade workplace platform
Solve workplace challenges faster with the platform that keeps employees and visitors safe, while ensuring your business stays compliant and secure.
Best practices for productive workplaces
What is workplace experience and why is it important?
Learn how to create a great workplace experience that makes your employees happy and drives better business outcomes.
The enterprise guide to workplace compliance
In this ebook, we'll show you what the compliance ecosystem looks like today so you can begin building an enterprise-wide compliance culture.
What is hybrid work and why do employees want it?
In this post, we'll explore the value of hybrid work and the steps you can take to ensure your employees transition to a hybrid workplace smoothly.
Great minds think differently.
Companies of every size, industry, and address rely on Envoy to transform their workplaces.
Meet the technology powering the workplace—wherever that may be
Envoy's platform and partners help get people back to the workplace faster and safer. Connect with out-of-the-box integrations for your every need—or use our simple API for everything else.
Instantly notify employees of every Envoy update directly or in specific channels on Slack.
Provision unique Wi-Fi network and password details for each Envoy visitor.
Easily sync employee details from Okta to the Envoy employee directory.
Peace of mind for you and everyone who enters your workplace
Welcome guests with the beautifully simple visitor management system that safeguards your workplace and supercharges your front desk.
See exactly who's visiting, when, and why. Know instantly if a visitor doesn't meet your criteria for entry, and promote a healthy workplace with a touchless sign-in and document verification.
Make hosting visitors seamless
No more scrambling to find employees when their guests arrive, handwriting name badges, and tracking down signed agreements. 96% of customers say that Envoy saves their team time.
Make a polished first impression
Show guests that you care about their experience from the moment that they're invited to visit. Send directions and parking instructions, wow them with a touchless sign-in, and survey them after about their experience–all in your branding.
The leader in visitor management
Easy to setup. Easy to use. Easy to love. See why customers voted Envoy the leading visitor management system on G2
Do more than just sign in visitors
Manage workplace capacity
Know how many people to expect each day and how many people are on-site at any one time so you can prevent overcrowding.
Enhance the candidate experience
Put job candidates at ease by sending detailed instructions in advance. Instant notifications let your recruiters know when candidates arrive, so they can greet them in a timely manner.
Track time in and time out
Know exactly what time contractors or employees start and end their shift to reduce payroll errors and save your accounting team time.
Accomplish more together in a safe, healthy workplace
Empower your team to work together in a hybrid work environment and rest assured they'll arrive and leave healthy.
See who's working when
Discover which days your project team, manager, or work friends plan to work on-site, so you can sync your schedules.
Set your workplace schedule
Reserve a spot in the workplace and let others know when they can find you on-site by selecting the days you plan to go in.
Certify that you're healthy
Upload proof of vaccination or a weekly negative COVID test, or complete a daily health check to confirm you're healthy.
Ensure employees and visitors are healthy
Verify health of employees and visitors through proof of vaccination, weekly COVID tests, or daily health checks.
Take control of who can access your building
Set criteria for who is not allowed to work on-site based on their responses to your questionnaire. Layer in extra security by connecting your access control system, so only healthy employees can badge into your workplace.
Plan to work as a team on-site
Empower employees to set and sync their schedules, so they can collaborate and make the most of their time in the workplace.
Ensure your team can work at a safe distance
Decide who can come on-site and where they're able to sit with Envoy Desks. Once an employee is approved to come in through Envoy Protect, we'll automatically assign them a desk for the day, so you can be sure that everyone has a safe space to work.
Create a workplace where people want to be
When you put care into your workplace, it shows. Design a place where everyone can feel safe and productive with Envoy's workplace platform—Protect, Visitors, Deliveries, Rooms, and Desks.
Bring your team together to do their best work
Employees can see their co-workers' workplace schedules right in the Envoy app. Then book the right desk or meeting room for the task at hand.
Keep everyone in your workplace safe and healthy
Prevent the workplace from getting too crowded—and employees from getting sick—with health checks and capacity limits.
Get a complete view of your office
Know who is planning to be on-site so you can right-size your space layout, staffing, and more to support your employees.
Easy desk booking software for the hybrid workplace
Empower employees to reserve a desk to collaborate on-site.