Caspio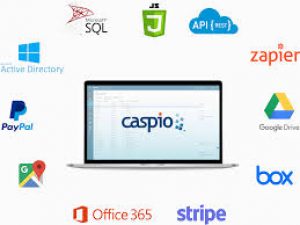 Caspio software
Intuitive Visual App Builder

Enterprise-Grade Database

Cloud-Based Platform
Build and Launch the Cloud Apps You Need Right Now
Slow and expensive software development is a relic of the past. Caspio's all-in-one platform empowers you to build the applications you need to your exact requirements — all within a highly secure and scalable cloud environment that reduces the cost and complexity of programming, hosting and maintenance.

Caspio provides an intuitive visual application builder that guides you through every aspect of creating sophisticated cloud applications. Create custom web forms, searchable databases, multi-user portals, interactive dashboards, automated workflows and much more — in a fraction of the time compared to traditional development.
By empowering citizen developers to create their own applications, Caspio sets a new standard for doing more with less. Align your frontline customer-facing teams, business operations and IT departments like never before. Automate processes, eliminate data silos and enable digital transformation — with fewer resources, smaller budgets and less strain on backlogged IT departments.

Using Caspio's modern low-code approach, you will launch custom applications faster than ever before, enabling you to reallocate precious IT resources and drive continuous improvement across the business.
Experience the Power of the Platform
Caspio's all-in-one platform provides everything you need to build sophisticated cloud applications — all packaged in a simple monthly subscription that automatically scales as your needs grow.
Caspio's point-and-click tools enable you to develop apps faster than traditional methods.
All Caspio plans include unlimited application users so you can budget and scale without arbitrary limits.
Leverage the power, scale and security of Microsoft SQL Server without any of the complexity.
Create database triggers and scheduled tasks to automate and streamline workflows.
Built-in security from the ground up: authentication, data encryption, SSO integration and more.
Caspio runs on Amazon Web Services for superior scalability and industry-leading cloud capabilities.
Extensive Features to Meet Your Exact Requirements
Whether you want to improve internal workflows, build a customer-facing portal or launch an entirely new service, Caspio provides feature-rich application development tools for any industry or use case.
Visual Application Development
Bring your ideas to life faster than ever before. Point-and-click tools save you time and effort as you create powerful applications customized to your exact needs.
More than a rapid development tool, Caspio is a strategic enabler for your business. The all-in-one cloud platform provides everything you need to launch scalable and secure applications through a guided step-by-step process. Deploy applications on any web property, whether it's a public site, intranet or CMS system via flexible embed methods.
Enterprise-Ready Platform
While business users appreciate the platform for its ease of use, IT experts value the enterprise-grade security, scalability and compliance.
Caspio's integrated online database is built on Microsoft SQL Server. As a Microsoft Gold Partner, Caspio provides unparalleled database performance, governance and security features such as audit trail and data encryption at rest. Additionally, Caspio runs on AWS, the world's most comprehensive and broadly adopted cloud infrastructure trusted by the most demanding global brands.
Powerful Automation Capabilities
No matter what you're building, Caspio makes it easy to embed process automation into every application so you can improve operations at scale.
Use visual drag-and-drop tools to streamline data-driven processes, apply business rules and optimize human workflows. Create sophisticated applications with conditional behaviors and automated triggers that you define using Caspio's intuitive logic builder.
Thousands of Integration Possibilities
With Caspio, technology is no longer a barrier between great ideas and business results. Tech-savvy users are free to extend their applications with common scripting languages like JavaScript, SQL or Caspio's REST API.
Rapidly integrate Caspio with your existing systems so everyone operates on a single source of truth. The platform provides powerful integration capabilities with popular services such as AWS, Zapier, Box, Paypal, Active Directory, SharePoint, Google Drive, Stripe and many more.

Enterprise Security & Compliance
Customers around the globe rely on Caspio to host their business-critical data and applications, ranging from large corporations and government agencies, to financial services and healthcare organizations.Caspio is designed to meet industry, regional and regulatory requirements for storing sensitive data. 
Modernize how you visualize data with our extensive chart library. Make real-time decisions using dynamic dashboards with user-driven filtering and drilldown capabilities.

Build custom forms to support all your data capture needs. Choose from a variety of smart fields for efficient data collection: conditional, auto-complete, cascading, encrypted passwords, real-time calculations and more.
Display date and time-centric information in monthly or weekly calendars to streamline event management, team availability and resource scheduling using a centralized database.
Streamline operations with automated workflows and notifications that make it easy to assign tasks, approve requests, initiate next steps and track status updates.
Build powerful location-based apps with Caspio's map integration, distance search, proximity calculations and geocoding services
Pivot Tables With Drilldown
Create summarization and cross-tabulation reports, similar to pivot tables in Microsoft Excel. Include an optional drill-down report that shows the data behind each summary value.
Create applications for different languages specific to your region. Your account is pre-loaded with 11 common languages, with the option to create more. All international number, currency, date and time zone formats are supported.
Embed Your Apps on Any Website
Embed your apps directly on any website, portal or CMS system. The interfaces display seamlessly on your own website, giving you a professional look with your brand front and center. Simply copy and paste the deploy code to go live.
As a Microsoft Gold Partner with SQL Server as our backend database, Caspio brings unparalleled performance, reliability and enterprise security features like audit trail and encryption at rest.
Caspio provides unmatched scale for millions of records, simultaneous transactions and unlimited users. The infrastructure runs on AWS, offering you best-of-breed cloud technology.
Use intuitive visual tools to design table relationships. The database supports various join types, referential data integrity, lookup fields, cascade update/delete functions and more.
Use common data types such as text, number, file, date/time and list, plus a variety of smart fields like formulas, encrypted passwords and random IDs.
Streamline document management with built-in features like file upload, versioning, bulk actions, image resizing/rotation and CDN delivery.
Efficient Data Import/Export
Migrate existing data sources from Microsoft Excel, Access and SQL in minutes. Import data using bulk processes and various file types (txt, csv, xlsx, mdb).
Automate Business Processes in Real-Time
Fulfill the control, efficiency and automation requirements of your business. Using Caspio's drag-and-drop logic builder, you can enhance your apps with custom workflows, database triggers and scheduled tasks.
Design workflows that automatically trigger based on custom logic or pre-defined schedules. Automate business rules, data calculations, approvals, report notifications and more.
Email and SMS Notifications
Send automatic email and SMS notifications from your applications, database triggers or tasks. Use drag-and-drop tools to customize your alerts for different users and record updates
Automated Data Import/Export
Set data import/export schedules using connectors that move your data between Caspio and cloud repositories like AWS, FTP, Box, Dropbox, Google Drive, OneDrive and more.
Integrate, Extend and Customize Your Apps
Connect your data with thousands of cloud services using Caspio's built-in connectors. Customize your apps even further with industry-standard technologies such as HTML, CSS, JavaScript, SQL and REST API.
Automate data movement between your Caspio account and popular cloud storage repositories like AWS S3, Box, Dropbox, Google Drive and Microsoft OneDrive.
Build sophisticated e-commerce applications with secure and PCI-compliant payment processing using Caspio's built-in integration with Paypal Checkout and Stripe.
Our Zapier integration allows you to connect data and workflows with over 3,000 cloud apps like Office 365, Salesforce, Mailchimp, Google Sheets and countless others. The possibilities are endless!
With a flip of a switch, you can serve non-sensitive files from a global Content Delivery Network for the fastest possible performance.
Use our REST API to extend your applications further using the programming method of your choice — there's no proprietary languages to learn.
Caspio makes it easy to customize your apps by inserting standard scripting languages such as HTML, CSS, JavaScript and Microsoft SQL.