wasabi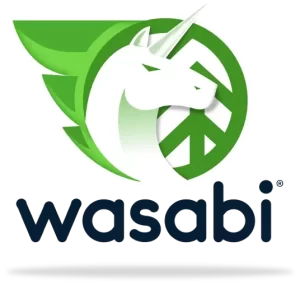 Protects Against Ransomware
80% Less than Amazon S3
No Fees for Egress
Why is Wasabi the World's Hottest Cloud Storage?
Wasabi Technologies is on a mission to store all the world's data by making data storage simple, affordable, fast and secure.
Wasabi raised $125 million in Series D equity led by L2 Point Management with participation from Cedar Pine; an affiliate of Cerberus Capital Management; and returning investors including Fidelity Management & Research Company and Forestay Capital


When ransomware strikes, it's not your data that's at risk, but your whole business. A robust data protection strategy with immutability and offsite backups can be the difference between business as usual and all operations grinding to a halt. The processes that protect your data from ransomware are simple to implement and inexpensive compared to the potential cost of ransom payment (not to mention days to weeks of lost productivity).
Veeam® Backup for Microsoft
Veeam® Backup for Microsoft 365 allows for backup and recovery of Exchange, SharePoint, and OneDrive for Business data. Veeam® Backup for Microsoft 365 now supports cost-effective, S3-compatible cloud object storage and is validated for interoperability with Wasabi Hot Cloud Storage. Wasabi provides the benefits of cloud object storage, offering your backups.

Solve any business problem with Wasabi
Wasabi's S3-compatible API seamlessly integrates with your existing data solutions to future-proof your cloud strategy.
Wasabi Hot Cloud Storage for Enterprise offers significant price and performance advantages over public cloud storage services from Amazon Web Services, Google Cloud Platform and Microsoft Azure.

Enterprise Class Security
Wasabi Hot Cloud Storage for Small Business offers all of the big business benefits without the high cost and complexity of cloud storage from other public cloud providers like Amazon Web Services, Microsoft Azure, and Google Cloud Platform
Robust Security and Reliability
A hot new data storage solution for the public sector. Wasabi is ideal for Federal, State and Local government agencies and Higher Ed.