Vendasta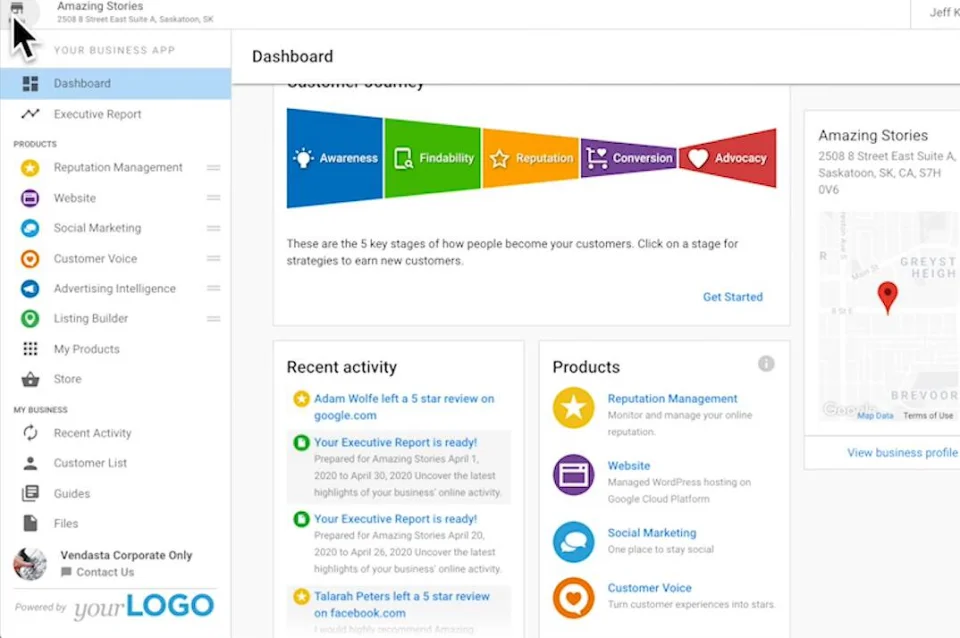 Vendasta Software | Project Management Software
The all-in-one platform for companies selling to local businesses
Everything your team needs to help local businesses succeed
Scale your business, not your costs
Provide an incredible customer experience via one portal
The all-in-one platform for companies selling to local businesses
Find products to sell, market with ease, and fulfill under your brand. With Vendasta, you can deliver an amazing experience for your customers and truly make a difference.
Everything your team needs to help local businesses succeed
Build a store from our Marketplace of 250+ curated products. With Vendasta, the research is done for you—find crucial new products and services, get up-to-speed fast, and expand your offering through our white-label Marketplace.
Offer new products and services alongside your own
Best-in-class products at wholesale prices
Go to market fast with built-in assets and collateral
Market a robust and diverse product offering under one login
Scale your business, not your costs
Make it easier to run your business more efficiently with 
agency management software
 for marketing automation, CRM, task management, billing and fulfillment. No need to patch together different products and apps: with Vendasta, you can do it all in one place, and make selling to local businesses friction-free.
Discover new and upsell revenue opportunities
Get paid fast and on time
Trigger smart and repeatable marketing actions
Manage your team, hit deadlines, and make smart predictions
Provide an incredible customer experience via one portal
Be the only trusted expert your clients will ever need. Simplify their lives by providing a brandable client portal with one password, one bill, and one portal that allows them to do everything they need to manage their online presence.
Build your brand by providing everything under your company name

Structure reports, notifications, and processes to tie everything together in real time

Deliver technology solutions to your customers and generate recurring revenue

Acquire, retain, and grow your customers by being the most essential piece of their business
Start your free trial today!
Access the full Vendasta system with all the products, services, and solutions you need to take your business to the next level with our free 14-day trial. Recognize ROI fast, and become the most indispensable asset and extension of the team for your local business customers.
Attract, acquire, and convert local businesses that are ready to buy
Put your marketing efforts on autopilot and let Vendasta's award-winning Platform power your company's growth with more—and better—leads.
Find Out How Marketing Automation Can Fuel Your Business
Custom content in just a few clicks
Quickly generate powerful, customized content that shows local businesses exactly where their biggest online presence opportunities reside.
Turn outbound into inbound
Create unique inbound campaigns that bring customers to you with all of the customization and effect of reaching out directly.
Go-to-market at lightning speed
Get continually updated marketing collateral from third-party vendors, integrated and ready to use with your existing campaigns.
Market and sell while you sleep
Build smart automations to trigger virtually any action and deliver almost any kind of outcome.
Market Attract More Customers
Go-to-market at lightning speed
With just a business's name and phone number, you can generate a hyper-customized, in-depth report highlighting prospect pain points. These insights make for powerful and persuasive sales pitches, build trust, and establish the need for your products and services.
Outbound Campaigns. Inbound Results.
Vendasta merges the scalability of outbound marketing with the efficacy of inbound. While you may be sending to hundreds (even thousands!) of prospects simultaneously, campaigns you create with Vendasta include personalized information and deep research and that turns heads and gets clicks.
Remarkably Fast Go-to-Market
Find crucial new products and services, get up-to-speed fast, and expand your offering through our white-label Marketplace. These best-in-class products at wholesale prices come with built-in assets and marketing collateral. Now you can offer your clients everything they need, under one login.
Market and sell around the clock
You don't have to live that #hustle lifestyle to be successful—we're all about working smart. Leave your marketing campaigns running and your online store open, 24/7. Put our tech to work so you can focus on running your business.
Drive more revenue while creating a beautiful customer experience
Start sending emails in seconds
Use our templates to create beautiful HTML email campaigns in under a minute. Responsive, tested, optimized, and mobile-ready.
Design emails from scratch with a simple drag-and-drop editor
Make tweaks to ready-made, proven campaigns
Acquire more customers, increase product adoption, and find upsell opportunities
Use the Snapshot Report to capture the attention of prospects, highlight gaps in their marketing, and propose the optimal solutions.
Show a business's marketing performance in several categories
Automatically add custom scores to each email campaign delivered
Proven to work; enjoy open and click-through rates above industry benchmarks.
Know who to sell to & when
Vendasta's "hot lead" scoring system shows your team which business prospects are engaging. And Snapshot Report lets you present the perfect solution.
See how "hot" a lead is with configurable one to three flame ratings
Get detailed insights on where and when your prospects are engaging
Know exactly when to reach-out with in-product and email notifications
Easily create new, highly detailed prospects in your account with Vendasta's Marketing Automation pulling business info right from Google.
Add any number of new accounts, and sit back as Vendasta populates their details
Save time and let Google fill-in essential information about your prospects
Go to market quickly with the most accurate prospect information
from Google
Import your list of local business prospects
Use Vendasta's easy-to-use uploader to transfer your full list of prospects from your existing CRM.
Simple CSV template with built-in field mapping
Let Vendasta's integration with Google fill-in additional prospect details
Take bulk-actions on lists of prospect accounts; create Snapshot Reports, launch campaigns, and (much!) more
Entice prospects right on your website
Install Vendasta's lead capture widget directly on your main website and start converting more local businesses to paying clients.
Easy setup, no coding required
Customizable to your company's voice and brand colors
Draw prospects in by delivering them a customized Snapshot Report for their business
Close more deals in less time with a CRM software designed for local experts
Vendasta's CRM software streamlines your team's pipeline and aligns tasks, setting you up for success. Find and nurture leads with intent, and move them through the funnel faster. Prioritize the right opportunities at the right time, and accelerate your company growth.

Know what to sell and when
Know what your local business prospects need before they do with Vendasta's AI-powered Sales CRM. Vendasta's CRM continuously analyzes data and extracts insights that power your sales pitch and create urgency.
Conduct your sales team like a maestro
With built-in tools like leaderboards, pipelines, meeting scheduling, and task management, you can organize your team better than ever, all without complex integrations. Find, nurture, and convert prospects to close deals faster.
Free your sales people to sell
Stop digging through spreadsheets, searching documents, and building collateral. With configurable automations and up-to-date sales collateral that's right every time for every customer, your sales team can finally focus on selling.
All-in-one sales platform
Expand the functionality of Vendasta's Sales CRM with our suite of world-class software integrations that are automatically connected. When your CRM works with your marketing, your processes, and even your fulfillment, you'll close more deals in less time.