Unbounce
Unbounce software
Smart Builder
Preview Smart Builder
Apps and Integrations
Landing Pages
Popups and Sticky Bars
Landing Page Templates
Smart Copy Templates
Smart marketing tools to grow your business
Turn more of your visitors into customers. Unbounce is the AI-powered landing page builder with smart features that let you create beautiful, high-performing marketing campaigns in just a few minutes.
The State of AI Marketing for Small Business
Break free of AI skepticism with a report filled with insights from 400+
small businesses. Learn about the challenges they face, what tools they use, and how AI is helping—today.
Build landing pages faster with AI
Unbounce landing pages have helped businesses turn billions of visitors into leads, sales, and signups. (Literally.) Combining that data with AI, Unbounce lets you create custom landing pages twice as fast as old-school builders.
Improve your results with the click of a button. Unbounce routes your visitors to the best landing page for people like them and—on average—gets you 30% more sales and signups.
Writer's block is so… Uh, what's the word? With AI copywriting tools, you can instantly generate, remix, and expand content for anything—like landing pages, ads, emails—in second
And optimize your traffic
Unbounce landing pages have helped businesses turn billions of visitors into leads, sales, and signups. (Literally.) Combining that data with AI, Unbounce lets you create custom landing pages twice as fast as old-school builders.
Get more customers from every channel
Search, social, email—and everything between. However you market your brand online, Unbounce lets you create visitor experiences that get more people buying whatever you're selling.
Google isn't a wishing well. By pairing each ad with a dedicated landing page, you can increase your quality score, reduce your cost per click, and turn your search dollars into real results.
You don't need to slide into their DMs. Send your Facebook, Instagram, and LinkedIn visitors to targeted, mobile-optimized landing pages that persuade them to make the first move.
Unsubscribe from unsubscribes. Match every email campaign with a relevant landing page to give your visitors the clearest path from inbox to action. (And so you don't end up in "Spam.")
No matter how you grow, we can help
Your business is unique—and so is the way you grow it online. Whatever you want to achieve with your marketing, Unbounce has a solution that can help you do it better, faster.
Sell products and services
Grow your online store with landing pages built to sell. Connect ecommerce tools to showcase your products and accept payments right on your page, simplifying your buyer journey
Collect leads and signups
Expand your email list, fill your sales pipeline, and get new customers. With form-based landing pages, you can capture visitor information and keep your marketing funnel full.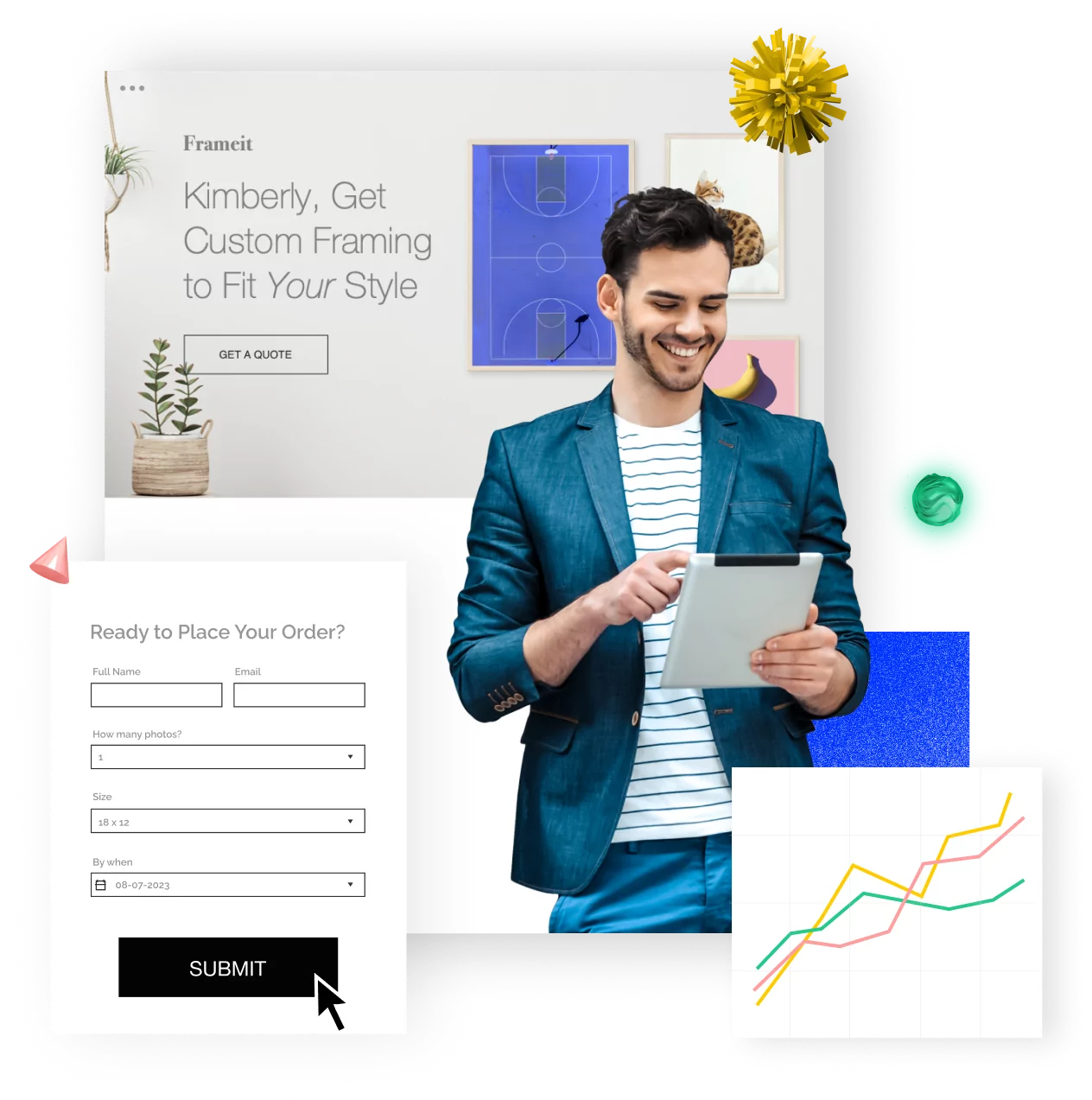 Create landing pages and marketing campaigns that get your small business noticed. Best part? You can do it all yourself—without copywriters, designers, or developers.
Grow your marketing agency
Once you get clients, keep 'em. With customizable landing page templates and smart optimization features, you can launch high-converting campaigns at mad scale.
We're with you all the way
Don't just grow—grow smarter. We've got an award-winning customer success team, an active community of
supportive marketers, and loads of educational resources to help you grow your business the right way.
Build your landing page in minutes
Landing pages are the best way to get more leads, sales, and signups out of your marketing campaigns. When you create pages with Smart Builder, you get data backed recommendations on what works—so you can create high-performing campaigns in a
fraction of the time.
Add more functionality with Unbounce apps
Whether you need your landing page to sell products, accept payments, or collect leads, Unbounce Apps help you do it all—without even having to code. Connect the tools you already use (and discover new ones you'll love) so you can get your visitors to take action without ever leaving your page.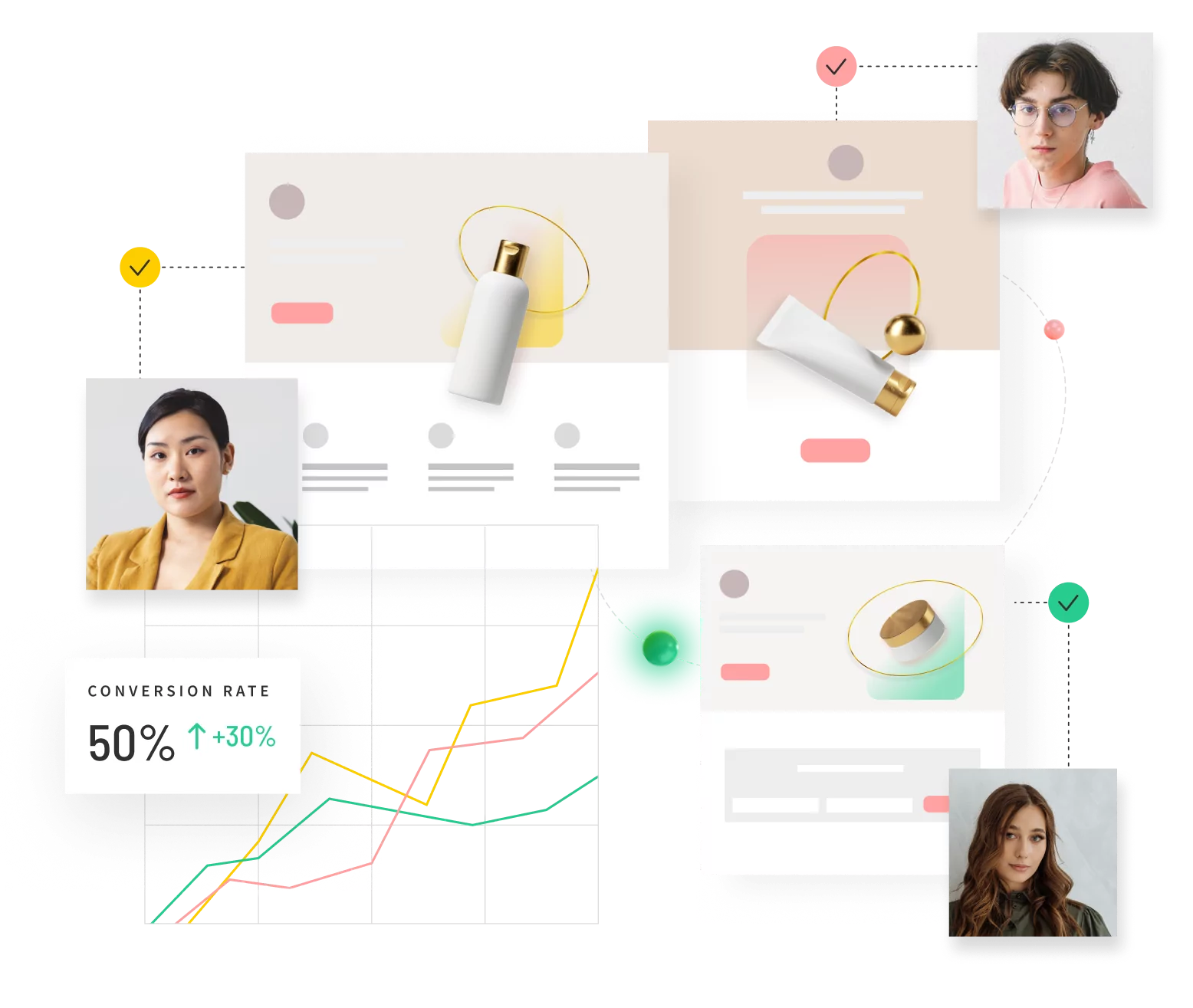 Send visitors where they're gonna convert
Smart Traffic fuels your campaign by automatically connecting visitors with the landing page that best matches what they're looking for. When you use Smart Traffic with Smart Builder, your visitors feel like the experience has been built just for them—so they're more likely to convert.
Whether you're collecting emails for a newsletter or promoting a webinar, Smart Builder lets you quickly create persuasive landing pages with forms that get more leads and keep your marketing funnel full.
Showcase your products and accept payments with landing pages designed to increase your sales. Smart Builder connects to your favorite ecommerce apps and shortens your visitors' path to purchase.
Build relevant landing pages for search and social ads to earn more revenue from every dollar you spend. When your ads get paired with tailored landing pages, they create consistent experiences that convert.
Build your landing page in minutes
The Unbounce Smart Builder pulls data from over 1.5 billion industry conversions to help you optimize right as you build. In this interactive demo, you can click to see machine learning in action and generate higher-converting headline options for a sample landing page.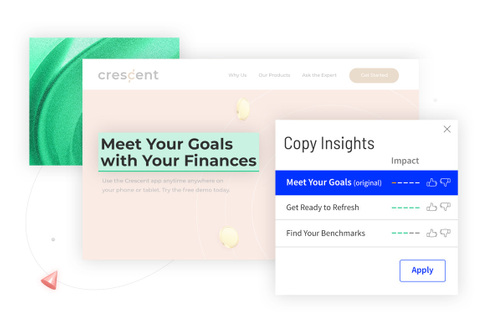 Enter just a few lines of text and get inspiration and recommendations on high-converting copy based on your message, audience, and tone.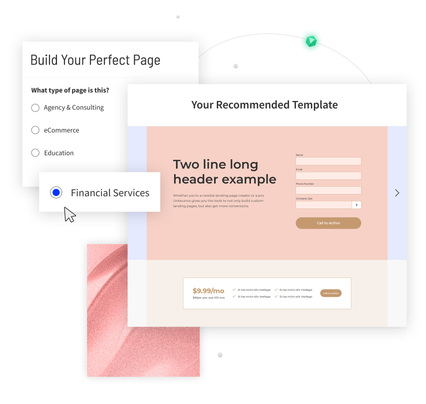 Swap out generic templates for dynamic layouts that are designed to convert. Design Assistant curates the perfect look for you based on your industry, audience, and goals.
No developers or coding required
No developer? No designer? No problem. Create on-brand, eye-catching landing pages with customizable sections that snap into place—no coding needed.
Match any design or brand
Make sure you're always #onbrand. With the Smart Builder Styleguide, you can easily save typography, colours, and imagery across every landing page you create.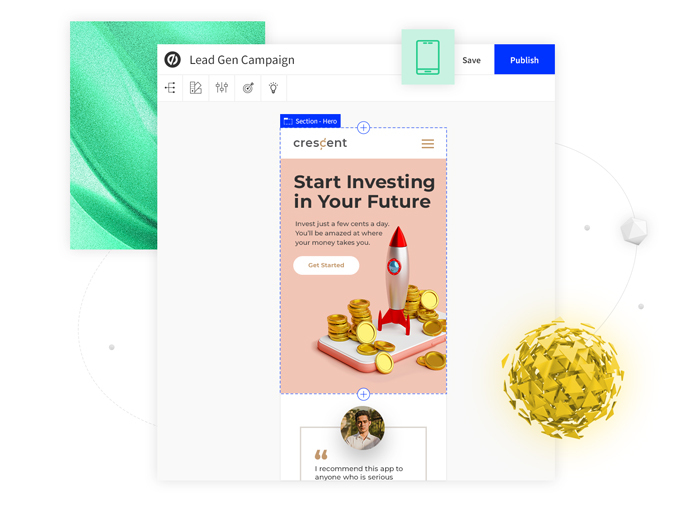 30% more conversions? Tell me more.
One landing page won't convert all your visitors—you know that as much as we do. By creating multiple variants and turning on Smart Traffic, you connect every prospect with more relevant experiences—upping your chances of conversion.
*Customers see an average 30% conversion lift compared to a standard A/B test.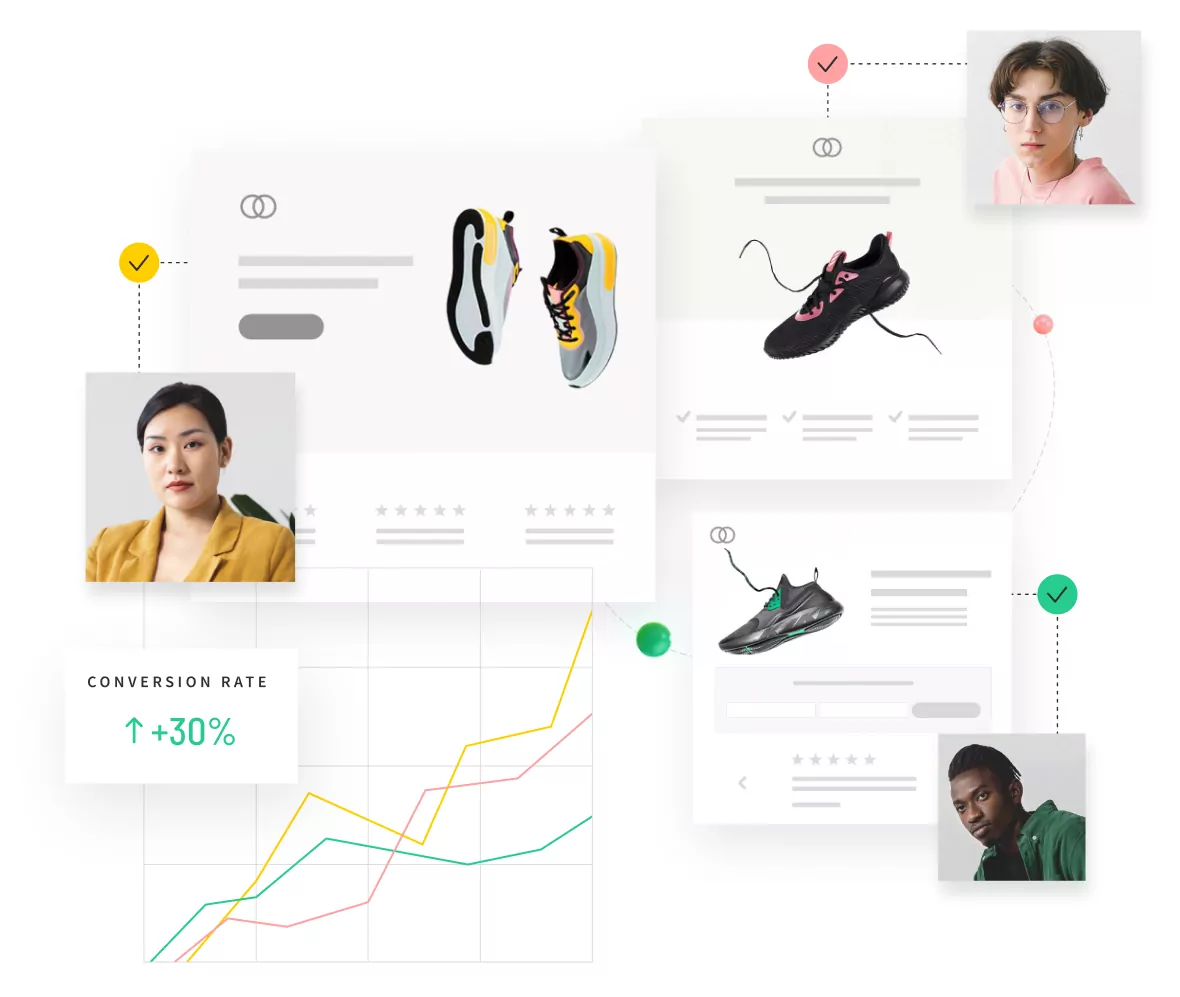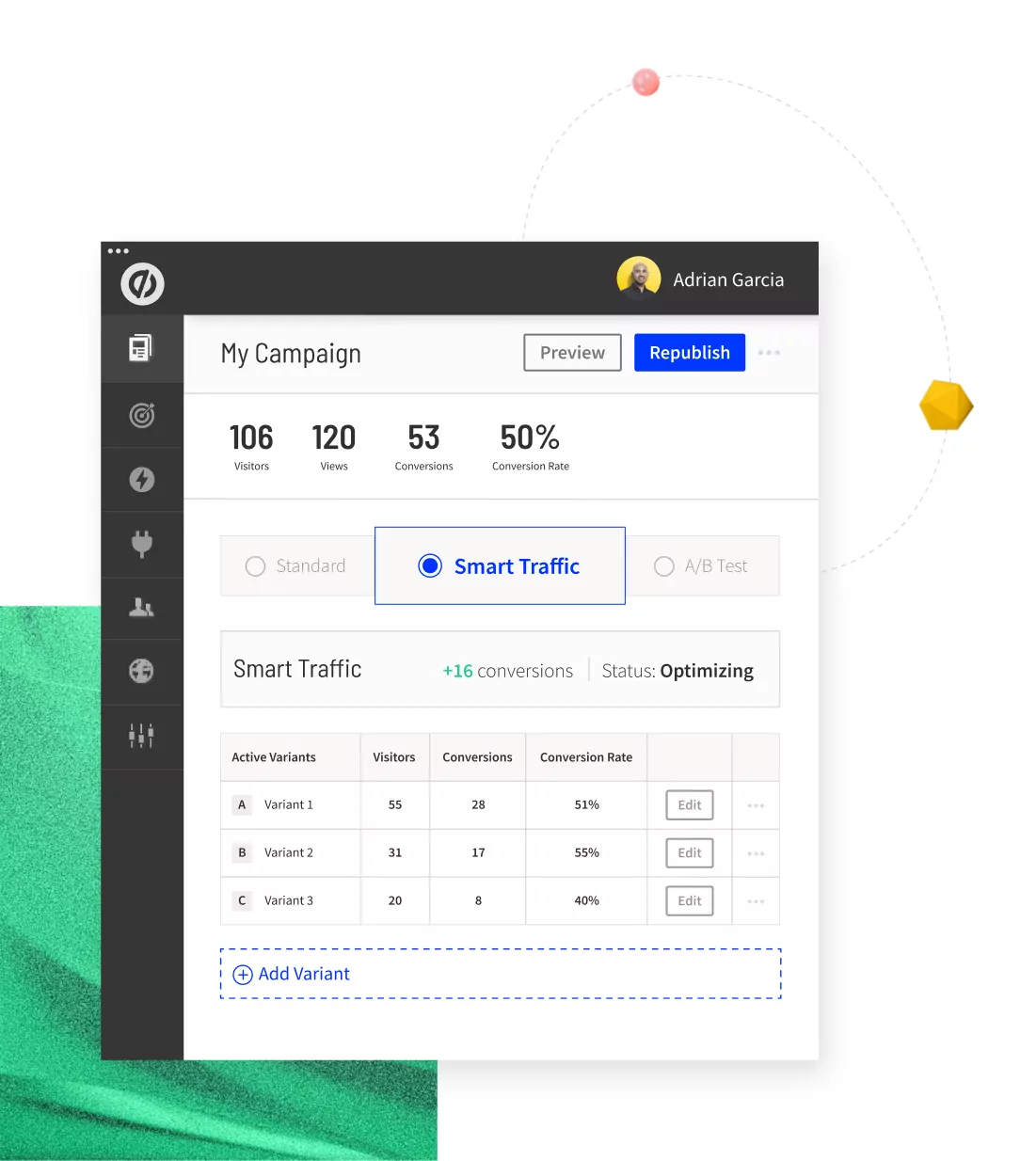 Small business marketing, big business energy
That's right—you don't need a deep pocket or team of marketing specialists to get Smart Traffic up and runnin'. With a click of a button, you can set it and forget it. Swap out endless testing cycles and wasted ad spend for optimization on autopilot.
Optimization for today— and tomorrow
Best practices are stale practices. Now, you can stay up to date on your customers' evolving preferences. Smart Traffic dynamically tracks conversion patterns, which means it can detect changes in visitor behaviors right away. With insights like these, your marketing will never go out of style.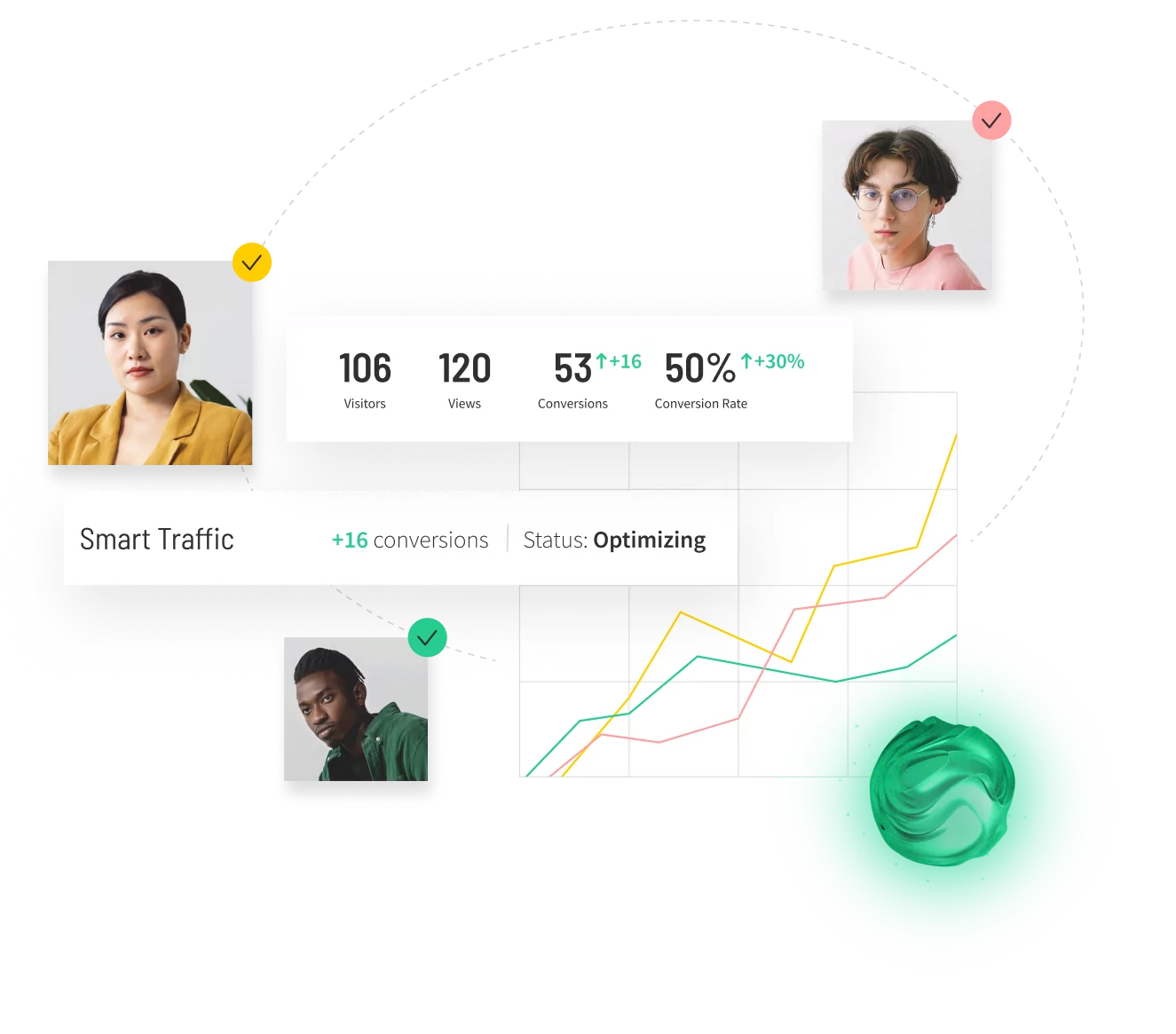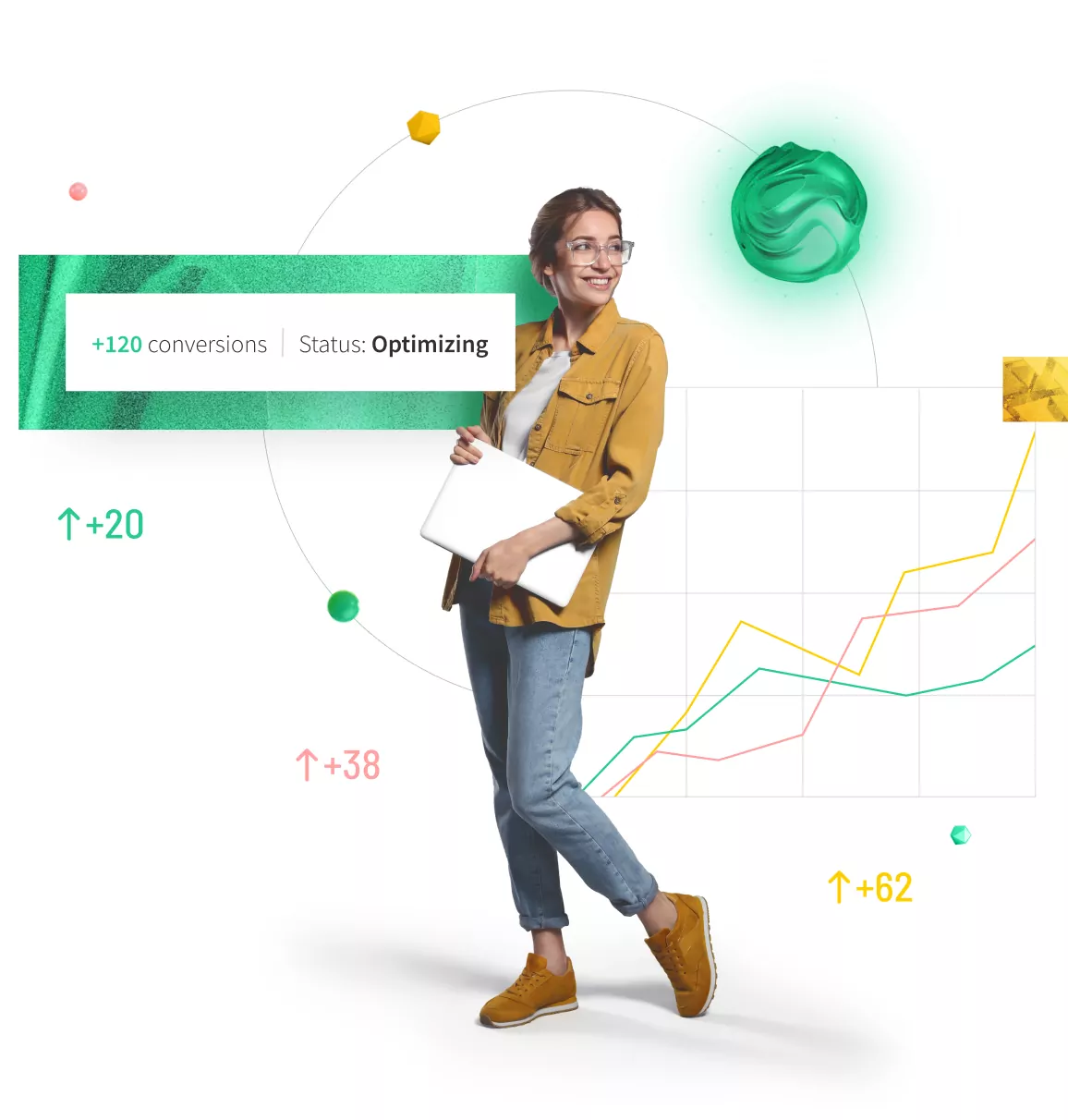 Say hello to your new potential
Even when you sign off for the day, Smart Traffic is still working to get your message in front of new prospects—exposing your brand to audiences, segments, and verticals that you may have never discovered on your own. Get excited to wake up to new growth opportunities.
Grow smarter with Smart Traffic reporting
Got questions about your campaign? We've got answers. Smart Traffic Reporting provides a peek into high-performing (and low-performing) variants and traffic segments. With data like this, you know where to focus your efforts and drive the best results. (And that's the beauty of conversion intelligence.)
When one variant isn't performing well, Smart Traffic will suggest deactivating it so you can focus your budget on higher-performing variants. No more wasted ad spend—let's make every click count.
When lots of your visitors exhibit similar conversion behavior, Smart Traffic will highlight their attributes in common—so you can keep optimizing for your audience.