AdvantageClub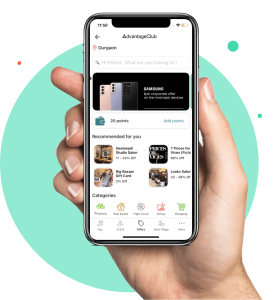 Rewards & Recognition
Communities
Early Wage Advantage
Sales Contests & Automated Incentives
Ace Employee Engagement & Financial Wellness

Global platform for Employee Engagement, Recognition and Communities.
One Platform, Multiple Solutions
Sales Contests & Automated Incentives
Revolutionizing Rewards & Recognition Programs To Appreciate Employees For A Job Well Done!

64% of employees feel they do not have a strong work culture
51% of employees are actively looking for new jobs or looking for vacancies
Gallup estimates that employees Only 1 in 3 employees received days done in the last 7 years whose work has not been well evaluated or praised.
50% of employees believe that their boss has not only improved relationships but also built trust in them.
All Your Recognition Programs in One Place
We operate various recognition programs with redemption options offered in over 100 countries
Milestone/Anniversary/Years-of-Service Awards
Real-Time Recognition/Spot Bonus
Peer-to-Peer Appreciation
On-Boarding Programs
Wellness Programs
Personal Achievements
Quarterly & Annual Performance Awards
Birthday & Holidays
Any Gift Card Program

Sales Contests & Automated Incentives
Automate incentives and recognition for sales teams, agents, distributors, and channel partners.
How will ADVANTAGE CLUB "Sales Contests & Automated Incentive" help?
Automate reward payouts each time each user hits a goal.
Integrates with your existing he PMS/CMS system and eliminates the need for manual intervention.
Create contests for specific audiences with live view of achievements and milestones.
On-the-go redemption and visibility with 10,000+ point redemption options.
An issue tracking system is a software application that allows you to record and track the progress of each customer ticket or "problem" in your inbox until the issue is resolved.
How will ADVANTAGE CLUB "EWA" help?
Advantage Club's Early Wage Advantage (EWA) allows employees and contractors to track and access a portion of their paycheck in real time any time before payday.
Take advantage of our free long-term financial wellness solution for your employees
Highly compatible with your existing payroll, HRMS or ERP
The status of working capital stays unchanged and manage withdrawals.
Financial wellness indicator
Get analytics on employee productivity and hidden turnover costs.

Improved employee morale
Reduced absenteeism
Improved retention
Improved productivity
Superior ability to recruit new employees
Positive Employee Experience
Instant access to your earned money
No credit check required
No change to payroll process
No interest* (T&C)

Build a culture of financial freedom
Improve recruitment and retention by offering your employees unique company benefits/discounts.
How will ADVANTAGE CLUB "Perks" help?
Increase your employees' annual savings with offers and perks in all areas of life.
Long Term Deals Advantage
Enjoy long-term bnefits with our year-round offer.
Add personalization features to receive notifications of nearby offers.
Dashboards let you get all your headcount, total savings and more in one place.
Create an internal buying and selling marketplace, connect like-minded employees through various hobby clubs, and let people participate and have fun in casual games.
How will ADVANTAGE CLUB "Communities" help?
Buy/sell from people within the same organization who you trust more.
Post/search classified ads to run garage sales, find roommates, carpools and sublet apartments.
Create group clubs for photography, parenting, cooking, hiking, book clubs and more.
Members can participate in events, post images/text/links of videos, likes and comments.