Deskera books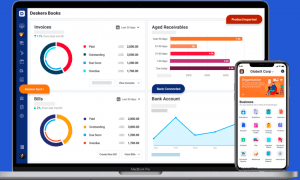 Deskera books software | Free Accounting Software
Manage Sales and Orders
Take Charge of Your Inventory
Easy Online Accounting
Quick and Easy Setup
Create and Send Invoices
Powerful Accounting
Deskera Books
Online invoicing, accounting & inventory software for your business. Create invoices, track expenses, get a real-time view of your inventory and view financial reports when and where you need them.

Invoicing, Accounting & Inventory for Small Business Owners and Bookkeepers
Impress your customers with professional invoices. Delight them with on time and accurate order delivery and make life easy for them (and yourself) by accepting online payments.
It's how your sales team beats the competition
Automate your sales, marketing, and customer support in one platform
✓ Sell more on-the-go with our award-winning mobile app
✓ Simple and intuitive interface that requires minimal training
✓ Make smarter business decisions with real-time analytics on the dashboard
✓ Get real-time notifications for overdue activities with web and mobile applications
✓ Easily import your existing data from spreadsheets within seconds
✓ Manage your data visibility
✓ Create professional email templates
✓ Create segments and send personalized emails
✓ Brand your helpdesk by uploading logo and banner
✓ Improve performance with team activity management
Frequently Asked Questions
How does the 15 day trial work?
You have full access to the selected product and plan features during the 15 days. You can invite your team-mates and other users to be a part of the trial w/o restrictions.
What will happen to my account once the trial is over?
Don't worry, we will remind you when your trial is about to end. You can choose to subscribe to any available plan and enter payment details for the account to remain active. In case you choose not to subscribe within the trial period, the individual products will be inaccessible. You will still be able to go the Admin section and can choose to subscribe for any available plan and it will give you the appropriate access.
How often will I have to pay for renewal/subscription?
The payment frequency will depend on the subscription contract you choose. We have two options, Annual and Monthly. If you go for an annual subscription, you will get an immediate 20% off and will have to renew only after the annual subscription period is over. If you go for a monthly subscription, the payment will be charged each month.
Can I upgrade/change the plan any time?
You can upgrade/change any time and we will adjust the difference. Please note that if you are moving to a lower plan, you may end up losing access to some of your data/features that may be available only in the higher plans.
When will you start billing me?
Your billing will start as soon as you enter your payment details in the system.
We use TLS security encryption which is the industry standard for transmitting data safely over the Internet.