Dashlane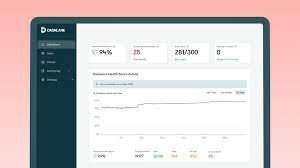 Dashlane software | Fraud Detection Software
Your Password Manager And More
From passwords to personal info, Dashlane is the simple solution for protecting all your data. Get started with your trial today.
Designed for a safer life online
Enjoy seamless deployment, simple employee management, and customizable security settings like 2FA and single sign-on.
Dashlane is easy for employees to use, which means stronger security for the entire business.
Create employee groups for secure password sharing and increased productivity.
Log in the first time, every time
Securely store and autofill unlimited passwords, payments, and personal info.
Be the first to know about breaches
And take action if your info is not where it's supposed to be with personalized security alerts and Dark Web Monitoring.
From Free to Family, we've got a password manager plan with the features you want and security you need.
How to Create a Culture of Security in Your Organization
Dashlane security experts Scott Jaworski and Quentin Delory show you how to create a culture of security in your organization and empower employees to do their part.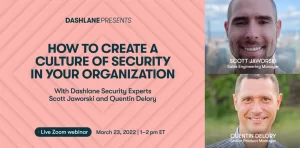 Get resources, commentary, and product tips from the cybersecurity experts at Dashlane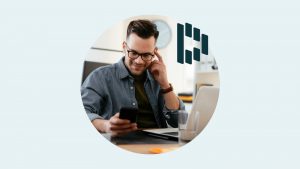 Ushering in the Passwordless Future at Dashlane
With a passwordless future on the horizon, Dashlane is excited to introduce integrated passkey support in our password manager and unveil the first in-browser passkey solution.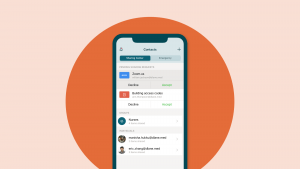 A Guide to Password Management in Healthcare
How healthcare companies can best protect their organizations, employees, and patients with a password manager.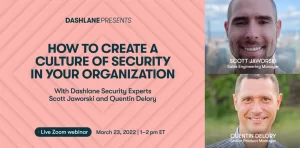 Is a Passwordless Future on the Way? What You Should Know About FIDO-Based Authentication
Is a Passwordless Future on the Way? What You Should Know About FIDO-Based Authentication
Trusted Business Password Manager
Password management that's good for your business, your team, and for you. Improve passwords, productivity, and peace of mind—all with Dashlane.
For seamless deployment, simple employee management, and a best-in-class security architecture that has never been hacked.
For being an easy-to-use business password manager that won't get in the way of their work.
Set your team up for security success
Securing your company's data starts with each individual employee. It's why we designed Dashlane business password manager to be easy for you to deploy and simple for your team to use—no matter how tech savvy they are. Between our Password Generator, powerful autofill, and syncing across all devices, it's never been easier for your team to manage their passwords.
Employees can securely share encrypted passwords with individuals or groups—instead of sending them unsecurely over email or Slack.
Your team can keep business and personal credentials separate with Smart Spaces. Admins can monitor the password health in an employee's Business Space, without compromising the privacy of their Personal Space.
Every employee gets an individual Password Health Score that gives them a breakdown of weak, reused, and compromised passwords. Plus, personalized security alerts will let them know anytime a breach may affect their data.
Pair Dashlane with your identity provider
Get the most control over your company data by integrating Dashlane business password manager with your SSO provider—and simplify how your employees sign in.
Oversight without the overhead
Onboard new team members, manage permissions, and monitor security issues all from the Admin Console. Plus, Dashlane is the only business password manager with a reporting dashboard that allows you to pinpoint password problems, encourage action with specific employees or teams, and track changes over time.
U.S.-patented security architecture
Dashlane secures your data with a patented security architecture and AES 256-bit encryption, the strongest method available. Two-factor authentication (2FA) is built into Dashlane by design, and we're compatible with your favorite mobile authenticator apps or U2F keys.
Easily ensure compliance across your organization by enabling one-click policies for 2FA, offboarding employees, data encryption, and more.
Automated employee management
Rest assured that when an employee joins, you know they have all the passwords they need to get started—and when they leave, they won't be taking any business passwords with them.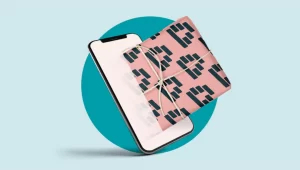 Security and Privacy When You're Holiday Shopping
These holiday shopping cybersecurity tips will keep you safe from Black Friday through Cyber Monday and all year round.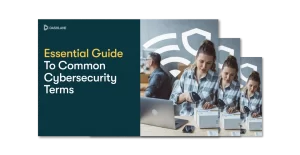 Essential Guide to Common Cybersecurity Terms
Get a breakdown of common cybersecurity terms to help you gain a better understanding of the basics.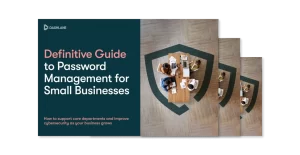 Definitive Guide to Password Management for Small Businesses
How your small business can support core departments and improve cybersecurity with a password manager</p>
The App that Makes the Internet Easier
Dashlane fills all your passwords, payments, and personal details wherever you need them, across the web, on any device.
So you can get right to what you want to do.
No roadblocks. No stopping.
Yes, we're a password manager.
But we can radically simplify your whole life online.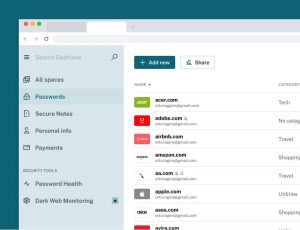 Every Password, Everywhere
Save passwords and logins as you browse.Store an unlimited number of passwords and access them anywhere.Sync your Dashlane data to every device automatically, whether you're an Apple diehard, an Android addict, or any combination in between.
Autofill the right username and password on every account, every time.Fill addresses and other forms with a click.Stop searching for card numbers, and make every checkout a breeze.
Purpose-Built For Privacy
We're the industry leaders in security.
You can count on us for alerts about breaches and hacks that affect your data—and learn how to take action.Other companies don't store your data safely because it's not their job. At Dashlane, it's what we do.
We believe you should control your data. That's why we've designed Dashlane so that we can't see the information you store in it. The happy consequence? Unlike a lot of tech companies, we don't make money by selling your data. And unlike keeping your passwords and personal info in some dark, mysterious cupboard in your browser, with Dashlane, you have easy access to everything on any device.

You don't have to trade Big Tech convenience for privacy and peace of mind. Dashlane gives you both.