Confluent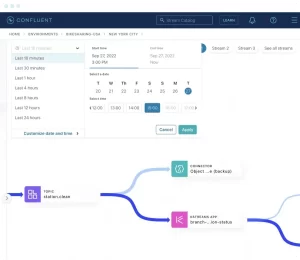 CUSTOMER 360
FRAUD DETECTION
MICROSERVICES
HYBRID AND MULTICLOUD
Your 
business
 is in 
stir
. 
Now
, you 
have
 a data 
platform
 for it. Confluent makes it 
easy
 to 
connect
 your apps, data 
systems
, and 
entire
association
 with 
real
– 
time
data flows and processing.
Endless Possibilities. Limitless Use Cases.
Empower every team to create real-time value. Explore a few popular use cases.
Connected Customer Experiences
When your customers' communications and relations are isolated in specific platforms, you must meticulously amalgamate data sources for a solitary customer fact. Or you can use Confluent!
With Confluent, seize and process customer associations as they come about. Uncover an abundant view of their steps and preferences and relate with them in the most significant ways, customizing their encounters, over every platform, without delay.


Real-time Fraud Detection
Data that can be used to combat fraud is often stored in isolated databases that don't communicate with each other, and when they do, the data is processed in batches. This can slow down insights and prevent unauthorized activity in real-time.
With Confluent, you can connect to all the data required to analyze, detect and prevent fraud in real-time. This will give your machine learning systems continuous streams of data so that they can score transactions faster, keep your customer's digital identity up to date and immediately alert you on any abnormalities.
Event-driven Microservices
Microservices are the latest development trend providing greater agility for fast innovation.
Confluent enables decoupling of your microservices, which standardizes communication between them and eliminates the need to maintain independent data states. This new class of microservices is highly scalable, resilient in design and context-aware.


Data Mobility Across On-Premises and Cloud
Moving applications to the cloud is a complex undertaking. And because some applications can be linked to your legacy systems, migration may not even be an option.
With Confluent, embrace the cloud at your pace and maintain a persistent data bridge to keep data across all on-prem, hybrid and multicloud environments in sync. Incrementally migrate to the cloud, enable developers to access the best-of-breed cloud tools, and build next-gen apps faster.
We Are the Only Company Focused on Data in Motion and Your Success
Confluent completely re-designed Kafka for the cloud to be elastic, scalable, and globally available – providing a serverless, cost-effective, and fully managed service that is ready to deploy, operate, and scale in a matter of minutes.
Confluent completes Kafka with 120+ connectors, stream processing, enterprise security and governance, global resilience, and more – eliminating the burden and risk of building and maintaining these in-house.
Confluent's platform can be utilized in a number of ways. Whether it be in the cloud, across multiple clouds, or on-premises, Confluent provides you with the most comprehensive coverage possible. Plus, you can link it all together in real-time to create a cohesive data layer across your business.
Confluent for Financial Services
Confluent is on a mission to power business innovation in financial services by setting data in motion.

Fraud detection and prevention
Cybersecurity and regulatory compliance
Real-time trading data platform
Hyper-personalized customer experiences
Confluent for E-commerce & Retail
Leverage the power of information in movement to construct the subsequent-era retail experience. deliver pleasant omni-channel customer reviews, improve patron engagement, and reap facts-pushed operations.
Real-time Omni-channel Inventory Management
Personalized Recommendations and Real-time Offers
Customer 360 and Omni-channel Experiences
Real-time Data Sharing and Supply Chain Optimization
Real-time Analytics and Fraud Detection