Hootsuite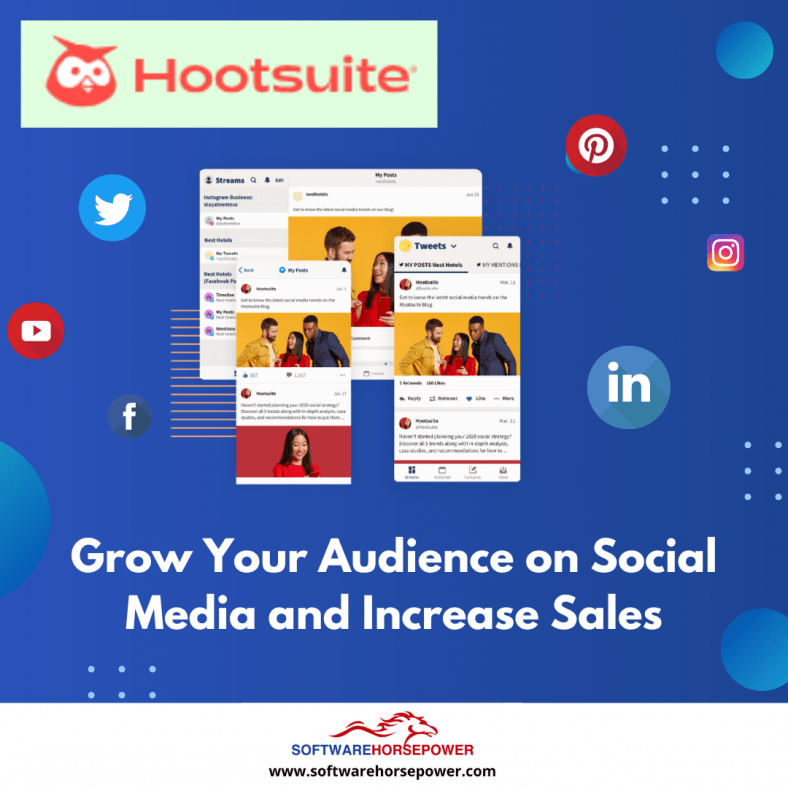 Manage social media in one place
Schedule and publish content to all of your social profiles, track effectiveness in real time, and crank the volume on your top-performing content.
Plan your content with ease
View all of your social media content in one calendar. Easily see all your scheduled and published content, create new posts, and organize existing ones.
Set up customizable streams that let you monitor trends and stay notified about your business, customers, competitors, or any topic that you're curious about.
Get actionable insights on the best times to post without the heavy data crunching.
One big makeover. Two weeks. 108% sales growth.
Being first-time entrepreneurs during a global pandemic is not just hard. It's as hard as it gets. Discover how Chloe Beaudoin and Jessica Miao set off to achieve their goal of becoming the number one teen bra brand on social media—and how Hootsuite helped them do it.
Still not sure where to start?
Whether you're a solo superstar or a global team of hundreds, our plans are designed to adapt to the needs of you and your business.
Learning new software takes time. Spend 30 days testing and getting comfortable with Hootsuite, completely free.
Attend free classes for beginners
Get access to classes with Hootsuite experts who will show you the ropes and answer all your social media management questions (even the ones your boss is too shy to ask).
Deliver more responsive social customer care
Quickly resolve customer inquiries and provide a seamless customer experience through better collaboration across teams.
Make customer care effortless and customer experiences seamless
Manage every inquiry in one place. Across SMS, social media, WhatsApp, live chat, and apps—get a unified view of all of your customer service channels and never keep a message waiting.
Put customer data at your fingertips. Anticipate people's needs and solve complex problems faster by integrating customer data from chatbots, CRMs, and agent interactions in a single dashboard.
Work smarter with reporting and intelligence. Seamlessly collect feedback, set customer service level targets, and distribute CSAT surveys to get immediate insight into what's working and what isn't.
Keep it personal, even at scale. Customize bots and bring in automation to handle overflow and get context to your customers without overwhelming agents or keeping people in line.
Find and resolve social support messages quickly and efficiently
Find all customer inquiries by monitoring your social channels and mentions about your brand across global and regional networks.
Assign and tag posts automatically so messages reach the right person or team for a quick and efficient response.
Reply seamlessly with pre-approved responses or integrating with your CRM and help desk solutions.
Track efficiency through the time and number of touches it takes to resolve inquiries—by individual, team, or region.
Respond quickly to customers using chatbots and ensure messages requiring further assistance are seamlessly handed over to a human representative.
Improve customer satisfaction through efficient collaboration
Resolve issues faster by setting up automated rules and keywords to triage incoming posts.
Avoid duplicate responses by assigning messages to specific people or teams.
Improve customer satisfaction with social customer service training and social media education for your reps.
Hootsuite has acquired Heyday, a customer messaging platform that combines the power of Conversational AI with the human touch of your team, to deliver 5-star customer experiences at scale.
Exceptional customer experiences
Commerce and customer care have collided on social media. Shoppers now expect to discover, engage, purchase, and receive real-time customer service, all on social. The challenge for modern day brands? Giving fast and personalized attention to these daily interactions and conversations on social—at scale. That's where Heyday comes in.
Connect shoppers with products quicker
AI-powered chatbots are the new search bar. With Heyday, you can instantly recommend products that match what shoppers search for and put your e-commerce sales on autopilot.
Make customer service faster and easier for everyone
Heyday's powerful AI technology provides an instant first line of support for the recurring and time-consuming interactions that can be automated, so your team has time to give the human touch to conversations that really need it—while never leaving customers hanging.
Learn what your customers want and how to serve them better
In-chat surveys, data on what shoppers are looking at, a birds-eye view of your team's conversations and response times—Heyday is full of tools that can help you learn about (and improve) what your customers are thinking, feeling, and experiencing.
Building the future of social commerce
Hootsuite has been helping organizations of all sizes around the world strategically grow their business and customer relationships with social media since 2008. From that vantage point, it's become clear to us that social is now the golden thread of the digital customer journey—the way it unites moments of discovery and inspiration, with direct purchases and seamless customer service is unlike anything we've had at our fingertips before.
A complete solution for every step of the customer journey
With Heyday on our team, Hootsuite now offers a complete suite of tools to help marketers, e-commerce, and customer service teams work seamlessly together to create more authentic, relevant, and valuable experiences for customers at all stages of the buying journey.
Make it easy for sales reps to embrace social selling
Give your sales reps the resources they need to safely and easily find and nurture leads on social media.
Deploy a social selling solution your team will actually use
Drive adoption of social selling with an easy-to-use solution—for all levels of social and tech savviness.
Find new leads based on sales territory in real time with intuitive monitoring and search features.
Onboard teams quickly and build new social selling skills with training so reps see value sooner.
Build and nurture relationships on social
Position reps as experts by providing thought leadership content they can add to their social profiles.
Engage with prospects and customers to take the conversation offline and get a higher win rate.
Track content engagement to uncover which stories and tactics work best with your audience.
Protect your brand, manage your risk, and stay compliant
Manage platform access for reps, contractors, or partners as your sales team grows and changes.
Set publishing permissions to ensure only approved sales reps can post to company accounts.
Cut the risk of employee error and stay compliant with custom publishing approvals, and content libraries.
Stay on brand and compliant by creating preapproved content for your sales team to share with prospects.
Stay compliant with bodies like FINRA and HIPPA through our industry leading integrations with ZeroFOX, Actiance, Proofpoint and Smarsh.
Prove the ROI of your sales team's performance
Measure the success of individual sales reps, including their productivity and interaction history.
Prove the effectiveness of your social selling by connecting your social activity with your web analytics software.
Demonstrate which social channels are driving conversions, leads, and sales with customized dashboards.
One platform for all your social media marketing
Safely engage audiences on multiple networks,  prove your social ROI, and share insights across teams.
Extend your social marketing reach by growing a more engaged audience
Build your social audience across multiple networks with solutions for social publishing, scheduling, and more.
Target messages by location or demographic profile, and schedule them to post at the best time—automatically.
Empower regional teams to market locally while maintaining control of your global brand voice.
Boost your social advertising performance through campaign optimization features and services.
Improve efficiency and simplify social media management
Respond to posts quickly and reduce duplicated efforts by routing posts to the right person, department, or region.
Create approval workflows that mirror your existing organizational structure to ensure all posts are consistent and compliant.
Manage platform access for your growing team of employees, contractors, and agency partners without sharing passwords.
Safeguard your brand reputation and stay compliant
Guard against hackers—and many other external threats—with full account audits, network monitoring, and real-time security alerts.
Cut the risk of employee error with secure logins, custom approval workflows, and flexible team and individual permission levels.
Protect your brand while confidently engaging with customers, using our advanced message moderation features.
Stay compliant with bodies like FINRA and HIPPA through our industry leading integrations with Actiance, Proofpoint and Smarsh.
Prove the ROI of social and make data-driven decisions
Share real-time insights by monitoring mentions of your brand, company, products, and competitors.
Measure the impact of your social marketing campaigns through comprehensive social channel reporting.
Prepare for a crisis or spikes in social activity through automatic alerts and response simulation planning.
Clearly prove business ROI from organic and paid social media.
Set your organization up for success with expert dashboard training and social media education
Onboard teams quickly and speed your time to value with help from our professional services team.
Train employees to give them the skills and confidence they need to drive your social media strategy.
See results faster with a customized social media strategy developed with our professional services team.
What is Hootsuite used for?
Hootsuite is used to Create, schedule, publish, and manage your content and ad campaigns across social networks from a single dashboard. Hootsuite help maximize the impact of your social marketing by providing real-time insights, so you can focus on other areas of your business.
What are the features of Hootsuite?
Create and schedule posts. Craft new posts and schedule to multiple social accounts at the same time using Hootsuite publishing features.
Manage all of your accounts

Plan upcoming campaigns.

Stay on top of incoming messages.


Analyze your results.
What is the most popular feature of Hootsuite?
The most popular and loved feature of Hootsuite is the ability to schedule and publish messages to multiple accounts at once.
Is Hootsuite good for small business?
Hootsuite has features that will appeal to businesses of all sizes, but the subscription packages offer the best value for small- and medium-sized enterprises. Hootsuite integrates with a very wide range of social networks and provides an effective dashboard for managing all of your social media activity in one place.
How many accounts can you have on Hootsuite for free?
Free plans can manage a maximum of 2 social accounts. If you have more than 2 social accounts, you must first remove one of those social accounts.
Can you use Hootsuite for free?
By trying out Hootsuite most popular premium features first (for free). To get your free Hootsuite account, simply sign up for a 30-day trial of Hootsuite Professional. After 30 days, you can switch to Free or stick with the Professional plan.