HelloSign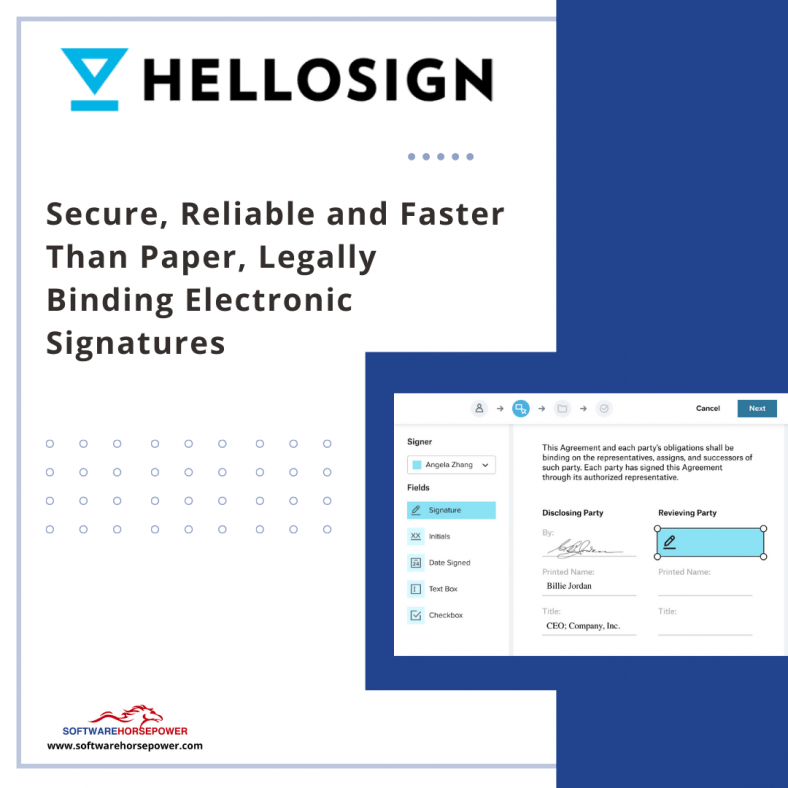 Businesses run on agreements. Prepare, send, sign, and track eSignatures effortlessly with HelloSign, a Dropbox Company.

What can HelloSign help you do?
Create an on-brand and fully embedded signing experience for your signers with the fastest to implement eSignature API, according to G2.
Close deals faster and improve completion rates. Salesforce integration and mobile signing help boost sales team performance by up to 45%.
Protect all parties by keeping private information safe and secure. Request legally binding signatures at scale with templates and bulk-send features.
Close deals faster and improve completion rates. Salesforce integration and mobile signing help boost sales team performance by up to 45%.
Integrations
HelloSign meets you where you work
Integrate HelloSign eSignatures with the tools you know and use.

Resources
Ahead of the curve
Discover the value of 
eSignatures
 in your workflow.

Analyst Report
HelloSign Named Leader in The Aragon Research Globe™ for Digital Transaction Management, 2021

eBook
7 Ways to Protect Your Company Culture Through Change and Growth

eBook
6 Tips to Streamline Your Sales Cycle and Increase Revenue
eSignatures for Everyone
A Simple and Secure Way to Get Documents Signed
The eSignature features that you want
A robust set of eSignature features used by millions of customers around the world.
Get your agreements signed fast and secure, with the features you want.
It's time to harness the power of electronic signatures
An electronic signature, often referred to as an e-signature, is a person's electronic expression of his or her agreement to the terms of a particular document. They are used on every sort of document you can imagine, from NDAs, sales contracts and invoices through to timesheets, employee onboarding paperwork, leases, tax forms and so much more in between. Federally protected by the ESIGN Act of 2000, electronic signatures are as legal as their paper equivalent.
The reasons to switch to eSign are compelling…
Electronic signatures are great for improving workflows, by eliminating the need to print, sign and then scan a document. eSignatures streamline the process for completing paperwork and improve productivity. Enjoy faster turnaround times, enhanced security and lower costs.
Flexibility at your fingertips
The first step in the eSigning process is to create an electronic signature. There are several different, simple ways to do this. Whichever you choose, your unique e-signature will be stored in your HelloSign account for future use
Draw your signature using your finger or a stylus
If you have access to a touchscreen, you can use your finger to create an electronic signature directly in your document. This is particularly helpful for when you're signing on a mobile device or tablet.
Upload an image of your signature
Use your phone or camera to take a picture of your paper signature. Once it's uploaded into your HelloSign account, it will be turned into a .png file that overlays neatly over the signature line in your document.
Use your cursor to draw your signature
Using your mouse or your touchpad, you can drag your cursor along the appropriate line to create a unique e-signature.
Use your keyboard to type in your signature
This is the easiest way to create your electronic signature. Once you've typed in your name, you can select a font that best matches your paper signature.
Some of the other ways eSignatures are beneficial include:
Faster turnaround time for completed documents and contracts
Better security and document tracking
Lowering your costs
Eliminating paper waste
Getting started with eSign is quick and easy
Here are the steps to eSigning your first document:
Create a HelloSign account.
Choose who needs to sign.
Upload your document.
Sign or add signature fields.
Send off your document to the intended recipient.
What is HelloSign used for?
HelloSign is used by individuals and businesses to get documents signed online, quickly, easily and securely. HelloSign eSignatures are legally binding, making them an essential part of any process that is obliged to stand up in a court of law and adding real value to your agreement workflows.
HelloSign works by allowing users to upload a document that requires signatures, with drag-and-drop functionality meaning that the areas to be signed are effectively highlighted. The user then adds the signer's email address and clicks to send the document off for signature. Signatories are provided with regular reminders until they sign and the document's history can be easily managed from one place.
At HelloSign, each of your documents is stored behind a firewall and authenticated against the sender's session every time a request for that document is made. All communications use TLS (Transport Layer Security) encryption.
Is HelloSign a digital signature?
HelloSign offers a simple, easy-to-use and free eSignature software that allows you to sign documents in PDF, Word, Excel, PowerPoint and more with digital signatures embedded in them for security and protection.

Does HelloSign have a limit?
Each time the Hellosign API is hit, whether it's a GET or POST request, it counts as an API request. By default, you can make up to 100 requests per minute for standard API requests, and 25 requests per minute for higher tier API requests. In test mode, you can do 10 requests per minute.
HelloSign has a limited Free plan that lets you send 3 free signature requests per month. Your 3 free signature requests renew every 30 days from the day you sign up.